If you're visiting British Columbia's Okanagan Valley and you love biking I'd recommend a full day on the Kettle Valley Rail Trail (KVR) or at the very least a bike ride over the Myra Canyon trestles.
The Kettle Valley Railway (KVR) is an abandoned railroad track that winds across the Okanagan and Similkameen region in southern BC. All told it offers over 650 km of cycling. The 80 km section from Myra Canyon near Kelowna through to Penticton is one of the most popular, though it's the short 12 km (7.5 mi) Myra Canyon section that draws the biggest crowds of all.
The section through Myra Canyon has been termed the jewel of the Kettle Valley Railway Trail. It was out of commission for five years after the 2003 forest fire destroyed 13 of its 18 famous wooden trestles. It didn't reopen until June 2008 and since then it's become tremendously popular, drawing up to 100,000 hikers and cyclists annually.
This post includes some affiliate links. If you make a qualifying purchase through one of these links, I will receive a small percentage of the sale at no extra cost to you. Thank you very much for your support.
History of the Kettle Valley Railway
The Kettle Valley Railway's history date back to the early 1900's when silver was discovered near Nelson, British Columbia. Years of surveying and building culminated in an official rail opening in 1915.
In later years the economic importance of the railway line decreased and some sections or subdivisions as they are called were phased out and by 1990 the last of the railway lines was abandoned. Fortunately the railway line was converted to trail and now 600 km (360 miles) are open for backcountry use.
Where does the Kettle Valley Railway go?
The Kettle Valley Railway trail travels through true wilderness. It winds through the backcountry of southern British Columbia passing through a range of eco-systems including vineyards, orchards, forests, lakes, deserts, and mountains. Much of it is very remote, so be sure to pack a Garmin InReach Mini 2 if you head off to bike the remote sections.
Small centers are connected via the Kettle Valley Railway – places like Beaverdell, McCulloch, Chute Lake, Coalmont, and Brookmere which are mere dots on the map and at most have a few places to stay.
Tunnels, bridges, wild animals, rattlesnakes, extreme heat and thunderstorms are some of the hazards one might encounter.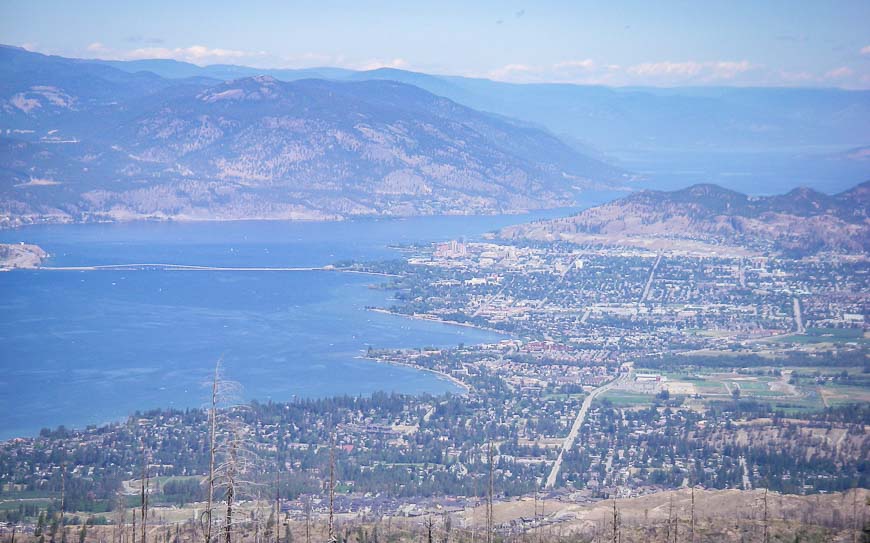 Myra Canyon by bike
The ride through Myra Canyon is glorious. Its gentle grade is easy so you can concentrate on the views including the airiness of some of the trestles. When you reach Trestle #6, the longest and highest trestle on the line, you're at the midpoint, 55 m (180 feet) above Pooley Creek below.
Absorb the history of the railway too. About a kilometre before Trestle #1 keep an eye out for a rock oven, used to bake bread for the crews building the railway. Loaves were reportedly 2.5 feet long and each worker would eat one a day.
The Myra Canyon section is suitable for people with a range of cycling abilities – from families to experts. Cycle over eighteen trestles and through two tunnels over 20 km (12 miles).
Biking from Myra Station to Penticton
If you have more than half a day then I highly recommend cycling from Myra Station to Penticton – a distance of about 80 km. Myra Canyon Bike Rentals organizes self-guided and guided tours.
At about the half way mark Chute Lake Lodge appears. Stock up on cold drinks, burgers and homemade apple or rhubarb pie before continuing. Buy extra cold drinks if it's a hot day. It took the better part of 6 hours to cycle the 80 km and the last two hours were 34°C and dehydration was definitely a problem.
Check prices and availability at Chute Lake Lodge. It now boasts glamping tents. You can also rent SUP's, canoes, kayaks, and ebikes from them.
Although it's downhill all the way from Chute Lake to Penticton, on a railway grade of 2.2%, it's by no means an easy ride. You have to deal with a great deal of sand which takes a light touch on the handlebars.
Look out for snakes
Watch for rattlesnakes through the Rock Ovens – especially if you're moving quickly on the downhill.
Shortly after you pass Hillside Winery look for Abandoned Rail Brewing – a perfect place for a summertime cold beer, cider, slushie, or choose some food off their menu. They have a lovely seating area outside under the shade of fruit trees.
Getting to Myra Station
It's a 40 minute drive from downtown Kelowna to get to Myra Station. Although the road up is gravel, the drive shouldn't present any problems during the summer and fall months. You'll find a large parking lot at the entrance to the Kettle Valley Railway.
Cycling the entire Kettle Valley Rail Trail?
If you want to cycle the entire Kettle Valley Railway then it's a good idea to purchase the book (even though it's old) – Cycling the Kettle Valley Trail by Dan & Sandra Langford. They provide route notes and lots of helpful information though their layout is confusing.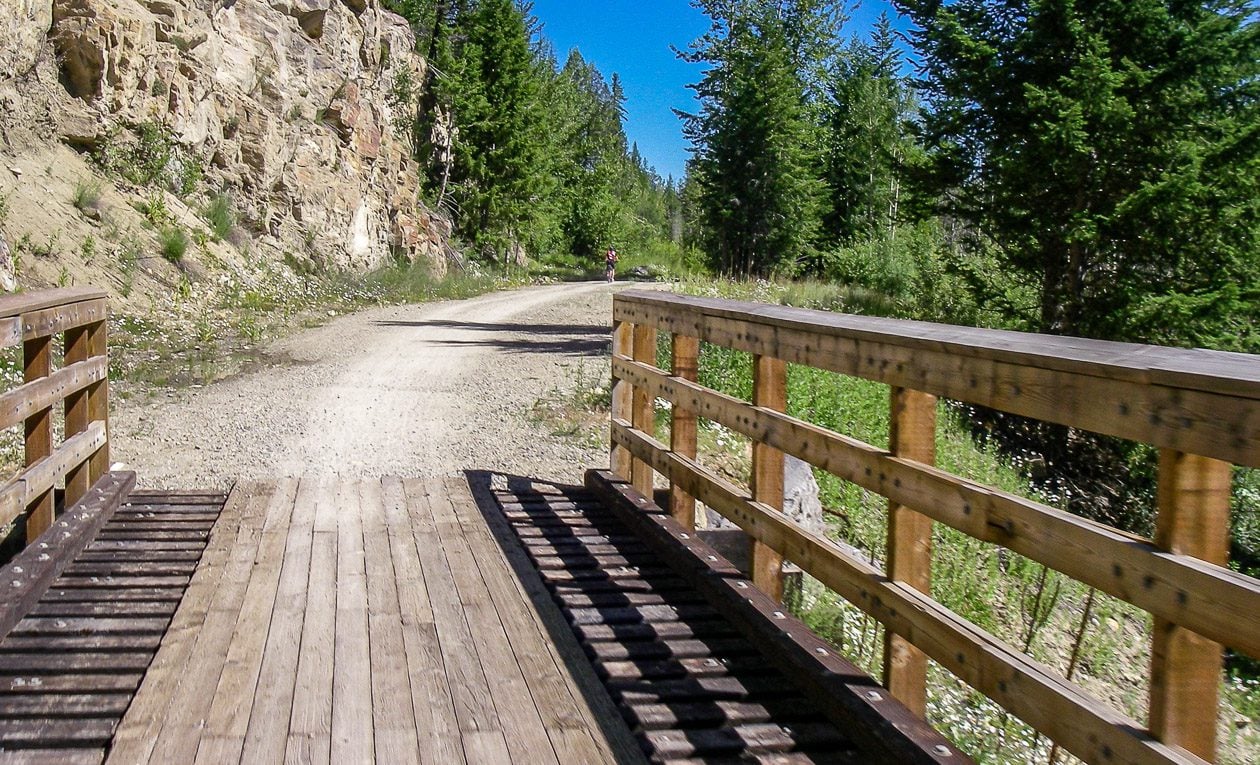 A few things to take on Myra Canyon bike ride
If you plan to bike all the way to Penticton, you do not want to get stuck with a flat tire.
Don't forget a patch kit, a bike pump and tire levers.
Wear a pair of padded shorts– especially for a trip of this length. Your butt will thank you the next day.
I'd also recommend a cycling jersey with back pockets for storing power bars and sunscreen.
Guided Myra Canyon bike tours
If you'd prefer a guided Myra Canyon bike tour check out Kettle Valley Railway Cycling Company.
One of the bike rental companies also contacted me and had this to say:
There is a bike rental on the parking place on the end of the Myra Forest Road. Customers are able to rent bikes on the parking place and bike the 18 trestles and two tunnels. Myra Canyon rents all kinds of bikes and child trailers. We rent bikes for 4 hours or full day.
Some sections of the Kettle Valley Railway are truly first class and well worth cycling. In particular, you won't go wrong with the Myra Canyon section.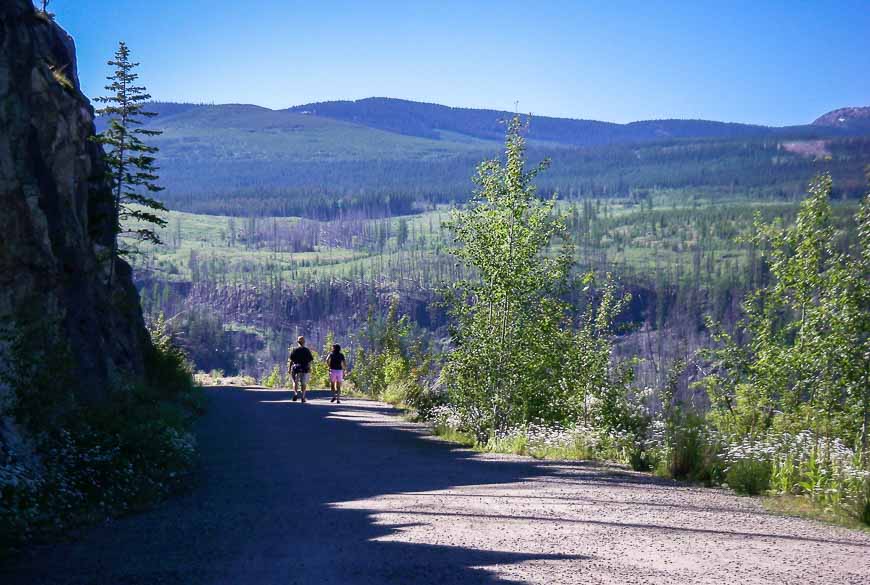 Further reading on the Okanagan
Click on the photo to bookmark to your Pinterest boards.