Did you know that some of the best bike rides in Canada are in the South Okanagan area of British Columbia? May is an especially great time to visit as the weather is sunny and warm, the regions numerous wineries are open and the crowds have yet to materialize. There are also a couple of standout events like the Giant's Head Grind that will appeal to both bikers and hikers. I would suggest these 5 standout bike rides in the South Okanagan.
This post includes some affiliate links. If you make a qualifying purchase through one of these links, I will receive a small percentage of the sale at no extra cost to you. Thank you for your support.
Bike the Kettle Valley Railway from Myra Canyon to Penticton
My favourite bike ride so far is the Myra Canyon to Penticton section of the Kettle Valley Railway (KVR). You need a shuttle unless you want to ride up and back 160 km and most people don't.
By starting in Myra Canyon the grade is a constant 2% downhill. Highlights include cycling over the railway trestles, the views, ice cream at Chute Lake Lodge, wildlife (we've seen black bears) and of course the wineries once you reach the Naramata Bench. On a hot day it's a treat to cool off in the lake.
A shorter option is the out and back ride – on the bike trail between Penticton and Naramata. It's a great one if you want to spend some time wine tasting.
Bike from Penticton to Oliver via the KVR
Enjoy some of the best of what the Okanagan offers when you do and out and back ride from Penticton to Oliver (or even Osoyoos if you're up for a 100+ km ride).
This section of the KVR takes you past beaches, lakes, vineyards and the bird sanctuary at Vaseux Lake. Plan a stop in Okanagan Falls for ice cream.
Three Blind Mice Mountain biking trails
I haven't done any of the trails that are part of the Three Blind Mice network but exploring these trails is next on my list.
Located high above Naramata, avid local cyclist Randy Brown told me that "there are over 100 kilometres of singletrack trails for every level of rider – and the views over Okanagan Lake are magnificent."
He also recommends picking up a copy of SweetSingletrack. He calls it "the definitive guide for the close to 1,000 kilometres of trails in the south Okanagan."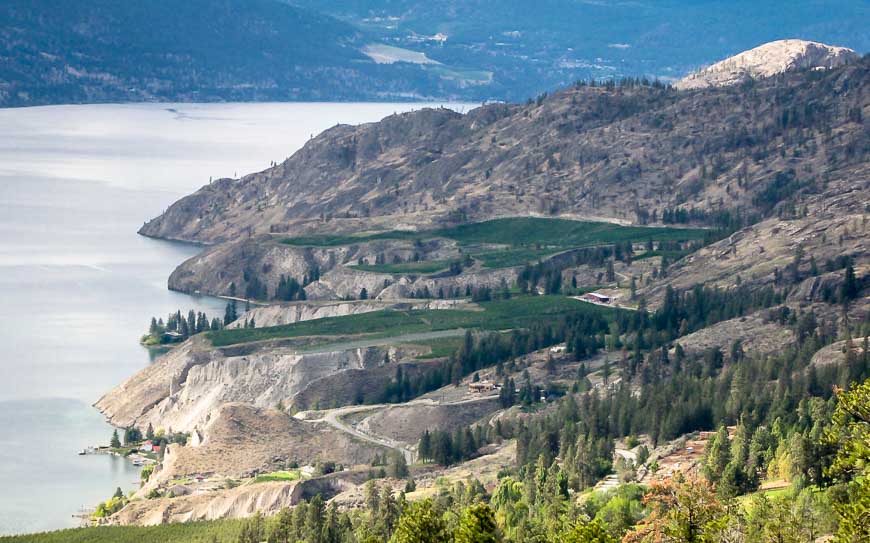 Cycle the road to Apex Mountain Resort
A favourite of locals is the climb up Green Mountain Road towards Apex Mountain Resort. With a map and a sense of adventure you can explore the side roads – particularly Shingle Creek Road – and do a loop to return to Penticton. Look out for wild horses. I obviously saw these wild horses in winter but you might see them at any time of the year.
Bike the Trans-Canada Trail near Summerland
Some sections of the Trans-Canada Trail around Summerland are ideal for cyclists. Start near Conkle Mountain Park and head east towards Okanagan Lake. Continue to the Trout Creek Bridge and then pick up the KVR to continue to Penticton.
Special biking events in the South Okanagan in May
In May the annual Giant's Head Grind, spearheaded by Ellen Walker-Matthews is happening. Ellen organized the event to honour the memory of her son Christopher Walker who died of colon cancer at 29. As she says "it's a great way to keep her son close in a way that's very positive."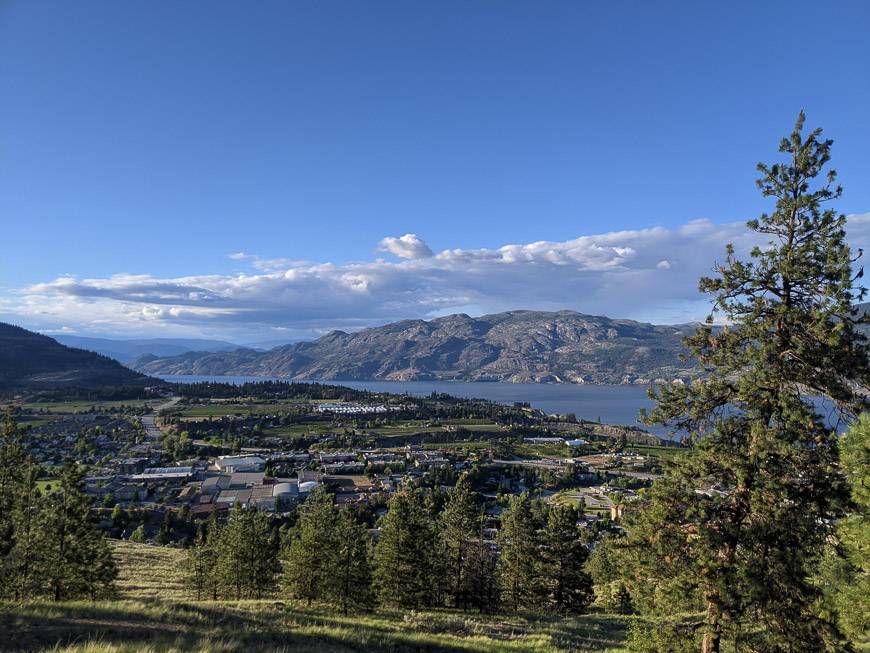 A few useful items for a bike ride
Don't forget a bike pump in case you get a flat. This one fits in your jersey pocket.
A bike lock could come in handy if you decide you want to go for a short hike.
I like to carry a handlebar bag with my raincoat and bike tools rather than having something on my back.
Bike lights are one of those things you should always have – just in case.
Bike rentals
If you need help with bike rentals, shuttles or bike tours check out Penticton based Hoodoo Adventures. Other bike rental places include Freedom Bike Shop, Penticton Bike Rentals, and E-Kruise Penticton if you're keen on an e-bike.
Where to stay in the Penticton – Oliver – Summerland corridor
In Penticton, you can't go wrong with the Penticton Lakeside Resort. Nicely appointed rooms and a hard to beat location. The Wesbert Winery & Guest Suites is rated superb. Above the Beach Guest Suites overlooking Skaha Lake is rated superb.
In Oliver, the Vintage Merlot Bed & Breakfast looks lovely.
Summerland has loads of options. The Summerland Waterfront Resort & Spa, rated fabulous, is on a secluded stretch of Okanagan Lake. If you like B&B's check out the Dogwood Bed & Breakfast, rated exceptional.
Approximate location of bike rides
Further reading on biking
Click on the photo to bookmark to your Pinterest board.