Hiking in Bruce Peninsula National Park is a visual treat. Rugged trails deliver exceptional cliff top scenery, passing caves, crystal clear Caribbean-coloured blue water, ancient 1000-year old cedar trees, and even rare orchids.
I spent a few days one May hiking in Bruce Peninsula National Park and while I hiked sections of the Bruce Trail I also did several loops on trails leading to the Bruce Trail (see map below). I think the Bruce Trail, Canada's longest marked hiking trail, that jogs for 21 km (13.1 mi) through the park, offers the best hiking experience in the park.
Bruce Peninsula National Park is part of a World Biosphere Reserve. People come from the world over to marvel at the rugged cliffs and the clear turquoise-blue water that is part of the Georgian Bay.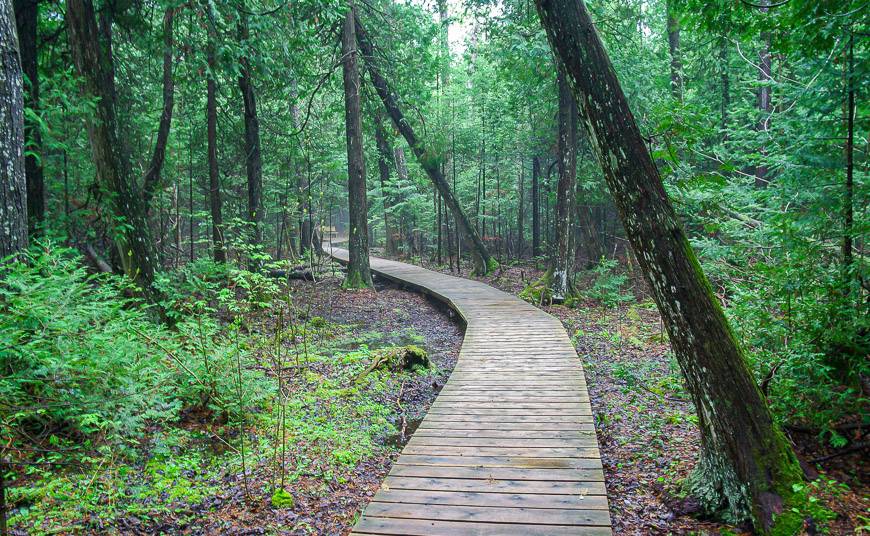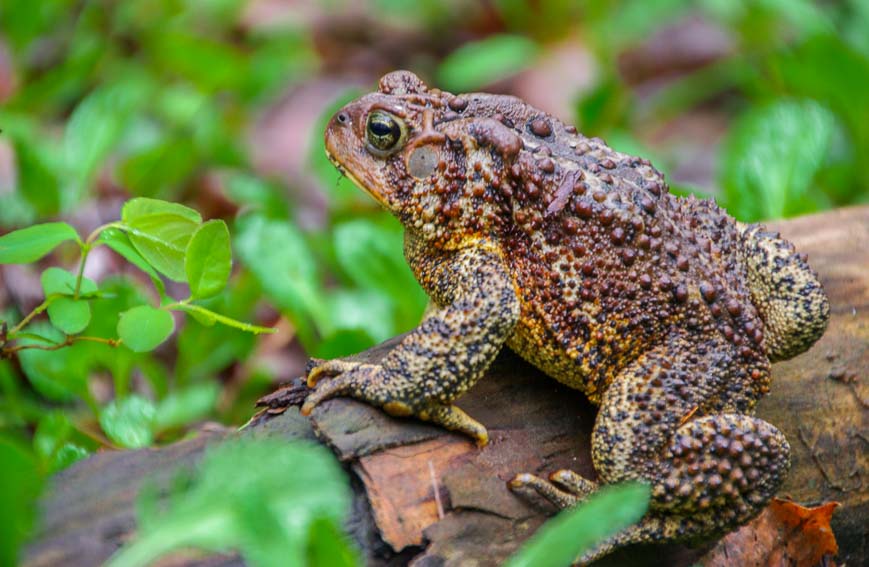 Where is Bruce Peninsula National Park?
Bruce Peninsula National Park is located at the northern tip of the Bruce Peninsula, between Lake Huron and the Georgian Bay. It's 289 km northwest of Toronto, and approximately a four hour drive.
To get there, take Highway 10 north out of Brampton and continue as it becomes Highway 6 for 283 km to reach Cyprus Lake Road. Turn right and follow it for 4.4 km.
It's 10.6 km south of Tobermory to reach the turnoff onto Cyprus Lake Road.
Check the summer schedule for the Parkbus that runs to Bruce Peninsula National Park from Toronto.
Cyprus Lake Trailhead
The main trailhead in Bruce Peninsula National Park is at Cyprus Lake. Choose from a variety of hiking trails starting here. Most are an easy hike down to the Georgian Bay but then the level of difficulty is all over the map, from easy to very difficult. Most people head for the gorgeous area around the Grotto.
When I visited it had just finished raining hard and by the time I reached the Grotto on the Georgian Bay I could hardly see a thing because of dense fog. Fortunately, towards the end of my first day hiking in Bruce Peninsula, the fog started to lift. I don't know how common fog is though I had it again on the second day of hiking too.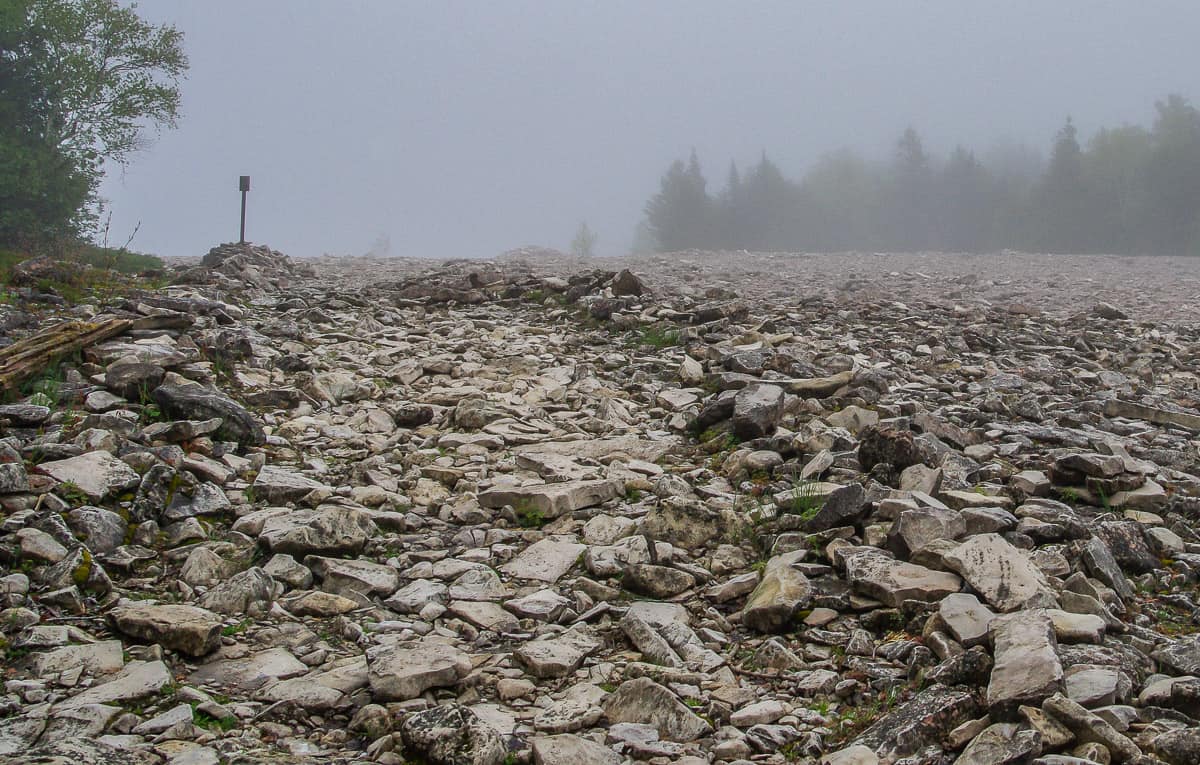 Indian Head Cove and the Grotto
Leave plenty of time to explore both Indian Head Cove and the Grotto, a big cave on the shore carved by waves over thousands of years. Both are about a 90 minute hike west of the Stormhaven backcountry campsite. These two spots, real highlights on the trail, are only 10 minutes apart.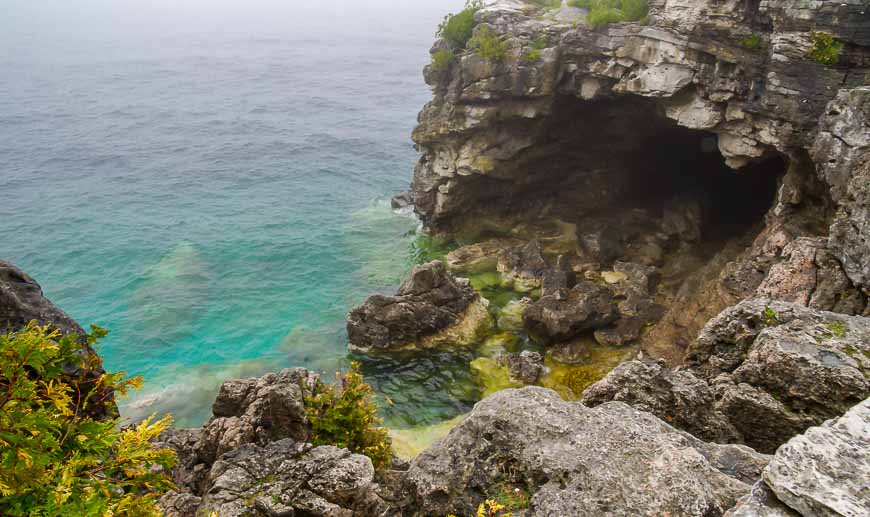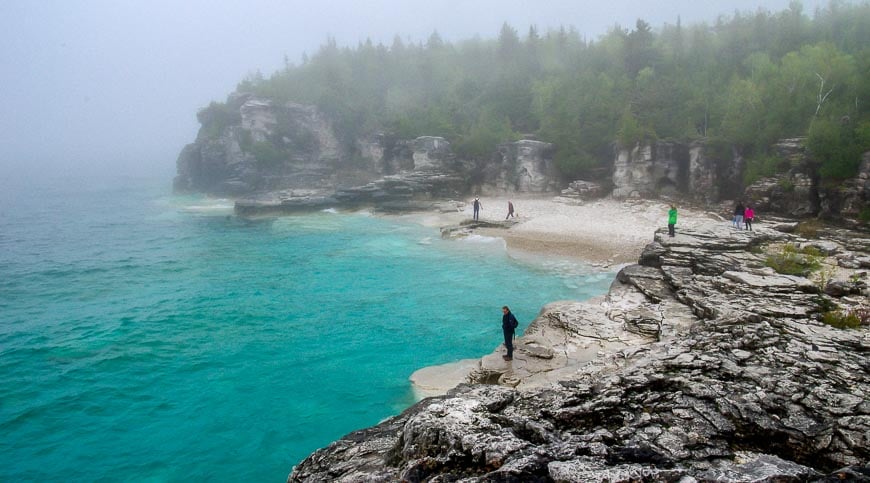 Overhanging Point
The other must-do hike in Bruce Peninsula National Park is the one to Overhanging Point. But it's a surprisingly tough hike. Follow a trail filled with uneven, sharply pointed rocks and big tree roots. From Overhanging Point you can easily return to the Cyprus Lake Trailhead via the easy Marr Lake Trail though you will have to retrace your steps a bit. Or continue hiking another 17.5 km to Tobermory.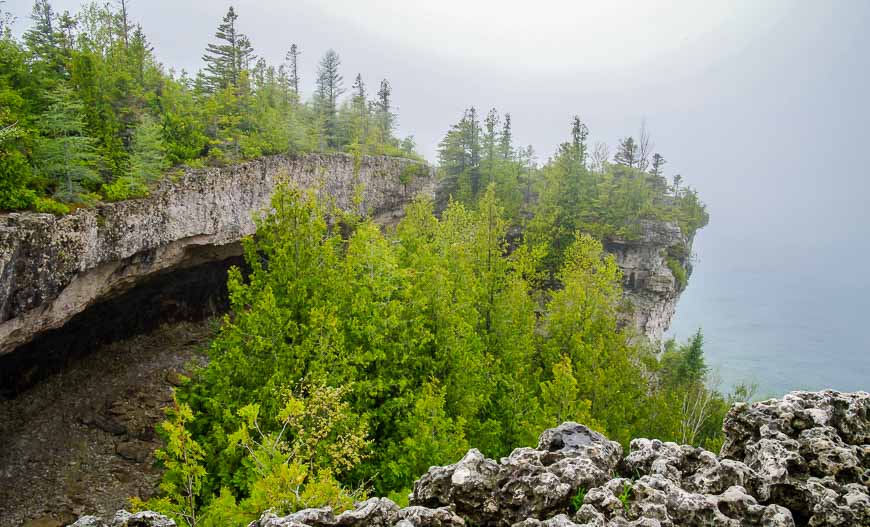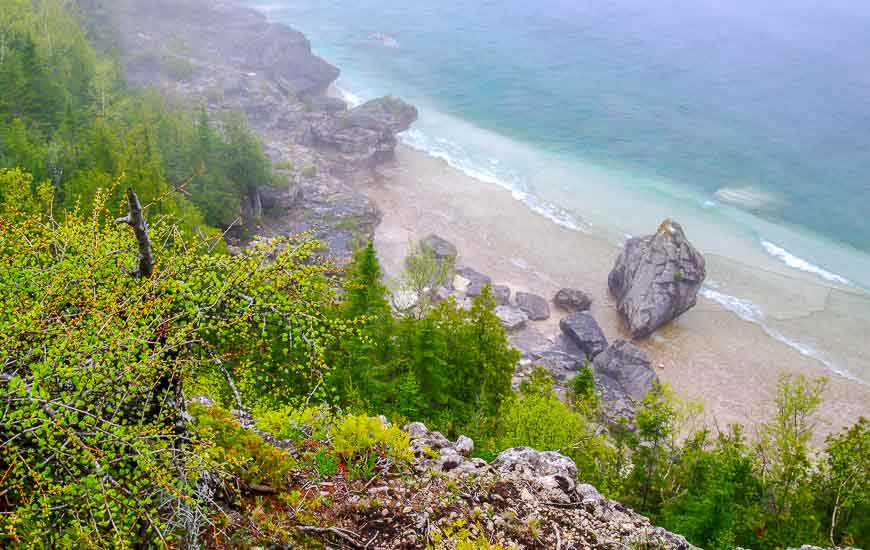 The Bruce Trail
Any trail that is marked with a white blaze is part of the Bruce Trail. The Bruce Trail is both the oldest and longest marked hiking trail in Canada – running 893.9 km. It starts in Queenston Heights Park near Niagara Falls and finishes at Tobermory at the tip of the Bruce Peninsula. You can go hiking in Bruce Peninsula National Park on approximately 21 km of the actual Bruce Trail.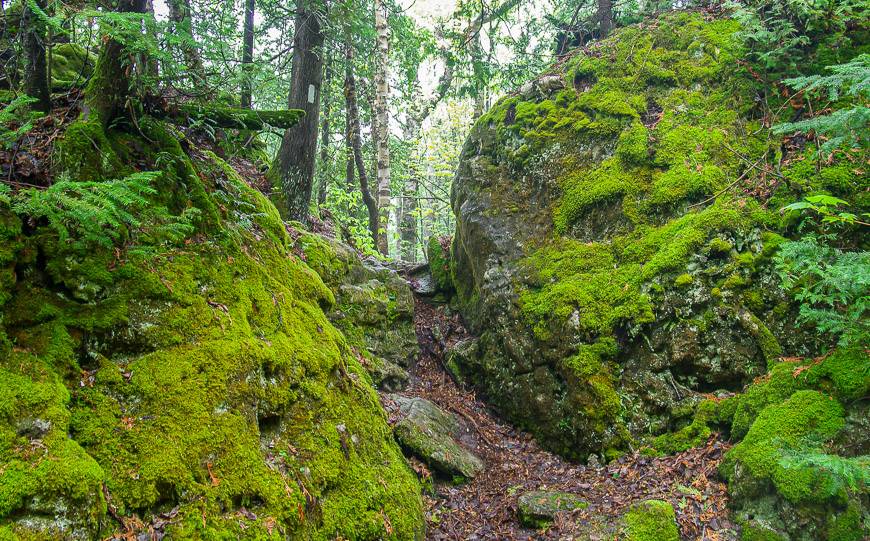 The Bruce Trail on the way to Halfway Log Dump and High Dump
You can access Halfway Log Dump in Bruce Peninsula National Park via turning east on Dyers Bay Road and then making a left on Crane Lake Road. Follow it a short distance to reach the parking lot. You must have a parking reservation here as well.
From the parking lot hike 8.0 km to High Dump and 15.5 km to Halfway Log Dump.
Hiking in Bruce Peninsula to Halfway Log Dump starts off easily enough on a gravel track with little elevation gain. After you pass Moore Lake to the east, the terrain becomes significantly more rugged.
The High Dump Campsite is off to the right (east), the Halfway Log Dump Campsite many kilometres along to the west. If you continued, you would arrive at the Stormhaven backcountry campsite. Even though I had fog for much of the hike, it was still very beautiful and the views down to the water quite gorgeous. Beware of the cliffs though. They can be slippery when wet.
You can do an out and back hike, but if you could arrange a shuttle even better, though now you'd have to time your parking reservation or hike it during a quiet, low visitor period. Then you could enjoy a beautiful one way hike on the Bruce Trail. To do that leave one car at Cyprus Lake and one at Halfway Log Dump.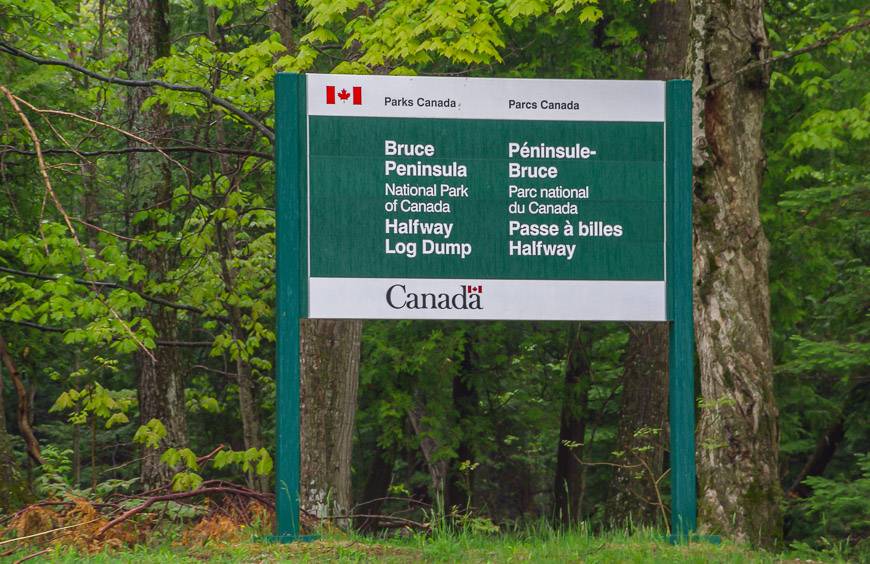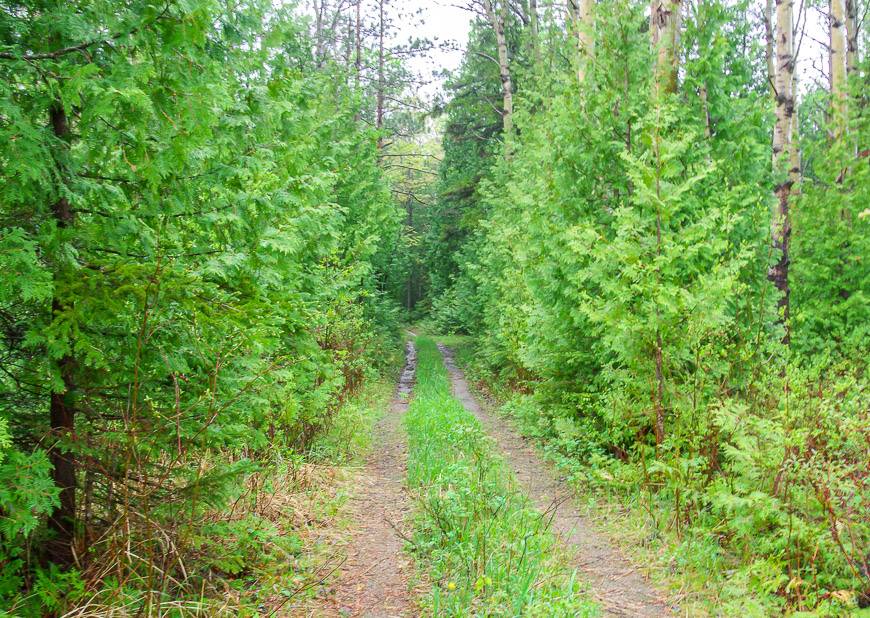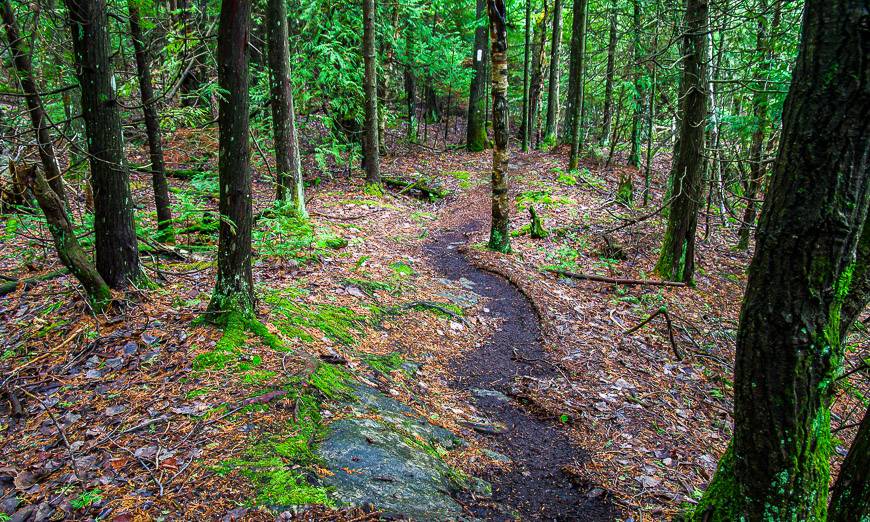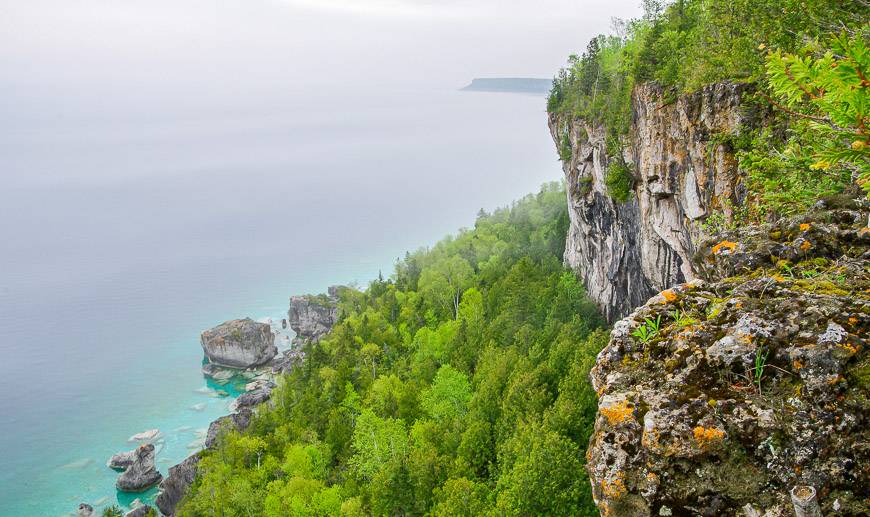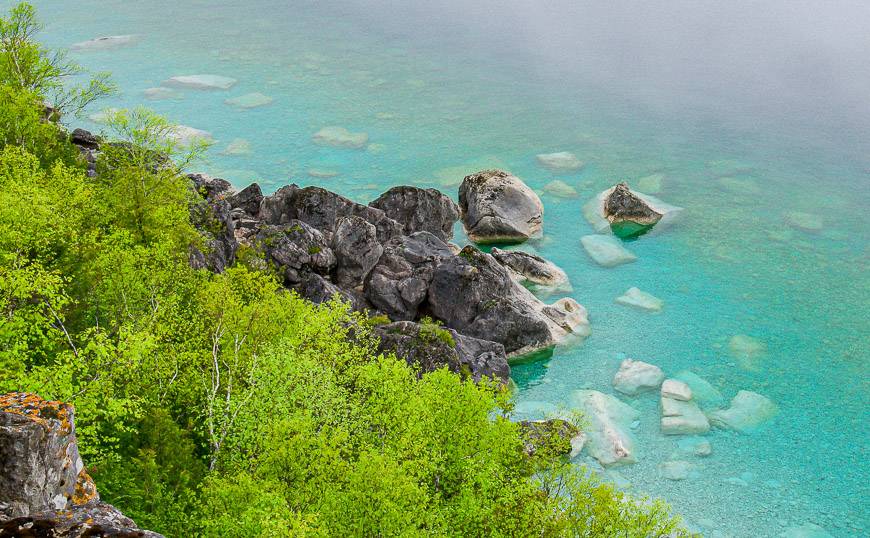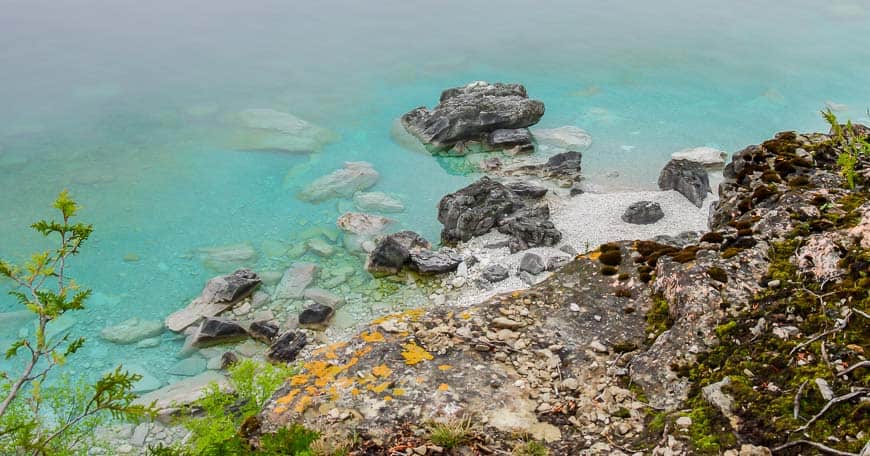 Fees to go hiking in Bruce Peninsula National Park
When I first went hiking in Bruce Peninsula, all you needed was a valid national park pass. Now you need that in addition to a parking fee and a reservation fee.
Online reservations cost $11.50. Daily parking per vehicle is $15.00. Entrance fees for adults are $8.50, seniors are $7.50, and youth are free.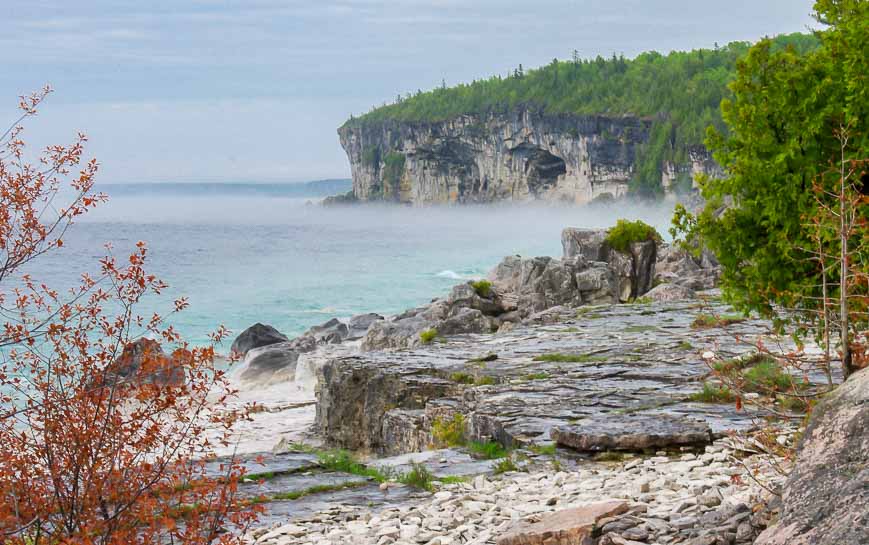 Camping in Bruce Peninsula National Park
Front-country camping in Bruce Peninsula National Park
There is front-country camping in Bruce Peninsula National Park. If you want to stay in the Cyprus Lake Campground (and you can hike to The Grotto from here) you will need to book a parking space which comes with a four hour time slot. Don't plan to show up at the park without a parking spot booked because it is that busy! Campsites are for $29.95/night and firewood is an additional $12.98.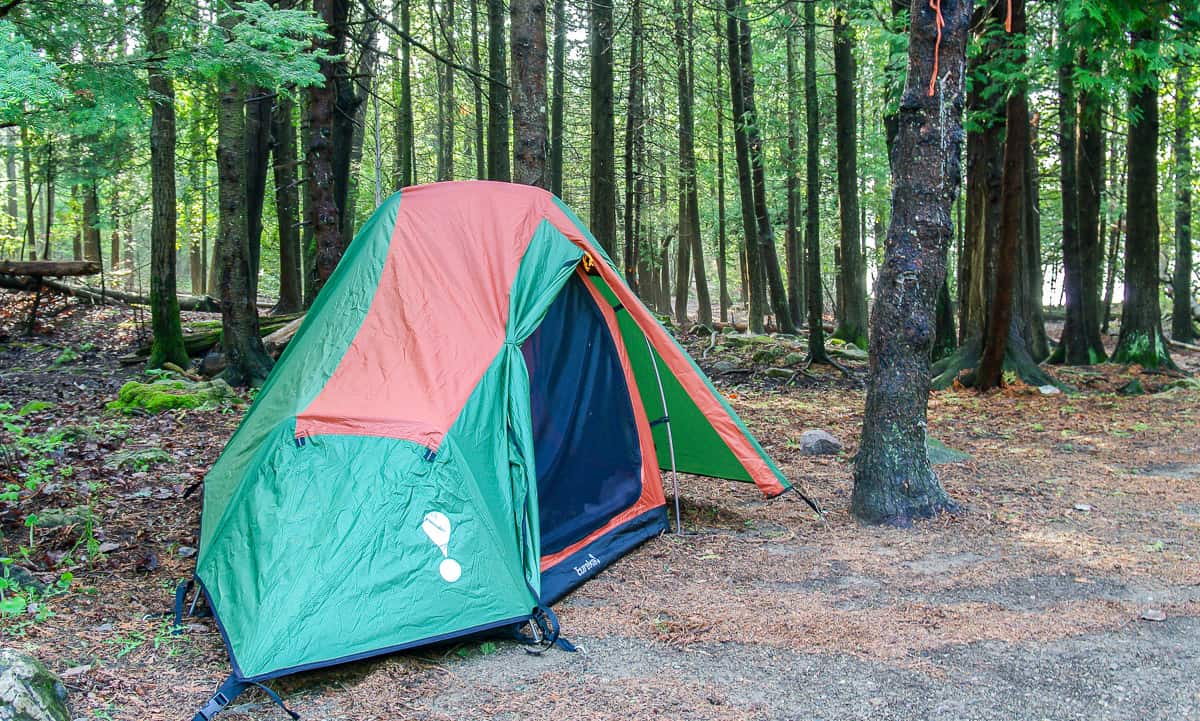 Backcountry camping in Bruce Peninsula National Park
There are two backcountry camping areas in the park, each with nine campsites – Stormhaven (UTM coordinates E460815 N5009640) and High Dump (UTM coordinates E468097 N5009034)
Parks Canada starts taking reservations sometime in the winter ore early spring with opening dates varying from year to year. The camping fee per person per night is $12.75. An online reservation is $11.50
Reservations can be made online or by calling 1-877-737-3783.
Both campsites come with wooden platforms like the one pictured below. You need a free-standing tent to set up on the platforms. Bring a cook stove as fires are not allowed. There are poles that can be use to hang your food and toiletries.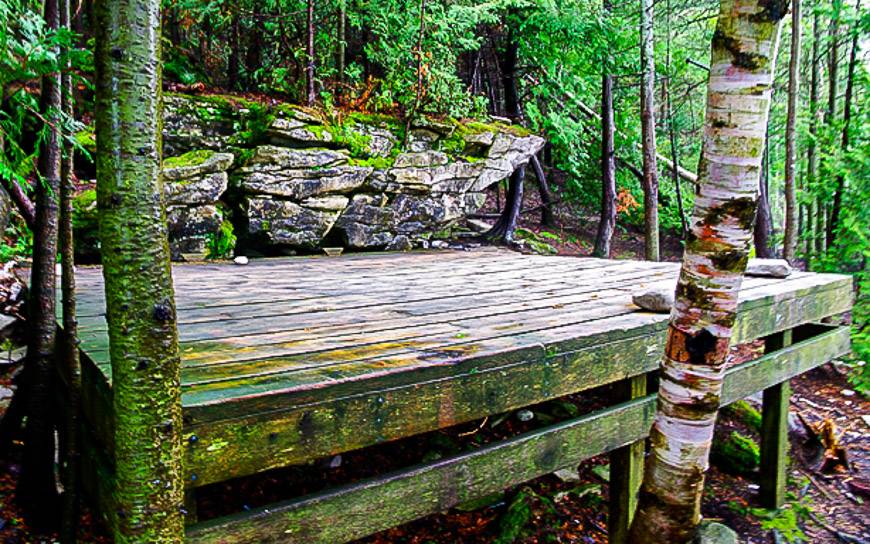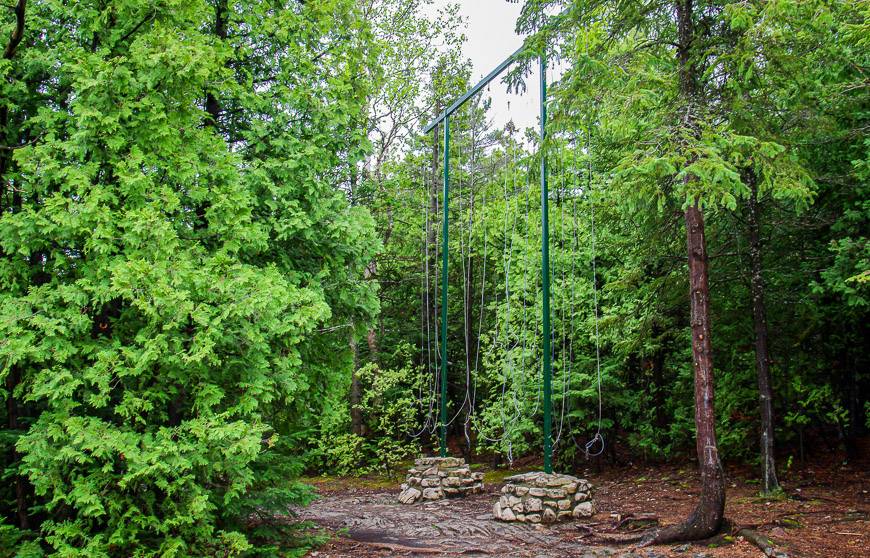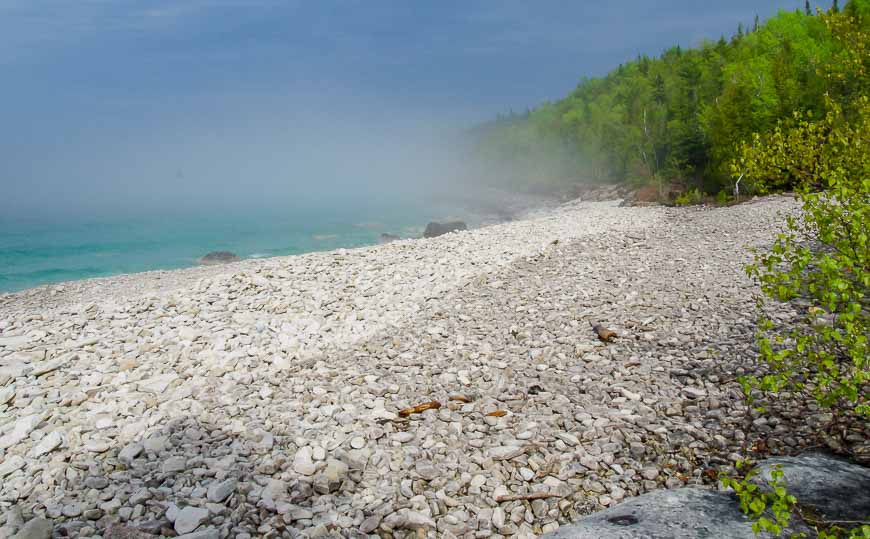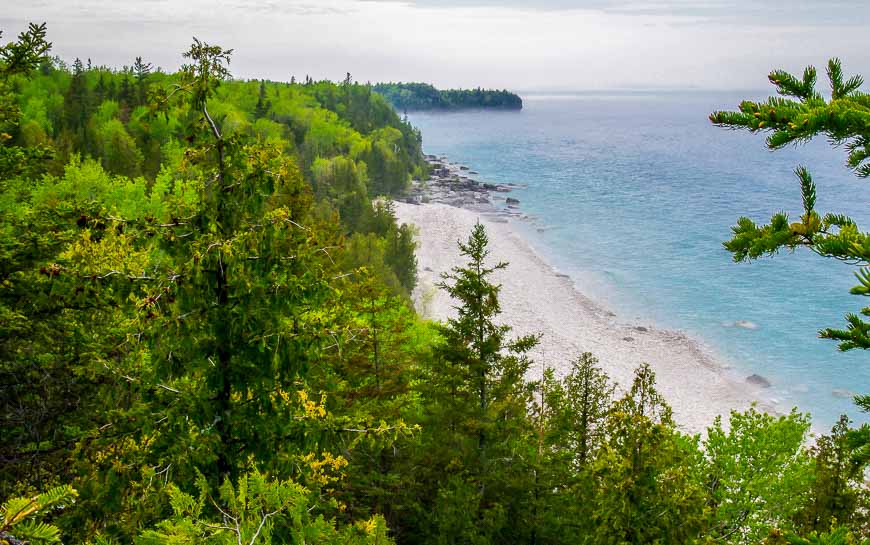 Bruce Trail hiking map through Bruce Peninsula National Park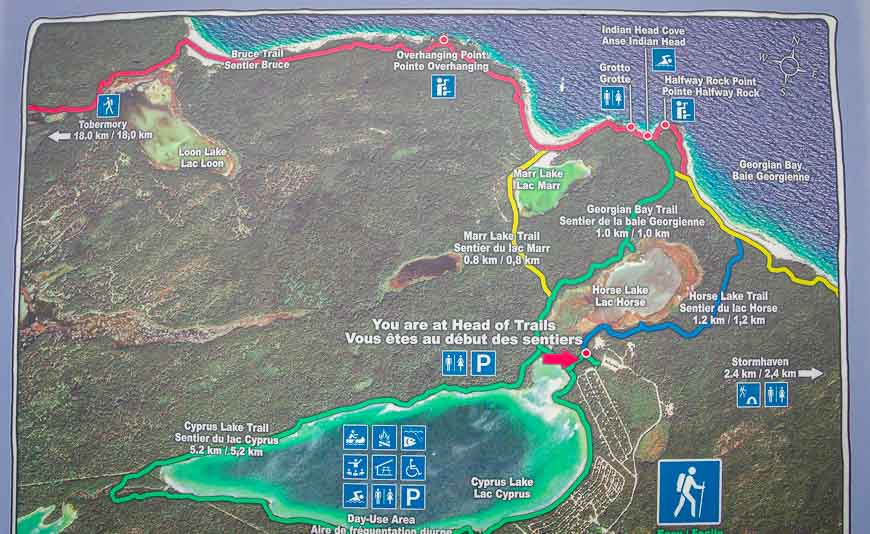 For more information about Bruce Peninsula National Park visit their website.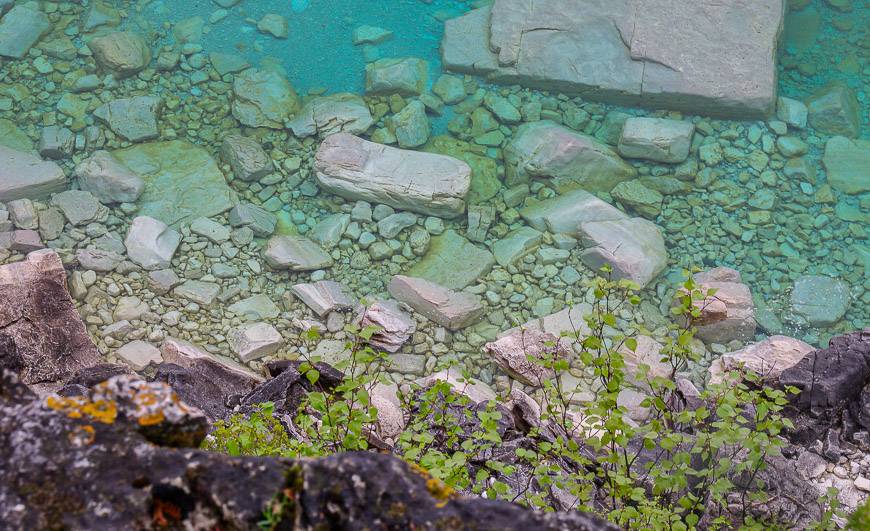 Further reading on hiking in Ontario
Click on the photo to bookmark to your Pinterest boards.