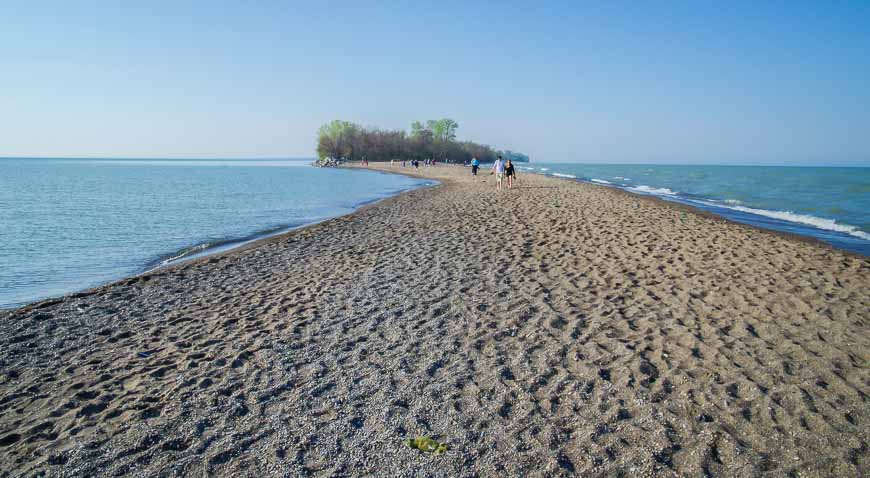 Things to Do in Point Pelee National Park
If birding, beaches, hiking and boardwalks have appeal – some of the top things to do in Point Pelee National Park, then perhaps you'd enjoy a trip to one of Canada's smallest national parks. The park in southwestern Ontario is located at the crossroads of major migration routes, not only for birds but also butterflies, bats and dragonflies. Loop trails lead through five Carolinean habitats including dry forest, wet forest, swamp, cedar savannah, marsh and rock beach.
These habitats make up less than one quarter of one percent of Canada's total land mass but boast more rare species of plants and animals than anywhere else in the country.
Point Pelee is one of Canada's smallest parks coming in at just over 20 square kilometres of land. Yet despite its diminutive size, there are loads of things to do in Point Pelee, that you could easily enjoy a long weekend here.
Updated February 2020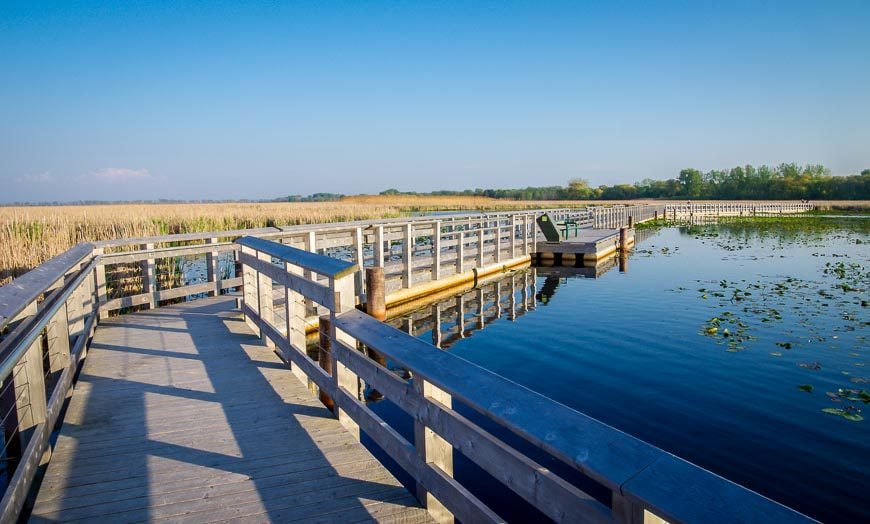 Getting to Point Pelee National Park
It's roughly a 3.5 hour drive from Toronto if you take Highway 401. The closest town is Leamington – Canada's tomato capital and former home to a Heinz ketchup factory.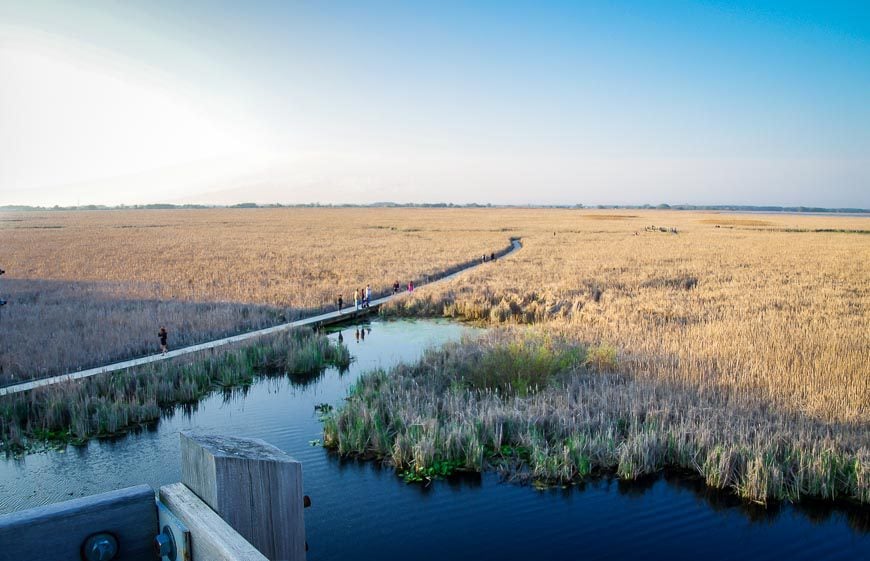 Why you'll want to visit Point Pelee National Park
If you're a keen birder you already know about what a fabulous place Point Pelee is during the spring bird migration. It is one of the top spots for birding in Canada in spring – and birding is one of the truly fabulous things to do in Point Pelee National Park.
The total number of species recorded is 372, of which 340 have been observed over the spring migration. According to the Parks Canada website there have been some Big Days where huge waves of birds have stopped for a breather.
Here are a few examples of the numbers seen during a wave of birds.
In 1952, 1,000 black-and-white warblers and 20,000 white-throated sparrows showed up over a three day period.

On May 15, 1978, 80 yellow-billed cuckoos, 250 scarlet tanagers and 70 eastern wood peewees were sighted.

In other years 2,500 tundra swans and 100,000 red-breasted mergansers have stopped by in a short time period.
If you've ever seen the movie The Big Year, you will appreciate – even if you're not a birder – the thrill of seeing so many species of birds at one time.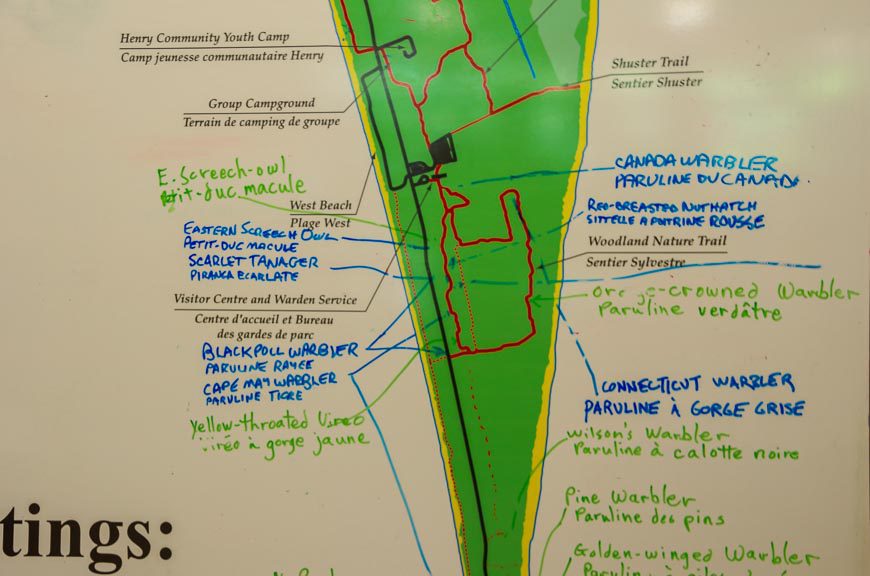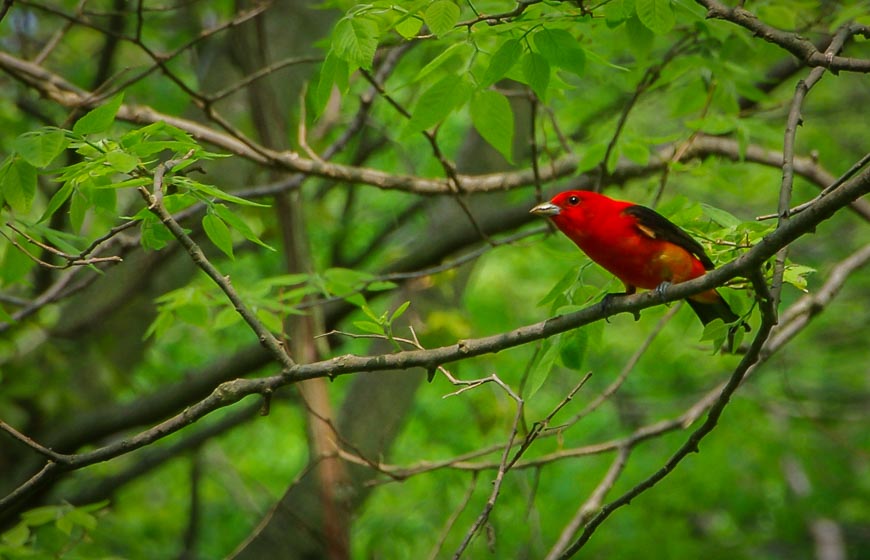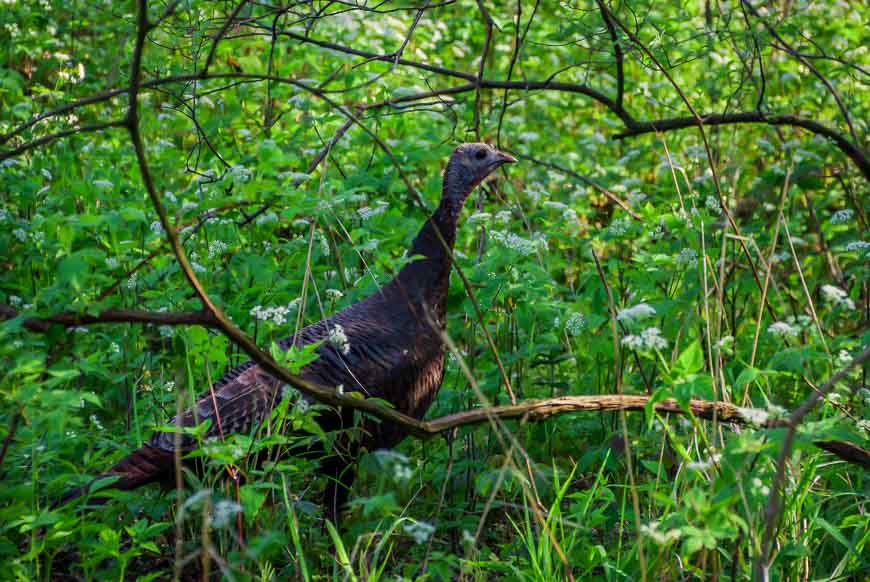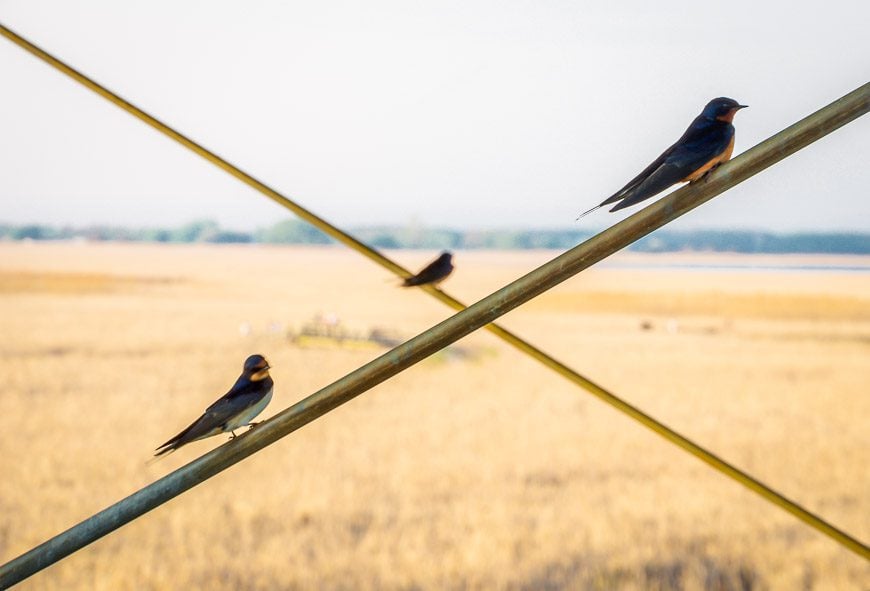 But you don't have to be a birder to enjoy Point Pelee National Park.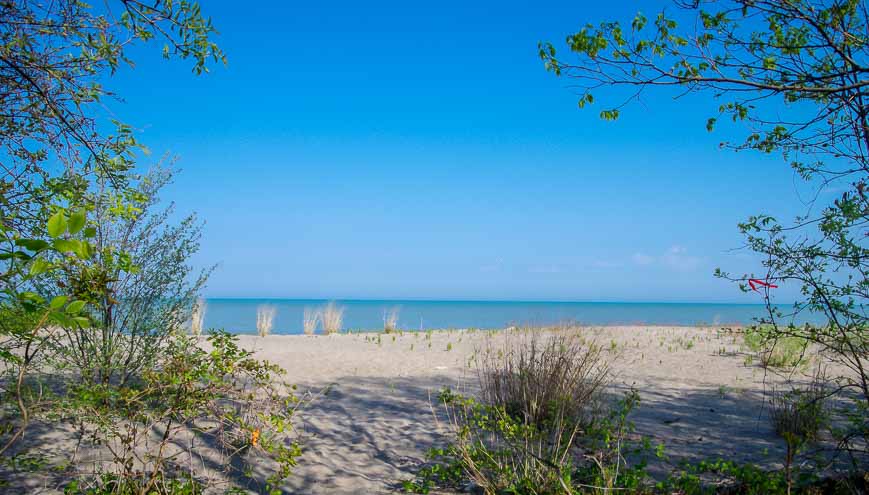 Point Pelee is known for its wonderful sandy beaches
The park is situated on a narrow spit of land that ends at a point – the southernmost tip of mainland Canada. There are fabulous beaches on either side of the spit that run for kilometres.
Bring a picnic, go for a swim or just relax with your family. And don't miss a visit to the very tip. Just don't even consider a swim there unless you want to become another drowning statistic. The water at the tip is known for its dangerous currents and undertows.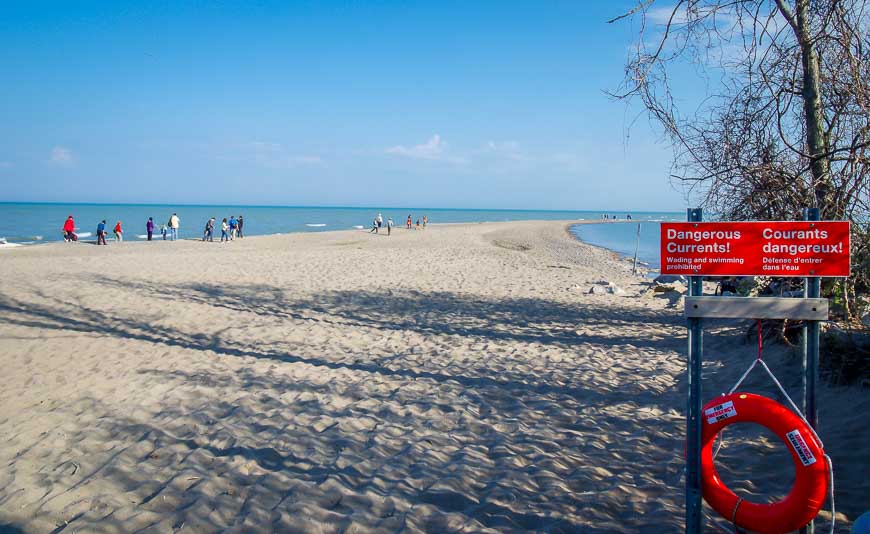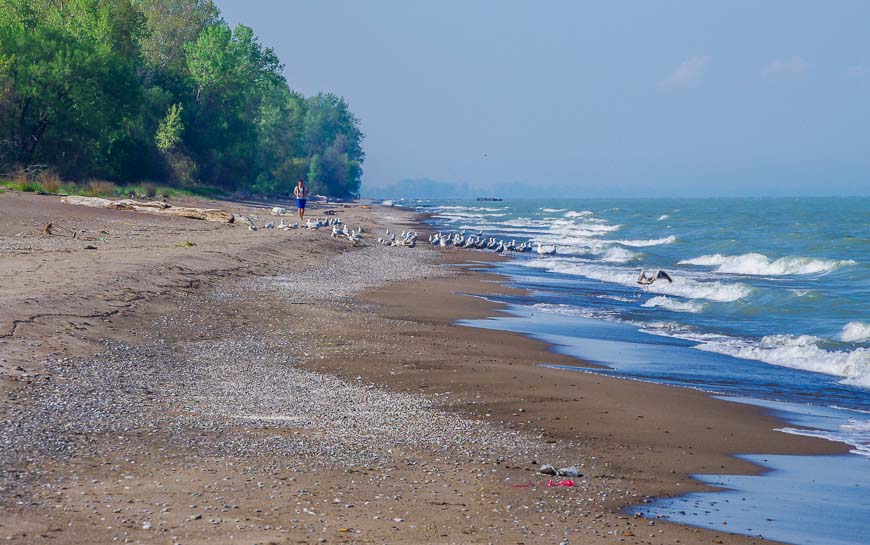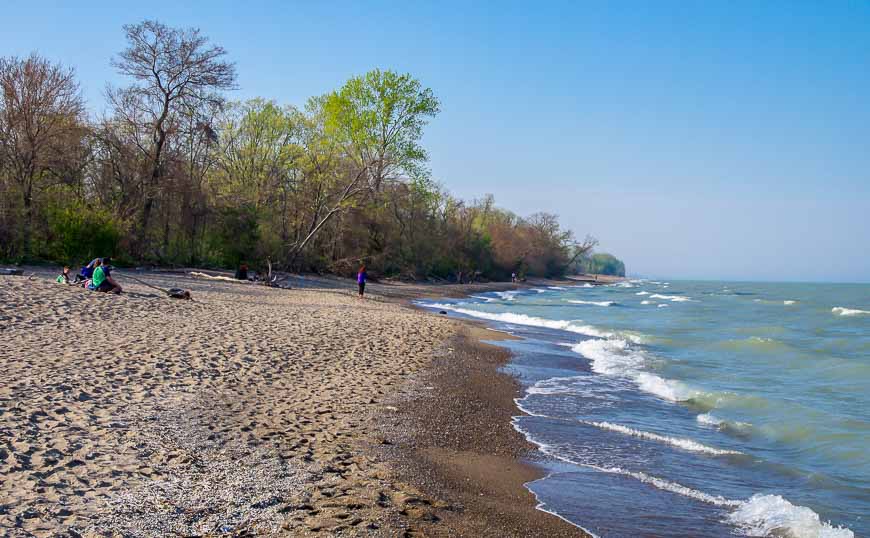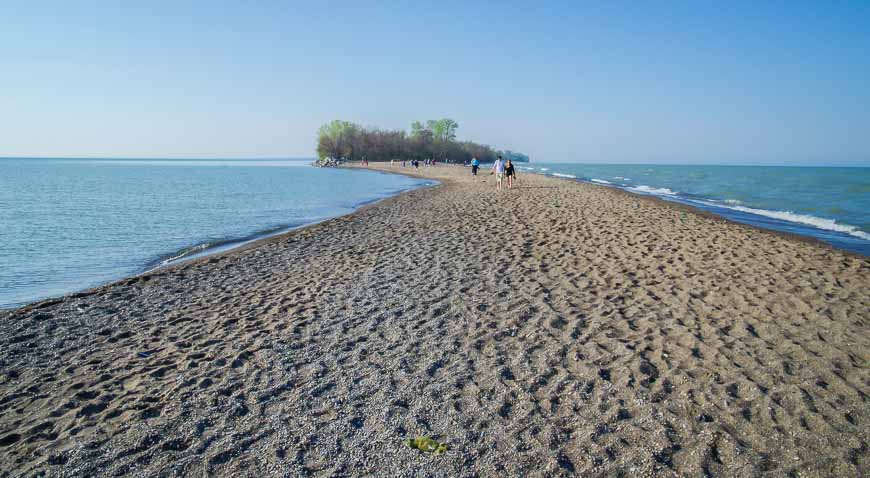 Take a hike
I spent many hours hiking a myriad of trails that run through the park. Most are short. All are flat and easy. In total there are 8 trails, ranging from 0.5 to 4 kilometres in length.
The 4 kilometre Centennial Trail from the Marsh Boardwalk to the Visitor Centre can also be biked.
The Marsh Boardwalk
My favourite hike was the one kilometre long Marsh Boardwalk.
It's popular one for the whole family – as you get up close to cattails, lily pads, turtles, birds and frogs. Red-winged backbirds and painted turtles are particularly plentiful. There's a tower to climb so you get a great overview as well.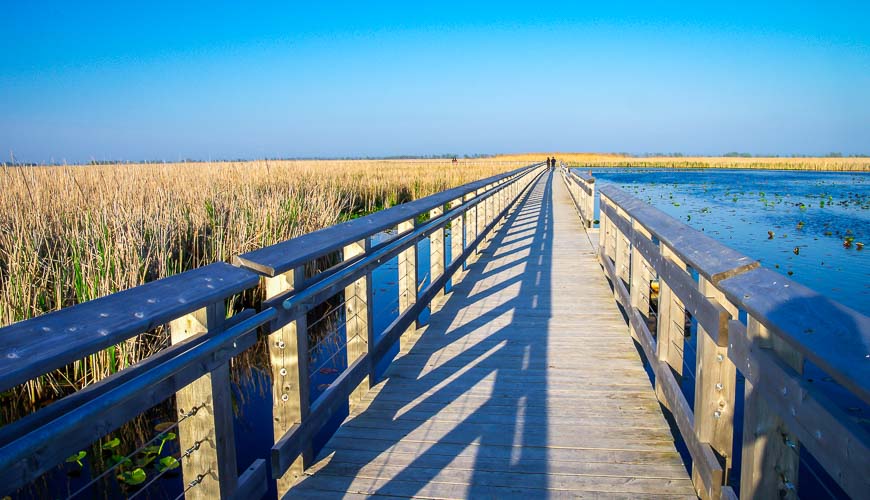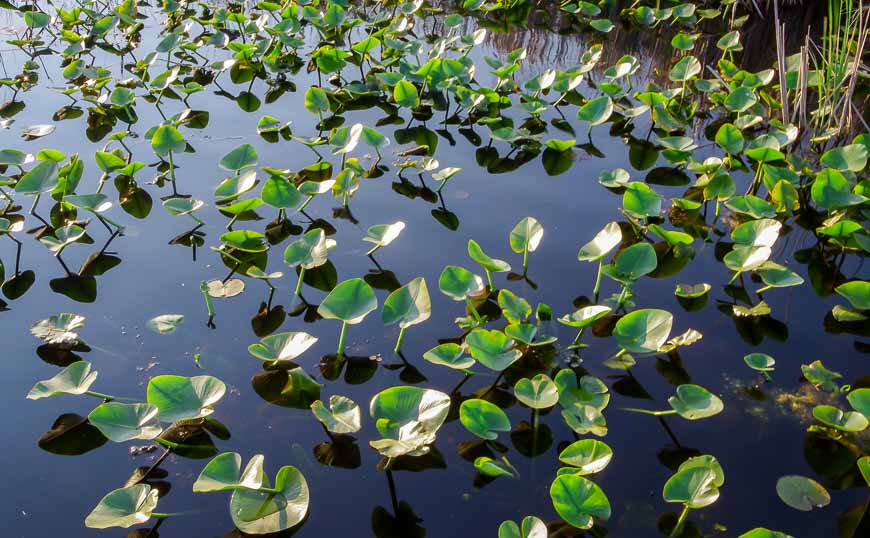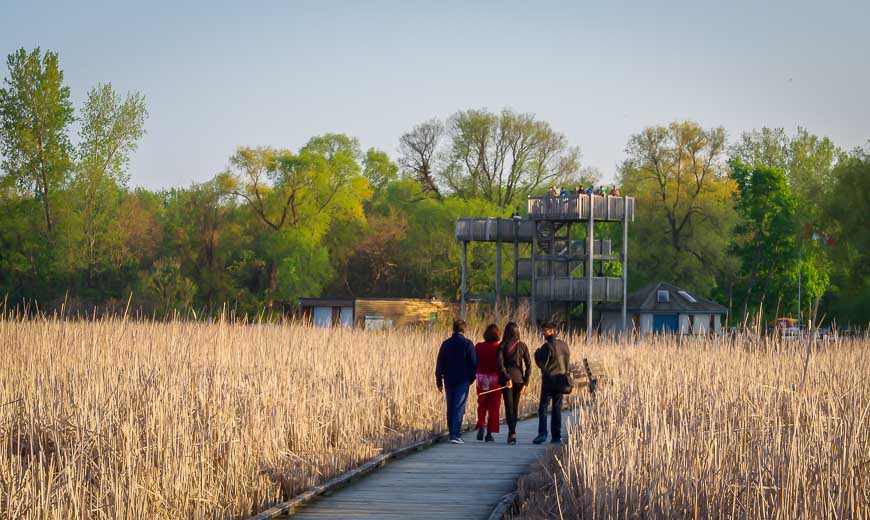 Canoe and kayak in Point Pelee
I had also hoped to paddle around the ponds as there are boats available to rent but for whatever reason they weren't open on the Monday of the May long weekend that I visited. That would be a fabulous way to explore the park.
Hiking in the woods in Point Pelee National Park
The wooded walks I did were pleasant too – especially as the woods were just full of birdsong – 99% of which I couldn't identify.
I hiked a number of loops and enjoyed the peace of the woods, trying to find (and identify) the elusive bird singing in the tree and the spring flowers. Though hardly exotic I loved coming across wild turkeys on a couple of occasions.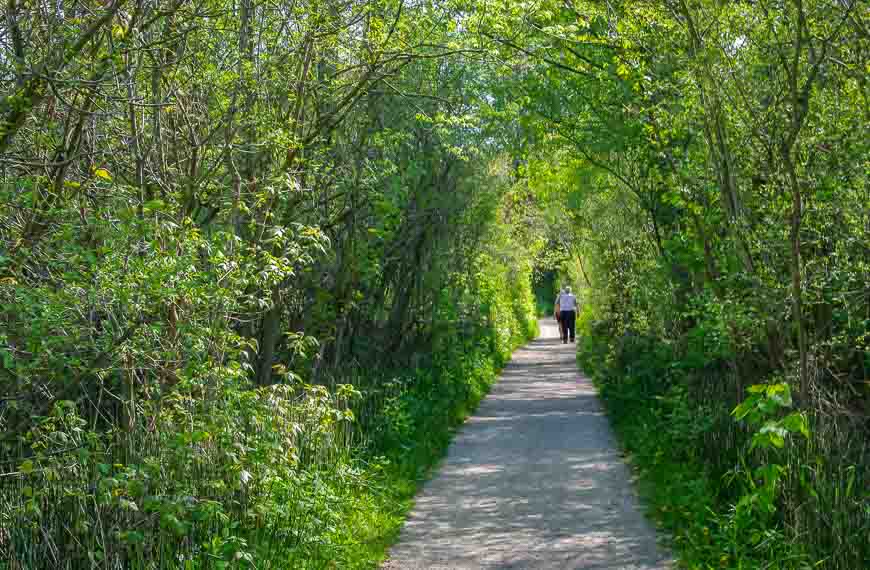 Look out for snakes in Point Pelee
There are a lot of snakes in Point Pelee National Park. I am pleased to report that I saw only one of them – a garter snake that was less than a foot long. Thank heavens I didn't see a six foot long fox snake. They may not cause you harm but I am just not a big fan of snakes.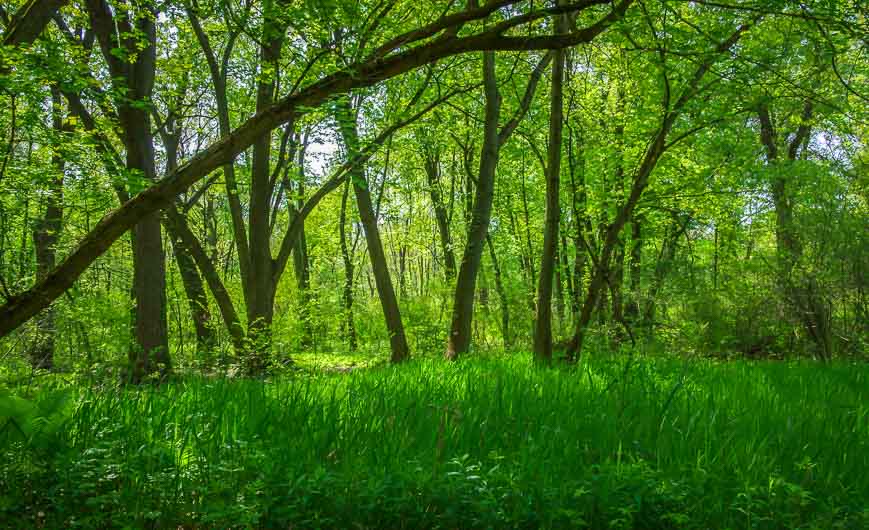 Visit the DeLaurier Farm Cemetery
It's a short but pretty 1.2 kilometre loop hike on the DeLaurier Homestead & Trail. Along the trail walk through cedar savannah, open fields and swamp forest.
Although short in length, the trail takes you through 10,000 years of Point Pelee history from the First Peoples through to homesteaders, fisherman, farmers and finally to cottagers.
Point Pelee is well worth a trip – if not in the spring then in the fall to catch the monarch butterfly migration. According to my B&B host in Leamington that's usually sometime during the last week in September.
Every year there is a Festival of Birds running for three weeks in May over the spring migration. The park is open at that time from 5 AM until 10 PM.
To visit Point Pelee, it's $7.90 for an adult, $6.90 for a senior and $16.00 for a group. It's a little bit less in the off-season between November and March.
This post includes some affiliate links. If you make a qualifying purchase through one of these links, I may receive a small percentage of the sale at no extra cost to you. Thank you for your support.
Where to stay on a visit to Point Pelee
You can book a stay in an oTENTik year-round in the park. It would be an especially great option in spring, waking up to the sound of birdsong.
If you'd prefer something where you don't have to walk to a bathroom I'd suggest the following though you'll have to drive to visit the park.
For a B&B experience 10 km outside of Leamington check out the exceptionally rated Duck Pond B&B Cottage. The Quality Inn in Leamington would be another solid choice.
In Kingsville, a cute town 20 minutes from the park, you'll find a lovely selection of B&Bs. One of the top choices is Inn 31 or the Lil' Heart & Soul Boutique Inn.
For more information on Point Pelee National Park visit their website.
Further reading on things to do in Ontario in summer
Click on the photo to bookmark to your Pinterest boards.