Montreal is a dynamic city with a great vibe. It's a city I've visited on numerous occasions, but I've never had enough time to lose myself in it, exploring for days at a time. It's brimming with culture and festivals, amazing food and lots of outdoor activities.
Montreal has an enviable location – at the confluence of the St. Lawrence River and Ottawa Rivers – and it's within easy driving distance of both the Laurentians and the Eastern Townships. Here's a look at 36 fun, weird and interesting facts about Montreal – in case you've got Montreal in your sights sometime soon.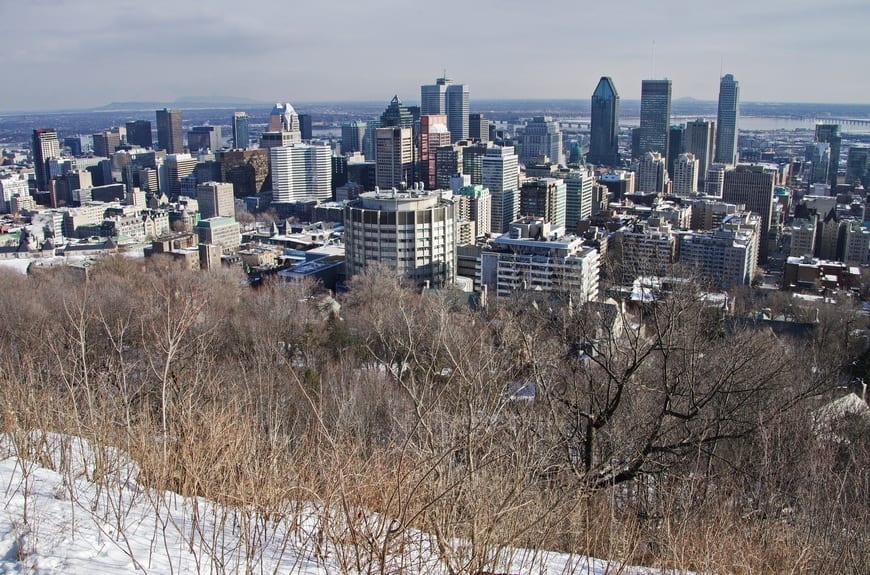 Interesting facts about Montreal related to people
Montreal has a long human history stretching back over 8,000 years. It wasn't until 1535 that the first European – Jacques Cartier – laid eyes on what is today Montreal. Then 70 years later Samuel de Champlain set about creating a fur trading post. In 1642 the first real colony named Ville Marie was established.
Montreal was incorporated as a city in 1832.
The Hochelaga Archipelago, also known as the Montreal Islands sit at the confluence of the St. Lawrence and Ottawa Rivers. There are over two hundred islands, the largest being the Island of Montreal; it forms the main city of Montreal.
The metro area population of Montreal in 2023 is approximately 4,308,000.
Montreal is the second largest city in Canada. It was the largest city until sometime in the 70's when Toronto took over the title.
Montreal is one of the five largest French speaking cities in the world. Paris is first.
Montreal has a flag with five symbols. The cross represents Christian principles. The fleur-de-lis is for the French, the shamrock for the Irish, the thistle for the Scottish and the Lancastrian rose for the English.
Montreal has the highest number of restaurants per capita in Canada and the second highest in North America after New York City.
When you visit Montreal don't miss trying Montreal style bagel, poutine or a smoked meat sandwich from Schwartz's Montreal Hebrew Delicatessen.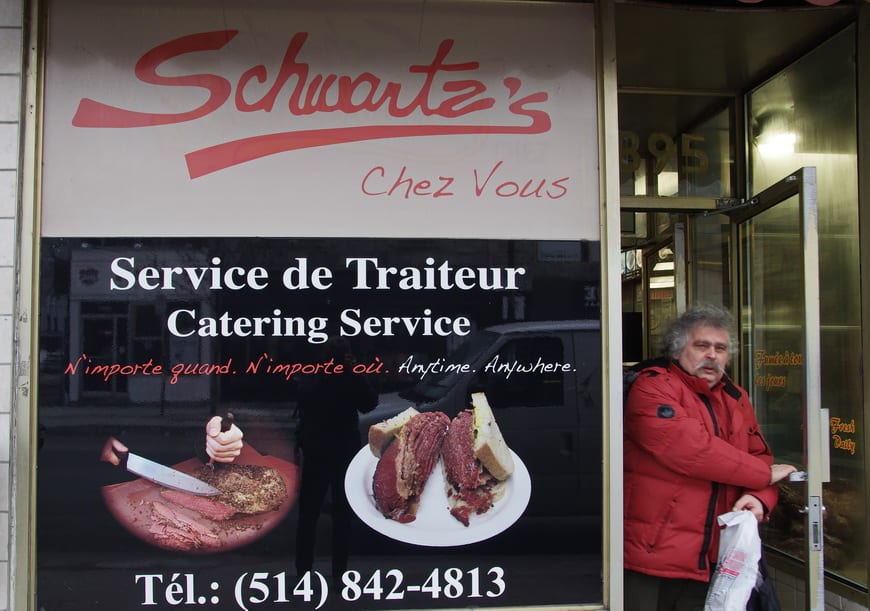 Random interesting facts about Montreal
Montreal is a UNESCO city of design. (Others in that category include Kobe, Shanghai, Seoul, Graz, Berlin, Nagoya, Saint-Etienne, Buenos Aires and Shenzhen.)
There are nine bridges surrounding the city of Montreal.
There are 4,445 licensed taxis in Montreal.
The Montreal Subway has 68 stations over four lines.
No building in Montreal can be taller than the cross on the Mount Royal Mountain.
John Lennon's song – Give peace a chance – was written in Montreal during a Bed-in at the Queen Elizabeth Hotel on June 1, 1969.
Interesting facts related to weather
The lowest temperature ever recorded in Montreal was -37.8°C (-36°F) on January 15, 1957. The record low with wind chill was -49.1°C (-56°F) on January 23. 1976.
One of of the interesting facts about Montreal is that on average there are 12 days per year with a wind chill below -30°C and one day per year with a wind chill below -40°C.
On average it snows 60 days a year in Montreal. It rains on average every month of the year too.
The largest single day record for snowfall was 43 cm (16.9 inches) on March 4, 1971.
The record high temperature was 39.6°C on August 1, 1975. The humidex reading that day was 46.8°C.
There are on average 24 thunderstorms per year in Montreal.
On the summer solstice the sun rises at 5:06 AM and sets at 8:47 PM. On the winter solstice the sun rises at 7:32 AM and sets at 4:14 PM.
The Underground City – a series of interconnected tunnels beneath Montreal runs for over 32 km (20 mi). In the winter over 500,000 people use the tunnels on a daily basis. The tunnels connect shopping malls, museums, universities, hotels, banks, offices and seven metro stations.
Montreal's sister city is Hiroshima.
Montreal is home to the world famous Cirque du Soleil.
Major events in Montreal
Montreal was home to the 1976 Summer Olympics. They were the first Olympics ever held in Canada.
Montreal played host to Expo 67 – considered to be the most successful world's fair in the twentieth century. As a kid I remember going twice and having a great time checking out all the country pavilions and tasting their food. It helped ignite my passion for travel – at the age of 10.
Montreal has a vibrant summer festival scene. The Montreal Jazz Festival, starting on June 28th is the biggest of its kind in the world. The same can be said for the Fireworks Festival. And don't miss the Montreal Jazz Festival in July. The same goes for the Just For Laughs Festival. If you've ever seen some of their pieces on TV you know you'll be in for some deep belly aching kind of laughter.
Igloofest in Montreal is a huge outdoor dance and music festival in January and February. No matter what the temperature, thousands of people show up in the wildest of outfits.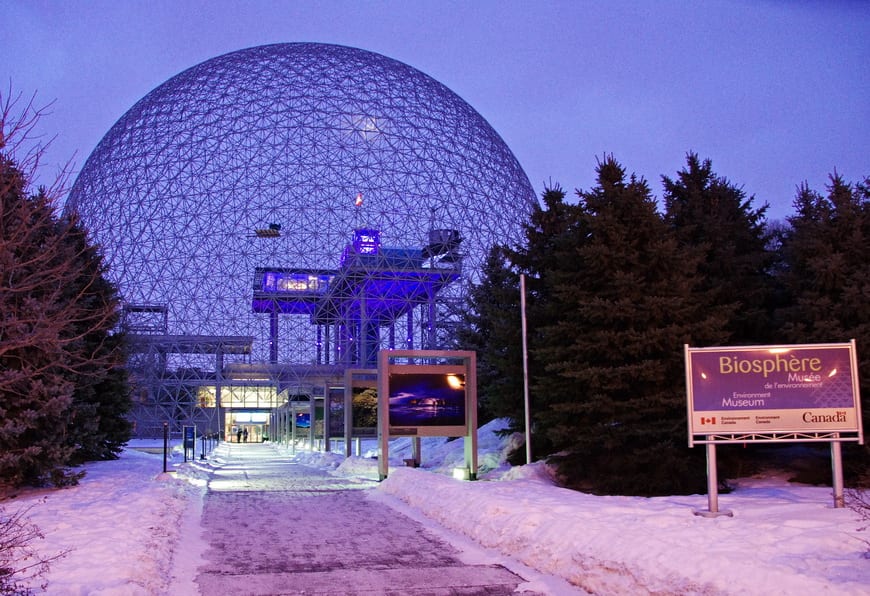 Habitat 67 was built as a pavilion for Expo 67. Conceived by architect Moshe Safdie it is one of the most recognizable buildings in Montreal. It is comprised of 354 identical prefabricated concrete forms arranged in various combinations up to 12 stories high. There are now 156 residences – many with multiple forms – and all with at least one private terrace.
There are 11 university level institutions in Montreal including four that are world-class. Students pay some of the cheapest tuition in Canada.
La Ronde Amusement Park is the second largest in Canada. One of its 10 rollercoasters – Le Monstre is a 40 metre (131 foot) high wooden double-tracked roller coaster. It's the world record holder for highest double-tracked roller coaster in the world.
Montreal is home to several professional sports teams including the Montreal Canadiens – an NHL team, the Montreal Expos – a baseball team, the Montreal Alouettes – a CFL team and Montreal Impact of Major League Soccer.
Another one of the interesting facts about Montreal is that there are more than 350 kilometres of bike paths in the city.
Come winter over 200 kilometres of cross-country ski trails can be found in the city. Parc du Mont-Royal is one of the best known ones.
Further reading on interesting facts in Canada
Click on the photo to bookmark to your Pinterest boards.