Iqaluit isn't exactly on the radar screen of many people. That's largely a function of its geography (remote) and size (small). Iqaluit is an interesting place to visit, even for a short period of time.
I was lucky enough to have a couple of long layovers in Iqaluit which gave me a small taste of the place. If I get a chance to visit again, I'd take advantage of the terrific hiking and kayaking that is available nearby. Enjoy these interesting facts about Iqaluit I learned on my quick visits.
You might like: Visiting Iqaluit, Nunavut on an Airport Layover
25 fun facts about Iqaluit
Iqaluit is the capital of Nunavut, one of Canada's three territories; Nunavut boasts an enormous landmass, enough to put it in the #15 position in the world, if it was a country.
Iqaluit was called Frobisher Bay until 1987.
Iqaluit is home to approximately 7,250 people. It's got the smallest population of any capital city in Canada.
About 60% of Iqaluit's population is Inuit – though the number seems to vary widely depending on the source.
Iqaluit means many fish in Inuktitut.
Signage in Iqaluit is in English and Inuktitut.
The airport in Iqaluit – like no other
The airport in Iqaluit is painted a cheerful yellow. Regularly scheduled flights service Iqaluit from Montreal, Ottawa, Yellowknife, Edmonton, Rankin Inlet and Kuujjuaq, primarily on Canadian North and First Air. Prepare to remortgage your house to pay for the flight.
The Iqaluit Airport landing strip is sometimes used for cold weather testing of the world's largest aircraft.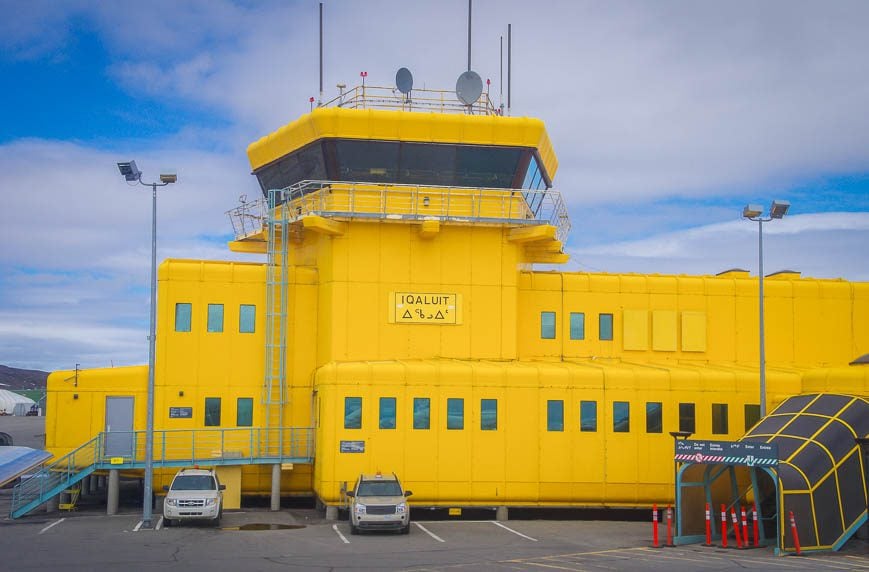 Sky high food prices in Iqaluit
There are three Tim Horton's kiosks in Iqaluit. Nunavut was the last territory in Canada to get a Tims.
Food prices are the highest I've seen anywhere in the world though Tahiti comes a close second. Don't choke on your chicken bone if you go out to a buffet.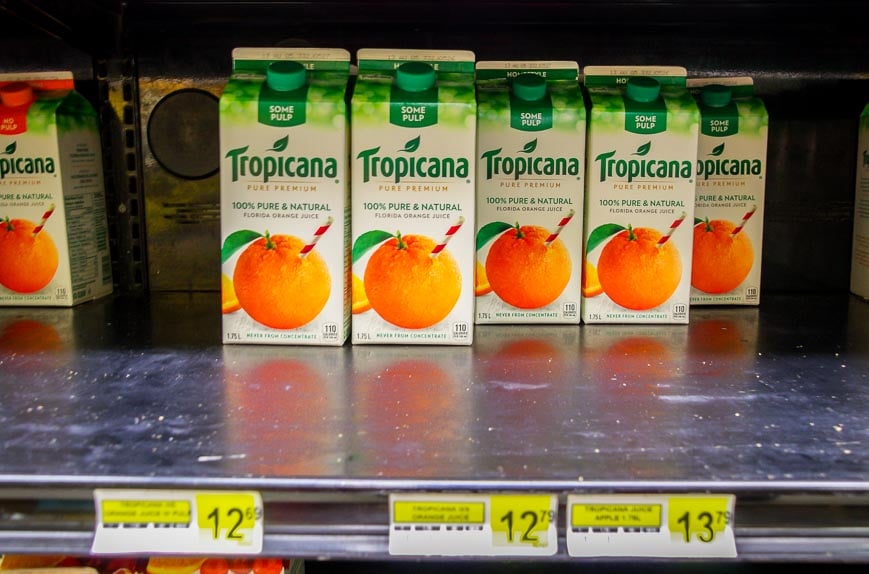 Interesting facts about Iqaluit – the temperatures take some getting used to
The lowest temperature ever recorded in Iqaluit was -46°C though one reader has said that is way too low.
On December 21st, the shortest day of the year, Iqaluit gets only 4.19 hours of daylight. On the longest day of the year – June 20th, Iqaluit gets 20.49 hours of sunshine.
On December 24th, the sun doesn't rise until 9:25 AM. The earliest sunset is at 1:40 PM on December 17th.
Houses are wildly colourful in Iqaluit.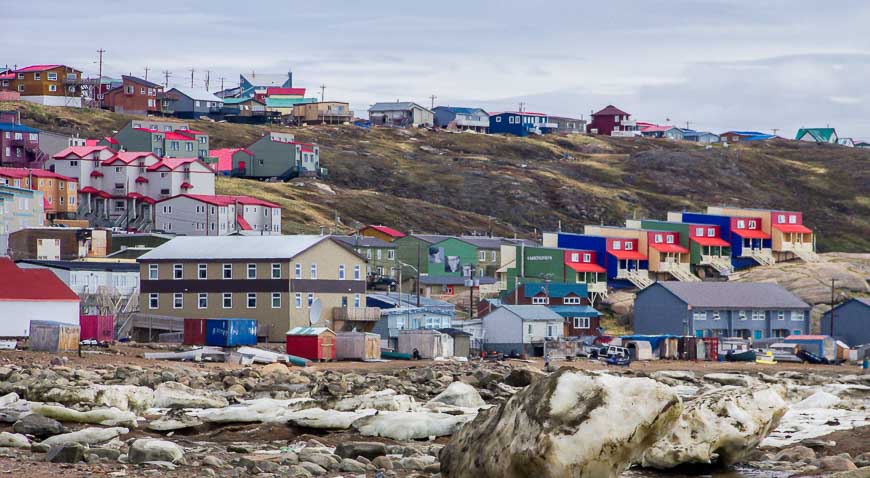 Could you live with sea ice into July?
The sea ice doesn't leave the bay until July. It stays away until October. Many people buy close to a year's supply of dry goods which are brought in by boat once the ice clears.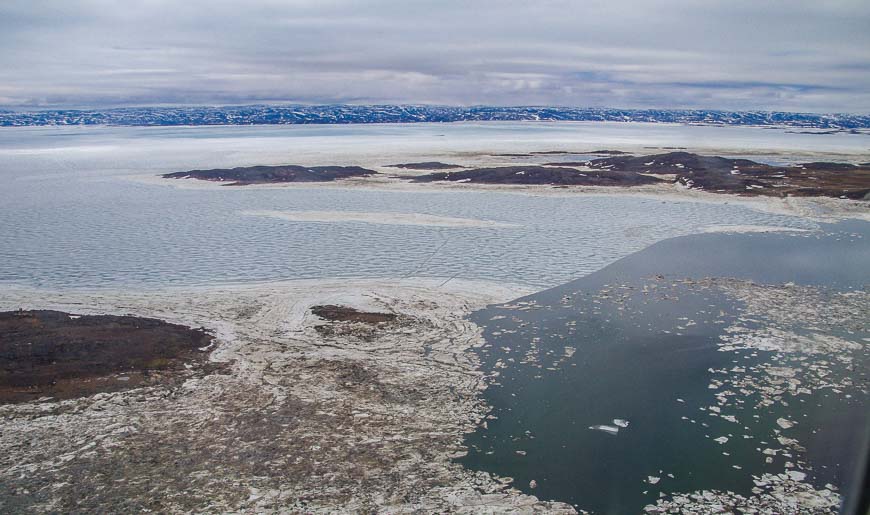 The second highest tides in Canada are found in Iqaluit. (The highest are in the Bay of Fundy). They can move 8 – 12 metres on every tide change.
Iqaluit is home to a legislative assembly with 19 seats. Decisions are made by consensus and not done along party lines.
Iqaluit has 20 kilometres of road. Most of it is not paved.
Building can be challenging in Iqaluit, since many places are built on permafrost.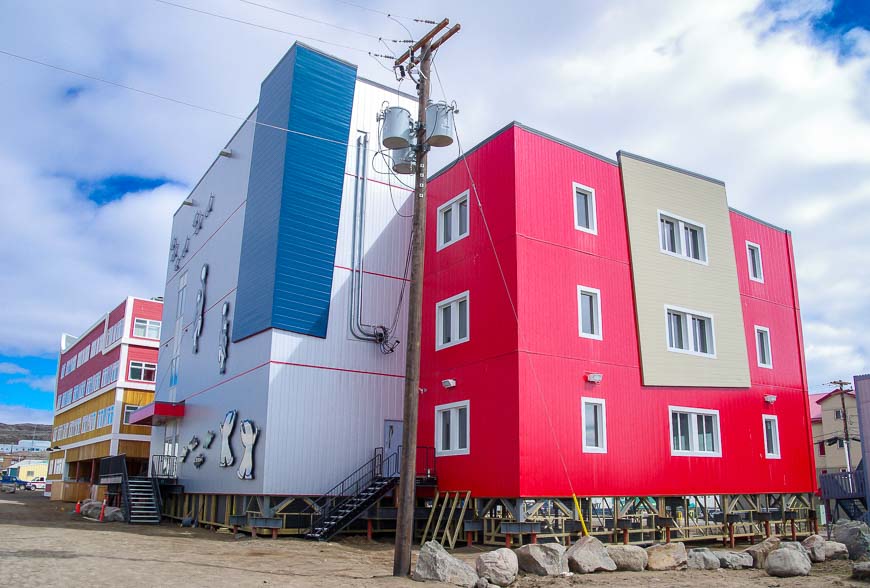 Cabs charge a flat rate in Iqaluit of $7 per ride.
It costs $2500 to $3000 to ship a car to Iqaluit.
The percentage of the population in Iqaluit over the age of 65 is 2.5%. In 2011 the median age in Iqaluit was 30.1 years.
People are restricted to no more than 22 litres of water per day if they have piped service. In this city a red light outside your house means the water tank is full.
You can easily walk from the Iqaluit Airport to downtown. By exploring on foot, we also found the home of numerous sled dogs just minutes from the airport.
The Unikkaarvik Visitor Centre offers life size displays of many of the animals seen around Iqaluit.
Martin Frobisher was the first European to sail into the bay beside what is now Iqaluit.
Snowmobiles are one of the preferred ways to get around the city. Many front yards have snowmobiles parked outside of them.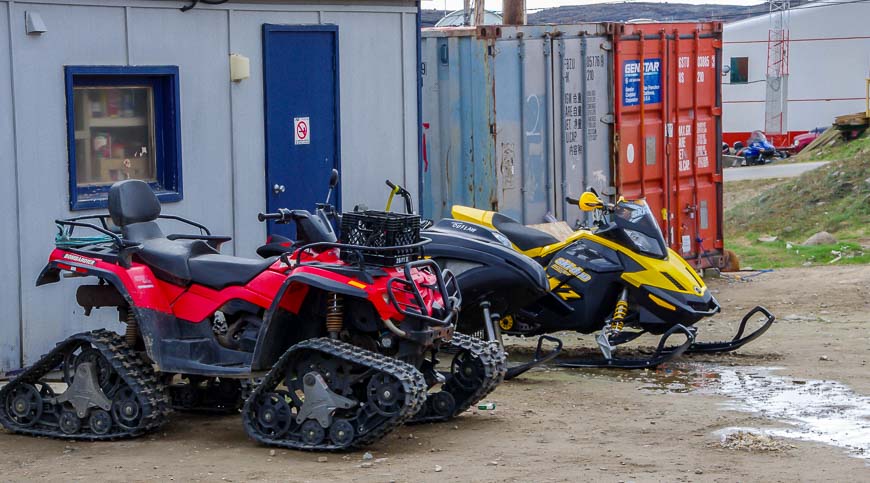 For more information about Iqaluit and Nunavut visit the Travel Nunavut website.
Further reading on interesting facts in Canada
Click on the photo to bookmark to your Pinterest boards.