Edmonton is the provincial capital of Alberta and not a place I knew much about until I started researching this blog about interesting facts in Edmonton. I thought of it as a city with nothing but big box stores, because that's all I'd ever seen as I drove through. And I knew it was bloody cold in the winter. Now that I've been to Edmonton on numerous occasions and love what it has to offer – especially the trails through the river valley and the dining experiences, I would highly recommend a visit.
I hope you learn a thing or two after reading about interesting facts in Edmonton.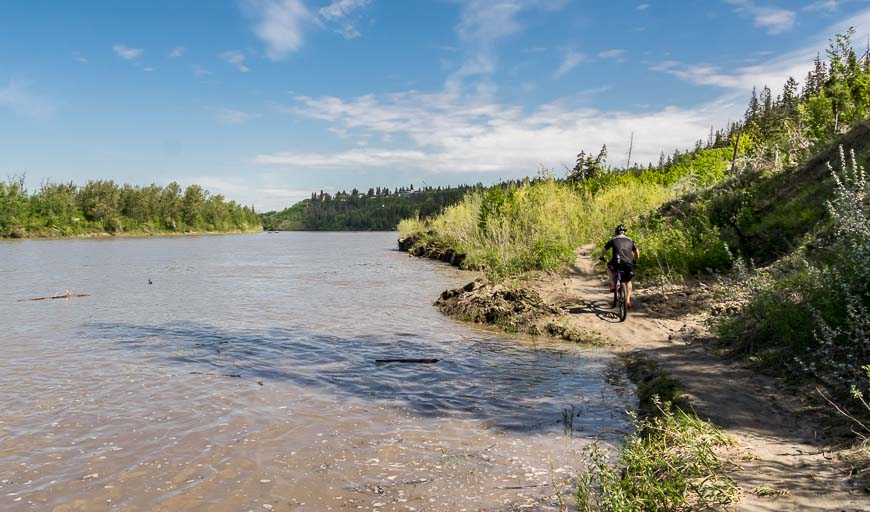 Edmonton's North Saskatchewan River Valley is the largest stretch of urban parkland in North America.
Did you know that Edmonton is the northernmost North American city with a population over one million? That's one of the interesting facts about Edmonton I love.
Edmonton is home to North America's largest mall – the West Edmonton Mall, spanning the equivalent of 48 city blocks. It was the world's largest mall until 2004. The mall is the home of a water park, regulation-size ice rink, indoor amusement park, Blue Thunder Pool – a water park with 3.3 million gallons of water. At the deep end you can catch a wave as high as 1.4 metres! One of the other interesting facts about Edmonton is that the West Edmonton Mall is home to 800 stores, two hotels and over 100 dining venues. The mall is a terrific destination on a cold winter day.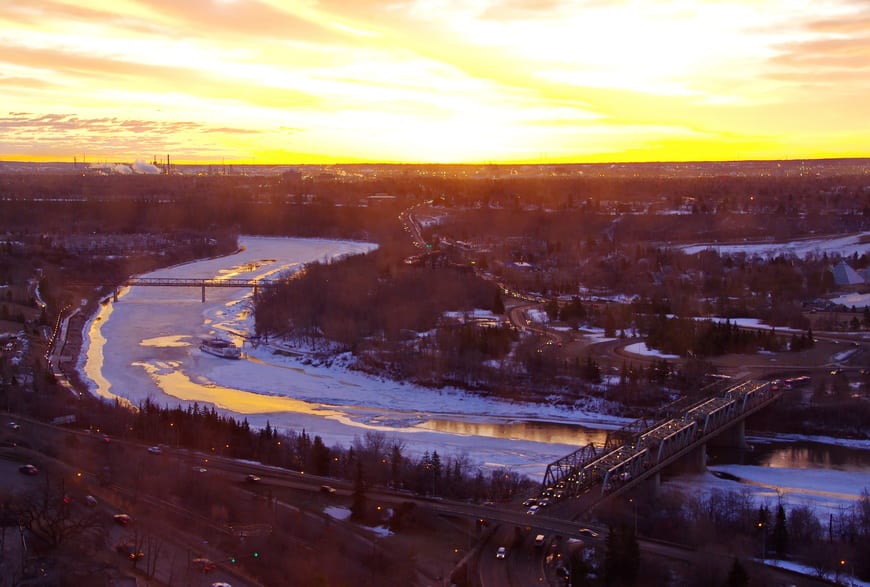 There are no rats in Edmonton – or in all of Alberta for that matter.
Edmonton has over 30 annual festivals year round. Internationally renowned are the Folk, Fringe and Street Performers festival.
The University of Alberta has produced 67 Rhodes Scholars.
The Art Gallery of Alberta was founded in 1924 and is the oldest cultural institution in Alberta. It maintains a collection of over 6,000 objects.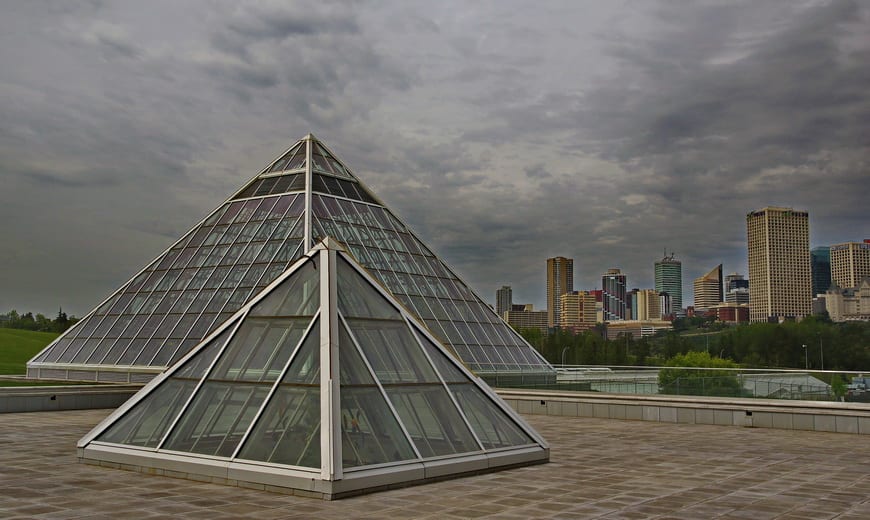 Edmonton sits close to the geographic center of the province. It's the main supply and service center for Canada's oil sands.
On the first day of summer Edmonton enjoys 17 hours and three minutes of daylight. The sun rises at 5:04 AM and sets at 10:07 PM.
Winter is another story. The sun rises at 8:49 AM and sets at 4:16 PM, providing only seven hours and 27 minutes of daylight.
Read: Things to do in Edmonton over a Winter Weekend
The coldest day ever recorded in Edmonton was on January 26, 1972. The temperature was -48.3°C with a wind-chill dropping it to -61°C.
In July 1987 Edmonton was struck by a tornado – which peaked at a wind speed of 416 kilometres per hour (258 mph). It cut a 40 kilometre swath through the city, and in places it was up to a kilometre wide. Twenty seven people were killed and more than 300 injured. It's one of the worst natural disasters in Canadian history.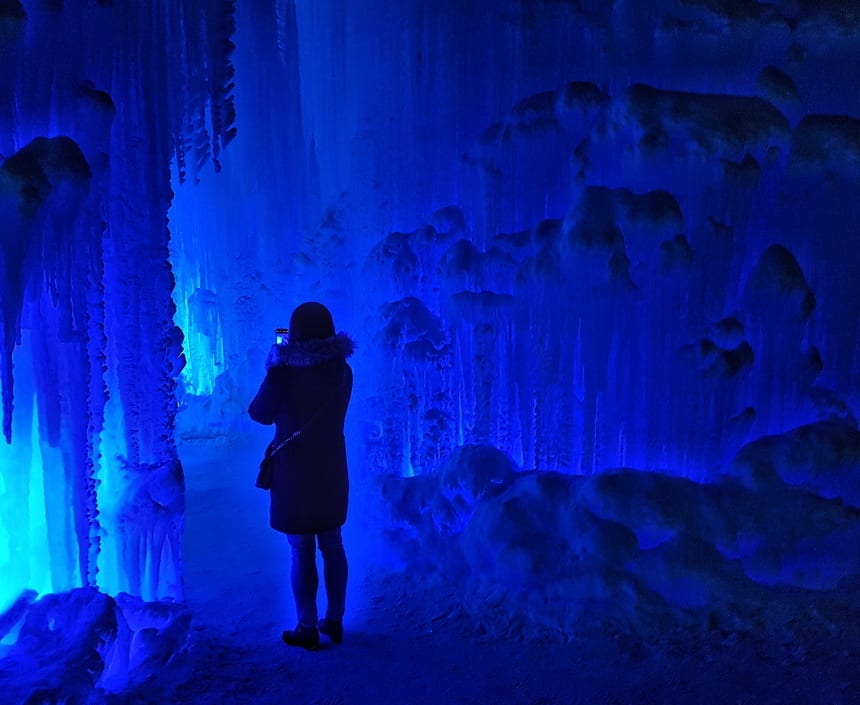 Edmonton was established in 1795 as a Hudson's Bay Company post.
The Edmonton Oilers are a NHL franchise team but they started out as the Alberta Oilers and an original member of the World Hockey Association (now defunct). They have won the Stanley Cup five times.
Mark Messier, a famous NHL hockey player, was born in Edmonton. Wayne Gretzky played with the Edmonton Oilers.
There are over 70 golf courses in metropolitan Edmonton.
Another of the interesting facts about Edmonton is that they have an outdoor museum dedicated to Neon Signs. The signs are located on the east wall of the Telus Building on 104th St and 104th Avenue.
Edmonton is one of the largest cities by area in North America. It's slightly larger than the country of Cyprus in the Mediterranean.
The Great Divide Waterfall, was installed in 1980 to celebrate Edmonton's 75th anniversary. It's 64 metre high, seven metres taller than Niagara Falls. It used to be turned on every long weekend during the summer – and pumped out 50,000 liters of water per minute. It's no longer active.
There are 275 km of paths and sidewalks for cyclists – though they have to be shared with walkers. Also noteworthy are the 460 km of unpaved single track and unimproved trails.
Read: Biking in Edmonton on the Edmonton River Valley Trails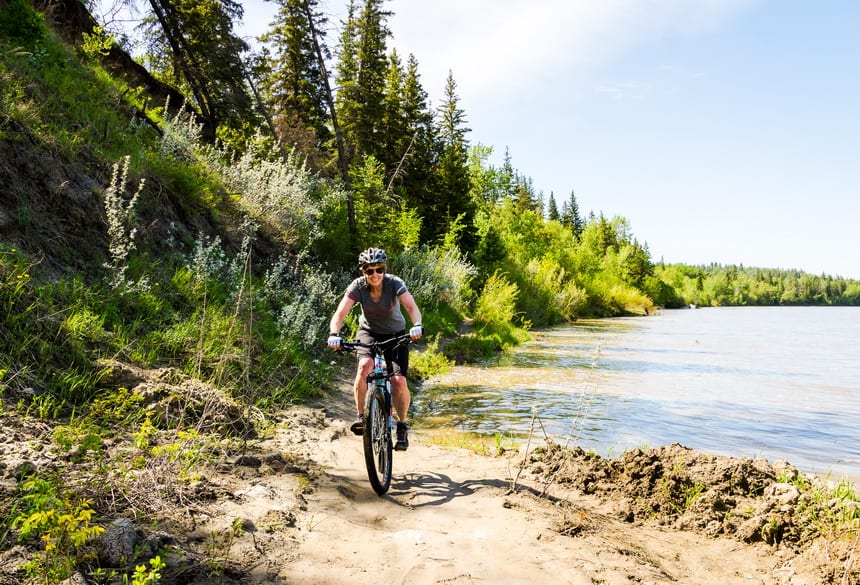 One of the interesting facts about Edmonton is that it was the home of Wop May – a famous bush pilot who fought the Red Baron in his last dogfight in World War I.
Elk Island National Park is less than an hour from Edmonton. It's home to free roaming bison, moose, deer, and elk.
Read: 5 Fantastic Things to Do in Elk Island National Park
The High Level Bridge offers the best views of Edmonton.
Jasper National Park lies 370 kilometres west of Edmonton, about a four hour drive away. I was amazed to see people skiing at Marmot Mountain – as part of a long day trip.
Recommended reading: 20+ Fantastic Things to Do in Winter in Jasper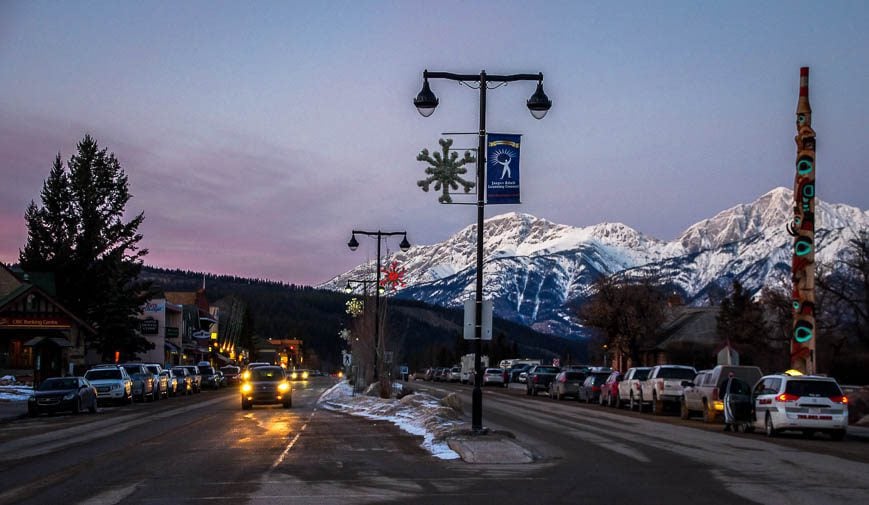 More than 30 species of mosquitoes live in the Edmonton area – and the problem mosquito is the vexans mosquito. Some summers can be miserable outdoors, especially at dusk.
The Canadian Birkebeiner ski festival takes place each year in February. Thousands of skiers from all over the world come to cross-country ski 55 kilometres with a 5.5 kilogram pack on their back, reliving the legend of King Haakon Haakonson.
There is lots of great food in Edmonton and ongoing efforts to eat and grow more locally. Some of the best restaurants according to Eat North in 2022 are RGE RD and Tryst Wine and Small Plates. The Dutchess Bake Shop is definitely worth a visit too.
The University of Alberta is home to a beautiful botanical garden, about 30 minutes south of the downtown. Edmonton is a Zone 3 for plant hardiness – compared to Vancouver which can is Zone 8.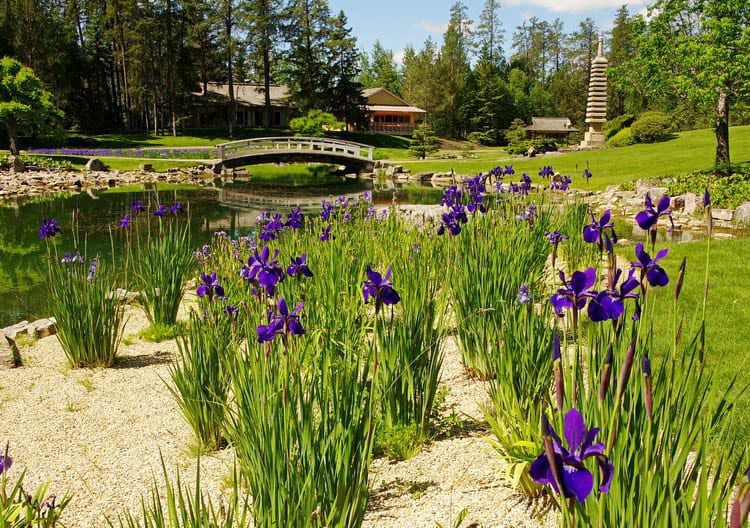 Further reading on interesting facts in Canada
Click on the photo to bookmark to your Pinterest boards.