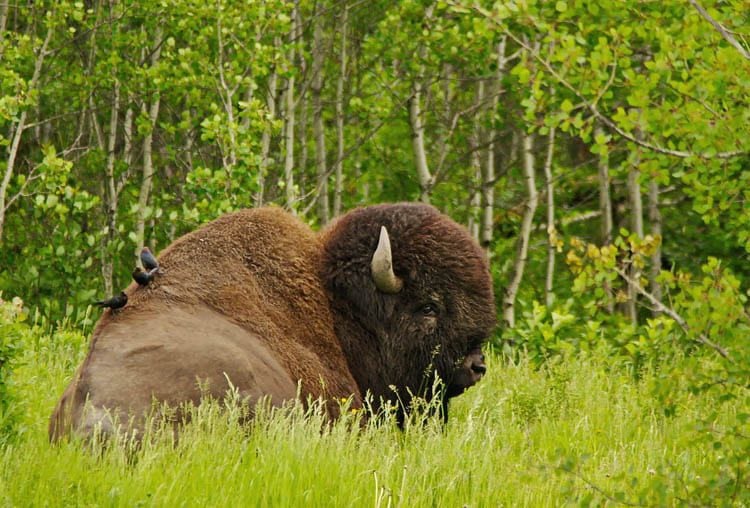 5 Fantastic Things to do in Elk Island National Park
When you need a break from the city, nothing beats a visit to a national park to recharge your soul. Humans need to reconnect with nature for their mental and physical well-being. For anyone living in Edmonton, they are lucky to have Elk Island National Park practically on their doorstep – a great destination to renew, reconnect with nature, relax and have fun on a sandy beach by a lake.
Elk Island National Park has been described as "an island of nature surrounded by a landscape of man" at the edge of the boreal forest. Peppered with small wetlands and boasting thickets of aspen parkland surrounded by prairie, the park is able to provide a home to over 250 species of birds. Interestingly it enjoys a higher density of hoofed animals per square kilometre than any other wild area in the world save the Serengeti.
For the visitor, there's a surprising number of activities.
Here are 5 fantastic things you'll want to do on a visit to Elk Island National Park in summer.
Go bird-watching in Elk Island National Park
Pull out the binoculars, pack the zoom lens and don't forget the bird book. Both novice and expert birders will have a veritable field day in Elk Island National Park.
What you'll find in the park are white pelicans in big groups on Astotin Lake, great blue herons walking the marshes, more avocets than I've seen anywhere else, bald eagles, birds of prey, great horned owls and a huge number of songbirds.
Should you camp in the park, there's a good chance you'll fall asleep to the cry of the loon. And if you're lucky you'll catch sight of the endangered trumpeter swan.
Elk Island National Park hiking
Elk Island National Park is a fantastic place for hiking. With 11 hiking trails over 80 kilometres there is a hike for everyone. The 16 kilometre Wood Bison Trail on the south side of the highway is a great choice if you're looking for an all day hike. On this one you won't see many people but you may see wood bison along with loads of wildflowers.
For a family friendly hike choose the 2.5 kilometre Amisk Wuche Trail. It's short and easy and there's a good chance you'll see a beaver or a muskrat. Try it in the early evening when it's very peaceful. (No matter what trail you choose, wear the proper footwear. It doesn't need to be heavy duty leather hiking boots but they should provide support.)
Paddle on Astotin Lake
Haskin Canoe has set up a small kiosk and rental centre so you can now try kayaking or canoeing on the island dotted Astotin Lake on Fridays, weekends and stat holidays until September 30th.
Novice paddlers will want to choose a time when the lake is calm to explore while more experienced paddlers can make a day of it on the lake. I loved exploring the bird filled islands by kayak. It's especially fun to watch a flock of pelicans fishing.
Haskin Canoe also offers tours, and Sepp, my guide for the morning told me "that the full moon tours are really popular."
Get up close with nature
Elk Island National Park is Canada's only entirely fenced national park. What's inside the fence can't get out so by the numbers, the chances are good you'll see at least some of the animals that live here.
Approximately 400 plains bison live north of the highway while the same number of woods bison live south of it. Right now the babies are around. They stand out with their reddish coloured fur. You'll be lucky if you find one of the 950 elusive elk whereas the chances are very high you'll see at least some of the 400 white-tailed deer.
Four hundred moose round out the hoofed category of animals – and again you'll be lucky to spot one. If you have one iota of patience you should be able to find a beaver, with 1,000 of them living in the park. Coyotes are plentiful too but what you won't see are bear, cougar or wolves.
According to Janelle Lane, one of the park's interpreters, "the most entertaining time to visit the park is during the bison rut in the first two weeks of August."
Join a park interpreter on a tour
Just because its summer doesn't mean you have to turn your brains off. Join a park interpreter and learn the fascinating story behind the bison herds. Not only will you be wowed by all the interesting bison facts the interpreter shares (eg. bison teeth last for a lifetime so you can tell their age by the length of the teeth) but you'll come to appreciate the importance of keeping the bison population in check.
Elk Island National Park endeavours to mimic nature since without predators (unlike Prince Alberta National Park which is home to wolves), the bison would eventually eat themselves out of food.
As you wander through the pens where the bison are collected for examination every two years you can't help but notice the design. Temple Grandin, a brilliant woman with autism, and an expert on humane animal handling, designed the pens in a way that reduces the stress on the animal.
The animals are gathered every two years for on average three days. They are checked for disease and all females are examined to see if they are pregnant. Many of the young bison end up being transported to other regions, for example Montana, to help with building bison populations.
This is by no means a complete list of all there is to do in the park.
Swim. Hang out at the beach by Astotin Lake. Golf. Laze in your tent. Read a book. But do check out this park. It's a super easy day trip from Edmonton – that combines well with a visit to the Ukranian Cultural and Heritage Village just five minutes east of the park.
"Earth delights to feel your bare feet and the winds long to play with your hair." Kahil Gibran. Get outside and get that dose of nature that we all need so badly.
Elk Island National Park Useful Info
Getting there: Drive the Yellowhead Highway – Highway 16 – east for 35 kilometres from Edmonton.
Camping: Make a reservation.
Check out: For a full list of what you can do in Elk Island visit their website.
Further reading on things to do in Alberta
Share the pinspiration love!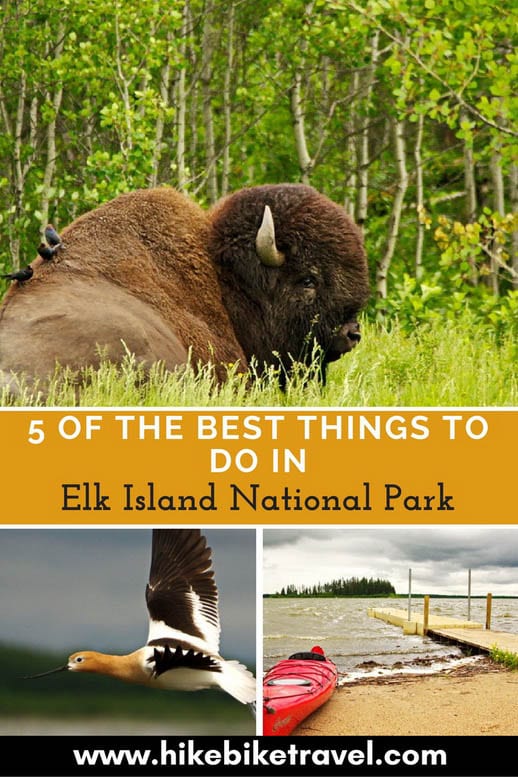 A big thank you to Explore Edmonton for making the visit possible.