Don't you love it when you visit a place that far exceeds your expectations? It's so rare, that when it happens, it's memorable. That's precisely how I felt about my trip to the Ukrainian Cultural Heritage Village. I've driven by the turnoff on the highway east of Edmonton a couple of times but had never bothered to stop. Let's just say that's a big mistake – even more so if you're hungry.
What was so surprising about a visit to the Ukrainian Cultural Heritage Village?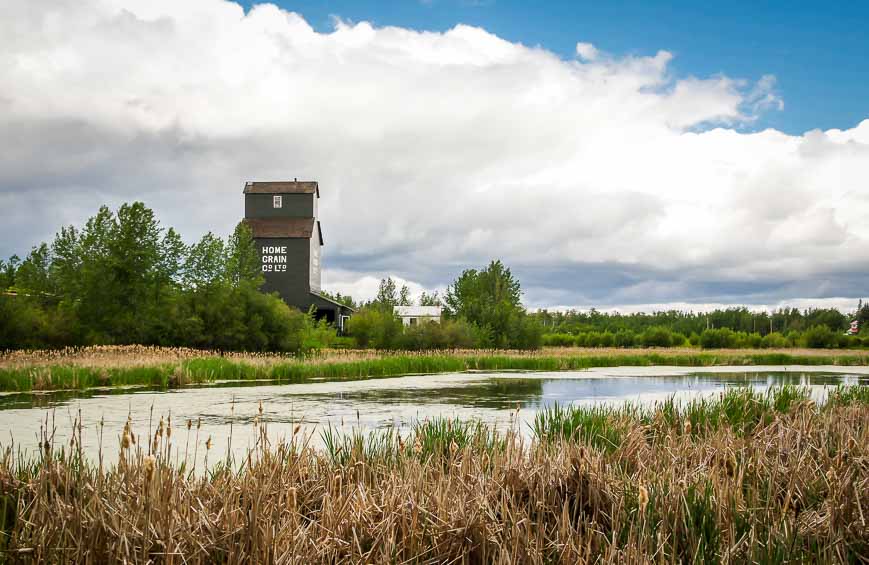 The food at the Ukrainian Cultural Heritage Village
With Edmonton as the home of the largest population of Ukrainians in Canada (148,160) and Alberta with more Ukrainians than any other province (345,410), perhaps it shouldn't come as a surprise that the Ukrainian food served at the Kalyna Cafe is authentic, reasonably priced and absolutely delicious.
The only problem is that you'll have an uncomfortable visit if you forget to wear pants with an elastic waist.
For lunch I managed to knock back a bowl of borscht, a beet and feta cheese salad and the Ukrainian plate pictured below. I didn't stop there.
When someone said poppyseed cake, I said an immediate yes. I felt like a stuffed pig – but it was worth it! The only saving grace to the experience is that I'd kayaked in nearby Elk Island National Park for the morning.
My year to date perogie (pyrohy) consumption is three – which is a mere 0.000001 % of the DAILY production of a local Edmonton business. If you can't do the math in your head – that's three million perogies (pyrohy) a day produced. WOW! It can't be just Ukrainians that love perogies.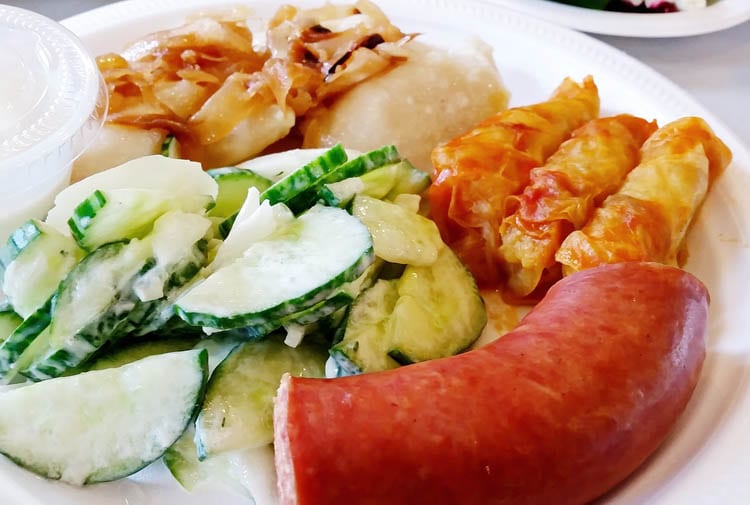 The Ukrainian Cultural Heritage Village is an open-air museum
As an open-air museum (which I didn't appreciate until I got there), the on the ground experience differs markedly from most other museums.
Visitors can wander through the homes, stores, churches and other buildings associated with the early settlement of east central Alberta – WITH costumed role players speaking a mix of Ukrainian and English and showcasing what life really looked like at the time.
On a couple of occasions the people played their roles SO WELL I felt as though I'd time traveled and stepped into the Ukraine countryside.
The characters are provided with three weeks of in-depth training. These people really know their history as it relates to the Ukrainian immigration – and they have a thorough knowledge of the building(s) where they are the hosts.
Dressing the part right down to the undergarments (so I was told) really adds to the authentic feel.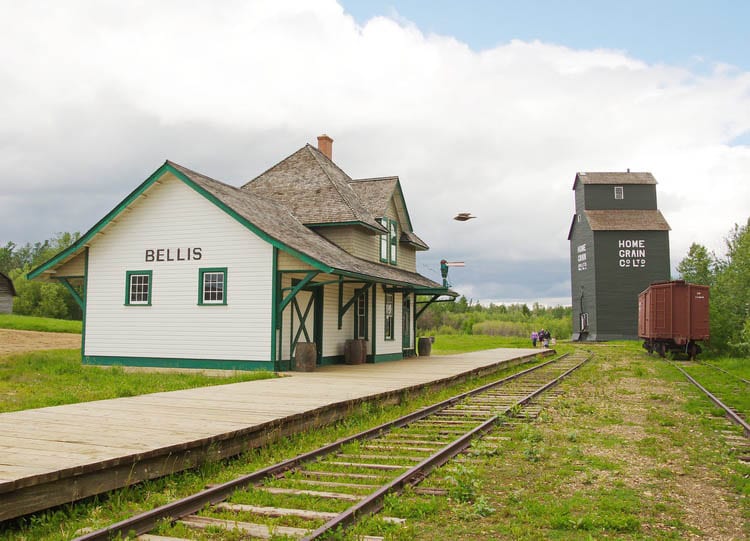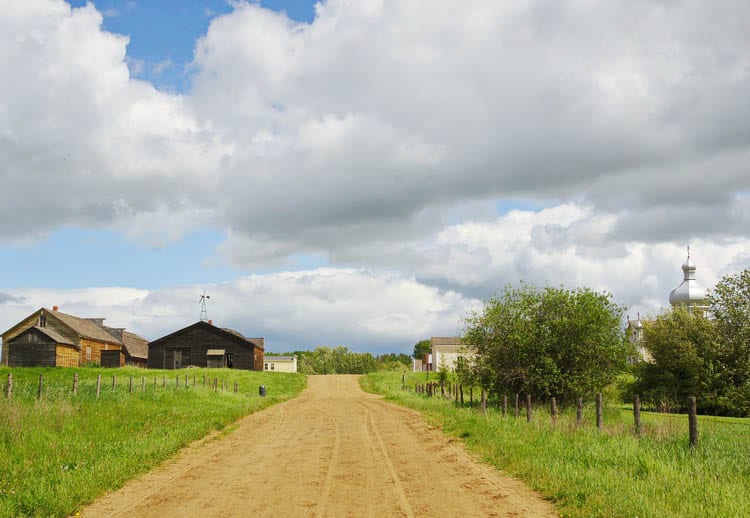 Learn about the hardships the Ukrainian immigrants endured
In 2016, it was the 125th anniversary of the Ukrainian immigration. It's amazing to think of how far the Ukrainians have come, especially when you see the living conditions they endured around 1900.
Most immigrants started with temporary shelters like the sod building pictured below. An entire family could be living in here, suffering through harsh Alberta winters and buggy summers for as many as several years.
The earliest immigrants came to Canada to take advantage of the homestead program. In return for ownership of 160 acres of land, they had a couple of years to clear bush and turn it into farmland. With a final payment of a $10 administrative fee, the fortunate ones would have opportunities not available in the Ukraine.
One marvels at the human capacity for hardship and hard work. I left the Ukrainian Village wondering how our modern generation would fare under such circumstances.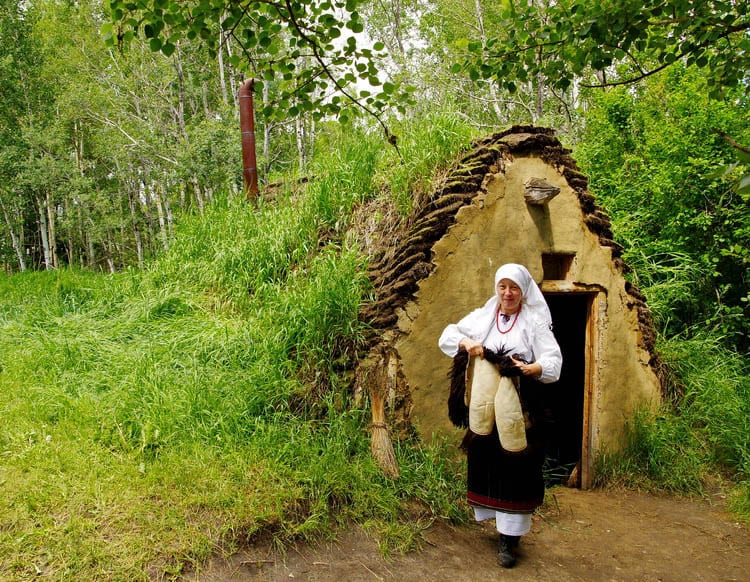 Walk through the early settlement from 1892 – 1930
There are 35 original buildings (and about 60K artifacts) that have been restored and furnished within the village. Each one of these stores, shops or even hotels is exactly as you would find it in the early 1900's. It was really interesting to walk into a shop and see what was for sale.
Here Magic baking powder has stood the test of time but look at the size of the container. It makes me think that a lot of biscuits or dumpling were baked.
Many of the buildings are completely functional. The blacksmith shop is a popular place where you can watch the blacksmith make nails. Step inside the grain elevator and see how it works. Imagine working in such dusty conditions. Visit the school. It felt more familiar than I'd like to admit.
Remember the rooms you could only use on special occasions or for company?
Built in 1915, the Grekul House – one of the first permanent homes – was an interesting one to see inside. With two main rooms, only one was used for day to day living.
I was amazed to see almost half the house was set aside for special occasions. How our concept of personal space has evolved since the early 1900's! The one main room would act as both kitchen and bedroom.
The pigs are in town
I'm not so sure that I'm surprised as much as happy to see pigs in the backyard of a farmhouse in town. Smells and mud would have been far more common a hundred years ago – but it's good to be reminded of that. The pigs are a highlight of a visit, suggesting all of us need a little more farm time in our lives.
The interior of the Ukrainian churches is magnificent
I have never stepped inside a Ukrainian church so I had no idea of the beauty or the symbolism I'd find. Inside the floor plan is in the shape of a giant cross. The colours inside the building – blue for the sky, brown floors for the ground and yellow for the wheat were a revelation to me.
Seating was almost non-existent. Church goers were expected to stand though eventually that changed. You got the feeling that there was very little attention paid to comfort.
I easily spent 90 minutes wandering through the village – but you could spend a whole day here if you took all the tours and really delved into the history. I feel richer for visiting – as I knew very little about the Ukrainian immigration before this visit. With a fantastic setting, incredible guides and a handbook written in both English and Ukrainian I think anybody who visits will be pleasantly surprised.
What you should know about the Ukrainian Cultural Heritage Village
The village is about 30 minutes east of Edmonton via Highway 16. It's only 5 minutes east of the Elk Island National Park Visitor Centre.
The village is open from May 21st until September 5th from 10 AM to 5 PM daily.
Admission is $15 for adults, $13 for seniors and $10 for youth ages 7 – 17. Kids are free.
Nine motorized scooters are available for seniors or for those with impaired mobility – by donation.
Free horse-drawn carriage rides are offered Wednesday to Sunday.
There is plenty of parking for all sizes of vehicles.
You can do either a guided or self-guided tour.
August 7th is Ukrainian Day.
In September there's a traditional harvest along with historical activities like feather stripping and grinding wheat.
Check the website for Ukrainian foods cooking and Pysanka (egg decorating and symbolism) workshops.
You can camp at nearby Elk Island National Park.
Visit the Ukrainian Cultural Heritage Village website for detailed information.
Further reading on things to do in and near Edmonton
Click on the photo to bookmark to your Pinterest boards.