Biking in Edmonton might not be the first things that comes to mind on a visit to Alberta's capital city. But it's one of the best ways to get a sense of the city – and to discover gems that you don't always appreciate from the seat of a moving car. Explore over 150 kilometres of Edmonton River Valley trails that take you both east and west away from the downtown.
Biking in Edmonton can use up a whole day if you'll let it. And honestly, if you can afford the time I'd recommend it as the Edmonton Valley River Trails are truly first-class.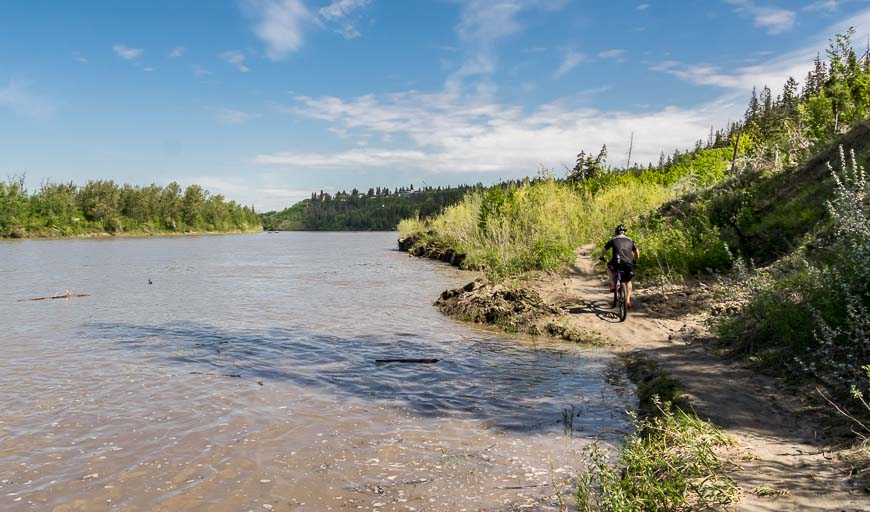 Renting a bike in Edmonton
You can rent a bike from River Valley Adventure centrally located just below the Shaw Conference Centre beside the North Saskatchewan River.
Not only do they have everything you'll need including helmets, locks, water and snacks (delicious baked goods!), they have loads of suggestions on where to bike depending on what kind of experience you're after. Don't forget to ask for a free detailed map.
Use a guide if you want to get a local's perspective
As an alternative to exploring on your own, you can use the guiding service of Chris Tse (@ChrisTse_ on Twitter) And you're going to want to – even if you're like me and you rarely engage a guide.
Chris is a total delight. Well spoken (he has a weekly radio column on CBC in Edmonton) and passionate about Edmonton, he knows the bike trails like the back of his hand – and as a photographer he also knows where to get the best shots.
I followed him around for almost three hours getting both a workout (he sure knows how to sniff out the hills) and a great sense of the city. I covered a lot more ground with Chris than I ever would on my own as I never had to stop, pull out a map and figure out where in the world I was.
Edmonton's River Valley is the longest and largest stretch of urban parkland in North America
At 22 times the size of Central Park, the Edmonton River Valley is able to provide over 150 kilometres of mixed-use trails. Trails can be found on both sides of the North Saskatchewan River and as Chris Tse points out "they provide accessibility east and west contiguous through all of Edmonton."
Over the course of the afternoon we explored the trails on both sides of the river from the Shaw Conference Centre down to Fort Edmonton Park and back.
Where you'll find one of the best views of the Edmonton skyline
Our first stop was at the Muttart Conservatory where Chris likes to take people to enjoy one of the best views of the city skyline – from the roof. The photographer in you may want to spend a lot of time here, checking out various angles but there's a lot more of the city to discover.
Then we found trails through some city parks that made you feel a million miles away from a big city. For adventurous bikers, there's some single track to discover.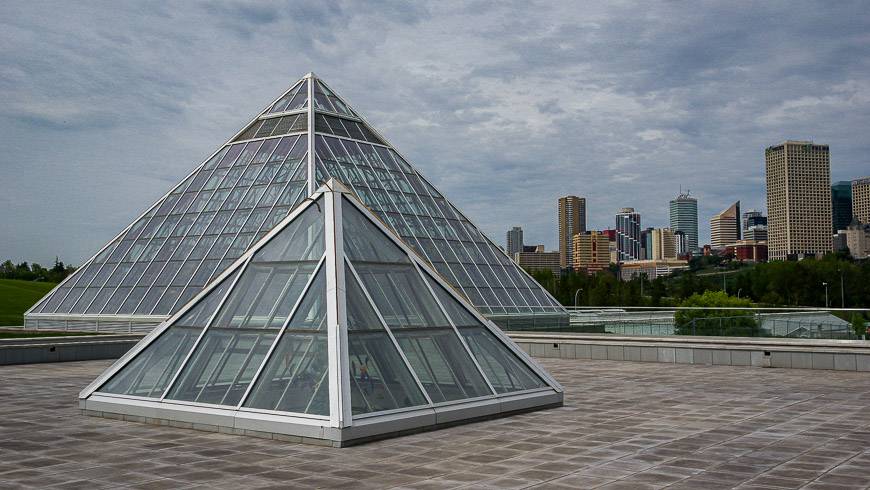 In Queen Elizabeth Park we had to get off our bikes to check out the 100 plus baby Canada geese. They were still at the cute stage, though not for much longer.
Biking to the Valley Zoo
Then it was off to the Valley Zoo – primarily so I could see the great café that is accessible without paying for an entrance ticket. Local cyclists take note!
Check out the Buena Vista – Hawrelak Park Footbridge on a bike
We made a quick detour to visit the Buena Vista – Hawrelak Park Footbridge. Both walkers and cyclists might want to take a break here as you get a stellar view of the North Saskatchewan River in a natural setting.
A stop at the Talus Dome
Next was a stop at the Talus Dome. It's a big pile of approximately 1,000 silver balls located beside the Quesnell Bridge just up from the North Saskatchewan River. Feelings run high about this piece of art with a $600,000 price tag.
According to the Edmonton Journal, the artists, Benjamin Ball and Gaston Nogues imagined it "to refer to the kind of construction you might see along the freeway in Alberta, or a pile of sugar beets, or a natural accumulation of gravel or sand." I think you'll have to decide for yourself what it represents.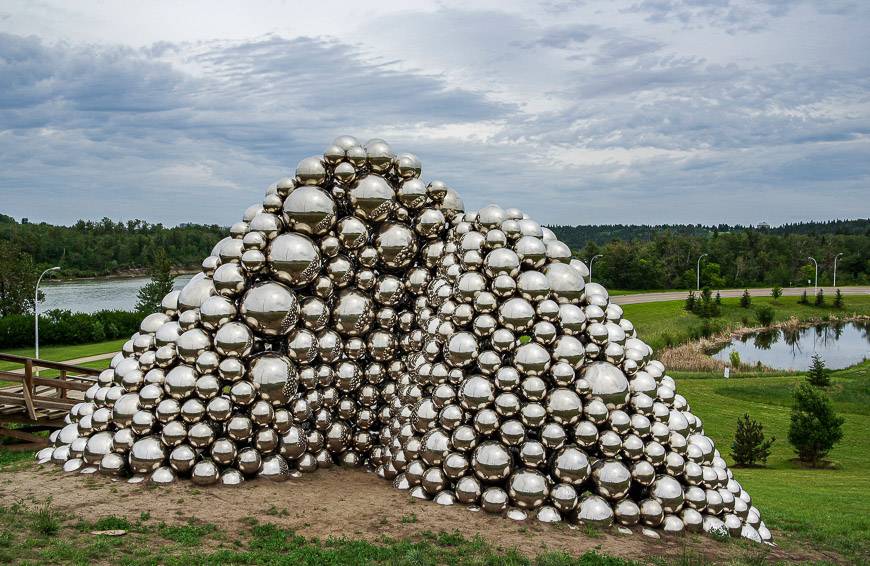 Biking in Edmonton across the High Level Bridge
On the return, with a storm threatening we made a quick spin around the Alberta Legislature Building and took in the view of the High Level Bridge from Victoria Park before bee-lining it back to the start of our ride.
On another trip to Edmonton I biked the High Level Bridge across the North Saskatchewan River from the Strathcona neighbourhood to end at the Alberta Legislature Building. The bridge is a well-used pedestrian and bike-friendly link in the city.
Unfortunately, the fountains weren't working on this visit but they are normally a soothing attraction in the city centre.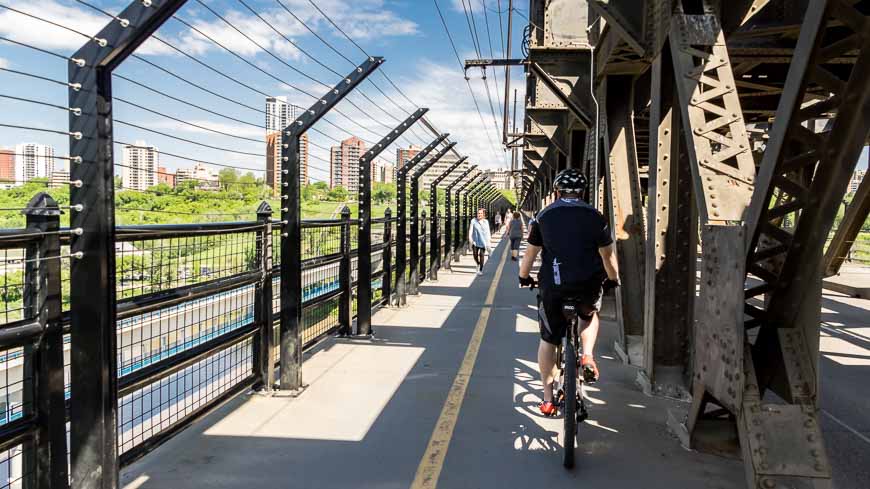 If biking in Edmonton isn't your thing
Not crazy about biking? Rent a Segway from River Valley Adventure instead and discover the trails on a 30, 60 or 90-minute tour. You won't see as much as I did but you'll get a great taste of Edmonton's fantastic trail system.
This post includes some affiliate links. If you make a qualifying purchase through one of these links, I may receive a small percentage of the sale at no extra cost to you. Thank you for your support.
Where to stay in Edmonton
If you're visiting Edmonton, especially if you're staying at one of the downtown hotels like the Fairmont Hotel MacDonald, just a stone's throw away, you'll probably find that a bike ride combined with a dose of nature is a fantastic way to get rid of any cobwebs left over from traveling.
Further reading on Edmonton area trips
Click on the photo to bookmark to your Pinterest boards.
A big thank you to Explore Edmonton for putting me in touch with Chris. And thank you to Chris for giving up an afternoon to show me the best of what Edmonton offers the cyclist.