For this Calgarian, Edmonton is not the first place I think of for a weekend getaway. But my misconceptions about the city were rocked over three days as I discovered a multitude of great restaurants, shopping, culture and things to do. An Edmonton weekend getaway is ideal year round. There's always something interesting to do, an art exhibit to see, an amazing restaurant meal to enjoy or a festival or special even to take in.
This post includes some affiliate links. If you make a purchase via one of these links, I may receive a small commission at no extra cost to you. Thank you very much for your support.
Plan a visit to Edmonton around a festival
Edmonton is home to over 30 annual festivals – so plan an Edmonton weekend getaway around a festival or event you'd like to attend. I had come for the Red Bull Crashed Ice Event – a downhill skating race.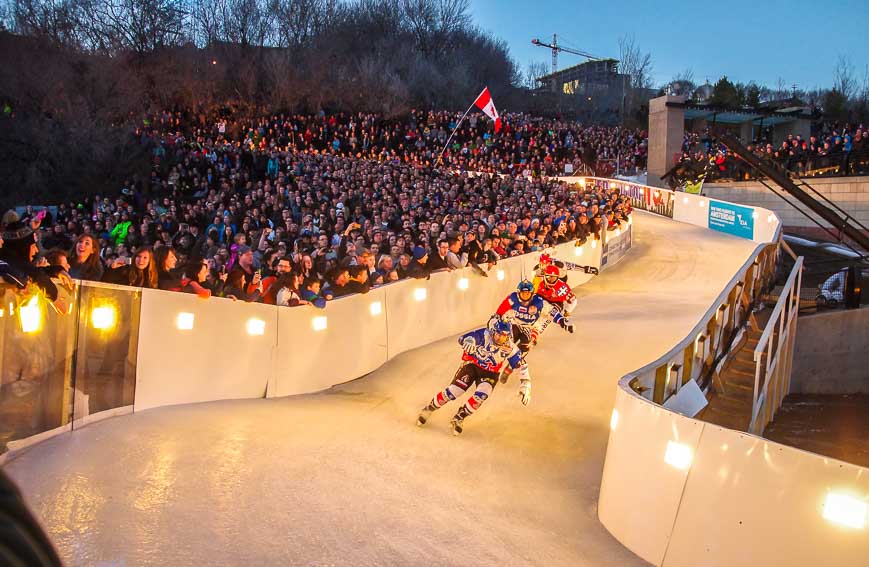 More Edmonton events and festivals
Other events I'd personally return for include the Canadian Birkebeiner – the largest ski festival of its kind in North America held every February. In late August, I'd definitely make the trip to attend the Edmonton International Fringe Theatre Festival (only the Edinburgh Fringe Festival is bigger).
Explore Edmonton by bike
Once the bike trails are open and the North Saskatchewan River is flowing, I know I'd enjoy an epic weekend of cycling the 150 kilometres of Edmonton River Valley trails and paddling the North Saskatchewan River.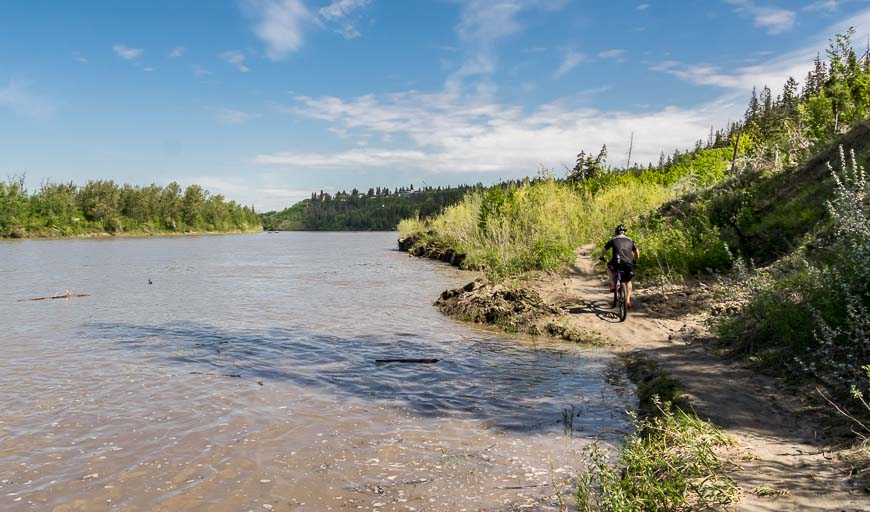 Where to stay on an Edmonton weekend getaway
Choose a hotel in the downtown core for your weekend visit. Many of the activities are accessible by foot – and certainly great restaurants are within walking distance.
I stayed at the Chateau Lacombe Hotel and thoroughly enjoyed the river valley views, especially at breakfast. The Fairmont Hotel MacDonald also boasts excellent views and the companionship of Smudge, the resident dog.
What to do in Edmonton
If I were a shopper, I'd head to the West Edmonton Mall, not so much for the shopping but the chance to see what the biggest mall in the world – at least until 2004 – looks like. And if I got up the nerve, I'd even take a surf lesson…..yes, at the mall.
Although I'm not a fan of malls, I do love markets – and came away very impressed with the Old Strathcona Farmers' Market. I wish I could have taken armfuls of pussy willows home with me – as well as some of the mouthwatering food.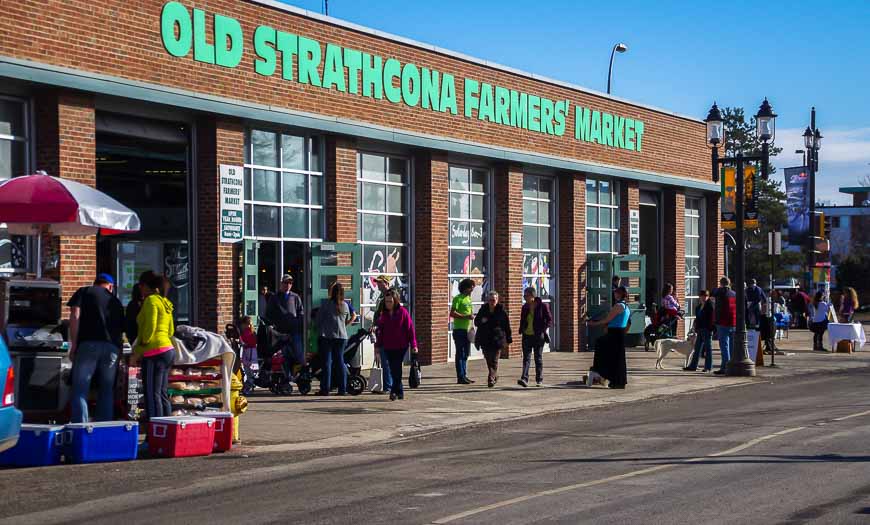 Go shopping in the Strathcona area of Edmonton
The Strathcona area is also a hotbed for shopping. It's been called one of the five best shopping neighbourhoods in Canada. Full of locally owned shops and restaurants, it's a fun place to poke around for a few hours.
Add in a visit to Elk Island National Park
Just a 35 minute drive from downtown Edmonton is Elk Island National Park. If you want to see bison, this is the place to come. But it's also a year-round destination for outdoor lovers. Hike from spring through fall. In winter visit with your snowshoes or cross-country skis.
Read: 5 Fantastic Things to Do in Elk Island National Park
Explore the North Saskatchewan River Valley
Edmonton is also home to the largest stretch of urban parkland in North America. The North Saskatchewan River Valley is a fantastic place to explore on foot or by bike. In the city core, there are stairs that take you up and down from the valley. Be prepared for a workout.
Check out the art gallery in Edmonton
The Art Gallery of Alberta, the oldest cultural institution in Alberta deserves a visit – even if you're not that into art. Do take the time to admire the architecture – both inside and out.
Graceful, flowing lines give it sex appeal in my view. Inside, expect ever changing exhibits. I found them to be thought provoking – and in some cases hard to understand without insight from a docent.
Where to eat in Edmonton
I was in foodie heaven while in Edmonton. The food consistently exceeded my expectations and I don't say that often. All of these restaurants are winners.
MEAT at 8216 104th Street is a locally owned smokehouse serving barbeque with four different homemade sauces.
Woodwork, just a few blocks from the Fairmont at 10132 100th Street in the historic McLeod building has a great ambiance about it. The southern US inspired food from the swoon worthy meatball to the kale salad with an apple cider, Dijon mustard and olive oil dressing to my brisket with corn grits was memorable. I would visit Edmonton again just so I could eat here.
I'd also suggest the Little Brick Café and General Store, in the Riverdale Neighbourhood. Housed in the historic J.B. Little home, in what was once the centre of the Edmonton brickworks industry, it is now a great place for coffees, breakfast or a light lunch.
Hit the bakeshops in Edmonton
Good luck watching your calories on a visit to The Duchess Bakeshop, located at 10718 124th Street NW. With everything from designer and delicious looking sandwiches to macarons and pies, the only problem will be in deciding what to have.
The place can get crowded! Check out the adjacent store boasting a great selection of books on baking as well as make your own macaron kits.
Our weekend getaway in Edmonton was not nearly enough. I've got next years Birkie in my sights already.
Further reading on things to do in Alberta
Click on the photo to bookmark to your Pinterest boards.
A big thank you to Edmonton Tourism for hosting my visit. All thoughts and opinions are my own.