Ever wondered what some of the extraordinary hikes in the Alberta Rockies might be?
Here are four of the best hikes in the Alberta Rockies. All are standout hikes ranging from easy to tough, and short to full day outings.
Eiffel Lake and Wenkchemna Pass hike
Among all the world's special places, surely Banff National Park must be one of the most awe-inspiring – and at the same time, it feels like coming home. Lake Louise and Moraine Lake are two of the most beautiful places you can go to in Banff National Park, and they're among my favorite places ever. Jagged snow and ice-covered mountains, aquamarine lakes, tumbling streams and alpine meadows await you.
The long drive – just over two hours from Calgary – is worth it if you're looking for something special.
If you're in the mood for a long walk with superb views, the Eiffel Lake hike, continuing on to Wenkchemna Pass, is an excellent choice.
The Eiffel Lake trailhead starts out from Moraine Lake, in the Valley of the Ten Peaks. Eiffel Lake shares the same trailhead as the highly popular hike to Larch Valley.
On an early summer trip to Eiffel Lake (6 km one way), we were treated to an astonishing array of wildflowers, listened to birdsong, and spotted several golden mantled ground squirrels, pikas (rock rabbits), and a few friendly marmots.
If you continue on to Wenkchemna Pass (Wenkchemna is the Stoney word for the number 10), you will have walked 10.4 km one way to the pass – and a total 2,400 ft in elevation gain, which is mostly gradual.
The views are superb, looking back towards Moraine Lake and the Valley of the Ten Peaks. Looking westward you can peer down into the Eagle's Eyrie rock formation.
During the popular summer tourist season, it's a good idea to arrive at the Moraine Lake parking lot early (by 7:30 AM on a weekend is generally a safe bet), so you can find a place to park. Otherwise either take a ROAM bus from Banff or book a Parks Canada shuttle.
Checking access into the area during larch viewing season in the fall is important, since this is such a popular destination. During berry season, there is occasionally a requirement to hike in tight groups of four or more, due to bear activity in much of the Moraine Lake area. For the latest updates check here.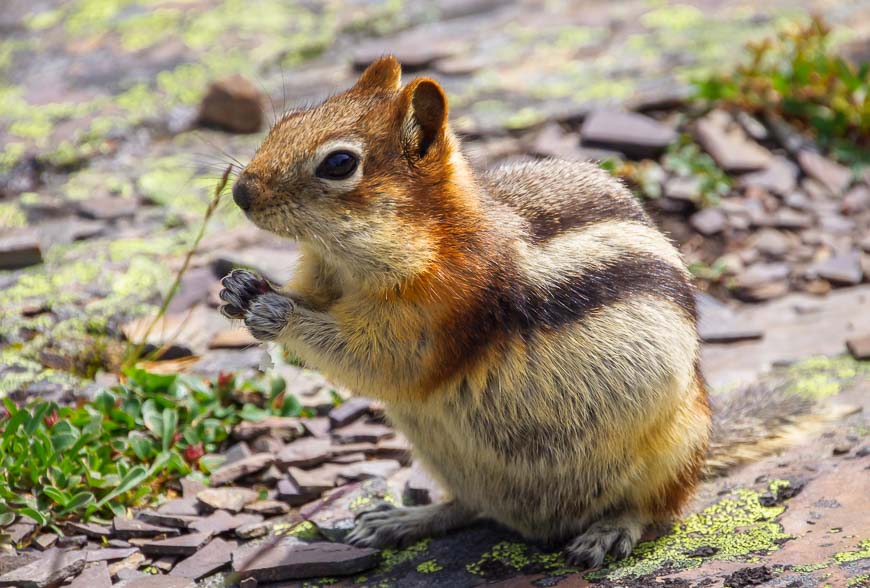 Hike to Eiffel Lake in mid-July when the wildflowers are at their peak
Kananaskis Country, Highwood Pass Area
Kananaskis Country is just as lovely as Banff, and depending on your destination – it's usually less crowded.
One of my favorite places in K-Country is the Highwood Pass area, because of its expansive views, easy access, and sheer stunning beauty. This is a wonderful place to go from now through fall, especially when the larch trees turn golden, usually around the third week of September.
Highwood Pass is Canada's highest drivable mountain pass at 2,206 m /7,238 ft. (Read: The Highwood Pass Loop – One of Canada's Best Drives )
Ptarmigan Cirque hike
With the trailhead starting from the Highwood Pass, Ptarmigan Cirque has it all: sweeping views of mountains all around, as you explore a rocky cirque.
The trail takes you on a steady and gradual uphill climb, so you'll get a workout. Elevation gain to the cirque is 230 m/ 755 ft and 4.5 km return.
Read: The Ptarmigan Cirque Hike in Kananaskis Country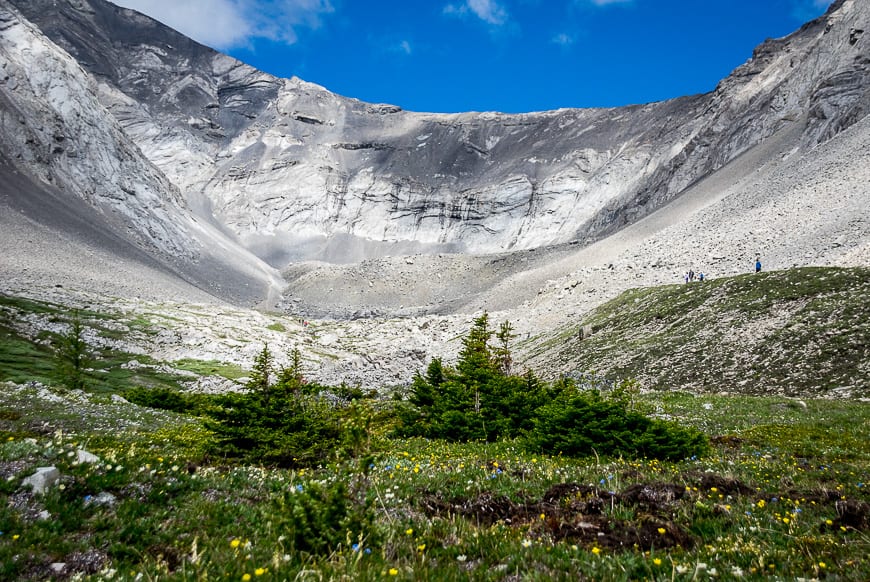 Pocaterra Cirque hike
After a short walk leading gently uphill through thick forest, this trail bursts out into the open, where you'll see rocky hillsides covered in larch trees.
You'll pass a shallow tarn as the trail approaches Mt. Tyrwhitt and Grizzly Pass to hiker's left, and an unnamed summit to hiker's right. If you're lucky, you might spot some of the pikas who call these rocky slopes home. Approximately 7 km return.
Note: I'd highly recommend the Pocaterra Ridge walk – but best done with a car shuttle.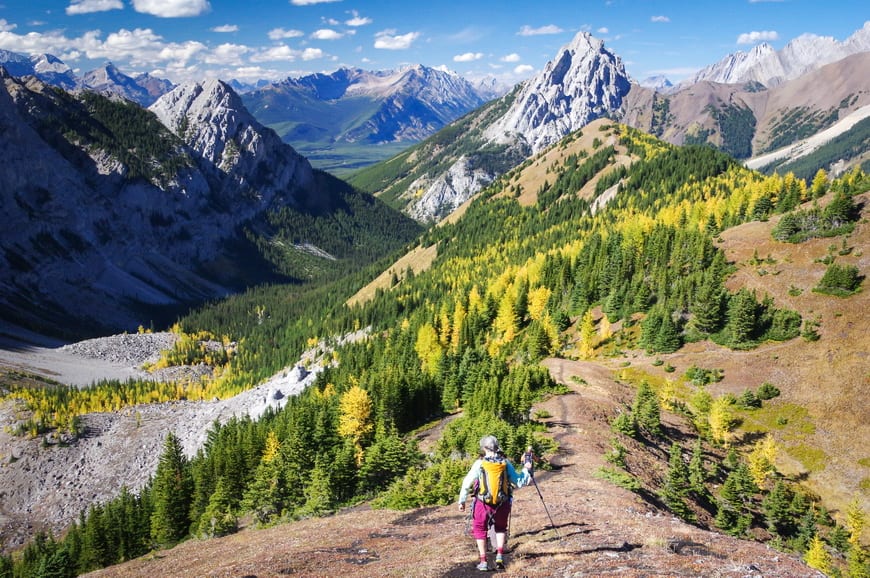 Tent Ridge hike in Kananaskis – one of the best hikes in the Alberta Rockies
Kananaskis Country, Kananaskis guidebook author Gillean Daffern describes Tent Ridge as one of the most enjoyable ridge walks you will ever take.
Indeed, it is a superlative hike, with splendid views of dramatic peaks. The mountains are so close, it feels as though you're walking near the top of the world. This is also a good place to see larches in the fall.
It's 11 km return with 615 m in elevation gain.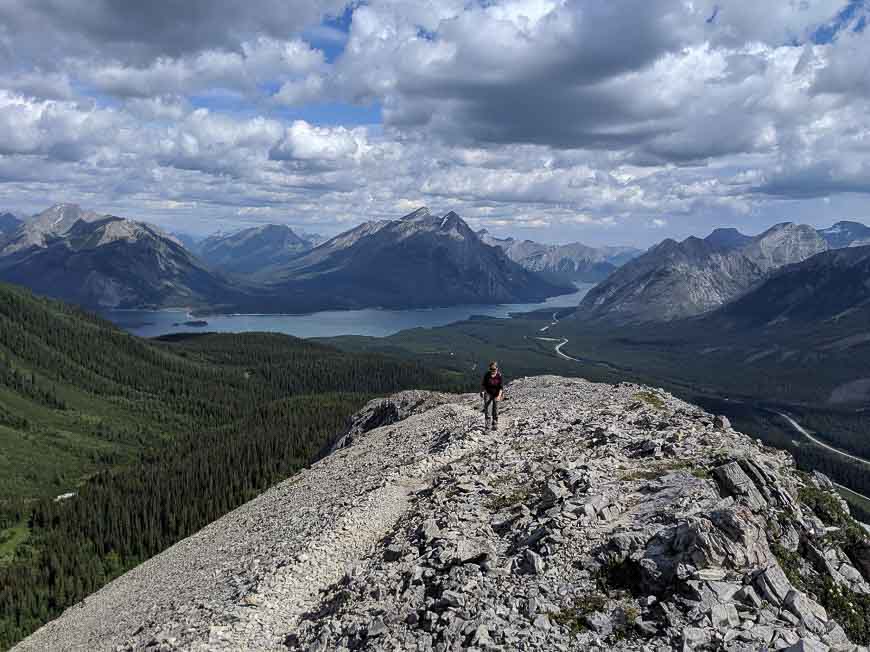 This post includes some affiliate links. If you make a qualifying purchase through one of these links, I may receive a small percentage of the sale at no extra cost to you. Thank you for your support.
Information on hiking in Alberta
For hiking: Good things to bring along include the 10 essentials, a hiking pole, plenty of water and bear spray.
Banff National Park entry: (daily): $9.80 adult, $8.30 senior 65-plus, and $4.90, youth ages six – 16, family/group $19.60
Also check out the Banff Lake Louise Visitor Information.
Location map of the best hikes in the Rockies
\

Hiking Resources
Click on the photo to bookmark to your Pinterest boards.
This is a guest post written by Jacqueline Louie, a Calgary-based freelance writer.