The Pocaterra Ridge hike in Kananaskis Country deserves to be on your must-do list. It ranks as one of the best day hikes in the mountains I've done in Alberta. Once on Pocaterra Ridge enjoy hours of mountain views in all directions. I did this hike with three women around the third week in September when the larches were at their peak. Pocaterra Ridge was absolutely stunning in September and truly a memorable hike. A summer hike would also be very beautiful – and the wildflowers are reportedly prolific. But if you can wait till larch season, I'd recommend it.
Pocaterra Ridge hike summary
Distance: 9.3 km or 5.8 miles one way with a car shuttle
Elevation gain: 550 m (1,804 ft) from Highwood Pass and an elevation loss of 875 m (2,871 feet)
Time needed: Allow 5 – 7 hours to do the one-way hike. You'll want lots of breaks up on Pocaterra Ridge to take in the view.
Level of difficulty: Moderate if you hike regularly Kids 10 -12 and up who hike a lot should be able to do it.
Best time to hike: This is a prime larch hike the last two weeks of September. Otherwise, plane to hike Pocaterra Ridge from late June until early October.
You will need a Kananaskis Conservation pass to do the Pocaterra Ridge hike. It's $15 for one car per day and $90 for an annual pass – but that registers two cars if they are at the same address.
There is also the option to do and out and back hike, climbing up to Pocaterra Ridge and going as far as you want before retracing your steps.
The high point on Pocaterra Ridge is 2,670 m or 8,758 feet.
Take bear spray that is quick to access.
Even though Pocaterra Ridge is a popular hike, there is no route signage.
There is nowhere to refill water bottles once you start climbing the first ridge so carry a lot, especially in summer.
Always carry the 10 hiking essentials. Pack warm clothes as the wind can be ferocious at times on the ridge.
The

Gem Trek Kananaskis Lakes

topographical map is the one for this hike.
Highway 40 is closed to cars from December 1 – June 14th. Unless you plan to bike to the trailhead, you can't start hiking till mid-June – and the snow levels will likely be too high at that time anyway.
Don't count on any cell service on the hike. Download any maps ahead of time so you have them for offline use.
This post includes some affiliate links. If you make a purchase via one of these links, I may receive a small commission at no extra cost to you. Thank you very much for your support.
Getting to the trailhead
If you want to do a one-way hike on Pocaterra Ridge – which is what I would suggest – start at the trailhead at the Ptarmigan Cirque-Highwood Pass parking lot, located 67.4 km south on Highway 40 from the Trans-Canada Highway. Leave the other car at the Little Highwood Pass parking lot, located 60.6 km south on Highway 40 from the Trans-Canada Highway.
There are toilets at the trailhead.
The best way to hike Pocaterra Ridge
If you do Pocaterra Ridge as a one way hike you can dawdle on the ridge itself. And if you start at Highwood Pass you will save 289 m (948 feet) of elevation gain – a significant amount for a day hike. The downside is that you'll need to organize a car shuttle. That's definitely an issue for a lot of people, especially if you're used to hiking solo or you don't have a lot of friends who would be able to do the hike. That's where a hiking club may be worth joining like the Calgary Outdoor Recreational Enthusiasts or CORE.
There is the option if you're super energetic to leave a locked bike at Little Highwood Pass and cycle back up to Highwood Pass at day's end. But really, who does that? Fitter people than I.
Pocaterra Ridge trail report
The hike starts and ends with a bit of route finding. It's almost the crux of the hike! To start, leave the north end of the Highwood Pass parking lot and follow signs for Ptarmigan Cirque. You're going to want to go left on a not very well maintained trail – before the Ptarmigan Cirque trail goes right.
The trail is braided so I would recommend sticking to the most obvious trail as you head into the trees. Continue hiking and in short order you pop out of the thick trees and enter a valley – as you can see in the photo below. Pocaterra Ridge is off to the right or north. I found that once we got out of the woods, the trail was more defined trail all the way through to the descent to the Little Highwood Pass parking lot.
Note that this part of the trail is also used if you are hiking to Grizzly Col and Grizzly Ridge. Their names alone are a reminder to make lots of noise in this area and keep your bear spray handy.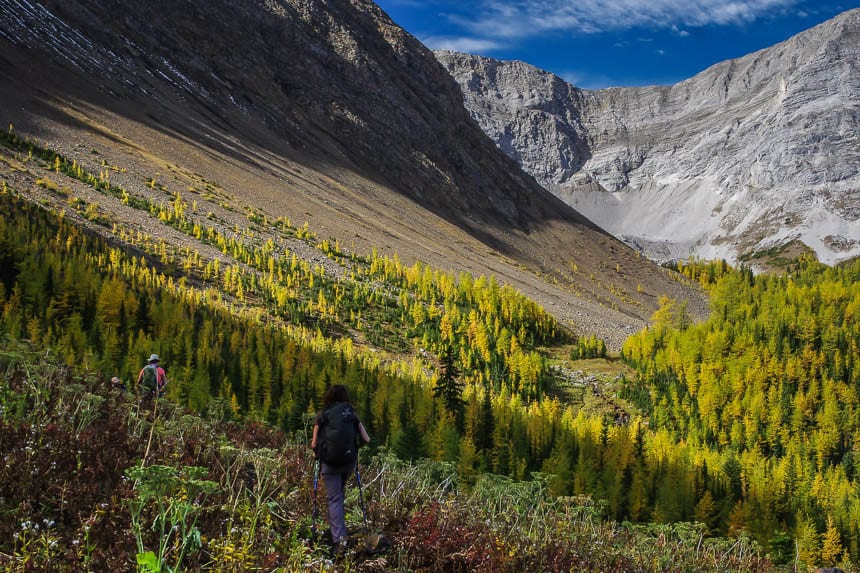 Continue on the obvious trail to reach a small, shallow pond. It's the last place for any dogs to get a drink. Next up is Pocaterra Cirque. From there you'll be able to see the first summit – and just how much climbing you need to do.
It actually doesn't take long to climb up to the first summit – as little as 30 minutes for some people. There are steep sections, but just stop, take a breath and then admire the mountains around you. You can see the trail up to Grizzly Col, Mount Tyrwhitt and even Mist Mountain.
Four summits along Pocaterra Ridge
There are four summits to climb along Pocaterra Ridge with the first one being by far the hardest from the aerobic standpoint. Once on top you can see the route very clearly. From the first summit, there is a steep descent – but nothing that is technical.
You will be drawn to continue along the ridge by the views. The next three summits are much easier to go up and down than the first. However, the final descent from the fourth summit to the parking lot is also steep. Some people may feel more comfortable using hiking poles on this section.
The descent to Little Highwood Pass from Pocaterra Ridge
After you've climbed the fourth summit you can look forward to a steep descent from Pocaterra Ridge to the Little Highwood Pass parking lot – visible in the photo you see below.
The trail is obvious for a good chunk of the descent. Once the well-defined trail disappears follow whatever animal trails you can find as you switchback down the ridgeline. There are occasional pieces of flagging tape to keep you on track.
Despite the lack of trail, it's actually quite straight forward to descend, mostly because the trees aren't too dense. You will eventually reach a creek you must cross. Certainly by September it was obvious what route to take. Exercise caution if you're here when water levels are higher. Early on in the season you might need sandals to avoid getting your feet wet. We literally finished the hike beside a bush marked with flagging tape directly across from the entrance to the Little Highwood Pass parking lot.
The best time to hike Pocaterra Ridge
This is a stunner of a hike almost from the moment you start. When you can hike it will very year to year depending on snow levels. The road to Highwood Pass is closed to cars until June 15th. In most years your window to hike the ridge will be from late June until late September – with mid-September ideal for the larches. I think it's worth trying to find the weather window to hike it in September's peak larch season.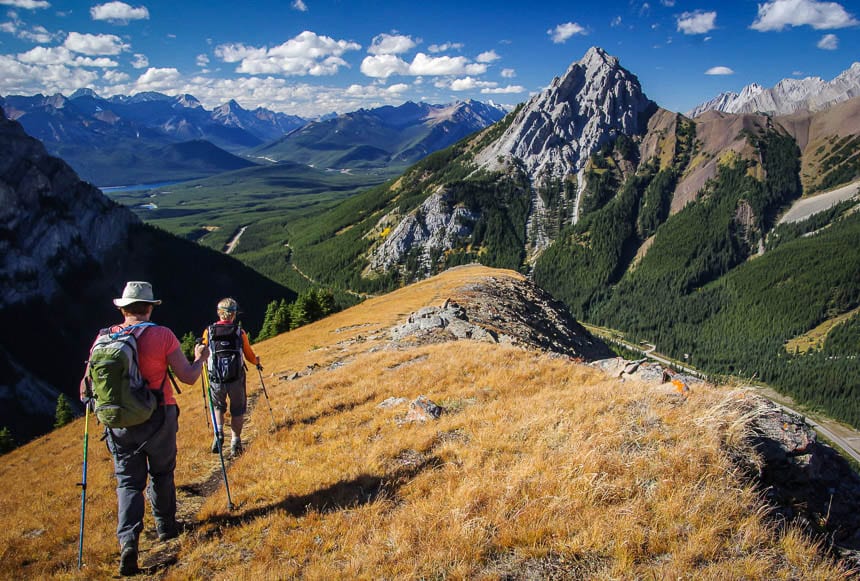 Pocaterra Ridge location map
Things to take on the Pocaterra Ridge hike
I swear by my almost weightless seat cushion as its makes a lunch time stop that much more comfortable.
I like using hiking poles especially when I'm in steep terrain – and that's what you'll find on many sections of the Pocaterra Ridge hike.
If you're hiking the ridge early in the season, I think you'll find microspikes useful.
I always carry rain gear despite what the forecast might suggest. I find a ball cap or brim hat with a chin strap invaluable in the rain or on a hot, in your face sunny day.
I like to pack a buff. It's a multi-purpose piece of cloth with a hundred uses yet it takes up almost no room.
If you're prone to blisters pack Compeed – a great though expensive product that speeds up healing. Another option is Leukotape – recommended to me by a fellow who hiked the whole Great Divide Trail.
Where to stay near Pocaterra Ridge

You're close to some great camping in Peter Lougheed Provincial Park – and some of it is first come, first served.

Recommended reading: A Complete Guide to Camping in Kananaskis

Your other options include the lovely but pricey Mount Engadine Lodge located just off the Smith Dorrien Road.

Near the Ribbon Creek trails is the Wilderness Hostel and in Kananaskis Village there is the more upscale Kananaskis Mountain Lodge.

If you'd like to sleep in a teepee or trapper's tent, check out Sundance by Basecamp near the turnoff to Nakiska Ski Area.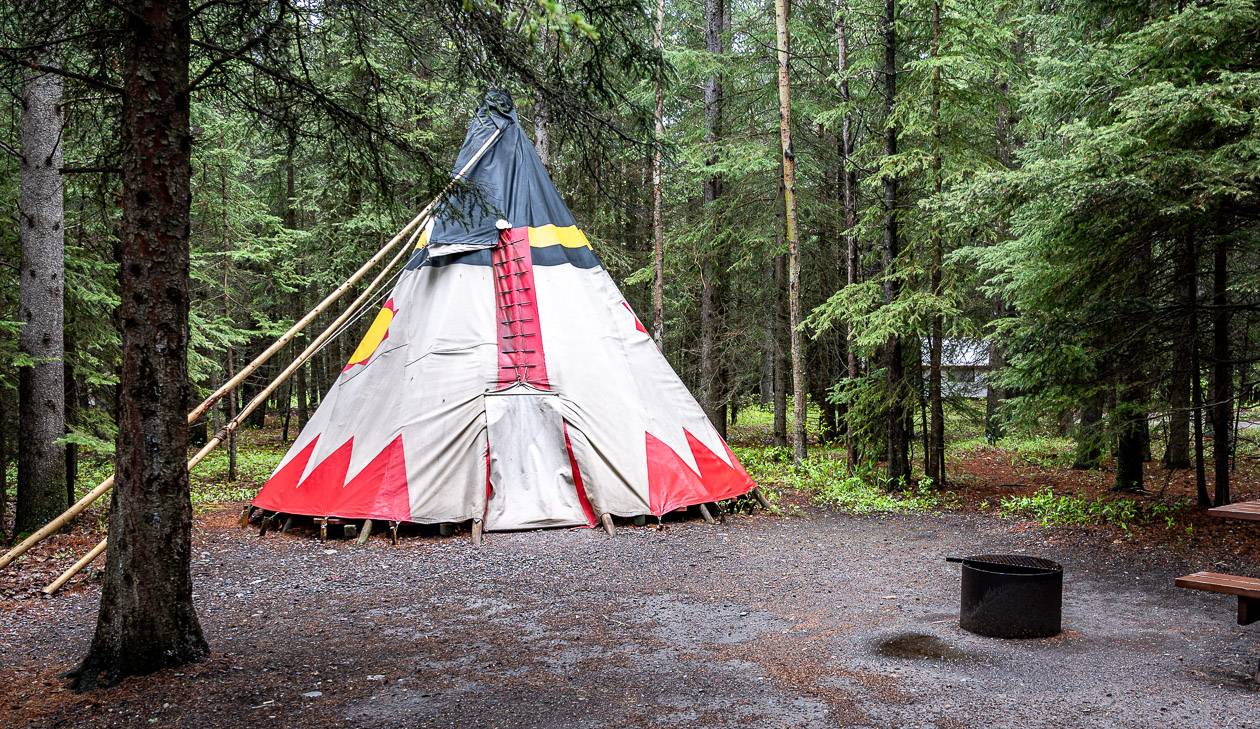 Other Alberta hikes you might enjoy
Click on the photo to bookmark to your Pinterest boards.