Are you wondering what the best winter bike ride is in Banff? Perhaps not – especially if you think bike riding is best done when there isn't any snow. But it's the snow that makes winter fat tire biking so much fun.
John and I picked up two fat tire bikes from Soul Ski and Bike in downtown Banff conveniently located two doors down from Wild Flour Bakery. We didn't want a hard bike ride in Banff as we'd already been cross-country skiing so we opted for a very beautiful out and back ride along the Bow River to Sundance Canyon by way of the Marsh Loop.
Bike ride in Banff from the Bow River to Sundance Canyon
It's only about 10 kilometres long so with a few stops to take pictures it took us just over an hour. Although it's not a big bike ride it does pack a visual punch and you do feel like you've had some exercise, especially on the close to kilometre long climb up to Sundance Canyon.
You could easily extend the ride and continue all the way to the Healey Creek Trailhead on Sunshine Road and more than double your distance.
Here's a look at the stunning landscape you'll experience on this bike ride. The bikes handle the snow and patches of ice really well. You could walk the trail – but note that without fresh snow it's quite icy and a pair of Yactrax or similar 'icers' would come in handy.
The Marsh Loop
Along the Marsh Loop trail you'll find lots of evidence of elk – and with luck you might see one. The views from this trail are glorious and the section along the Bow River begs to be photographed.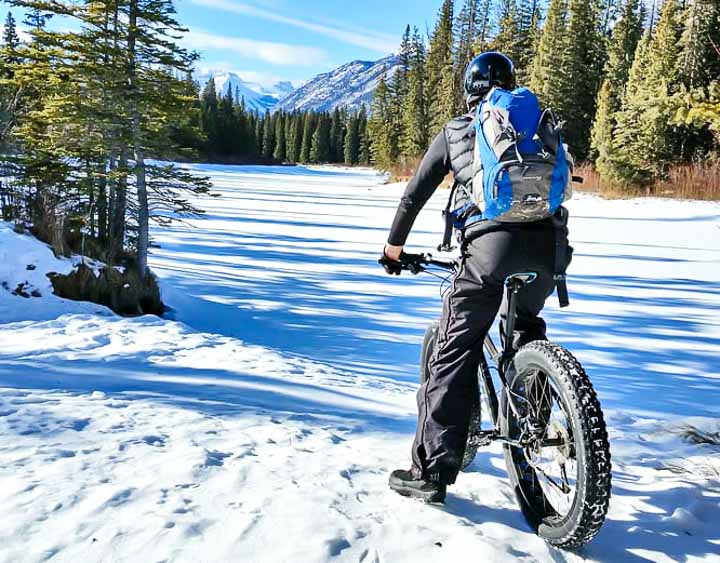 Finding the Marsh Loop and Sundance Canyon Trail
It's easy to find the trail. Simply take Banff Avenue across the bridge as if you were going to the Banff Springs Hotel – but turn right once you're over the bridge and look for a trail signed as the Trans-Canada Trail.
Follow that trail as it parallels the road for perhaps a kilometre at most. Then look for a sign directing you to the Marsh Loop. Take it. It finishes on a wide trail that parallels the Bow River.
Go right and ride along it until you reach the turnoff to Sundance Canyon. Then you have a 0.8 kilometre climb ahead of you. At the end of it, just past the pavilion you must leave your bike. If you've got the time it's definitely worth exploring Sundance Canyon on foot.
Retrace your footsteps. As an alternative you could ride along Cave Avenue to the Cave and Basin site, then catch the trail to Sundance Canyon from here but you'd miss the scenic Marsh Loop ride.
The fellows in the bike shop told me that most people didn't plan a bike ride in advance. People see these unusual bikes with the super fat tires outside the store and decide on the spot to go for a spin.
Next time you're in Banff I highly recommend doing just that. It's a lot of fun! Another fat tire bike ride out of Banff you might enjoy though it's harder and longer is the one that follows the Spray River to the bridge and back.
As a side note – on this ride the bike shop provided ski helmets so our heads stayed plenty warm. They're a great alternative to a bike helmet.
Check out 10 tips for first time fat tire riders if you're new to the sport.
Visit Banff National Park for further information.
Further reading on things to do in Banff National Park in winter
Click on the photo to bookmark to your Pinterest boards.