The Johnston Canyon Ice Walk in Banff National Park ticks off all the boxes when it comes to a fun, half-day adventure. It's one of the most popular winter activities in Banff but don't let that put you off. To avoid the crowds, plan to start the Johnston Canyon Ice Walk either early or late in the day if its a weekend, appreciating that the sun sets by 4:45 PM in late December. If you go midday, expect to jockey for space in parking lots and stop on the trail to let people pass. You can take your dog on this hike BUT please keep them leashed and clean up after them. I would only suggest taking a dog at less busy times.
Sometimes you will literally slip-slide your way up Johnston Canyon in winter due to the fluctuating temperatures and freeze-thaw cycles while at other times it will be an easy winter walk. I have done the hike under all conditions so I go prepared with my ice cleats…just in case.
Note that the Johnston Canyon trail is closed between the Lower Falls and Upper Falls because of ongoing construction upgrades in 2023.
The post includes some affiliate links. If you make a qualifying purchase through one of these links, I will receive a small percentage of the sale at no extra cost to you. Thank you very much for your support.
Johnston Canyon Ice Walk summary
You need a Parks Canada pass to visit Banff National Park. If you're planning to spend more than a few days in any national park in Canada, the Discovery Pass is your best option. Purchase online, at the eastern gate to Banff National Park, or at the park office on Banff's' main street.
Check the trail conditions in Banff National Park.
Check the weather in Banff.
The Johnston Canyon Ice Walk is easy, especially to the Lower Falls. It is suitable for people of all ages including young children but leave the strollers behind. It goes without saying that you'll need to keep a close eye on kids where there's any sort of drop-off.
It's 1.1 km (0.7 mi) one way to the Johnston Canyon Lower Falls and 2.7 km (1.7 mi) one to the Johnston Canyon Upper Falls. Once they reopen you would be able to continue to the Ink Pots.
The elevation gain is an easy 135 m or 445 feet.
The Johnston Canyon Ice Walk becomes a regular walk sometime in spring. But because much of the canyon is shaded, you can usually count on snow and ice from November until sometime in April.
Get Your Guide also offers Johnston Canyon tours – a great option if you're visiting Banff and don't have a vehicle.
Should you want a map for this popular hike, it's Gem Trek Banff & Mount Assiniboine. (You'll find lots of other trails that it's useful for.)
Before you do the Johnston Canyon ice walk
Buy ice cleats or microspikes you can easily strap on your boots. If you live in a winter climate, they're great for walking in the city too.
There are now two parking lots on either side of Highway 1A but if it's a sunny weekend, count on both being full at midday. If you sign up with a guided tour, they will be able to shuttle you to the trailhead and you'll avoid any parking headaches.
Tours are also great if don't have a car, you're the least bit uneasy about an icy walk, or if you actually want to learn something – which you will with a guide. I actually like the sound of the night tour described by Jody Robbins in the post Exploring the Night Sky at Johnston Canyon. She did that tour with Discover Banff.
How the Johnston Canyon ice walk unfolds
From the parking lot (where there are washrooms) cross a bridge and hike up through the forest on a mostly level trail passing a number of signs describing the history of the area. In no time at all you start to get a taste of the beauty of spectacular Johnston Canyon in winter. You'll find frequent mileage markers so you never have to worry about getting lost on this trail.
Reach the first catwalk in short order. Continue through Johnston Canyon climbing gradually – with stops to marvel at the multi-coloured canyon walls.
Take the right branch of the trail at the intersection to reach the Lower Falls at the 1.1 km mark. Cross the bridge and duck through the tunnel to get an intimate view of the Lower Falls in Johnston Canyon.
Return to the main trail and continue towards the Upper Falls – once it reopens. This section of trail requires more effort as you switchback, gaining some elevation. I love this part of the Johnston Canyon Ice Walk as it offers airy outlooks along with plenty of places to stop and take photos.
The top of the upper falls at Johnston Canyon
There are two viewing platforms at the Upper Falls. They can get busy so go with the flow and pick spots as they open up looking down into Johnston Canyon. What a perspective! Watch ice climbers practice on giant-looking icicles – some of which look fragile. Some of the climbers are very graceful and make the whole exercise look easy.
Looking for a longer hike? Continue all the way to the Ink Pots via a trail from the Upper Falls. It's 0.3 km to reach the intersection of the trail coming up from the Moose Meadows trailhead. From there it's another 2.7 km to reach the Ink Pots so another 3.0 km one way in total.
Note: If there's a lot of snow you'll probably need snowshoes, perhaps a set of poles and at least two more hours from the top of the Upper Falls to do the return trip to the Ink Pots.
Read: The Ink Pots Hike via Johnston Canyon (summer version on the trail)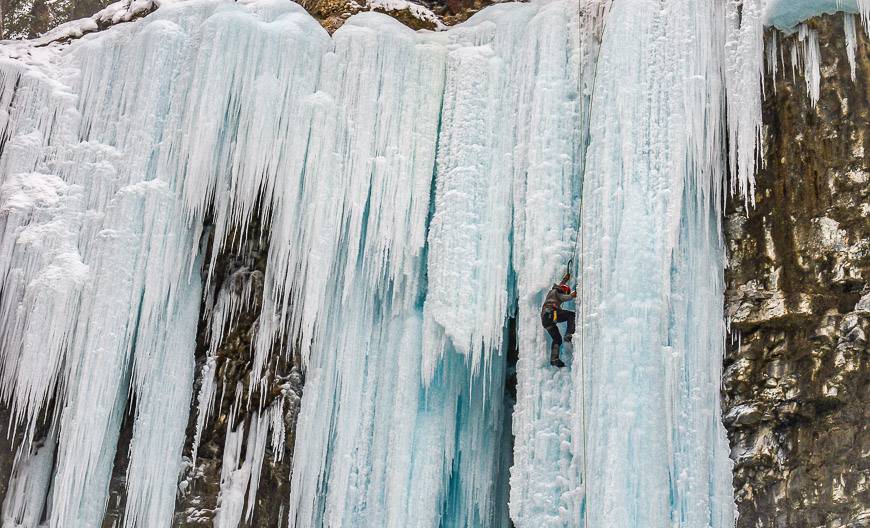 The not-so-secret cave in Johnston Canyon
There's a cave that I have looked for on many occasions but didn't find until I was with a group one March. In theory it's out of bounds but in practical terms, it's visited a lot for the photo ops and in 2022 it still was, but I saw cameras to capture the activity.
Note: Via my FB page I learned that the cave is "officially out of bounds". Then I got a comment which explains why. There are rare black swifts that had nested in the caves but because of visitors, myself included – their numbers have dropped. What is unfortunate is that there isn't information anywhere, anytime I have visited Johnston Canyon. With a little education, people will change their behaviour. As much as it's a great photo op – please don't visit now.
Directions to the Johnston Canyon Ice Walk
From Banff head west on the Trans-Canada Highway. Take the exit signed Highway 1A – the Bow Valley Parkway. Continue for 18 km to reach the Johnston Canyon parking lot on the right hand side. There is spillover parking on the left. Don't even think of parking along Highway 1A. Johnston Canyon is very well-signed and easy to find.
There is the option to take the Trans-Canada west to the Castle Junction/Highway 93 exit. Get off and head east over the Bow River to reach Highway 1A. Turn right (south) and follow it for 6.4 km to reach the Johnston Canyon parking lot on the left or the spillover lot on the right.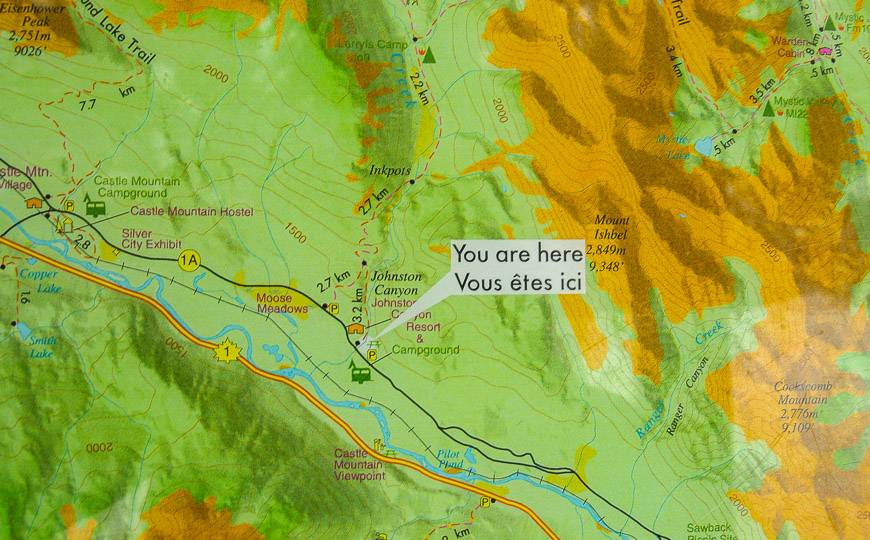 What to wear on the Johnston Canyon Ice Walk
Banff National Park can be very cold in winter. Be sure to bring warm clothes that you can layer. Essentials include a warm jacket (I like Patagonia's down sweater with a hood), mitts and a hat. I'd also recommend a neck warmer – and of course a pair of warm winter boots (Sorels, Kodiaks and Salomons have been good choices for me) .
While lots of people don't bother with ice cleats, it can make a real difference, especially after you pass the first set of falls. I don't think you need poles as there is a railing along the catwalk that you can grab onto for balance. But if you have bad knees or awful balance, that's another thing altogether. If you buy hiking poles, I'd suggest collapsible, lightweight ones.
Renting equipment for the ice walk
If you don't want to buy ice walk crampons or hiking poles, you can rent them from Snowtips-Bactrax in Banff.
Location map of Johnston Canyon
Where to stay in the Banff area
The closest accommodation to the Johnston Canyon Ice Walk is the Castle Mountain Chalets. In winter their location is great as you can cross-country ski just across the street from where they are – and they are a great base for exploring the Bow Valley Parkway.
In Banff itself, check out Canalta Lodge, especially if you're traveling with your family.
One of my perennial favourites is the Moose Hotel – with its excellent location on Main Street.
Basecamp Suites Banff opened in late 2022. Their location is great, just off Main Street and rooms look upscale. Come spring 2023, two hot tubs on the rooftop will open.
Further reading on Banff National Park in winter
If you're looking for more ideas if what to do in Banff be sure to read 10 Reasons to Visit Banff in Winter by Calgary bloggers Sue and Dave at Travel Tales of Life.
Click on the photo to bookmark to your Pinterest board.