If you've ever seen the photos of world-famous Havasu Falls, the images of the turquoise-blue water contrasted with the earthy tones of the Grand Canyon will forever be etched in your mind. A hike to Havasu Falls is the best way (and apart from helicoptering in, the only way) to appreciate the beauty of not just these falls, but the four other equally stunning waterfalls in the Havasupai area. They include Upper and Lower Navajo Falls, Mooney Falls and Beaver Falls.
This post includes some affiliate links. If you make a qualifying purchase through one of these links, I will receive a small percentage of the sale at no extra cost to you. Thank you very much for your support.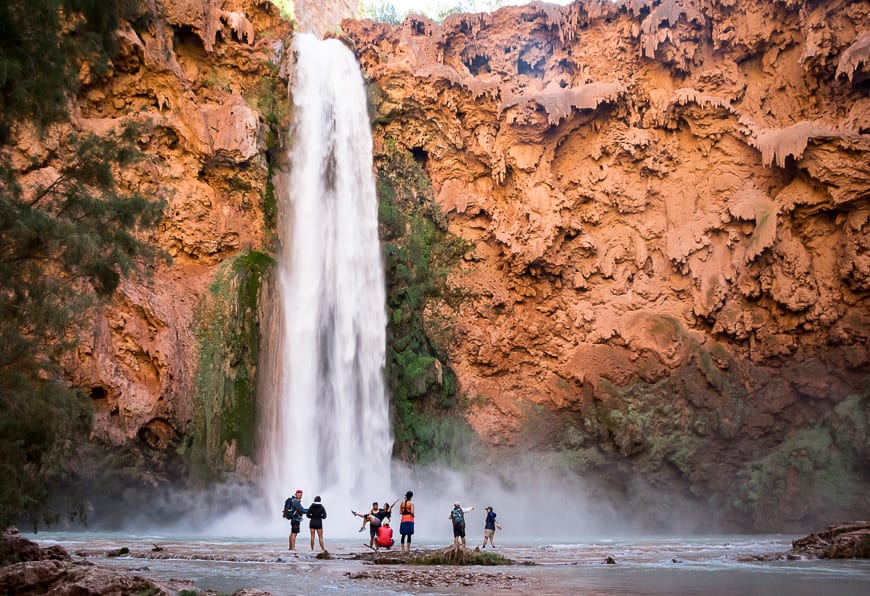 Havasu Falls permit process (and all the rules that go with it)
Hiking into Havasu Falls was stopped for several years during COVID. It is reopening February 1, 2023 for current permit holders. Only those people who were impacted by COVID tourism suspension have permits in 2023. The ONLY new permits available in 2023 will be posted to a Cancel – Transfer list you can check each day at 8 AM Arizona time.
The dates of the 2024 permit lottery are still to be determined. Be sure to check the Havasupai Campground Reservation site. You will need to set up an account to do that.
Walk-ins are not allowed ever and you could be charged if you are caught.
Havasupai Falls Reservations can only be made online.
You must reserve for a minimum of three nights – no more one and two night stays!
Count on spending a minimum of $100/night during the week and $125/night on weekends.
Consider having a Potential Alternate Trip Leader (PATL). There is only one name on a campground reservation, and the reservation is ONLY valid if the named person is present at the Village of Supai tourist check in office with valid photo ID. It all gets very complicated but the bottom line is the trip leader can transfer a reservation to a PATL (named on the form you submit) or via the Puplic Cancellation Transfer List.
Reservations are otherwise "non-refundable, non-changeable, and non-transferable."
Up to 12 people in total can be on a reservation.
All visitors, even if not a trip leader or PATL must have an account on HavasupaiReservations.com prior to arrival so that they understand Havasupai laws and regulations.
Plan to bring a bear cannister in with you because there are lots of animals (no bears mind you) that want to get into your food.
You must pack out everything you pack in – and you may be checked that you are packing out your trash.
Alcohol, drones, campfires, littering, and diving and jumping is not permitted.
Dogs are nor permitted, nor any other animals. The same goes for bikes, rafts, paddles, inner tubes….so it's basically you, your camping gear with food in odor and difficult to get into containers, and that's it.
Proper attire is required. Nudity is not permitted.
DO NOT take any photos of Havasupai people or property!
Hike to Havasu Falls summary
The hike to Havasu Falls is 10 miles in and 10 miles out. In addition, there is additional exploring to be done once you're at the falls. There are lower waterfalls to explore including Havasu, Mooney, and Beaver and upper waterfalls to check out including Fiftyfoot and Little Navajo.
There is an elevation loss of 2,400 feet and a gain of 2,400 feet to get back to the trailhead.
Allow 4 – 6 hours for the hike to Havasu Falls and 5 – 7 hours for the hike out.
It is suggested that you don't bring young children.
Water is not available at the trailhead or along the trail. Drinking water is available in the Village of Supai. All spring water should be filtered.
It's 8.0 miles to Supai Village. There is a grocery store of sorts here.
Mules and horses always have the right of way.
Havasu Falls is the most famous of the aqua blue Havasupai waterfalls.
The water temperature of all the falls is about 70ºF all year round.
Our hike to Havasu Falls
John and I spent three days with REI- Co-op Adventures hiking in the Havasu Falls area. We elected to go with an outfitter rather than on our own because of the logistics of the hike to Havasu Falls.
There is a small window every year on February 1st where you can book permits to visit – on a first come, first served basis. They're usually gone within an hour or two – for the entire year. You can phone too, but that can be equally time-consuming and unrewarding.
Since I didn't get to the planning stages of my Arizona trip until May, there was no way to score a permit on my own unless I caught a cancellation that would match up with my scheduled trip.
Before I booked I had read some blogs so I had a pretty good idea of what John and I were getting into. I knew that the hike to Havasu Falls was in no way a wilderness hike for on any given day there can be 350 campers in the mile long campground. But still it's worthy of being on a USA bucket list.
I also knew the distances – 10 miles in and out along with 2,400 feet of elevation loss and gain. But what I hadn't appreciated was the steep cliff with tunnels that had to be negotiated to get to Mooney Falls – but more on that later.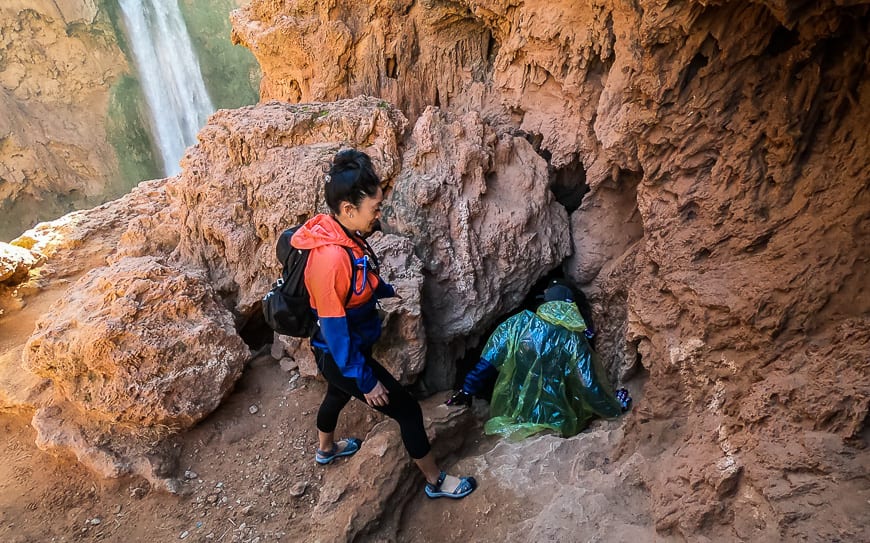 Getting to the Havasu Falls trailhead
It's about a five hour drive with a bathroom break/gas stop from Scottsdale, Arizona to reach the Hualapai Hilltop and the Havasu Falls trailhead via Highway 17 and 66. You'll know when you're almost there by the sheer number of parked cars.
It's worth driving around to see if you can find a parking spot close to the trailhead. Otherwise you might add a half mile or mile to your hike in and out to the falls. Don't park in any No Parking areas.
Since we were with AOA there was no need for us as individuals to check in at the trailhead but if you're on your own, you should. (There's only one building so it's pretty obvious. Have your valid photo ID easily accessible.)
Also be aware that day hiking is not permitted and if you're caught, you'll be fined. You'll need your credit card and ID in Supai Village – eight miles into the hike unless you go guided in which case they look after all of that.
Pick up your wrist bracelet at the Havasupai Tourist Office in the village and wear it all times to show that you've paid and that you are a legitimate visitor.
The hike to Havasu Falls description
While it is recommended that you start the hike to Havasu Falls early in the morning to avoid the worst of the heat, our AOA group didn't leave until 12:45 PM, which is normal on a three day hike – especially because you don't leave Scottsdale until 6 AM.
In October the heat wasn't so bad, but in the summer, an early start is preferable. John and I were joined on this hike by a couple of newlyweds from Philadelphia and a group of six friends from Los Angeles along with our guides Bethany and Lucas. In total our group was made up of 12 people.
After a delicious lunch prepared by Lucas with most of the "fixings" from Trader Joes, we were off. While John and I carried our backpacks, a few people had elected to pay extra to send some of their gear down to the campground by mule.
The first part of the hike switchbacks as it descends through the canyon losing about 1,000 feet over the first 1.5 miles. From there it's a pretty gentle grade except for the final descent from Supai Village to the campground.
If you're any sort of hiker, you won't have any problems but if you're new to hiking, it may be a challenge, especially if you end up with blisters.
Its eight miles to reach Supai Village and then another two miles after that to reach the campground. In Supai Village there is a grocery store if you've forgotten anything and near Havasu Falls there are a couple of food stands selling overpriced tacos, fry-bread, cheese-dogs, and a few other calorie laden snacks.
You'll be frequently passed by horses and mules. Get out of the way the minute you hear them coming. We were told that one shouldn't take photos of the locals or anything in Supai Village unless you ask for permission.
Our group took about 5.5 hours to hike down – mostly because we were with guides who stopped to share stories and interesting facts along the way. We certainly would have missed the ancient pictographs without the guides!
And they had the answer to the question about the colour of the water at the tip of their tongue so I didn't have to go home and look it up on Wikipedia. The blue-green colouring comes from the presence of large amounts of calcium carbonate in the water.
We also learned that Havasu Creek, which ultimately flows into the Colorado River in the Grand Canyon, stays at a comfortable and swimmable 70°F year round. After a rain (like they'd had the week before) the water gets muddied so some hikers never end up seeing the gorgeous blue-green water.
Camping near Havasu Falls
While you don't have a choice if you want to see Havasu Falls, you will be staying in the most expensive campground in the whole of the United States – though even with the prices, they sell out every year – almost instantly once reservations open.
There are no designated campsites. Camp wherever you want for about a mile on both sides of Havasu Creek.
For cooking, only bring in gas cannisters. Don't bring in any music amplifiers.
Fees start at $US 100.00 per person/night (2023) for a minimum three night stay – without a guide and any sort of camp set-up so factor that in when you look at AOA pricing! Here's the link.
Bethany, our guide, left us at the village of Supai to get ahead so she could grab a campsite and get the tents set up. If you're with a group, in all likelihood you're going to set up close to the entrance of the campground – mostly on account of the sheer amount of gear and coolers brought in – and all of that has to be transported from the one main loading area via wheelbarrow.
While we didn't have the prettiest campsite, in the end it didn't matter much. After dinner in the dark, it's not long before you're in bed and in the mornings you're also out of camp in short order.
However, if I was going down to camp on my own I would definitely make my way past the first two sets of washrooms and look for a place near the river – providing there was no threat of a flash flood.
There are some gorgeous spots, some of which are quite private considering the number of campers. Campsites cannot be reserved.
There is lots of shade in the campground.
The camping experience
I have to say it was a treat not to carry a tent and look for a campsite in the dark. Tents provided by AOA are roomy – as in you can stand-up inside the tent kind of roomy – and the air mattresses provided are thick.
We only had to bring a sleeping bag and our clothes for the trip. AOA also include a collapsible chair so you don't have to sit on the ground or even at the picnic table. The guides look after getting wash water and cooking all the meals.
Guests might do their own dishes but that's about all. Without having to lug all our gear or plan and cook meals, the trip felt far more like a real vacation.
Interestingly, Bethany and Lucas guessed that about a third of all visitors come guided. Fortunately the two of them were very good about reinforcing "leave no trace" principles in an area that sees so much traffic.
The hike to Mooney Falls
On our second day in the Havasupai area we elected to do the hike to Beaver Falls via Mooney Falls.
Tip: If you want to visit Mooney Falls in high season start out early as I have heard of 90-minute line-ups to get down the cliff face.
Take the campground trail to the top of the falls. Along the way you pass a spring where you can fill up water bottles. If you're fussy about your drinking water you should know that the water out of the spring is lukewarm so bring drink crystals if you want something other than warm water.
Before you begin the descent to Mooney Falls, visit the lookout where you can see the falls crash over the 210-foot canyon wall.
To gain access to the bottom of Mooney Falls and the pools you must climb down a cliff face via two short tunnels and a set of wooden ladders with chains. Many people freak out here and have to turn back. Don't. Take your time, facing into the wall as that's far safer than facing out.
The first part of the cliff descent is fun as you feel your way through a small cave until you turn the corner and suddenly see the light. But if someone is trying to come up while you're going down, you may feel like you're in a compromised position.
As the guides said several times – "always keep three points of contact with the ladders so that you're secure." The final part of the trail is akin to a vertical rock climb with the added danger of wet rungs because of mist from the waterfalls. Take your time through here.
For people that loathe this part of the trail there is some good news. It's much easier on the way back up.
Once you're safely down on the ground I guarantee you'll have a great time. There are pools that are popular for swimming. If you're in the exploring mood follow the trail by the river towards a set of falls covered in mist. It's a beautiful, lush area.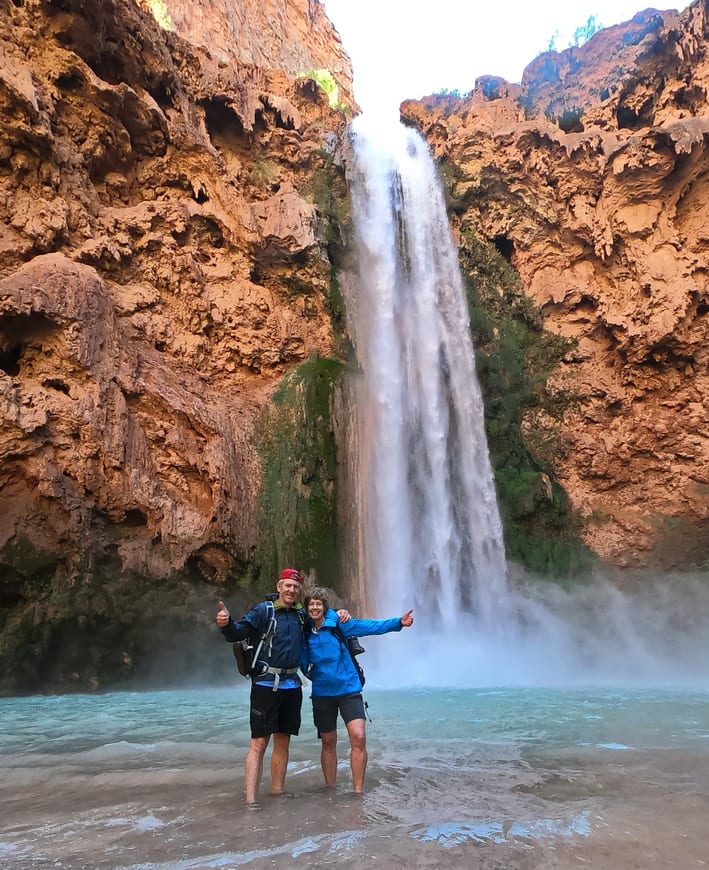 The hike to Beaver Falls
The 3-mile hike to Beaver Falls from Mooney Falls was one of the highlights of our trip. Some of it traverses "Jurassic Park," a lush green oasis filled with grape vines, grasses and cottonwood trees. It's easy hiking until you catch sight of Beaver Falls.
Interesting fact: In the massive flood of January 1910, much of Beaver Falls was destroyed. It was a more impressive sight in those days with one waterfall that was almost 50 feet high. I thought it was still a spectacular area.
Then there are a couple of ladders to negotiate but after climbing down the cliff from Mooney Falls they'll seem like nothing.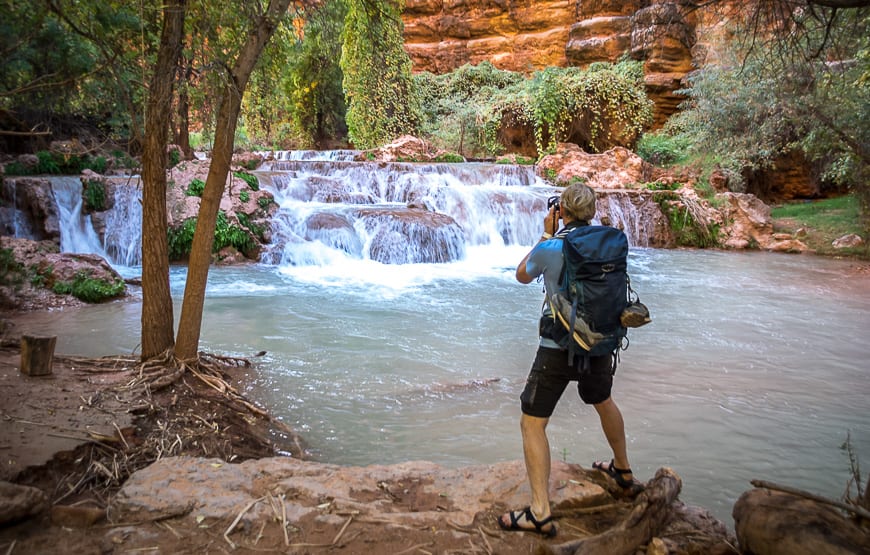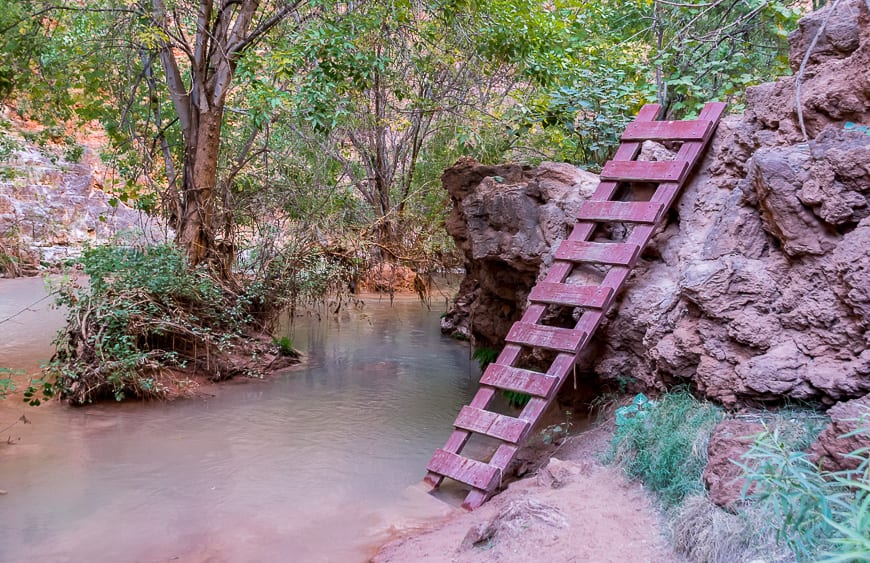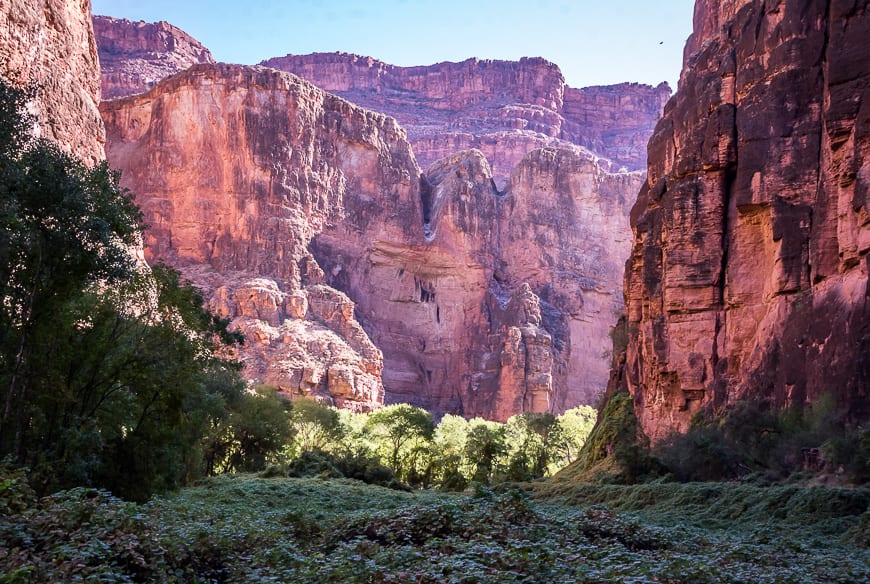 A stop at Havasu Falls
We had passed Havasu Falls in the fading light on our hike into the campground but hadn't spent any time at the base of the falls. With plenty of light and several free hours after our Beaver Falls hike John and I went over to explore on our own.
The falls are only a 5 – 10 minute walk from the campground. It was just as much fun people watching as it was to see the falls. In the photo below the fellow carrying his girlfriend dropped her and they both ended up in the "drink." Quite funny to see.
Havasu Falls, the most famous and most visited of all the falls offers plenty of drama. Not only are the falls powerful with a drop of 90 – 100 feet, the travertine rock formations are almost as dramatic.
Before the massive flood of 1910, the falls were called Bridal Veil Falls – and were almost a continuous sheet of water. After every major flood the look of the falls changes.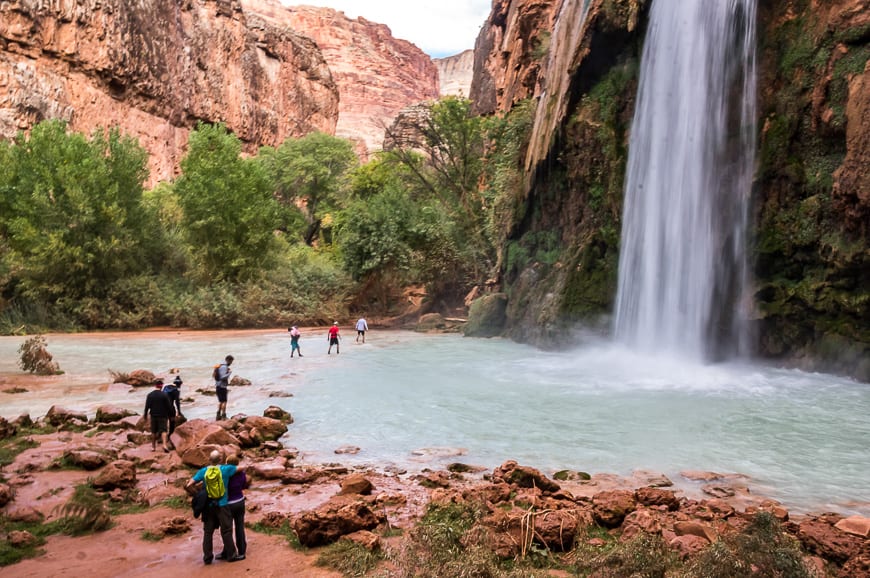 The hike out from Havasu Falls
Even though we were on an AOA trip, we still did the hike from Havasu Falls on our own. The guides were busy packing up and sweeping out tents after a quick and portable breakfast and so rather than hold us back they tell us to go and they'll catch up to us – which they did! The trail is dead easy to follow so one shouldn't get lost.
We were on the trail at 6:15 AM so that we could be on the canyon rim before noon. That way we'd beat the heat on the 2,400 foot ascent.
It was absolutely lovely hiking early in the morning. We watched the full moon disappear behind the hills. We listened to birds singing (don't forget your binoculars) and we enjoyed the silence and lack of people for the first few hours. Midway up we started running into the early birds coming down – and so went our silence.
Six people in our group elected to helicopter out instead of hiking – though you still have to hike two miles up to the Supai Village to get the helicopter. Unless you're aching for photos or are unbelievably sore I wouldn't recommend it.
The six left camp at 2:30 AM so they could be first in line as its first come, first served with the local villagers getting preference for flights. Helicopter flights leave at 9 AM so they had a terrific amount of time to kill.
John and I did the hike out in 3 hours and 55 minutes – and as we rolled into the parking lot I heard "Leigh, Leigh – over here." We'd arrived at the same time! Some people who take helicopter flights don't get out until late in the afternoon. The flights are $US 85 – and cash is preferred.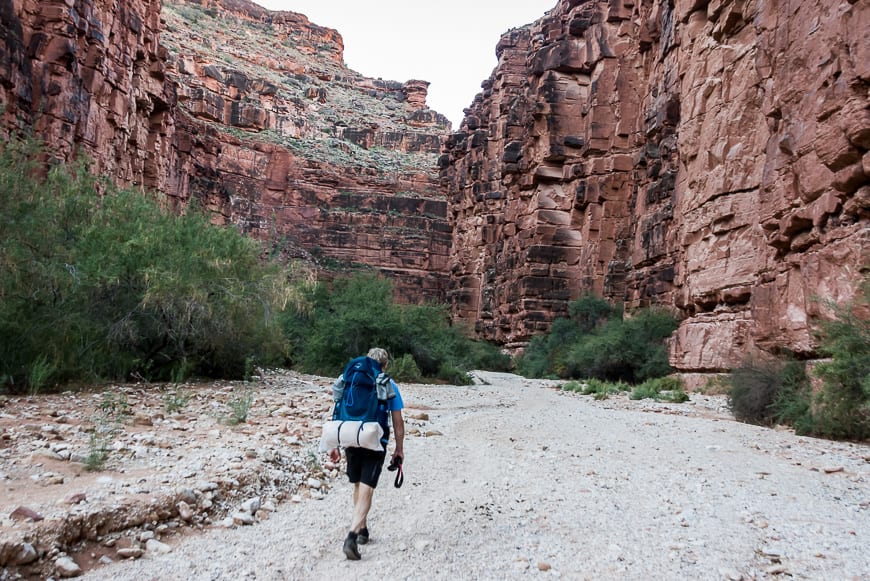 I'm not a hiker who usually likes to share my outdoors experience with the masses. But the hike to Havasu Falls is an exception. It is truly unlike anywhere else I have seen (and I've been to the Grand Canyon on four other occasions including the Rim to Rim to Rim hike) so I'd say go do it.
Even though REI comped my trip (not John's), it was a pleasure to go guided and not have to worry about the details.
I organized a 10-day self-guided trek in Torres del Paine, Patagonia for January and I can't tell you how many hours I put into arranging all the details. So if you're pressed for time and don't want the hassle of getting permits – or even driving to the trailhead sign up. The same goes for the whole camping/cooking experience.
Where to stay before after the hike to Havasu Falls
The closest places to stay include Peach Springs (67 miles away), Seligman (90 miles away), and Kingman (118 miles away).
Peach Springs
In Peach Springs check out some of these options.
Cabins at Great Canyon West are rated very good. The cabins are just 3 miles from the Grand Canyon Skywalk.
Hualapai Lodge is rated as good. Onsite is a seasonal hot tub and an outdoor heated pool.
Seligman
Historic Route 66 Motel is one of the most highly rated places to stay.
Another good choice would be The Aztec Motel & Creative Space. All units come with a fridge and a great grab and go breakfast.
Kingman
The most highly rated place to stay is Best Western Plus A Wayfarers Inn & Suites. It is beside historic Route 66. The hotel features a seasonal pool and hot tub.
SpringHill Suites Kingman Route 66 also comes highly rated. It boasts an indoor heated pool.
More ideas on things to do in Arizona
Click on the photo to bookmark to your Pinterest boards.