Most first-time visitors to Arizona find adventure on the South Rim of the Grand Canyon or explore the red rock country of Sedona. Fans of urban activities spend their time gallery hopping, playing golf on desert courses or hiking the city park trails in Phoenix, Scottsdale or Tucson. But look what there is to experience in the Grand Canyon State if you're willing to go off-the-beaten-path. Four Arizona adventures are described.
Updated April 2021. This post includes some affiliate links. If you make a purchase via one of these links, I may receive a small commission at no extra cost to you.
Cliff dwellings and Navajo culture at Canyon de Chelly National Monument
On the Navajo land near Chinle, visitors to Canyon de Chelly discover ancient cliff dwellings recessed into pink sandstone cliffs in a canyon where the Navajo still bring their sheep for summer grazing.
The North and South Rim drives offer scenic vistas and there's also a self-guided hike down the canyon side to White Horse ruins. However, being "in" the canyon rather than looking at it from above is worth the bumpy ride to get there.
Entrance requires the presence of a Navajo guide and the purchase of a tour ticket from the Visitor's Center. The tour travels in open vehicles known as "shake and bakes." Instead, I recommend hiring a private Navajo guide for a more thorough exploration. You might spot wild horses splashing by as your four-wheel-drive vehicle lumbers along Chinle Wash and up a muddy bank before viewing Mummy's Cave or stopping at Spider Rock to hear the story of how the rock got it's name.
For the hardy adventurer, consider a horseback ride in the canyon on an overnight camping trip guided by a Navajo. Imagine the stories you'll hear at night around the campfire.
Where to stay: Best Western, Holiday Inn and the historic Thunderbird Lodge are located within 3 miles of the park entrance.
Arizona adventures in the slot canyon at Lower Antelope Canyon
Have you explored an Arizona slot canyon? At Lower Antelope Canyon, located on Navajo land near Page, Arizona, you're in for a photogenic treat. An entrance fee is required but the experience is oh so worth it.
Imagine walking along a crack in a parched desert, only to find the crack opening wider and wider until you come to a set of stairs that leads inside the crack. Congratulations, you've just entered Lower Antelope Canyon.
I like to call it nature's fun house due to the narrow, twisting path through the slot canyon where the walls are grooved from thousands of storms that have washed through on their way to the Colorado River. Light seeps in from above coloring the sandstone walls pink, gold and purple. You'll be amazed at the vibrant scenes your camera will capture in the darkened canyon. The going is tight at times so beware if you're claustrophobic.
A word of caution: slot canyons are dangerous during rainstorms or monsoons that can occur far upstream. Before your visit, check the weather.
If you're looking for an easier experience, Upper Antelope Canyon offers more level footing and a less claustrophobic experience.
Where to stay: Numerous hotels are available in Page, the closest town. Why not rent a condo or houseboat at Lake Powell for a more in-depth stay? There's plenty of hiking and exploring to keep you busy. One that offers a view of Lake Powell is the Best Western View of Lake Powell Hotel – rated very good.
Walk with the stone soldiers of Chiricahua National Monument
Imagine a hike that winds through rhyolite formations towering above your head like giant stone soldiers. That's what you'll discover on the 3.3-mile Eco Canyon Loop Hike in Chiricahua National Monument .
Located in southeastern Arizona, this off-the-beaten-path corner of the state is ripe for exploring on foot, by horseback or on a four-wheel-drive adventure. And, you'll be following in the footsteps of the Apache who called this part of their homeland, "Land of Standing-Up Rocks."
If Eco Canyon Loop sounds too short for your adventuresome spirit, park the car in the Visitors Center lot, take the 8:30 a.m. shuttle to the top of Bonita Canyon Drive near Massai Point (6870 ft.) and start the downhill trek along Echo Canyon Trail (4.2 miles) all the way back to the Visitors Center. For a glimpse of homestead life, wander the grounds at Faraway Ranch near Bonita Canyon Campground. Swedish immigrants built the ranch in the 1880′s.
Read: Chiricahua National Park Hiking – On a Snowy Day
Where to stay: Lodging is available in Wilcox, almost an hour's drive to the North. Numerous bed and breakfasts are scattered through out the area.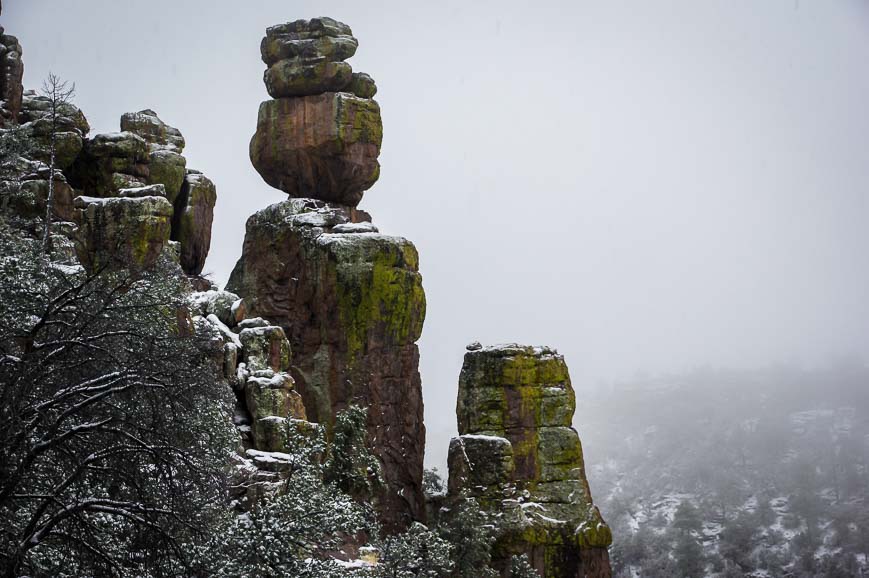 Arizona Adventures – The North Rim of the Grand Canyon
For a less crowded experience, plan your trip for when the North Rim is open (May to November). Adjacent to the Kaibab National Forest, the North Rim offers forested hikes where you're apt to spot wildlife like turkey and mule deer before reaching the canyon's edge.
Be sure to return to the back deck at Grand Canyon Lodge in time for the sunset show that sets the Grand Canyon ablaze in a rosy pink glow.
Where to stay: The only lodging is available at Grand Canyon Lodge, which is a collection of pioneer cabins and a few motel rooms and campgrounds. The lodging is basic but who cares? A luxury lodging experience is not why you visit the North Rim of the Grand Canyon.
Further reading on things to do in Arizona
Donna Hull is exploring the world one activity at a time. Besides writing and publishing My Itchy Travel Feet, The Baby Boomer's Guide to Travel, she writes about boomer travel for My Well-Being Powered by Humana.
Click on the photo to bookmark to your Pinterest boards.