The 10 best hikes in Arizona, at least in my humble opinion are described below. These top Arizona hikes showcase a huge swath of the state but they don't certainly don't cover everything.
What's missing is The Wave – but it's almost impossible to get a permit in 2023. The Arizona hikes in this blog take you all over the state from close to the border with Utah to the Grand Canyon and right down to the border with Mexico.
I've done all the best hikes in Arizona over the course of numerous trips to visit my father and step-mother. Every time I visit, I like to add anywhere from three to five days, so I can explore a different part of the state. I've covered most of Arizona, though there will always be places I want to visit.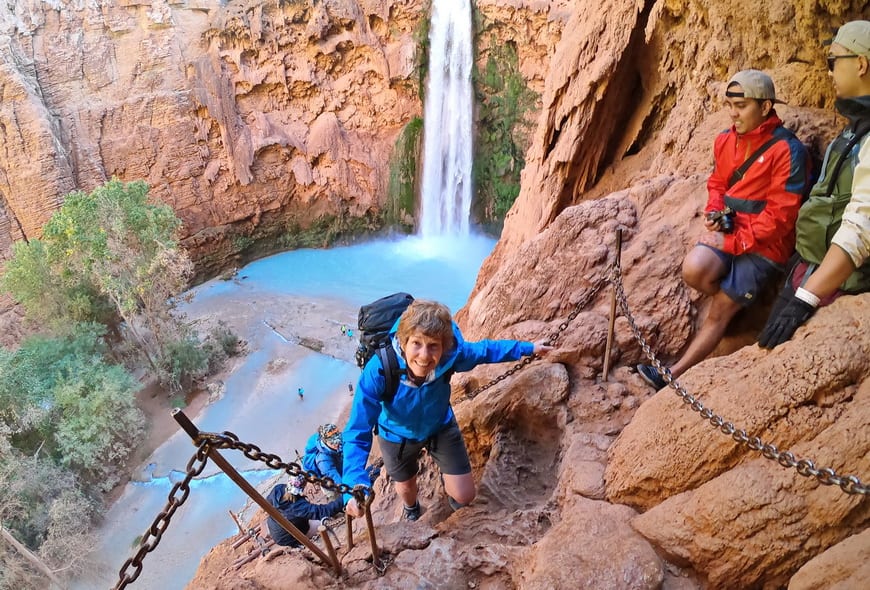 Go prepared so you can enjoy these top Arizona hikes
Before you go, be sure to read Arizona Hiking Tips. Most of these hikes aren't that hard but if you're not prepared and you run out of water, the hike can go downhill in a hurry. Always carry the 10 hiking essentials, even on short hikes. Take sunscreen, don a sunhat, and wear light coloured clothing. Let someone know where you're going and when you're due back.
Location map of the best hikes in Arizona
1. Grand Canyon Rim to Rim to Rim hike – one of the best hikes in Arizona (and the US!)
The Rim to Rim to Rim Trail is a 71 km – 44 mile round trip hike with total elevation loss and gain each of 3000 m (~10,000 feet). If you start at the North Rim of the Grand Canyon, take the North Kaibab Trail to the Colorado River. Join the Bright Angel Trail to ascend to the south rim of the Grand Canyon.
To return, I recommend the South Kaibab Trail leaving from Yaki Point – after two night's of rest on the south rim. Of course there are loads of less taxing hikes. On both hiking days we started at 6 AM.
There are plenty of reasons to do the strenuous Rim to Rim to Rim hike. Literally every step of any hike in the Grand Canyon is scenic. The colours are mind boggling especially at sunrise and sunset. The trees are beautiful, the Colorado River wild, and the bird life excellent. This is one of the world's great hikes but the season is short because of the heat. Hike it in spring or early to mid-fall.
If you do the full Rim to Rim to Rim Trail allow a minimum of two days – more if your overnight at Phantom Ranch or on the rim – as a rest day. We spent two nights on the South Rim and walked back to the North Rim on the third day.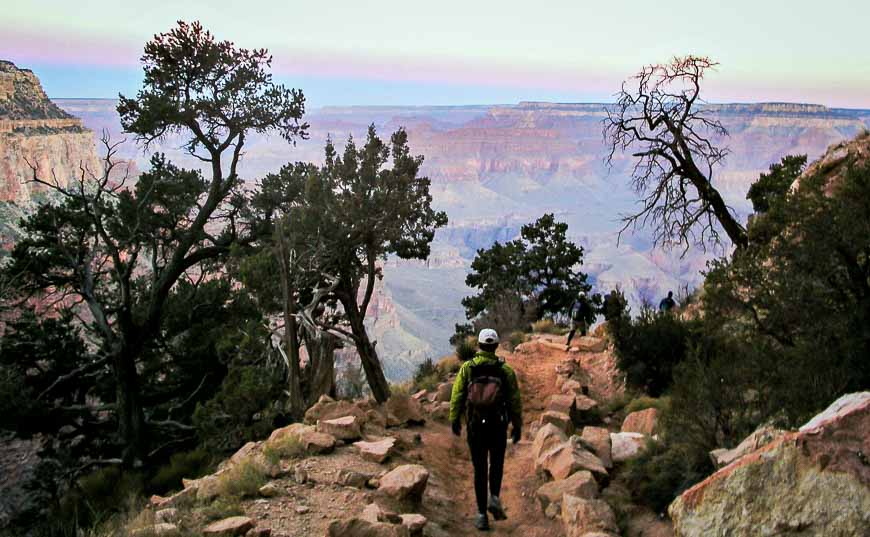 2. Wind Cave hike, Usery Mountain Regional Park, Mesa
Try the 3.2 mile return hike (with a 850 foot elevation gain) to the Wind Cave located in beautiful Usury Mountain Regional Park just 25 minutes away from the Mesa Airport.
What you'll get are gorgeous vistas, great bird life, and a good workout in a short time frame. It's possible to continue past the Wind Cave to the summit via an un-maintained trail. It is both dog and family- friendly. Allow 90 minutes to 3 hours depending on your fitness level and how many photos you take.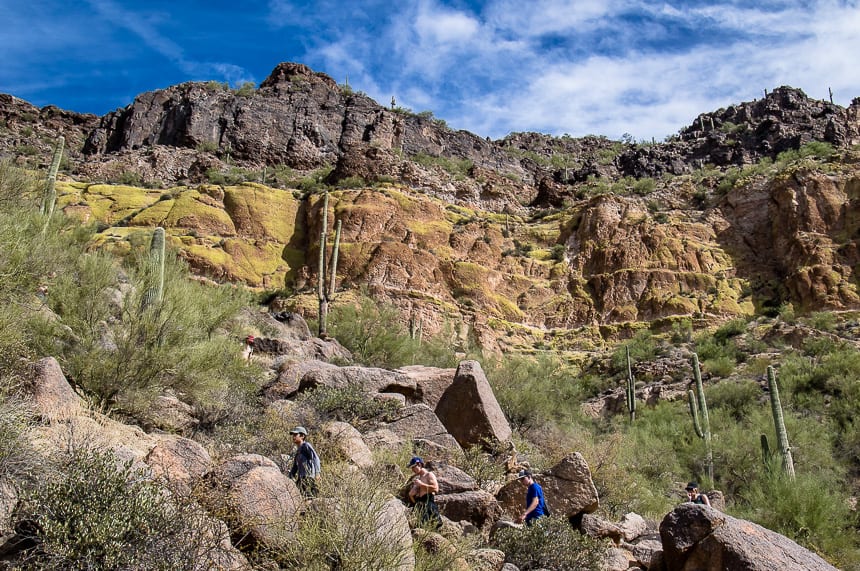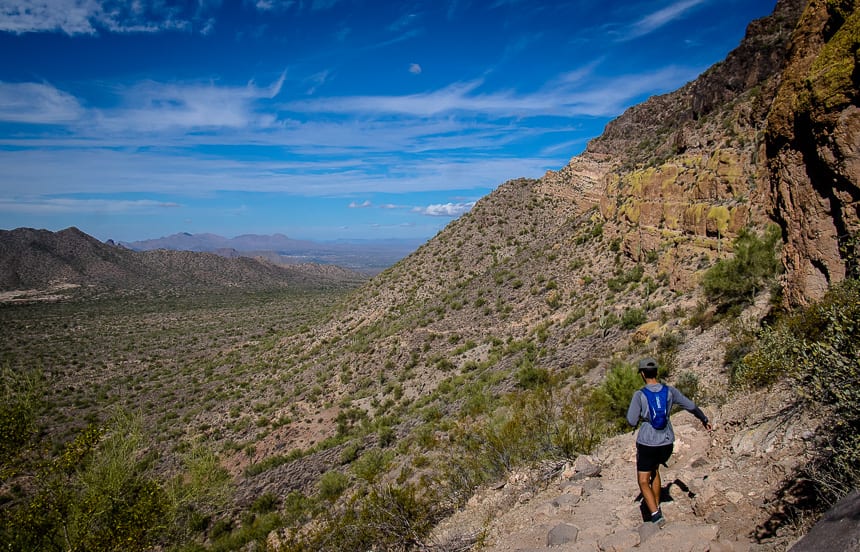 3. Havasu Falls – one of the top multi-day hikes in Arizona
If you have seen photos of turquoise-blue water contrasted with the earthy tones of Grand Canyon scenery then it's probably a photo of Havasu Falls you were staring at. It is one of the outstanding hikes in Arizona – and one that will stick with you for a long time after you finish it.
A hike to Havasu Falls is the best way to appreciate the beauty of not just these stunning falls, but the four other equally beautiful waterfalls in the Havasupai area.
But you will have to be organized. Either go with a tour company so you don't have the hassle of getting a permit or organize your own trip. Loads of people go self-guided as route-finding is not an issue. But be flexible as the dates fill up almost the minute they are released – and as of 2023, there is a minimum length you must do – and the prices have jumped yet again.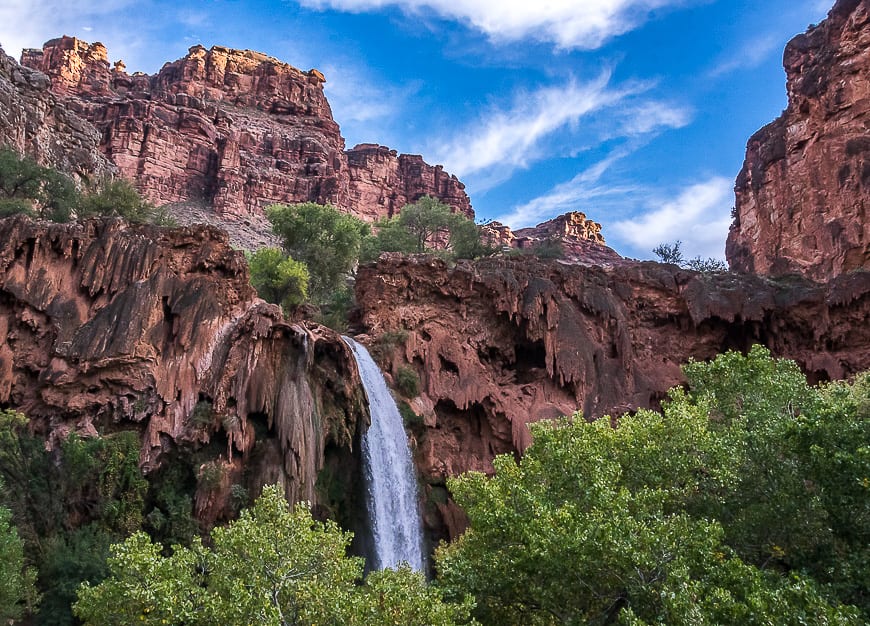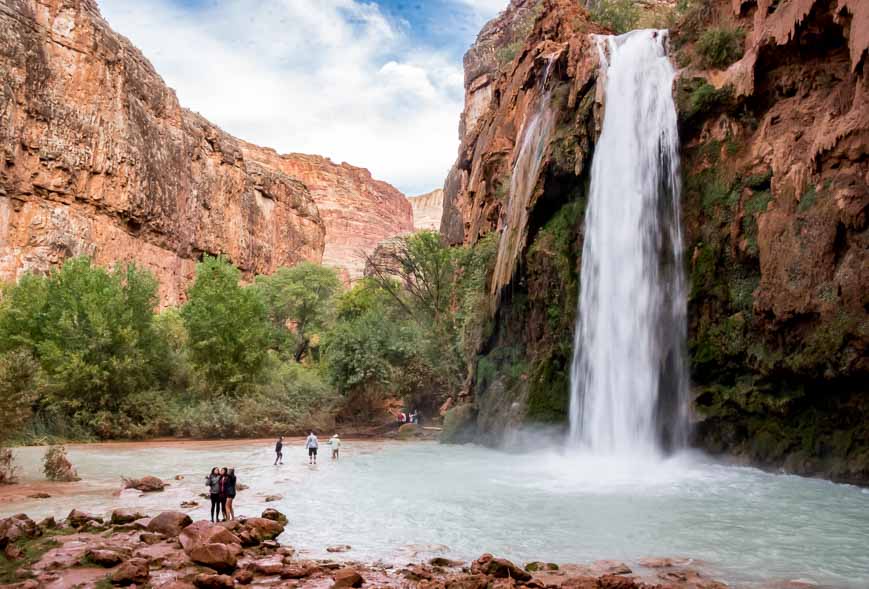 4. Siphon Draw Trail, Superstition Mountains hike
One of the best hikes in Arizona that is easily accessible as a day trip from Phoenix or Scottsdale is the Siphon Draw Trail in Lost Dutchmen State Park, Superstition Mountains. There is the option to continue to the top of the Flatiron for a total of 6 steep miles round trip. The reward for the elevation gain is not only a great workout but fantastic vistas, excellent birding and interesting vegetation. It's possible to do a 3 – 4 day backpacking trip in the Superstition Mountains too.
Allow 5 – 6 hours if you want to climb the Flatiron though a 3-hour out and back hike on the Siphon Draw Trail gives you great views and a taste of the area.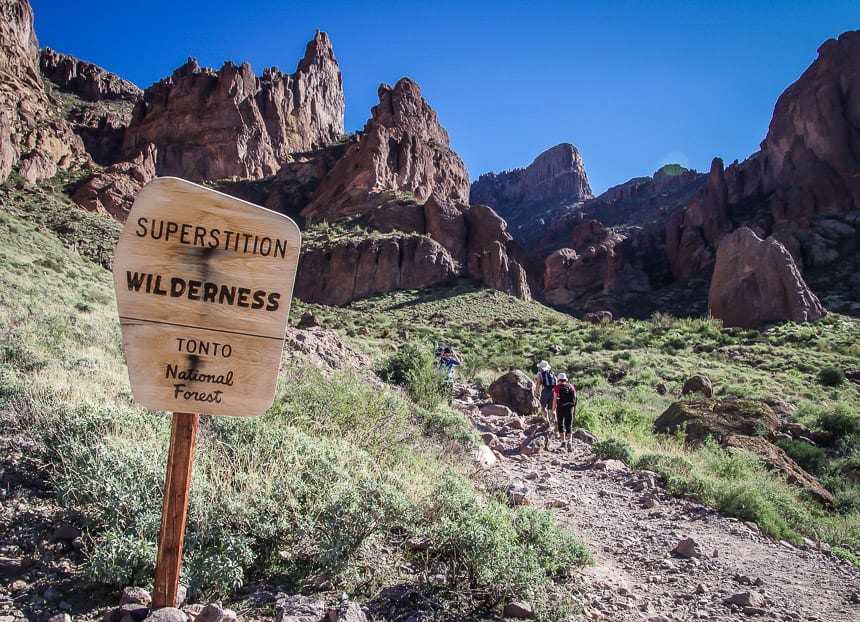 5. Petrified Forest National Park – some of the best hikes in Arizona for geology nerds
Choose from a dozen hikes off the 28-mile road that winds through the Petrified Forest National Park. Some require navigation but most are signed or obvious. You can knock a huge number of hikes off in day as the majority of the hikes are short.
Highlights in this part of the world include petrified logs, cool geology, big skies, history, colourful badlands scenery, and loads of photography opportunities. Set aside a full day so you're not rushed.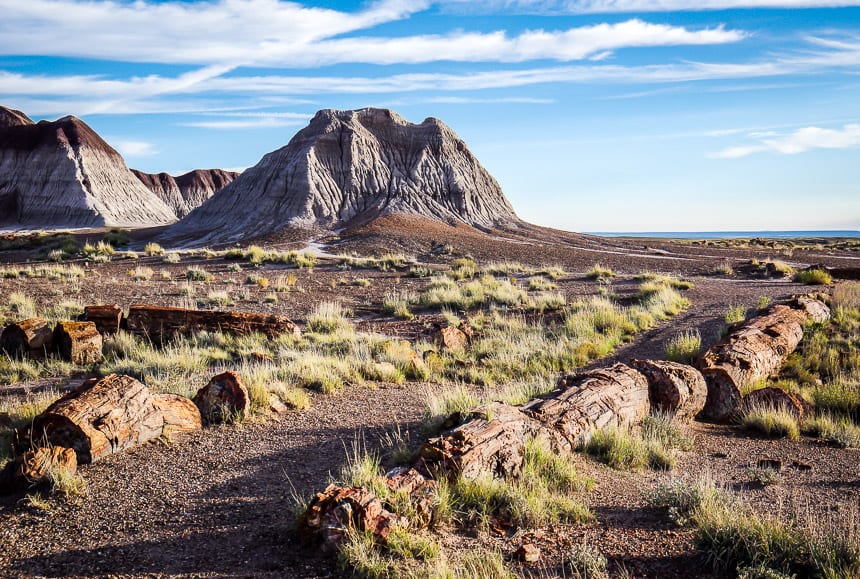 6. Courthouse Butte hike – one of Arizona's top hikes
The 6-mile Courthouse Butte loop is one of the best hikes in Sedona. Enjoy gorgeous red rock buttes along with some interesting rock formations. There are options to add mileage. This is an easy two hour hike and a great introduction to the area, especially if you're short on time.
7. Camelback Mountain hike in Phoenix
The popular Cholla Trail gains 1,200 feet over 1.6 miles to reach the summit of Camelback Mountain in Phoenix. There is another option to get to the summit of Camelback Mountain – the steeper 1.2 mile one way Echo Canyon trail.
Even though the Cholla Trail gets crowded, it's one of the top hikes in Arizona and a super popular must must-do hike in the Phoenix – Scottsdale area. Enjoy great views of the city and some fun camaraderie on the trail. (We met Santa at the top one Christmas handing out both coal and candy canes.) Dogs are no longer allowed.
You need 1 – 2 hours to do the return Camelback Mountain hike. Go early in the morning in the warm months or it will be blisteringly hot. Parking can be a problem near the trailhead.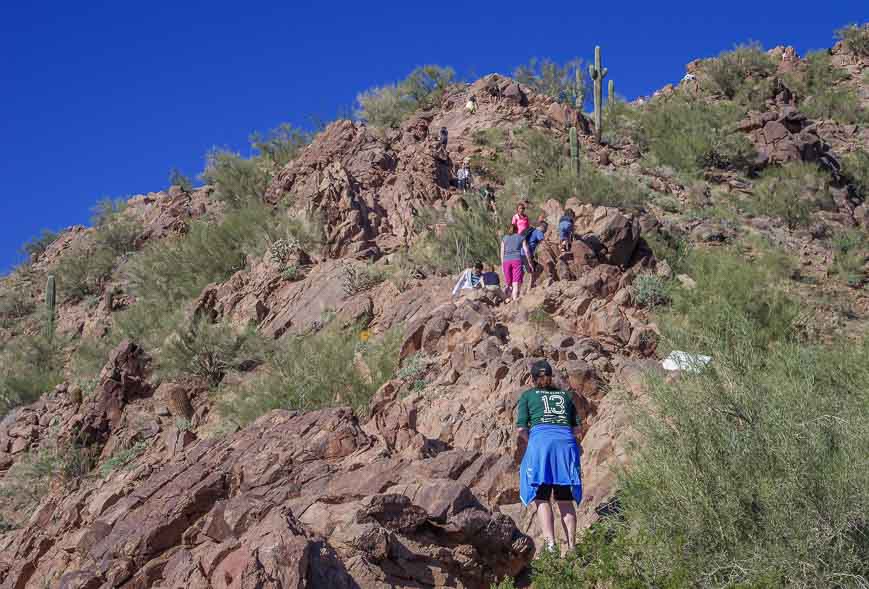 8. Coyote Buttes South – one of the outstanding hikes in Arizona
Both South Coyote Buttes and Coyote Buttes North are in the Paria Canyon-Vermilion Cliffs Wilderness at the bottom of south-central Utah and the top of north-central Arizona, south of Highway 89. Most people drive from either Kanab, Utah or Page, Arizona to access them. I would recommend a guided hike as the roads require a four wheel drive – and there is quite a warren of them.
There are no formal trails in South Coyotes Buttes. Follow the path of least resistance as you hike towards the buttes. Once there you'll find incredible rock formations – some twisting and wave like, others like tilted layer cakes – and all unique. The rock comes in a fabulous range of hues including pink, orange, yellow, red, and rust.
The area is breathtaking and alive. It blew my mind, and it probably will yours too, especially if you're new to the southwest United States. From our lunch time stop, we could see Bryce Canyon National Park, Coyote Buttes North and the location of the Wave – all about 50 miles away but what we didn't see was another soul.
9. Cochise Indian Trail, Dragoon Mountains – one of the lesser know top hikes in Arizona
The 6-mile round trip on the Cochise Indian Trail in the Dragoon Mountains takes you past rocks that come in all shapes and sizes and reminds me of the Flintstones. Even though I think this is one of the top hikes in Arizona, you're not likely to have a lot of company on it. At the high point enjoy big vistas of country spiked with stacked boulders at impossible angles.
Along the way, enjoy some of the best birding in Arizona. Allow three to five hours depending on how far you go.
10. Chiricahua National Monument hike – one of the top Arizona hikes for cool rocks
The 9.5 mile Big Loop hike in Chiricahua National Monument is my top pick for this part of Arizona but with snow we settled for the Rhyolite Canyon and Sarah Denning Trail. That got us to Balanced Rock – and you don't want to miss that. Highlights include rock pinnacles in a great variety of shapes and sizes, big vistas, and mountains that rise to 9,763 feet. As a day hike allow 4-6 hours so you're not rushed.
Bonus hike 1. Ramsey Canyon hike in Cochise County
Get on the Hamburg Trail once you finish with the easy section of hiking trail in Ramsey Canyon. Pass massive sycamore trees as you hike keeping an eye out for hummingbirds, especially if you visit in summer. There is some height gain – roughly 500 feet – and the reward – grand vistas.
Visit this part of Arizona if you're heavily into nature. You can expect diverse plant and animal life with up to 12 types of hummingbirds seen. Over 100 species of butterflies have been seen here too.
You can do a loop hike comfortably in about 5 hours.
Bonus hike 2. Coronado National Memorial
There are 8 miles of trails in Coronado National Memorial with one trail taking you right down to the Mexican border. In addition you can climb Coronado Peak.
The hiking isn't hard but it does get hot. Don't expect to see many people here, but do enjoy the big skies, desert scenery and interesting vegetation.
Bonus hike 3. Pinnacle Peak hike in Scottsdale
It's 3.5 miles round-trip to do the Pinnacle Peak hike with 1,300 feet of elevation gain. You need to be a rock climber to summit Pinnacle Peak.
You only need a few hours to knock off the hike, but the reward is beautiful rock formations in all sorts of wild shapes along with some grand vistas. The saguaros and the birding make it that much more interesting.
Bonus hike 4. Aravaipa Canyon hike
Aravaipa Canyon sits between Phoenix and Tucson in the Aravaipa Canyon Wilderness, in a landscape of soaring cliffs with a beautiful creek flowing through it year-round. Massive trees, thick riparian vegetation and lots of birds and wildlife make this a one of a kind Arizona experience and of the coolest hikes in Arizona you can do. Reportedly fall in the canyon is a dramatic time to visit.
The Aravaipa Canyon hike requires a pair of water shoes as there are frequent stream crossings. You'll also need a permit.
You can do it as an out and back hike with a shuttle but the easier logistics are as an out and back hike. The Aravaipa Canyon hike, one of the exceptional hikes in Arizona, is 12.25 miles one way with an elevation gain of 430 feet – if you're hiking from the west trailhead (2,630 feet) to the east trailhead (3,060 feet). It may not sound like a lot, but it would take fit hikers somewhere between 8 – 10 hours to do.
It's a one of a kind Arizona hike!
Click on the photo to bookmark to your Pinterest boards.