Sedona is famous for its gorgeous red rock buttes and pine forest so there are no shortage of exceptional hikes. But the town appears to be getting more popular with every passing visit, so even getting to some of the hiking trailheads can be a headache. Cue the ones off of the narrow, winding Oak Creek Canyon Scenic Drive, one of the top scenic drives in the United States. We've been to Sedona hiking several times, and I have to say the Courthouse Butte hike stands out for me as one of the best hikes in Sedona. It offers stunning desert scenery over its entire length. And it's easy, family-friendly, and you can easily add mileage via additional loops.
On the Courthouse Butte hike, you'll loop around Bell Rock, one of the iconic rock formations in the Sedona area. Courthouse Butte is another large rock formation that stands out in the landscape south of Gibraltar Rock. As you hike the loop you'll enjoy everchanging views of these gorgeous rock formations.
This post includes some affiliate links. If you make a qualifying purchase through one of these links, I will receive a small percentage of the sale at no extra cost to you. Thank you very much for your support.
Courthouse Butte hike summary
You will need a Red Rocks parking pass to hike Courthouse Butte.
Park at what is labeled the Bell Rock trailhead on Google maps – also called Courthouse Vista parking lot.
It's a 3.9 mile loop trail that is easy and family-friendly. It's a great one to do at sunrise.
Allow 2.5 hours to do the round-trip hike.
Plan to hike early – as in 7 AM early to beat the heat and the crowds.
There is excellent route signage on the Courthouse Butte hike.
There is the option to climb Bell Rock (the summit is at 4,917 feet) though you can't get to the very top. Be sure to wear shoes with good traction as there is slickrock.
The trail is open year-round but the heaviest usage is in the summer.
There are vault-type toilets at the trailhead.
Dogs are allowed on a leash.
Do you need a parking pass to hike Courthouse Butte?
You'll need a Red Rock parking pass to do the Courthouse Butte hike. It can be purchased online or in person at a number of businesses in Oak Creek, West Sedona, East Sedona, Oak Creek Canyon and even the Flagstaff Visitor Centre. The pass is linked to your license plate so a printed copy won't be available. The Red Rock daily pass is $5, $15 for a week and $20 for an annual pass.
What makes Courthouse Butte hike a winner
The trailhead is a snap to find and is only about a 10 minute drive south of Sedona. Study the map at the trailhead before you take off to orient yourself.
(Helpful hint: I always take a photo of any maps at the trailhead just in case the trail later on is poorly signed. We've saved a lot of backtracking by doing this.)
The Courthouse Butte hike is an easy 3.9-mile loop with only 375 feet of elevation gain. I wouldn't have guessed there was even that much. We hiked it in a counter-clockwise direction but both ways would be completely fine – and every foot of the trail is pretty.
There are quite a number of trails – heading north (Llama and Bell Rock Trails) and south (Big Park Loop Trail) off the Courthouse Butte trail which would be a treat to explore if you had the time. Stop and read the signs to make sure you're on the right trail before you continue. In hindsight I wish we'd had a whole day to hike as we would have liked to include several of the loop hikes to the north.
We did this hike at the end of October and it was still hot. If your blood runs cold, you'd probably love the hiking in Sedona come winter.
As a word of warning for warm weather hikes, carry a lot of water, sunscreen and a sunhat. Now that I know how busy it is on a weekday I'd recommend an early start on the weekend so you can snag a parking space.
Courthouse Butte hike route description
With great signage on the hike, the only thing you need to do to stay on teh right trail is follow the signs. You could also download a hiking app.
From the Bell Rock Vista Trailhead, we went counter-clockwise, but that's entirely up to you.
Follow the Bell Rock trail initially as it makes its way around Bell Rock. The crowds start to thin once you're in about a mile but keep an eye out for mountain bikers as you must share the trail.
You'll pass turnoffs to the Big Park Loop and the Middle Trail. Always stay on the Courthouse Butte trail as it makes a loop to the north and then west. When you reach the junction with the Llama Trail, you're almost back to your starting point.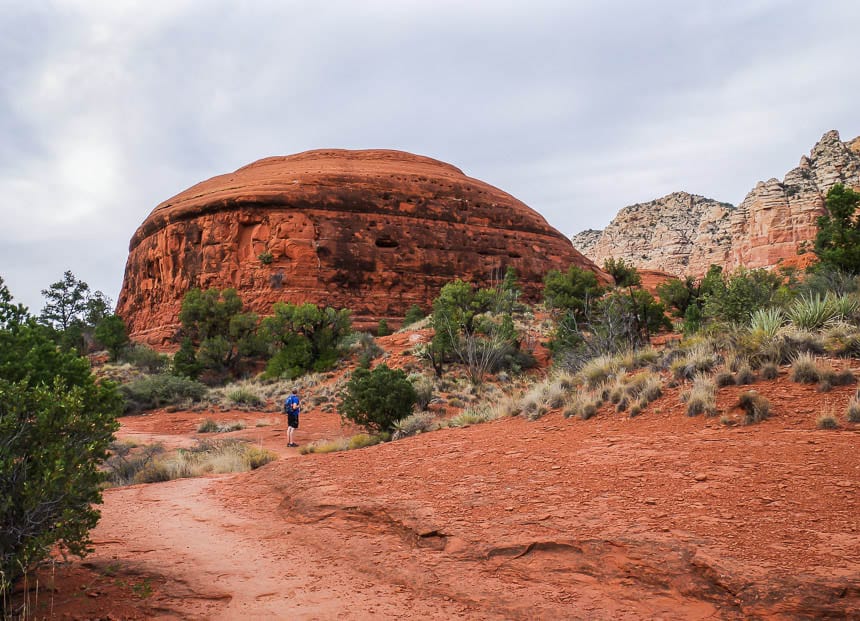 Don't forget to bring the following
Carry lots of water, especially on hot, sunny days. Don't forget a brimmed sun hat, sunscreen, and sunglasses.
Take some high energy snacks.
Wear hiking shoes with a good tread.
Where is the trailhead for the Courthouse Butte hike?
From the junction of Routes 89A and 179 in Sedona, take Highway 179 S for 5.2 miles to a left turn lane that is marked for Bell Rock trailhead north or Courthouse Vista at Milepost 308.2. Drive across the northbound lane and you'll find the trailhead on the east side of the road.
There is also the option if the parking lot is full to park at the Bell Rock Trailhead south, north of the Village of Oak Creek, on the Red Rock Parkway. You will have to hike the Bell Rock Parkway north to get to the Courthouse Butte loop.
If you have time on the way, take a few minutes to check out the view from Yavapai Point.
Check out the Visit Sedona website for more information.
Courthouse Butte hike location map
Where to stay in Sedona
There's a huge variety of accommodation choices in Sedona – across a wide range of price points.
Sedona Views Bed & Breakfast, rated superb, offers a hot tub on a private balcony with a view.
The Sedona Cathedral Hideaway B&B & Spa comes with top ratings, and is well located within walking distance of Oak Creek.
The Inn at Thunder Mountain is a boutique inn in West Sedona at the base of Thunder Mountain.
More Arizona hikes you might like
You might also like
California – Hiking in Palm Springs: The Five Must Do Hikes
Utah – Best Hikes Near Kanab, Utah
Montana – The Iceberg Lake Hike in Glacier National Park
Oregon – Things to Do in Redmond Oregon and Nearby
Click on the photo to bookmark to your Pinterest boards.