Courthouse Butte Hike in Sedona
Sedona, is famous for its gorgeous red rock buttes and pine forest so there are no shortage of exceptional hikes. But the town appears to be getting more popular with every passing visit, so even getting to some of the hikes can be a headache. Cue the ones off of the narrow, winding Oak Creek Canyon Scenic Drive, one of the top scenic drives in the United States. It can be an exercise in frustration because if traffic.
After several days of hiking and checking out the trails in Sedona, I would call the Courthouse Butte hike the best hike in Sedona. It offers stunning desert scenery over its entire length. It's easy, family-friendly and you can add mileage via additional loops very easily.
Courthouse Butte hike – what makes it a winner
The trailhead is a snap to find and is only about a 10 minute drive south of town. Note that you will have to pay $5 for parking. Study the map at the trailhead before you take off to orient yourself.
(Helpful hint: I always take a photo of any maps at the trailhead just in case the trail later on is poorly signed. We've saved a lot of backtracking by doing this.)
The Courthouse Butte hike is an easy five mile loop with only 200 feet of elevation gain. I wouldn't have guessed there was even that much. We hiked it in a counter-clockwise direction but both ways would be completely fine – and every foot of the trail is pretty.
There are quite a number of trails – heading north and south off the Courthouse Butte trail which would be a treat to explore if you had the time. Stop and read the signs to make sure you're on the right trail before you continue. In hindsight I wish we'd had a whole day to hike as we would have liked to include several of the loop hikes to the north.
We did this hike at the end of October and it was still hot. If your blood runs cold, you'd probably love the hiking in Sedona come winter.
As a word of warning for warm weather hikes, carry a lot of water, sunscreen and a sunhat. Now that I know how busy it is on a weekday I'd recommend an early start on the weekend so you can snag a parking space.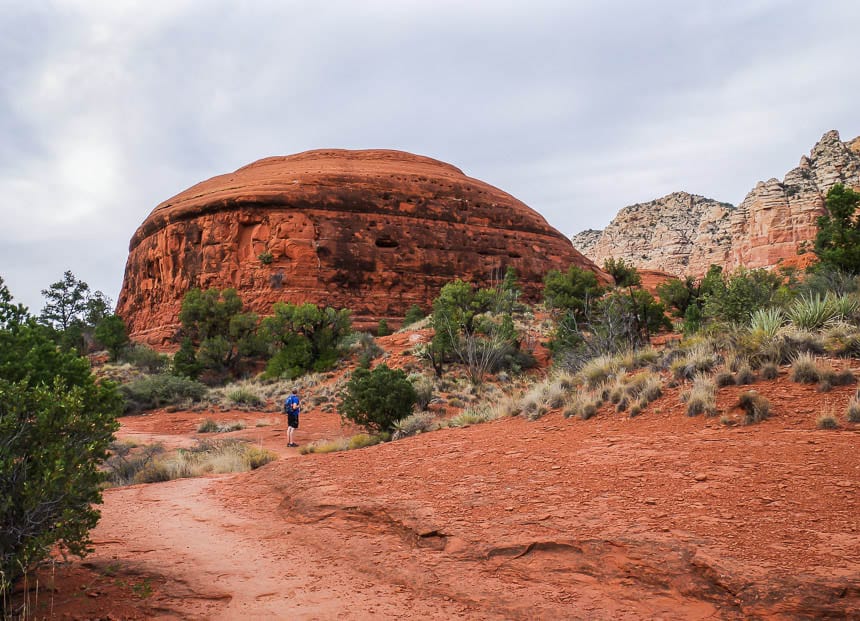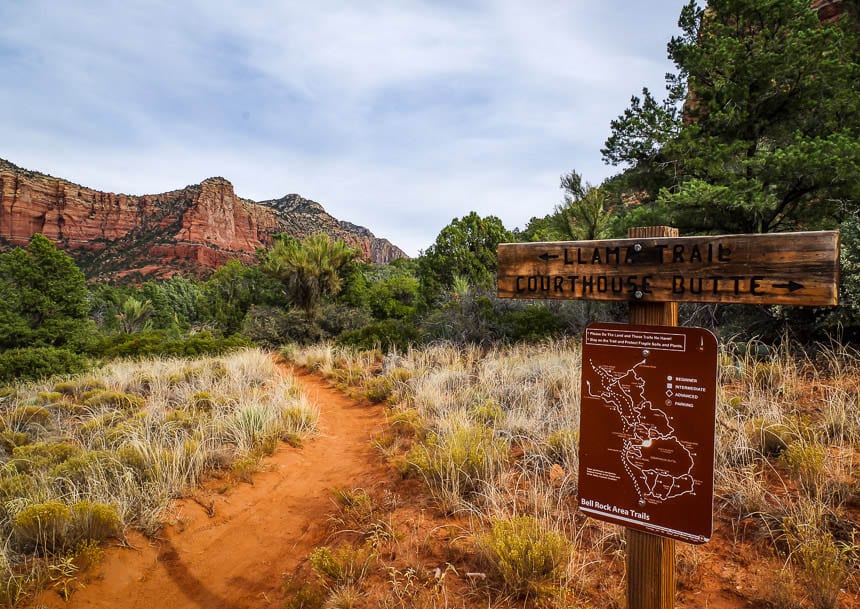 Getting to the trailhead for the Courthouse Butte hike
From downtown Sedona follow Highway 179 S for 5.4 miles (assuming the start point is the intersection of Jordan Road and Route 89A) to the Bell Rock parking lot – which will be on your left.
If you have time, take a few minutes to check out the view from Yavapai Point.
Check out the Visit Sedona website for more information.
More Arizona hikes you might like
Click on the photo to bookmark to your Pinterest boards.