Pinnacle Peak in Scottsdale, Arizona is the focal point in Pinnacle Peak Park. From afar the summit of the peak looks far more challenging than it does up close, but you do need to be a rock climber to get to the top of it. Hikers must be content with a 4.0 mile round trip hike with an elevation gain of approximately 1300 feet. Hiking Pinnacle Peak on the trail can be done in 75 minutes if you're booting it.
John and I set out on the Pinnacle Peak hike in late December. Pinnacle Peak and the park are located in northeast Scottsdale, east of North Pima Road, and south of Dynamite Boulevard. It was a busy time but nothing compared to our Christmas Day Camelback Mountain hike.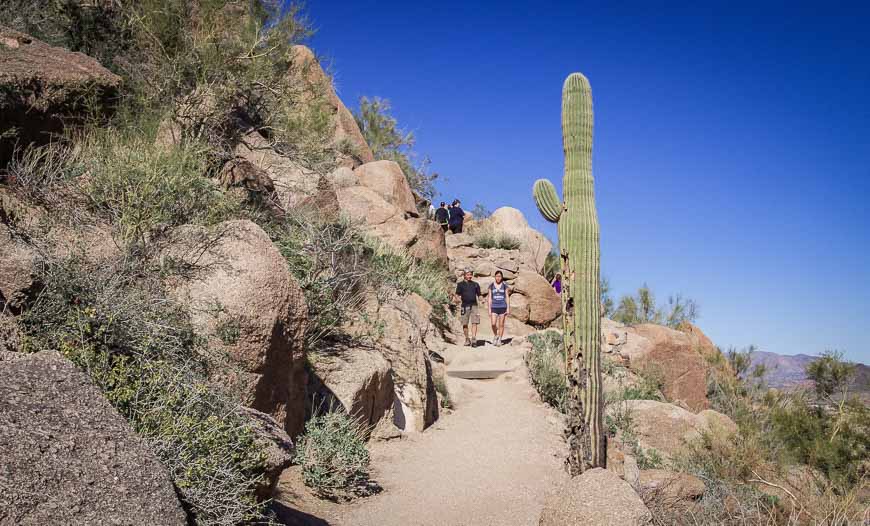 Hiking Pinnacle Peak summary
Distance: 4.0 miles round trip as an out and back hike.
Elevation gain: 1,300 feet or 396 m
Trailhead elevation: 2,570 feet
Level of difficulty: Easy if you hike a lot, otherwise moderate
Facilities at the trailhead: Restrooms, drinking fountains, picnic tables, bike rack, informational materials and interpretive displays along the trail.
Dogs allowed: No – go to Brown's Ranch trailhead instead.
Hours: The Pinnacle Peak trail is open from 6:45 AM until 6 PM. It's well worth doing if you visit Scottsdale – and catching a sunrise or sunset up would be magnificent.
Don't forget: A sun hat, sunscreen, lots of water, a snack – and let someone know when you're due back.
Wildlife: We only saw birds hiking Pinnacle Peak – hummingbirds and cactus wrens. Other animals that call the park home include Gila monsters, bobcats, javelinas, mule deer, grey foxes and the western diamondback rattlesnake.
Recommended reading: Mountain Biking in Scottsdale at Brown's Ranch
Map of Pinnacle Peak trailhead location
Hiking Pinnacle Peak description
Although there is a gain of 1,300 feet, none of it happens at once so it's actually quite an easy hike. The trails are wide and the views out to the valley are excellent. It's an interpretive trail so you might learn a few cool facts about the area on the hike like the fact that there is the rare redberry juniper.
The Pinnacle Peak hike takes you up on a series of short switchbacks to the highest point of the Pinnacle Peak trail at 2,889 feet. Along the way you pass granite rock, reminiscent of Bedrock – home to Wilma and Fred Flintstone, and the rock seen in Joshua Tree National Park.
I have not done the hike during peak wildflower season – late February to mid-April, but I understand hiking Pinnacle Peak is especially beautiful then.
At the western end of the Pinnacle Peak trail, look out towards the surrounding mountains – on the other side of the developed neighbourhoods. Retrace your steps to return.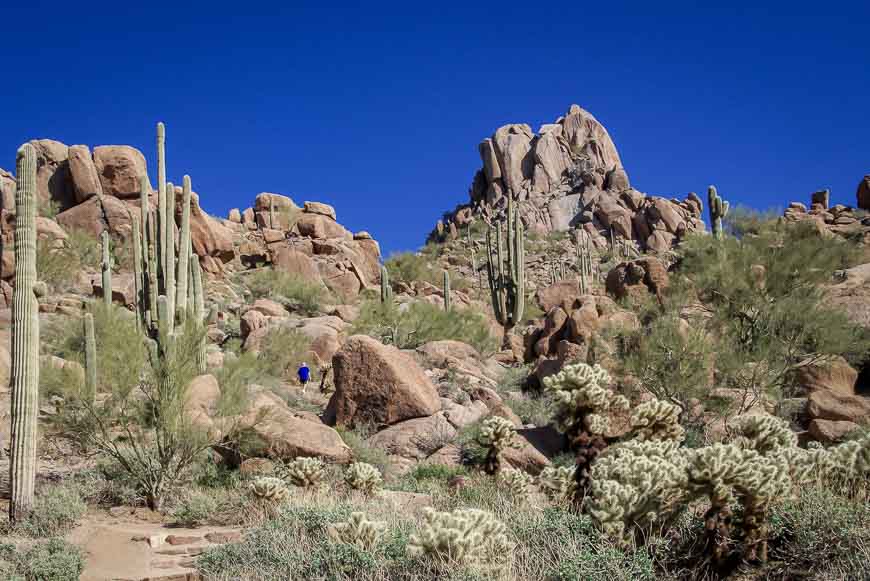 Have you ever done the Pinnacle Peak hike? or do you have another favourite in Scottsdale?
For more information on Pinnacle Peak Park visit the City of Scottsdale website.
Further reading on hikes and adventures in Arizona
Click on the photo to bookmark to your Pinterest boards.