Scottsdale is probably not the first city you think of when it comes to mountain biking. But it should actually be on your radar. Scottsdale is home to 200 plus miles of trails in the McDowell Sonoran Preserve ALONE with trails ranging from beginner through to advanced.
Mountain biking in Scottsdale on trails like the ones we rode at Brown's Ranch are made with crushed granite and compacted soil while others are rocky with loose gravel (and so more difficult). Everyone from novice to expert will have no problem finding a trail to love in Scottsdale.
This post includes some affiliate links. If you make a qualifying purchase through one of these links, I will receive a small percentage of the sale at no extra cost to you. Thank you very much for your support.
Our experience mountain biking Brown's Ranch in Scottsdale
Our group of four, including two friends who have never mountain biked before, got picked up at the CIVANA Wellness Resort & Spa in nearby Carefree at 7:45 AM.
Over the short drive to the trailhead we learned a little about the guides, what we'd see over the course of the morning along with some history of the McDowell Sonoran Reserve.
The preserve is one of the largest urban preserves in the country – partially because of a sales tax increase in 2004 that went towards land purchases. It is now a mecca for bikers, hikers, birders and anyone needing a dose of nature.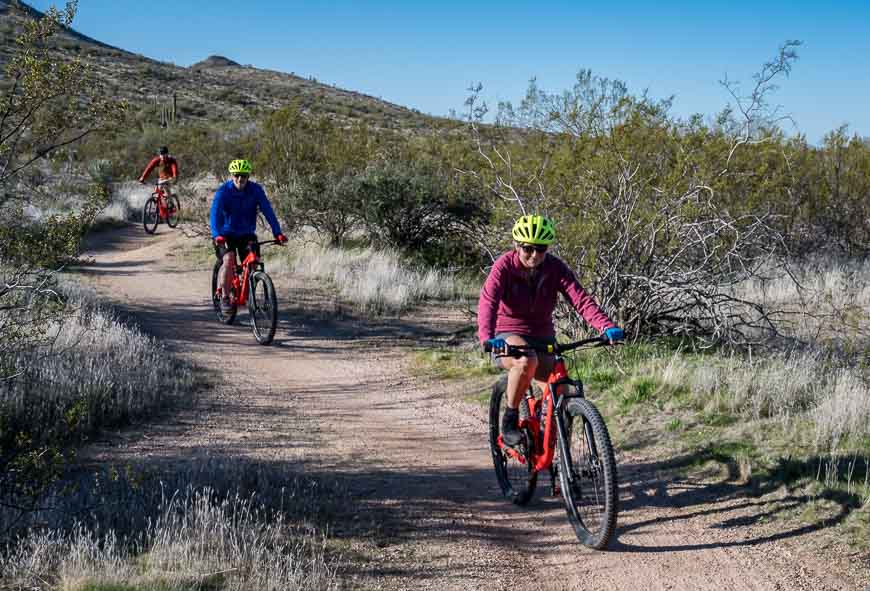 After getting outfitted on some dual suspension bikes, we take off on easy flowing trails with only some minor climbs and descents.
The biggest thing we all aim to avoid is coming into any contact with the prolific cholla cactus. They are nasty buggers that break off easily – hence the name jumping cholla. They can make your live a living hell for days – okay, maybe not quite, but it takes forever to get rid of all the tiny, nasty cacti spines.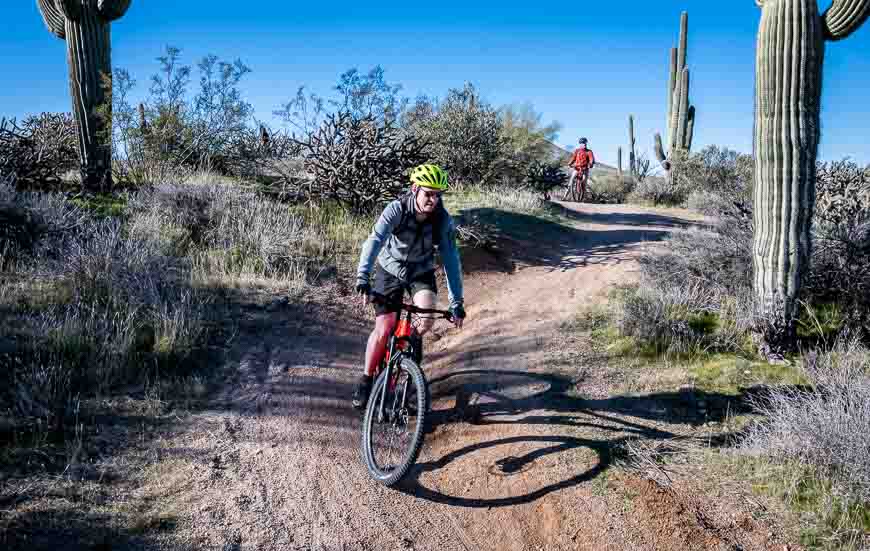 Go with a guide if you want to learn about the desert
Charles, our main REI guide for the morning, has been mountain biking for decades and knows the desert like the proverbial back of your hand. I was impressed at how he was so encouraging with my friend Jo – who secretly I'm sure, harnessed reservations about this outing.
She was beaming in short order and having a grand old time.
While I've done loads of mountain biking (especially in Moab and The Maze in Utah) I am no expert. I don't like catching air, super steep descents or going over handlebars. But I do love snaking through desert scenery, enjoying the landscape and getting some exercise.
The loop Charles picked was perfect. It started and finished at Brown's Ranch Trailhead. The loop included Brown's Ranch Road, Corral Trail, Cholla Mountain Loop, Balanced Rock Trail, Chuckwagon Trail, Powerline Road #2 and back to Brown's Ranch Road.
Lots of nature stops on the Brown Ranch mountain bike trails
On this bike ride we had plenty of stops to catch our breath – and to learn a few things from Charles about the natural environment.
We pulled over at the cactus pictured below so Charles could show us the nest of a woodpecker that gets built inside a saguaro cactus. Unfortunately they are collectors' items.
We stopped to check out the creosote plant – that smells like rain. We found out that the red-leaved tuberosa, a flower hummingbirds love, tastes like cucumber.
We also learned that the barrel cactus acts as your natural compass in the desert since it always points south. The suicide cactus – does just that – killing itself slowly as it bends towards the sun, tips over and dies.
As far as animals go, we got very lucky. One of our group spotted a bobcat off in the distance. At first we thought it was a mountain lion so we were all beyond excited, but it was too small. Still a bobcat is pretty special and as Charles says – "not an animal you see very often."
We came away after three hours with a vastly better appreciation of the Sonoran desert – and a sore butt. Apparently biking in front of the TV on an exercise bike doesn't quite toughen one up the same way as a real bike does outside.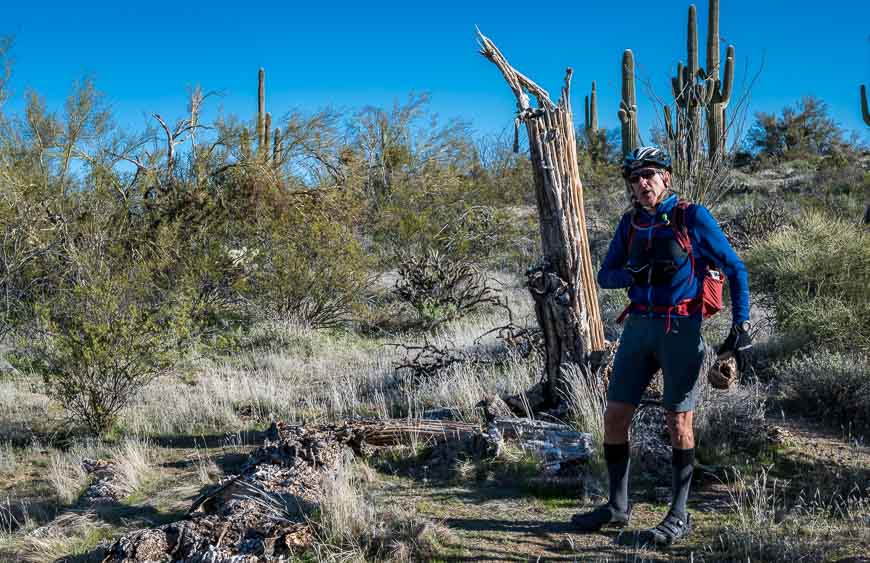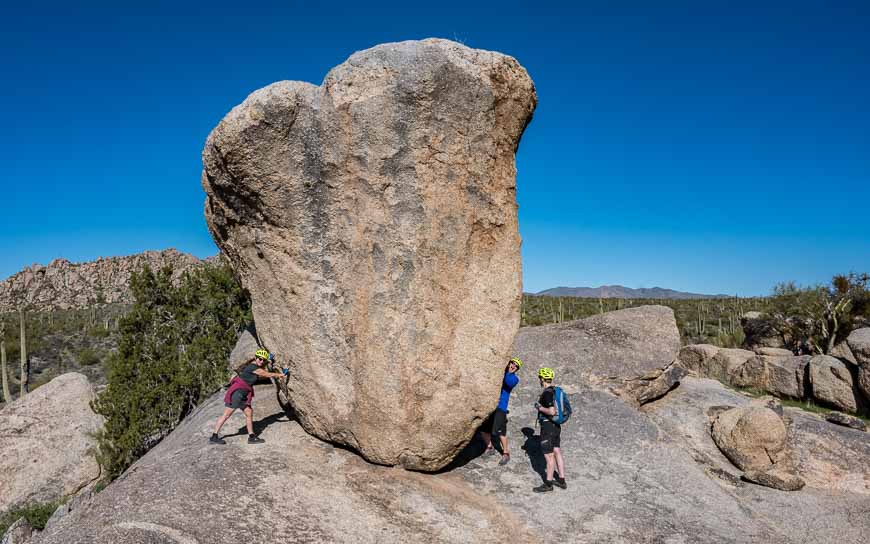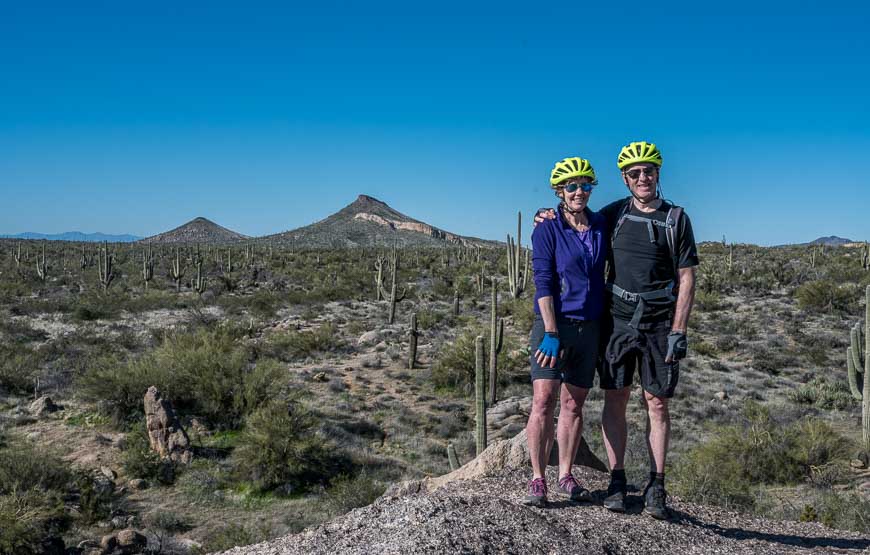 Where to stay in this part of Scottsdale
It would seem that I booked flights to Arizona without realizing that the Phoenix Open was on and hundreds of thousands of people were flocking into the city.
Instead of staying downtown we ended up in Carefree, on the northern outskirts of Scottsdale. It turned out to be a great choice for us.
We stayed for a couple of nights at the lovely CIVANA Resort. Rooms were large, with a couple of chairs looking out towards the desert. There was a pool, hot tub (great with the starry skies) and an onsite restaurant and spa. On the morning we left we even saw a couple of great-horned owls mating on the roof! It's hard to beat that.
You can book a stay at CIVANA right here.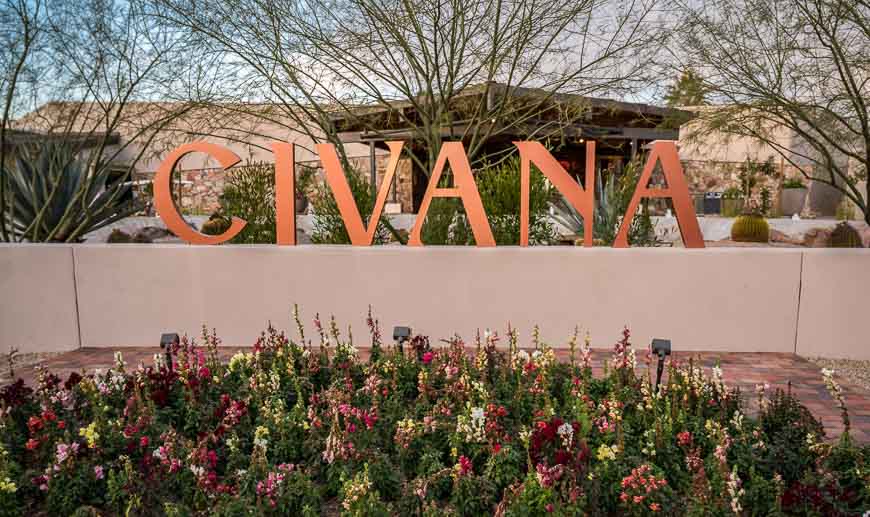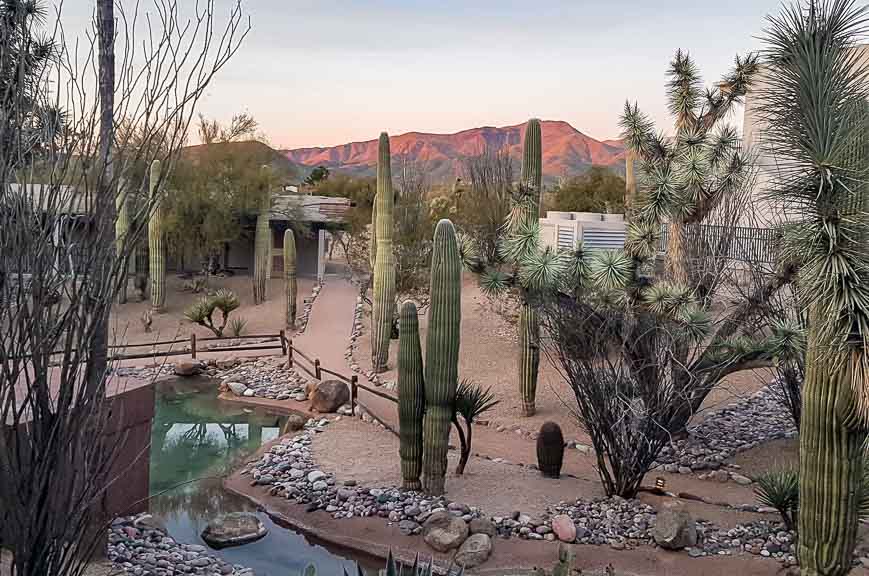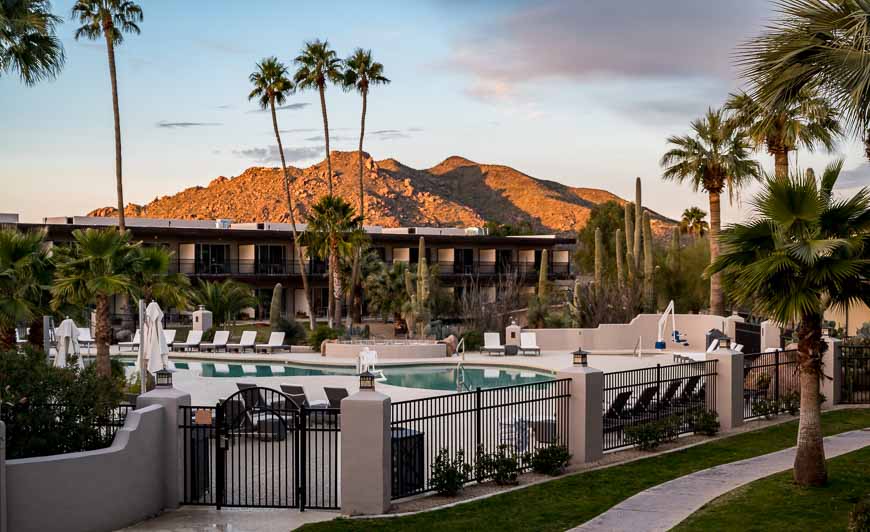 Further information if you want to go mountain biking in Arizona
For a full list of trails in the McDowell Sonoran Preserve visit their website. It's also got a map on it so you can plan your mountain bike ride ahead of time.
If you want a guided tour, I highly recommend REI Co-Op. They will pick you up at your hotel, provide you with great bikes, water, snacks and make sure that all levels of mountain bikers have fun.
For more information on things to do in Scottsdale visit their website.
Location map of Brown's Ranch
Further reading on things to do in Arizona
Click on the photo to bookmark to your Pinterest boards.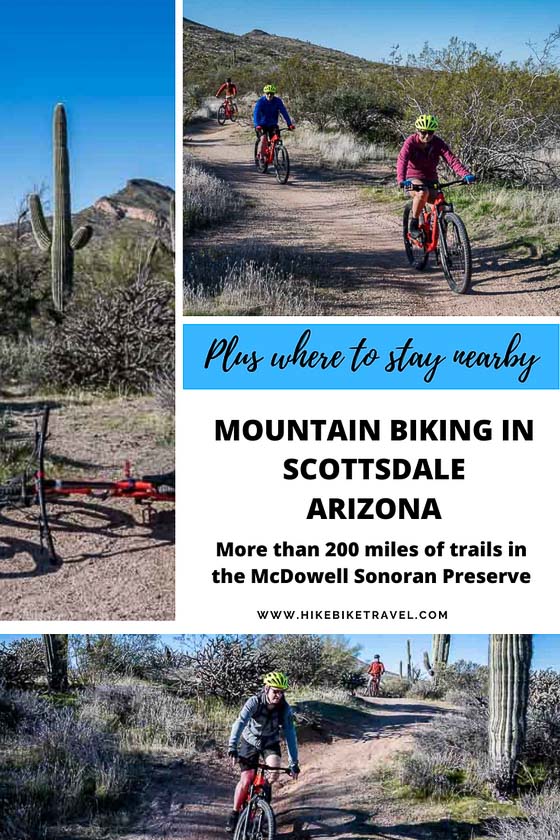 Thank you to Scottsdale Tourism for arranging and comping the bike ride and to CIVANA for providing a lovely stay at a reasonable price point.