My little rental car took me on an extraordinary drive along the Apache Trail in Arizona. And it was only by luck that I was there in the first place. I had checked out a route the night before I drove the Apache Trail though I hadn't planned to drive it – but sometimes, and this was one of those times, the unplanned and unexpected adventures turn out to be the best ones.
This post includes some affiliate links. If you make a qualifying purchase through one of these links, I will receive a small percentage of the sale at no extra cost to you. Thank you very much for your support.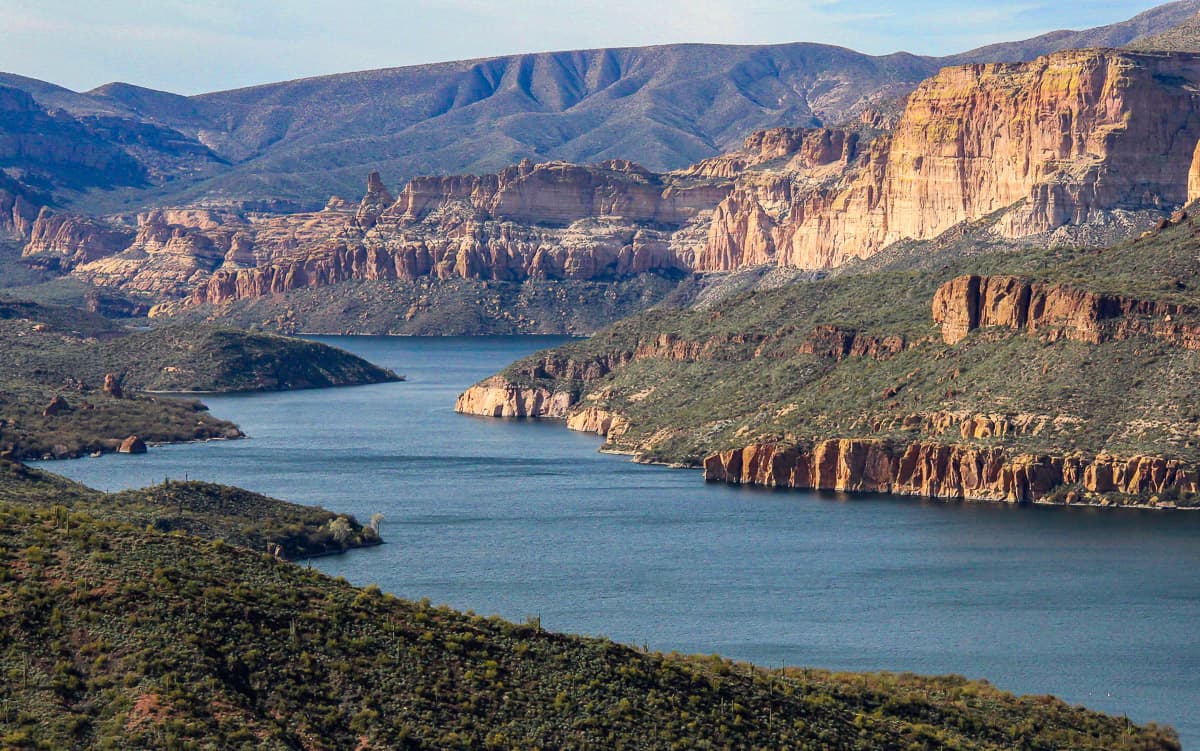 How I ended up driving the Apache Trail
I had left Scottsdale, armed with a map and a pretty good idea of the exit I needed to get off to do a hike in the Superstition Mountains. But memory failed me and glancing at the fine print of a map going 70 mph, was in my books, a recipe for disaster.
So when I saw the exit for Loop 202 going west I figured why not – I'll throw caution and plans to the wind and go for a driving adventure. I also figured I'd have time later in the day to find a short trail in the Superstition Mountains to hike.
I confess that the night before I had seen little green dots on the map that indicated a scenic route off of the 202 Loop. But I didn't think I wanted to be heading north on Highway 87.
But head north I did – through Sunflower – nothing there but a sign advertising dancing girls in Payson. Past Mt. Ord at 7,128 feet. Up and down green hills literally covered with saguaro cacti. Four lanes and hardly a car to be seen either.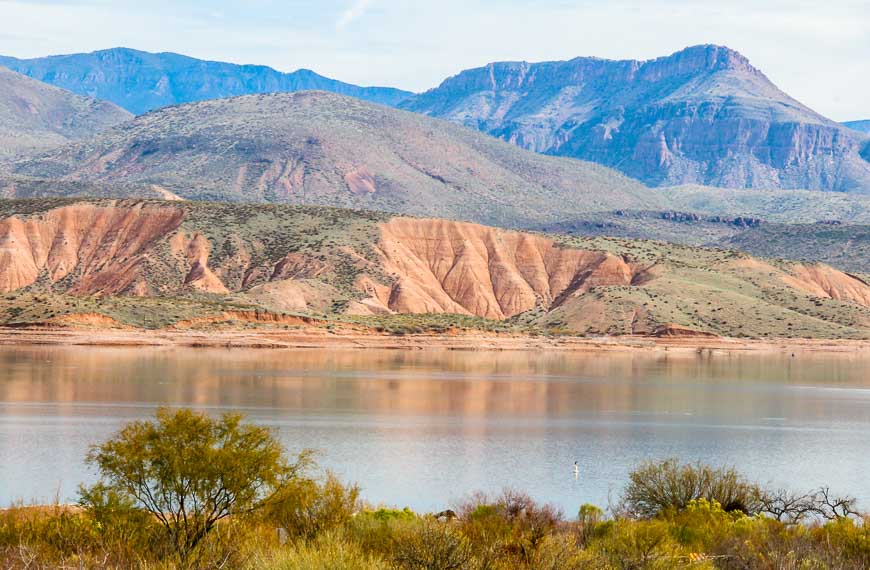 At the junction with Highway 188 it was time to make a decision. My gas gauge decided the route for me. I would head south on Highway 188 to Roosevelt and then head east on Highway 88 – the Apache Trail to Apache Junction.
On my map, Highway 188 didn't have any green dots and I expected little in the way of scenery. It was in fact a lovely drive through Tonto Basin and along a section of Roosevelt Lake.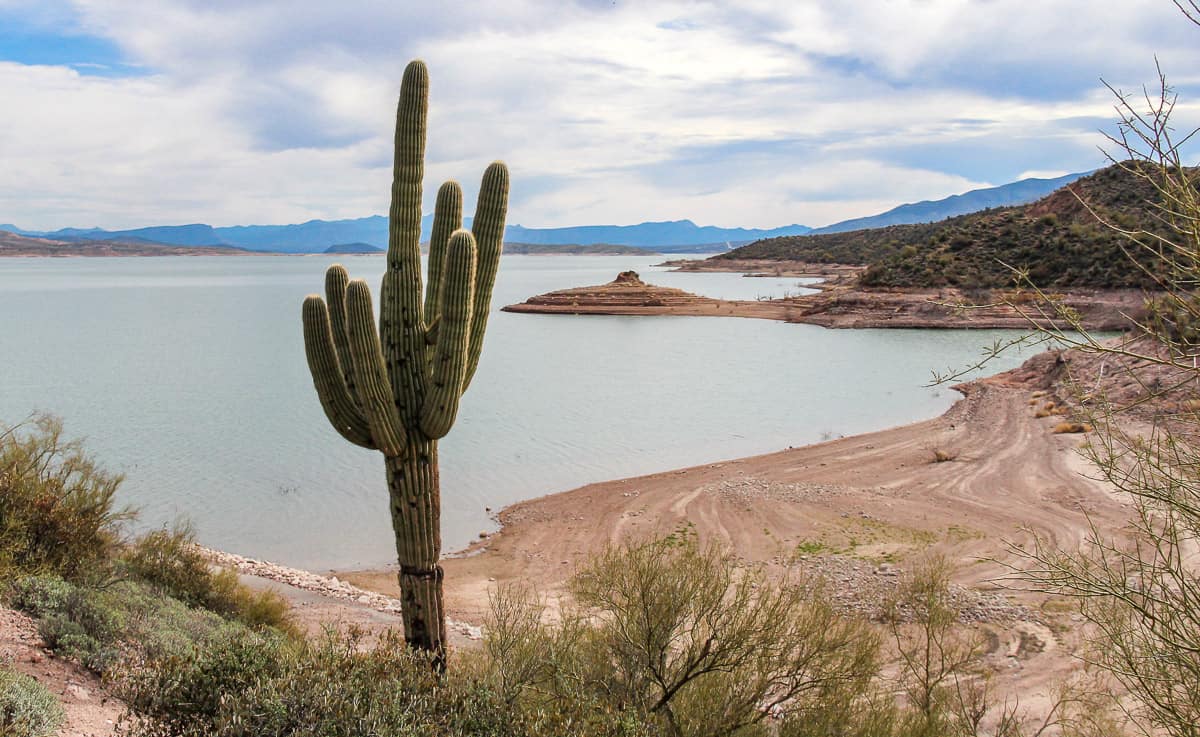 Apache Trail – Arizona's most scenic drive
The extraordinarily scenic section of the Apache Trail or Highway 88 starts at the Theodore Roosevelt Dam at the junction with 188 and ends outside of Apache Junction. In reality, the Apache Trail continues on from the dam to the copper mining town of Globe on Highway 88 – but I didn't have the time to do that part.
I started at the Roosevelt Lake Bridge, painted a hard-to-miss blue colour, and dedicated by Theodore Roosevelt himself in 1911. The dam, just up the road from the bridge, was originally 280 feet high and another 77 feet were added in the 1990's.
If you don't want to drive the Apache Trail by yourself – and not everyone will feel comfortable doing it, book a day tour starting in Scottsdale with GetYourGuide. You'll be happy you did.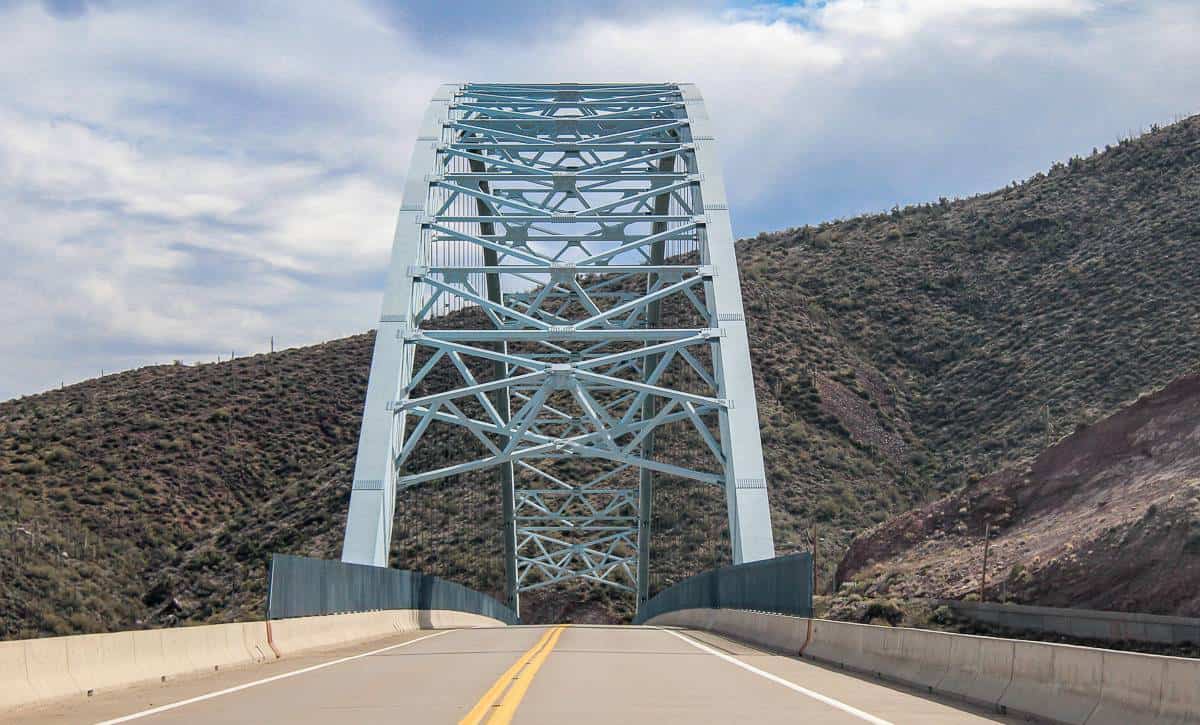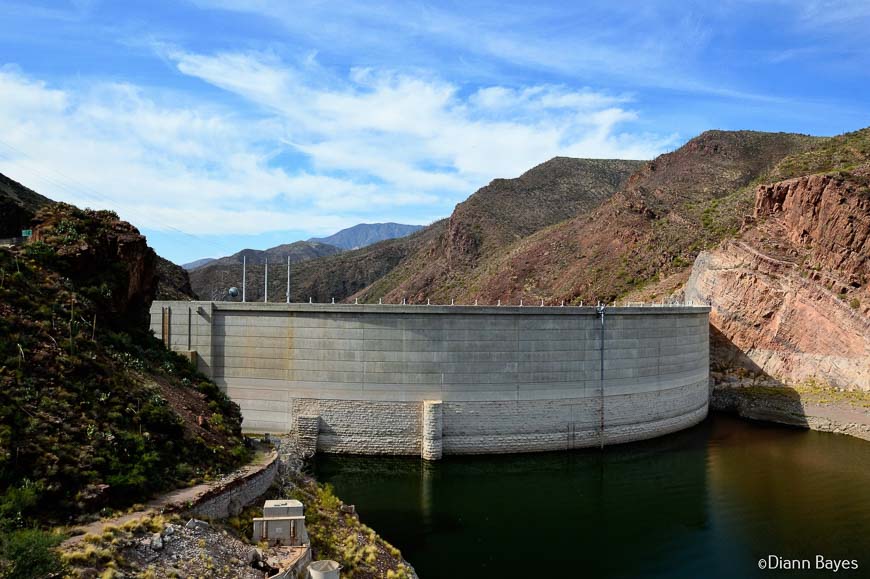 No RV's allowed on the dirt section of the Apache Trail
It wasn't until I turned onto the Apache Trail, that I realized it was a dirt road. And it's restricted to vehicles less than 40 feet long – for good reason.
You won't find RV's – and in fact Cruise America, the largest RV rental company, prohibits their vehicles from traveling this road. The white knuckle curves and spectacular scenery started just after the dam.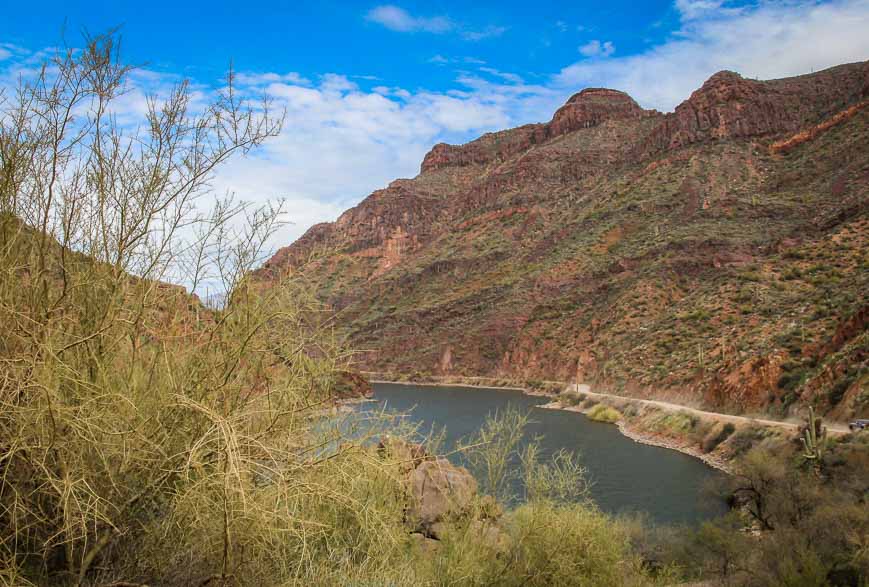 The dirt section is only about 28 miles long – and ends just a few miles shy of Tortilla Flats. It's a slow drive if you care about your car. The road twists and turns and climbs steep sections, hugging cliffs.
Don't expect guard rails because they're almost non-existent. Do expect to pull way over when you meet a car coming from the other direction – a bit nerve wracking on the 2,000 feet of single lane road, which boasts sheer cliffs on one side, that you'll find about five miles from Tortilla Flats.
I had figured once I made it to Tortilla Flats the scenery would disappear. I was dead wrong. Jaw dropping views continued all the way through to the outskirts of Apache Junction.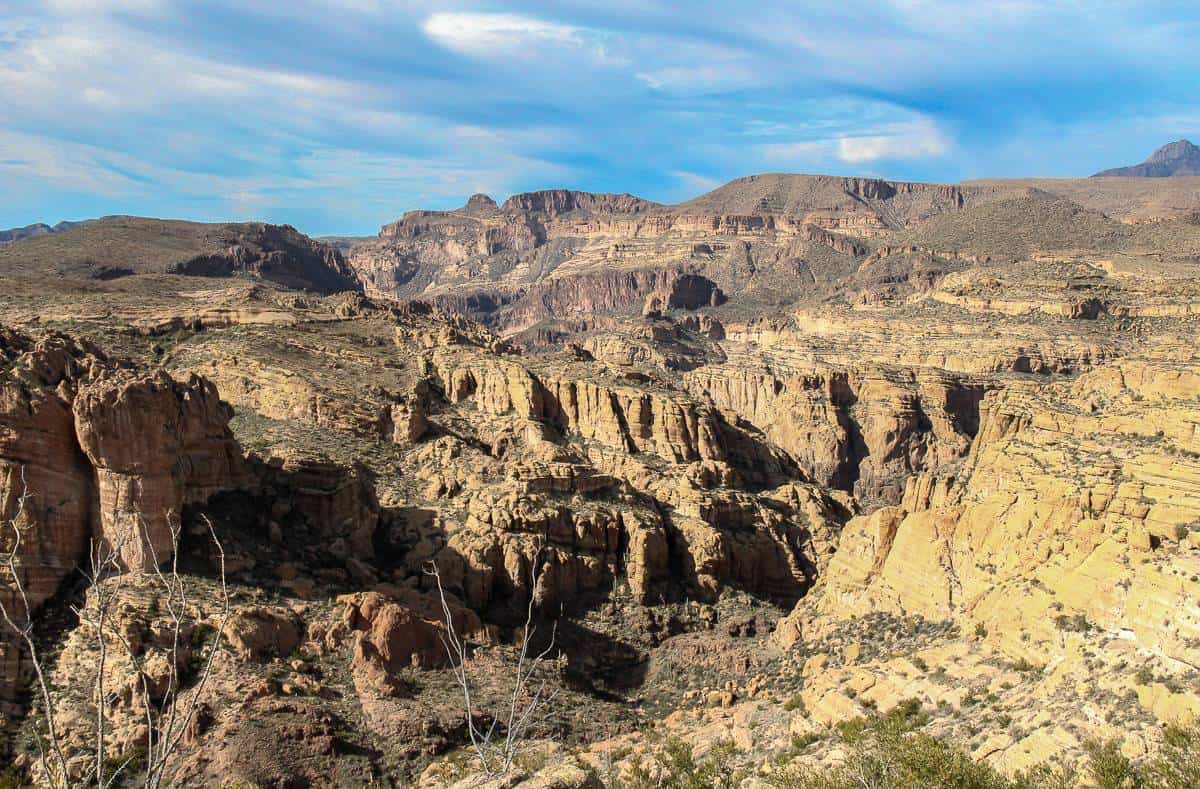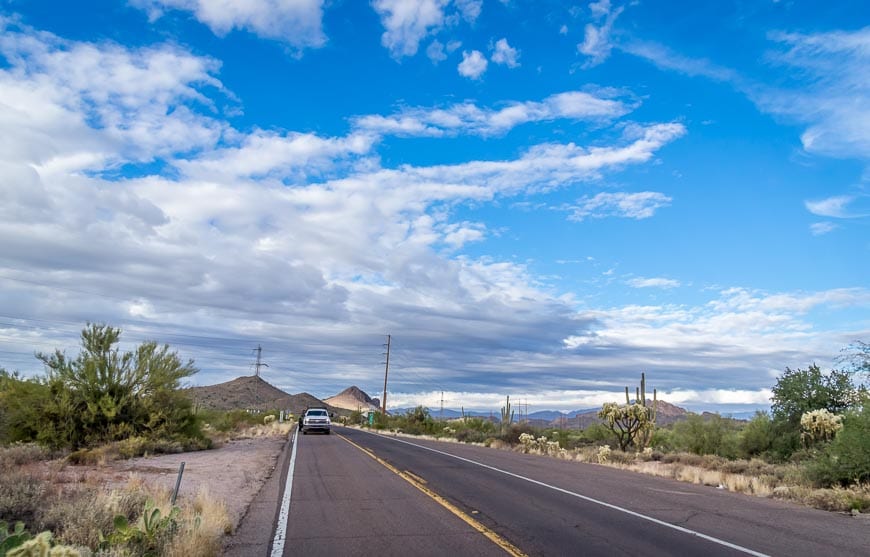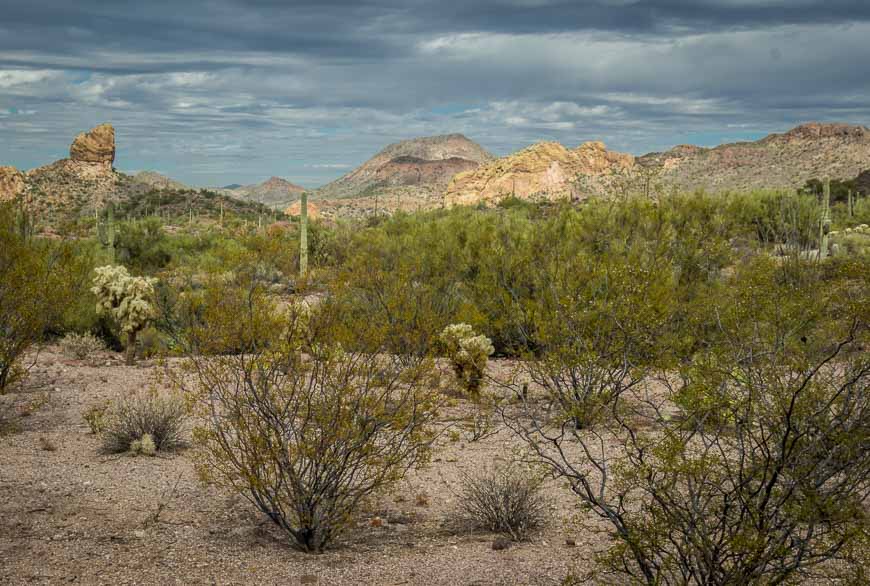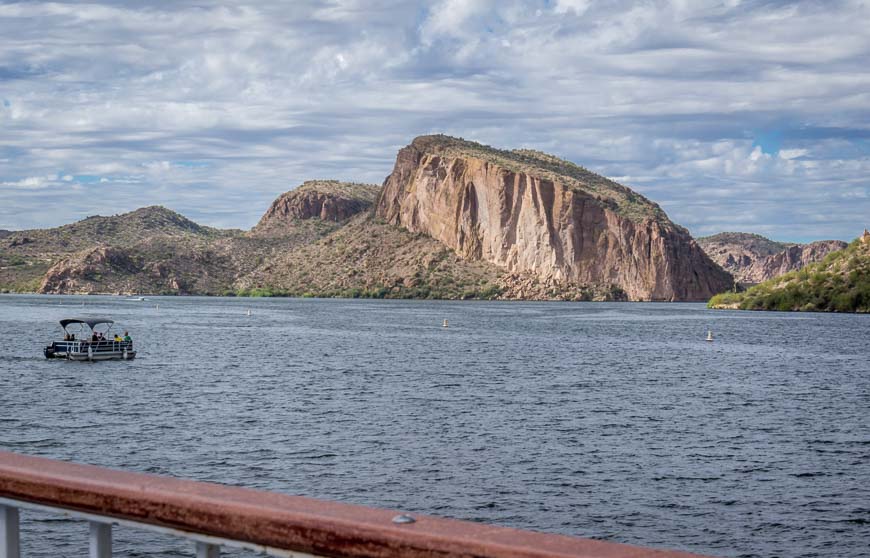 Tonto National Monument – a side trip near the Apache Trail
I never did manage to do a hike in the Superstition Mountains, though I took over an hour to hike and explore Tonto National Monument which you'll find just off the trail. And wherever there was a pullout or a short walk I did that. Giving up a day's hike in the Superstition Mountains was worth it to drive the stunning Apache Trail.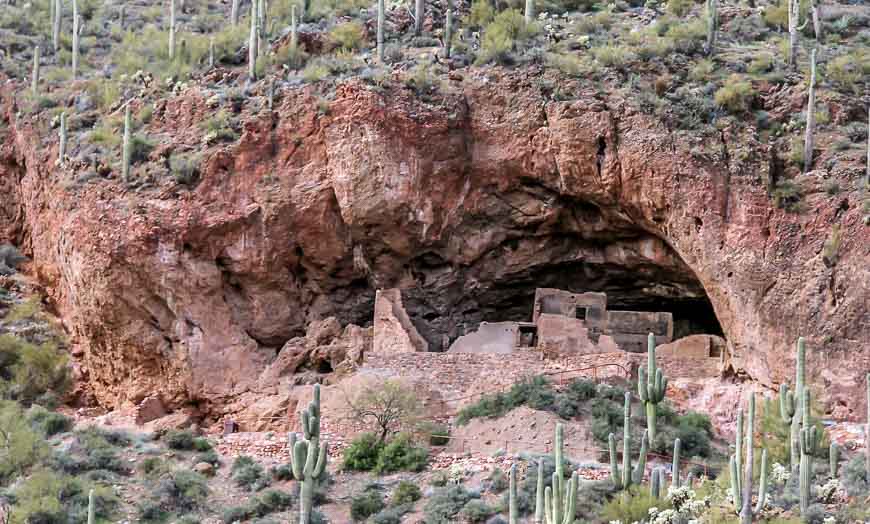 Apache Trail – a not to be missed drive if you're in Phoenix or Scottsdale
I highly recommend Apache Trail drive to anyone as a day trip from Phoenix or Scottsdale. Start with a full tank of gas, bring water and snacks and don't forget your camera.
If you love exploring backroads and getting off the beaten path check out the Guide to Arizona's Backroads & 4 Wheel Drive Trails.
Thanks to @BryanCSnider and @qiranger who responded to my call out on Twitter for suggestions while visiting Arizona. I wouldn't have even heard of this road without either of them making note of it.
Further reading on things to do in Arizona
Click on the photo to bookmark to your Pinterest board.