Looking for a variety of fun, outdoorsy things to do in Mesa, Arizona? It's been named the best city for Outdoor Lovers by Money Magazine, even though its Arizona's third largest city. I discovered a huge variety of things to do in Mesa, Arizona – largely because of where its sits in the state. There's easy access to the Lower Salt River. Four lakes are within spitting distance. And the world-class and unbelievably scenic Apache Trail is basically out Mesa's "back door".
For more things to do in Mesa, you can add in mountain and road biking along with hiking on scenic trails with attendant bird life and wildlife in both the Superstition Mountains and Usery Mountain Regional Park (among others). And there are a few unusual things to do as you'll see below.
Summary of things to do in Mesa, Arizona
Mesa, Arizona is best known for its desert landscapes, scenic views, warm winters, and hot summers.
Mesa's downtown is upbeat and vibrant. It has been growing so you can expect to see numerous taprooms and breweries, coffee houses, and boutique shopping options.
Apart from fun outdoor things to do in Mesa, Arizona you can enjoy a hive-to-honey jar workshop at Freeman Farms, European pastry making classes at Proof Bread, and enjoy a fall olive oil harvest at Queen Creek Olive Mill.
Other cool things to do in Mesa include morning hot air balloon rides, watching for wild horses along the waters of the Tonto National Forest, and hiking in the Superstition Mountains.
Mesa has recently become (2022) the first autism-certified city in the United States.
Mesa is only 11 miles from Scottsdale and 12 miles from Phoenix – so you can still enjoy the area but stay in more reasonably priced accommodation.
Mesa is easy to access with direct flights via West Jet, Swoop, Flair, Sun Country and Allegiant Airlines. In Canada there are direct flights from Calgary, Edmonton, Winnipeg and Vancouver.
Here's a look at fun things to do in Mesa, Arizona
Go mountain biking in Usery Mountain Regional Park
Located 20 miles due east of Mesa and just 45 minutes away from downtown Phoenix, Usery Mountain Regional Park is home to roughly 20 miles of trails. Arizona Outback Adventures, boasts one of the biggest bike rental fleets in the country and offers custom guided tours.
Their guides will teach you a lot about the desert environment every time you stop to catch your breath.
The first thing I learn is that no matter how pretty the cholla cactus looks, it will feel like 100 hypodermic needles if you get a cholla ball on you. I avoided it at all costs.
I learn that the barrel cactus points south – a handy factoid should I ever get lost in the desert.
And according to Ranger B (who I encourage you to meet if you stop in at the Visitor Centre) the 3.5 – 5 inch long grasshopper mouse is "the Charles Manson of the desert." It celebrates its kills by throwing back its head and yelling. Unfortunately I didn't see that mouse.
When it comes to mountain biking here, you can expect to have a lot of fun on mostly easy and exceptionally scenic trails. Visit in the spring when the desert wildflowers are in bloom for a stunning backdrop to the biking experience.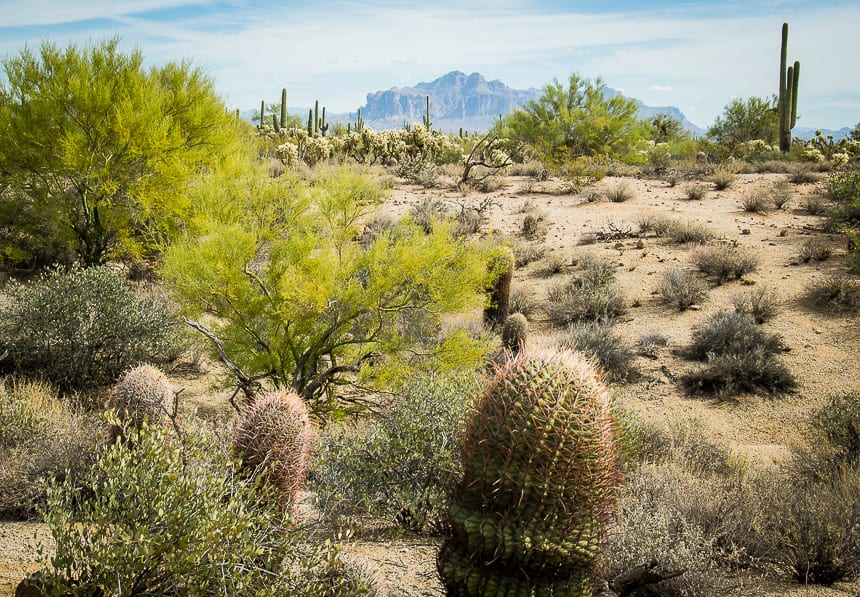 Kayak and float the Lower Salt River near Mesa
There's something quite wonderful about being in a kayak on a river in the Sonoran Desert – the most bio-diverse desert in the world. It affords an opportunity to see a lot of birds and vegetation you don't see when you hike or bike.
We paddled about four miles at a leisurely pace on the Lower Salt River. It's almost meditative – at least most of the time. At a couple of locations where the current speeds up, you need to pay attention – but that's only for a minute or two. Then it's back to relaxing.
I looked around at the people in our group and everyone was sporting a smile. Kayaking is a feel-good activity the whole family can enjoy.
Try Arizona's Goat Yoga
As they say at Arizona Goat Yoga – "how can you be sad when there is a goat walking by?"
It's hard not to be swept up with all things goat when you arrive at Welcome Home Ranch where goat yoga is held. When I'm cuddling a three day old goat, downward dogs are the furthest thing from my mind.
Goat yoga classes sell out quickly so you can expect to see 100 people in a giant circle around partners Sarah Williams of Desert Paddleboards and April Gould, owner of the goats and about a half dozen goats.
When the yoga finally gets underway (it's hard to tear yourself away from a baby goat!) we are spread out so we all have room to go through some traditional yoga moves. But after 15 minutes the goats take over and the thread of the class is lost. It doesn't seem to bother anybody – as long as they get a photo of themselves with a goat on their back.
We pile in together, as seen in the photo below so we can have the goats bound over our backs. And we make human pyramids with the goats on top.
Whether goat yoga is just a craze I don't know. But I do know that at the end of the 45 minute class I see a lot of smiling faces. Goats live up to their reputation of relieving daily stresses – unless you're the poor guy that was peed upon.
Take a boat ride on the inner waterways of the "junior Grand Canyon"
You get a taste of Grand Canyon scenery driving the Apache Trail. But for a close-up experience, nothing beats a 90-minute boat ride on the Dolly Steamboat. Yes, it's a little touristy, but when you stand outside and watch millions of years of geologic history unfold and when you see a family of big-horned sheep high up in the hills, you forget the other tourists and marvel at the scene before you. It's one of the top fun things to do in Mesa.
They also offer astronomy dinner cruises which would be pretty darned interesting given the night skies here. If you do the trip with Detour Tours, you'll be sure to be one of the first onboard so you can nab the best seats.
Go on a sunset Jeep tour and astronomy stargazing
One of the unexpected highlights of my trip to Mesa turned out to be the Stellar Adventures tour. Via a ride in a Hummer (a first time in one for me) we bounced up a rutted jeep track to watch the sunset at Hummer Point. Arizona is famous for its richly coloured sunsets and this one did not disappoint.
From there we continued on with the skies darkening to meet up with Arizona State University astronomer Aaron Boyd for some serious stargazing.
The night skies here are inky dark and his scope is massive. Over a few hours Aaron zeros in on constellations, stars and even Saturn – with its rings visible. We take turns having a look – and on the side many of us work away on our night photography.
The only advice I have is to take warm clothes for the frigid, open air drive home. The minute the sun goes down in the desert, it takes the temperature with it. This is a tour I HIGHLY recommend.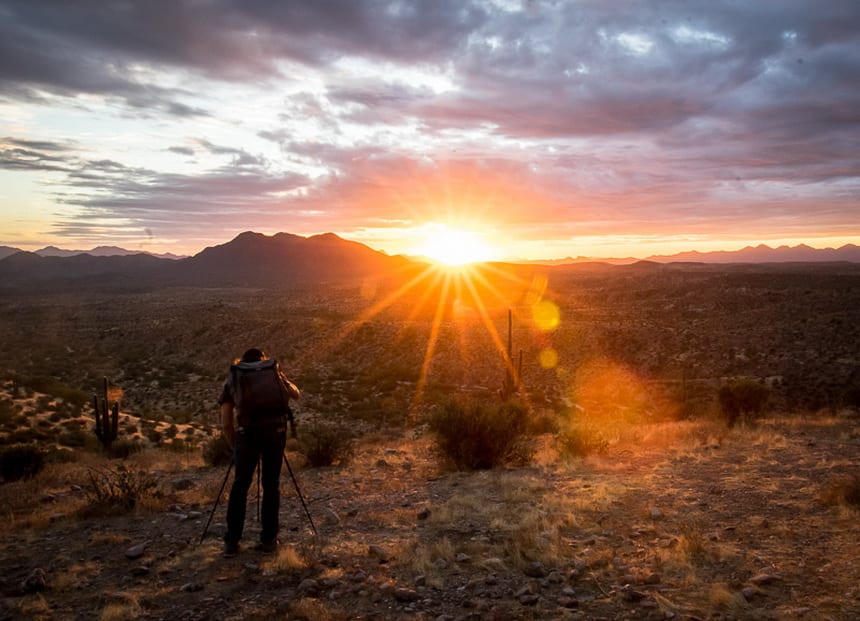 Hike to Wind Cave in Usery Mountain Regional Park
Usery Mountain Regional Park offers tremendous hiking opportunities including the 3.2 mile return hike to Wind Cave along a saguaro studded trail.
It requires a bit of huffing and puffing with an elevation gain of 850 feet but you're rewarded with stellar views of the valley. You can actually continue to the summit on an un-maintained trail – and leave all but the hardiest behind.
If there's a birder in the group they'll be stopping a lot to try and identify the 400 native bird species that call the Sonoran desert home. Fast hikers can knock off the trail in 90 minutes. Casual strollers could take up to three hours.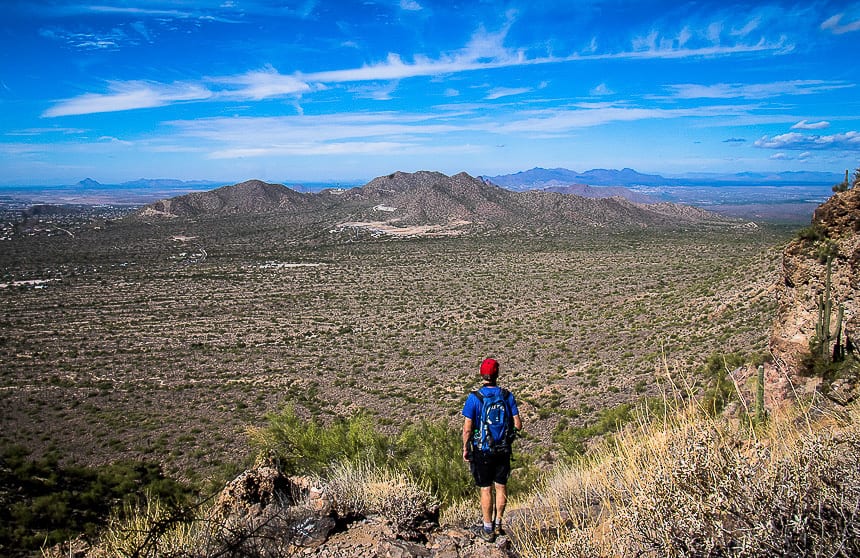 A few more things to try in Mesa, Arizona
With over 325 sunny days a year you can pretty much count on great weather when you visit Mesa. And there's plenty more to do than what I've described – especially for foodies with the just launched Fresh Foodie Trail.
I also spent a few hours checking out the Goldfield Ghost Town – and that included a narrated underground mine tour that wasn't as claustrophobic as I thought it might be.
Stop in at Tortilla Flat
As the last surviving stagecoach stop on the Apache Trail, Tortilla Flat oozes history. Be sure to stop in for a meal abut take note of the thousands of $US1 bills literally plastered all over the walls. Don't leave without trying prickly pear ice cream.
Where to stay in Mesa, Arizona
This post includes some affiliate links. If you make a qualifying purchase through one of these links, I may receive a small percentage of the sale at no extra cost to you. Thank you for your support
I spent three nights at Sheraton Mesa Hotel at Wrigleyville West. The rooms were great but I really loved was their massive outdoor pool.
Another option would be Hyatt Place Phoenix/Mesa with an outdoor swimming pool and a massive hot tub.
Saguaro Lake Ranch, located on the banks of the Salt River, has been called one of the most scenic guest ranches in the southwest.
I also recommend glamping at Schnepf Farms, a peach farm. We had the place to ourselves – so we enjoyed biking the property and enjoying a glass or two of wine around a campfire. One night is really all you need here.
Location map of things to do in and near Mesa Arizona
Getting to Mesa, Arizona
For those of you flying in from Calgary or Edmonton there are now direct flights via West Jet to Mesa along with direct flights to Phoenix. In the US you can fly directly into Mesa on Allegiant Air. The Phoenix Airport is about 20 minutes from Mesa.
Further reading on Arizona
Click on the photo to bookmark to your Pinterest boards.
A huge thank you to Visit Mesa for making my two jam-packed days fun and eye opening.