In October one year John and I stopped at La Posada in Winslow AZ for a two night stay so we could spend a day hiking in nearby Petrified Forest National Park. The famous corner really wasn't even on our radar when we booked our stay at La Posada in Winslow Arizona. I was simply looking for some place other than a chain hotel to spend a few nights while we explored the nearby national park.
I'm very happy to have seen the corner and come across the hotel – as this is way more than your usual hotel. (See below for the history.)
We wandered downtown in the evening and though nothing was happening it was actually pretty cool to see the US 66 paint job on the highway along with the famous corner which literally breathed new life into a town left for dead, after a highway bypass was built in the late 1970's.
Updated April 2021. This post includes some affiliate links. If you make a purchase via one of these links, I may receive a small commission at no extra cost to you.
Standing' on the Corner Park in Winslow AZ
Standin' on the Corner Park is made up of a mural by John Pugh along with a life-sized version of a guitar playing man. A wall of bricks hold the name of donors and a short story about what the corner means to them. According to a Los Angeles time article this corner draws over 100,000 visitors per year.
"Well, I'm a standing on a corner in Winslow, Arizona and such a fine sight to see. It's a girl, my Lord, in a flatbed Ford slowin' down to take a look at me."
You've all heard and sung Taking it Easy, written by Jackson Brown and Glenn Frey and recorded by the Eagles. For the rest of the day and night you may be hard-pressed to get the song out of your head.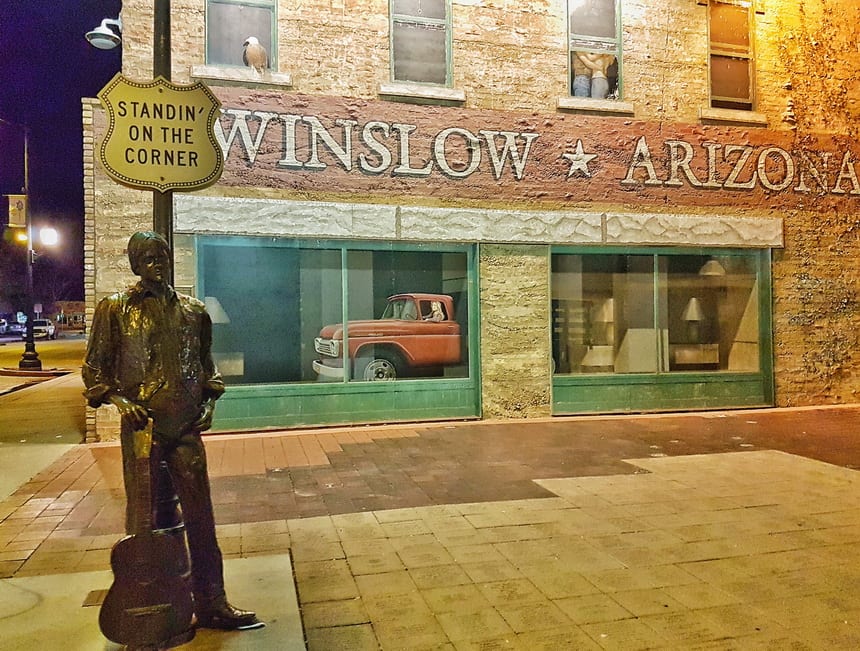 La Posada Winslow – what a stay looks like
Plan to stay at La Posada Hotel where every guest room is unique and named for famous stars and politicians. Think Jimmy Stewart, James Cagney and Franklin D. Roosevelt.
We were in the Frank Sinatra room – a fairly modest though comfortable room. But this isn't a hotel where you want to hang around in your room very much as there is so much to see.
La Posada Hotel was designed by Mary Coulter who is famous for her fantastic buildings at the Grand Canyon. She was the chief designer and architect in 1910 for Fred Harvey Hotels in an era when women weren't even allowed to vote.
History of La Posada Winslow AZ
La Posada Hotel was built beside the Santa Fe Railway in 1929 so all the passenger trains between LA and Chicago stopped here. The hotel had a lot to offer their guests from the choice of three dining rooms to fancy lounges, gardens, a greenhouse, tennis courts and museum quality furniture.
In the 1950's Winslow was a hot spot and bigger than both Sedona and Flagstaff. It was a place where big names came to visit – like Bob Hope, John Wayne, Albert Einstein and even the Crown Prince of Japan. But in 1957 it closed and spent the next 40 years as a joyless office building.
In the early 1990's it rose again from the ashes with the help of local historians determined to save it from the wrecking ball and a man named Allan Affeldt along with some of his friends.
Amazing art in La Posada Hotel
Its glory days may be over but La Posada Hotel is still very much worth a night or two. The gardens are beautiful and its location beside the train tracks allows train lovers to sit and watch the trains go by. The dining room serves excellent food.
But it's the rooms filled with hundreds if not thousands of art pieces that make this hotel shine. I almost missed the whole of the second floor on our visit yet it's like an art museum with lots of provocative art.
This is hotel that harkens to a less frantic paced world. Stay a couple of days, unwind and enjoy the art. I'd go back again in a heartbeat.
Get to the gardens, the art gallery and some of the bedrooms via an art-filled walk down this corridor
I did not get any discounts or special services during my stay at La Posada Hotel. It was an interesting place to stay and well away from the usual touristy spots in Arizona. Standard rooms start at about $US119 per night. You can book a room at La Posada right here.
Further reading on things to do in Arizona
Click on the photo to bookmark to your Pinterest boards.