The Bow Valley Parkway is a 48-kilometre stretch of road between Banff and Lake Louise that parallels the Trans-Canada Highway. It's been called the alternate scenic route between Banff National Park's most beloved towns. On the drive you are treated to first rate views of Castle Mountain and Morant's Curve – a gorgeous section of highway near Lake Louise that is perfect for train spotting. And for anyone looking for unique accommodation, you'll find a collection of historic cabins that harken back to the era of 1920's and 30's motor bungalow camps along with a wealth of natural attractions.
The Bow Valley Parkway is situated in a wildlife corridor and as such, is one of the best places to see animals in Banff National Park, particularly early in the morning. That's part of the reason for a 60 kph speed limit. Elk, mule and white-tailed deer, coyotes along with both black and grizzly bears are sighted regularly – at least in season. Buy a lottery ticket if you see a wolf or moose.
Once the snow has melted, the Bow Valley Parkway is a popular spot for road cyclists with e-biking becoming increasingly popular because of available bike rentals in Banff. The Parkway is closed to vehicle traffic for periods of time every year so cyclists can get a wonderful taste of car-free biking. Shoulders are wide and vehicle speeds are low, so even when open to cars it's a great option.
Check out my Instagram reel for a look at what it's like to drive the Bow Valley Parkway.
This post includes some affiliate links. If you make a qualifying purchase through one of these links, I will receive a small percentage of the sale at no extra cost to you. Thank you very much for your support.
The Parkway Cabin Collection on the Bow Valley Parkway
There are three unique roofed accommodation options, the Parkway Cabin Collection, along the Bow Valley Parkway: Johnston Canyon Lodge and Bungalows, Castle Mountain Chalets, and Baker Creek By Basecamp. They all offer the traveler a quaint and charming cabin experience in the natural mountain environment of Banff National Park.
Cabins are outfitted with kitchens, wood-burning stone fireplaces, private porches with chairs and sometimes picnic tables, along with a host of activities that are literally right outside the front door. All are dog friendly. You can look forward to a more personal, rejuvenating vacation thanks to their off the beaten track locations.
Johnston Canyon Lodge and Bungalows offers premiere access to Johnston Canyon along with a fantastic view of Pilot Mountain. You're treated to amazing Castle Mountain views at Castle Mountain Chalets, located at the corner of the Bow Valley Parkway and the Banff Windermere Highway (Hwy 93). Baker Creek By Basecamp is closer to Lake Louise and as such offers views of stunning Mount Temple.
Booking lodging on the Bow Valley Parkway
The three resorts described in more detail below can all be booked via Booking.com through the following links – Baker Creek by Basecamp (open year round), Johnston Canyon Lodge and Bungalows (May till October only), and Castle Mountain Chalets (year-round).
Johnston Canyon Lodge and Bungalows
If you're driving west, Johnstone Canyon Lodge and Bungalows are the first of the Parkway Cabin Collection you reach. They're located adjacent to the popular Johnston Canyon trail on five acres of mixed pine and spruce forest with mountain views. Note that they are open seasonally from mid-May until mid-October.
Johnston Canyon Lodge and Bungalows has been family owned and operated since 1926. They are the oldest of the Parkway cabins. The original purchase was a teahouse (for $3000) and from those beginnings, a bungalow motor camp with established with small cabins. Today you can choose from 42 cabins in various configurations including bungalows, studio cabins, and cottages.
On the property there are three places where you can purchase food. The BlackSwift Bistro (named for the endangered Black Swift that nests in the creekside walls of Johnston Canyon) offers an outdoor patio that overlooks the creek. Their Market Cafe is the place to pick up a delicious latte and baked good before you head out for a hike. And if you're just finishing the hike up Johnston Canyon, you can get a coffee or ice cream right beside the trail at The Shack.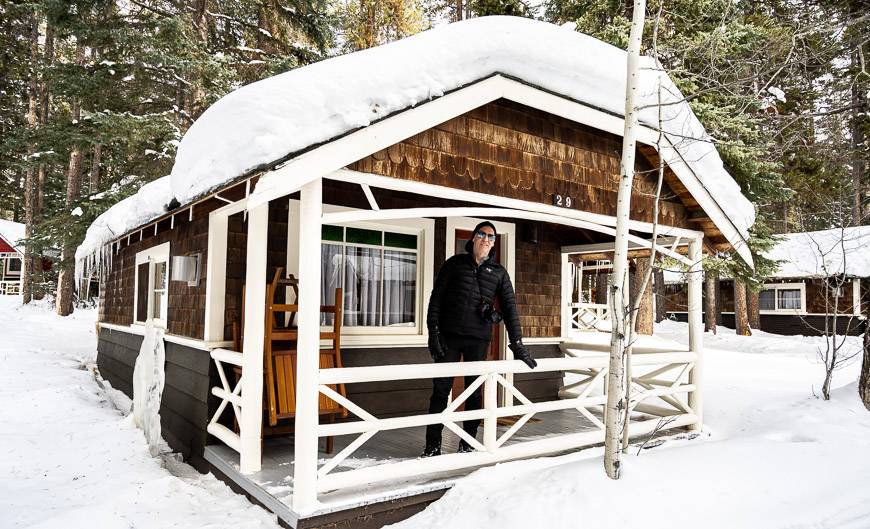 Castle Mountain Chalets
You'll find Castle Mountain Chalets at the corner of the Banff Windermere Highway and the Bow Valley Parkway. You might have passed the property numerous times – perhaps stopping to get gas or to pick up some snacks, wine, or food, but perhaps you, like me, didn't appreciate that there were 18 cabins, and a handful of lodge rooms behind the office building in the shadow of stunning Castle Mountain.
John and I were fortunate to spend a night in a deluxe one-bedroom chalet. To say it was roomy would be an understatement. We enjoyed an open concept living area with a kitted-out kitchen, a wood-burning fireplace and lots of comfortable seating. In addition, we had a massive bathroom with both a shower and soaker tub plus my favourite Rocky Mountain Soap Company soaps. Our bedroom featured a queen bed along with bedside tables. It was all very comfortable.
Outside our cabin was a gazebo with BBQ's and seating – along with a fire pit and firewood. In the Osprey Lounge you'll find foosball, and table tennis in addition to a guest laundry and a gym – though why you'd use that is beyond me when there is so much available right out your front door. We even had snowshoes waiting for us – since there are trails within metres of the cabin. The start of the cross-country ski trail is also literally out the front door and across the highway, a one-minute walk away at most.
One of their nice touches was a dog bed, a couple of dog bowls along with treats and poop bags. They really do think of everything. The store at Castle Mountain Chalets is also well-stocked. If you've forgotten any basics like milk, eggs and cheese, wine and even some camping gear, you'll find it here.
Baker Creek By Basecamp
Baker Creek, named for an 1880's vintage prospector searching for gold abuts the forested property, located just 15 minutes away from Lake Louise. A collection of 16 cabins scattered in the woods and a building with numerous lodge suites are all just a short walk away from Baker Creek and the iconic red chairs and fire pits that the resort is known for.
Baker Creek is the youngest of the three resorts making up the Parkway Cabin Collection. It dates back to 1949 when cabins were offered as an overnight stop on what was the original Trans-Canada Highway but is now the Bow Valley Parkway. The resort changed hands in 2011, when then owners Mike and Jan, retired after 25 years of rebuilding the original bungalow style camp into a noteworthy mountain resort.
Today Baker Creek By Basecamp is a prime destination for both couples and families. It exudes a romance and charm which we enjoyed in a newly renovated two-bedroom loft cabin with a ladder. A 20-foot vaulted ceiling gave an airiness to the cabin and the river rock wood burning stove a coziness. Other notable features were a library wall with board games and some well-chosen books like "When Trains Ruled the Rockies: My Life at the Banff Railway Station" by Terry Gainer. There was also a portable record player and a stash of vinyl albums to listen to. A luxury wet bar rounded out the kitchen area.
If we were visiting at a warmer time, we would have availed ourselves of the private deck with outdoor chairs. In our case, we kept the fire stoked and the wine poured. We could have skated on a small rink that kids will love. We did cross-country ski on the track-set trails that are located just a one-minute drive away. Snowshoes and fat bikes are available free of charge to guests so they can explore the property.
For meals, you can pick up food and snack items in the office, along with wine and alcohol, but I would suggest bringing a selection of food with you. Dining in Lake Louise is another option – though by sometime in 2023, a new restaurant on the property should be open.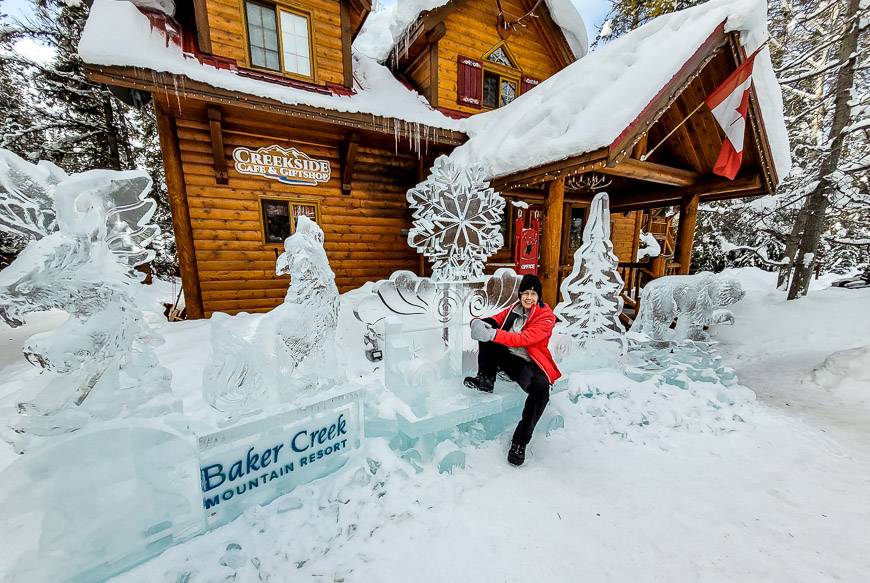 What to do on the Bow Valley Parkway year-round
Look for trains at Morant's Curve
Morant's Curve is named for CP Railway staff photographer, Nicholas Morant who took photographs for CP to use to promote the railway. You typically get the best shots in the morning when the red CP trains are set off to perfection, particularly in winter against a snowy-white backdrop.
Morant's Curve is easy to find but there isn't much parking. It's seven kilometres west of Baker Creek Mountain Resort. There's a small parking lot on the right. Walk across the highway to the viewpoint. There's a good chance you'll see people waiting….and waiting some more.
Most of the trains you see are freight trains – and there is no rhyme nor reason to their schedule. We waited about 40 minutes but people beside us were at the two-hour mark by the time we left. You'll need patience or a bit of luck to get the best shots with trains in them.
Visit some of the exhibits along the Bow Valley Parkway
Along the length of the Bow Valley Parkway are 14 exhibits, marked by a big "E" before you get to them. They cover everything from some of the animals you might meet on the Parkway to the Era of the Automobile to a monument to the Castle Mountain Internment Camp, a place where thousands of immigrants, most of Ukrainian origin, were imprisoned as enemy aliens between 1914-1920. All are worth a stop.
Hike up Johnston Canyon
Johnston Canyon needs no introduction. Hiking up Johnstone Canyon in any month of the year is one of the most popular activities in Banff National Park. It's fun for every age group and exciting on the airy catwalks. Scenery along its length is exceptional. In winter, you may be treated to ice climbers on the upper frozen waterfall.
If you're visiting in winter, I would recommend wearing microspikes. Sometimes the trail is incredibly slippery while at other times it's just packed snow. In summer and winter there is the option to extend the hike and continue to the Ink Pots, something I'd encourage you to do if you have the time.
Summer only activities on the Bow Valley Parkway
Cycle the Bow Valley Parkway
Last summer I cycled the Bow Valley Parkway on an e-bike. I had a blast – even though I didn't feel like I got much exercise. You can rent bikes at the train station in Banff from Banff Cycle and then cycle on a multi-use pathway to meet up with the Parkway. We rode to Johnston Canyon and back over a leisurely few hours with photo stops. If you're on a human-powered bike, double the time. Don't forget that you can buy snacks at the Market Cafe at Johnston Canyon Lodge.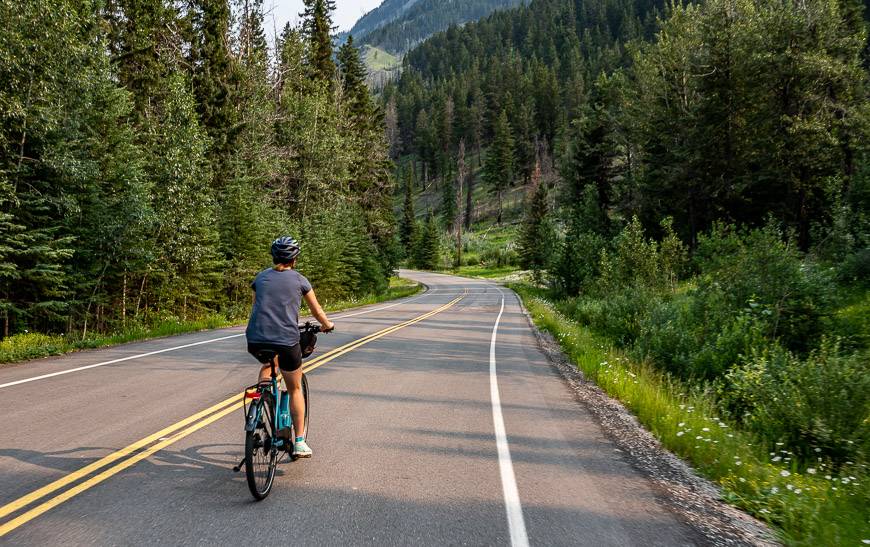 Go for a hike starting from the Bow Valley Parkway
There are several excellent day hikes that are accessed from the Bow Valley Parkway. They are in order from east to west as follows:
Cory Pass Loop – 11 km and 900 m elevation gain to Cory Pass, 12.9 km and 1000 m elevation gain around Mt. Edith. Allow 4 – 6 hours for the circuit.
Johnston Canyon and the Ink Pots – 11.8 km return with 215 m elevation gain. Allow 2 – 4 hours.
Rockbound Lake – 16.8 km round trip with 760 m elevation gain; allow 4.5 – 6 hours.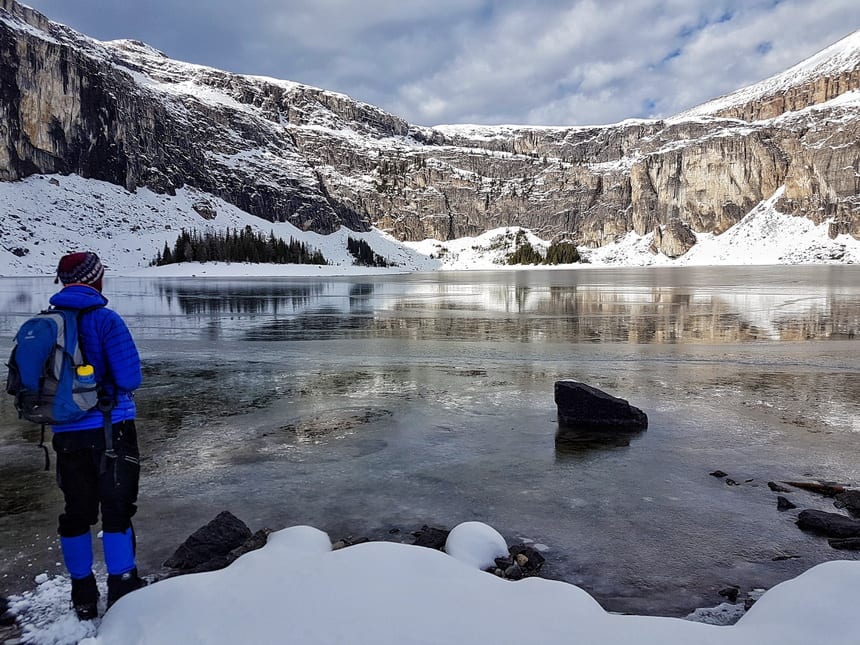 Winter only activities on the Bow Valley Parkway
Fat bike at Baker Creek
You can rent fat bikes at Baker Creek By Basecamp and cycle a loose network of trails on their property or head out onto the Parkway. The Parkway is probably a good weekday option but I'd avoid it on the weekend because of traffic and icy roads.
Snowshoe or hike to the Ink Pots
You can snowshoe to the Ink Pots from the Moose Meadows trailhead, a few kilometres west of Johnston Canyon. I'd recommend doing that on the weekend as it isn't as busy as Johnston Canyon.
The trail, rated moderate, gains 335 metres over 5.9 kilometres one way. To do the return outing with time at the Ink Pots allow 4 – 5 hours. The scenery once you reach the Ink Pots is absolutely glorious.
More snowshoe trails along the Bow Valley Trail
I found snowshoe trails though I didn't use them directly across the highway from the Castle Mountain Chalets property. They look to be numbered so I bet you could wander around in the woods for an hour or two, perhaps meeting up with trails coming from the Rockbound Lake Trailhead.
Hike up to Silverton Falls
John and I walked up to Silverton Falls, a two-tiered waterfall from the Rockbound Lake trailhead. The trail to the falls was well-trodden but there is some avalanche danger on the steep slope right before you reach the falls. You should know what you're doing and have the right gear to continue or turn around when you reach the steep slope. It would be an excellent choice in the summer.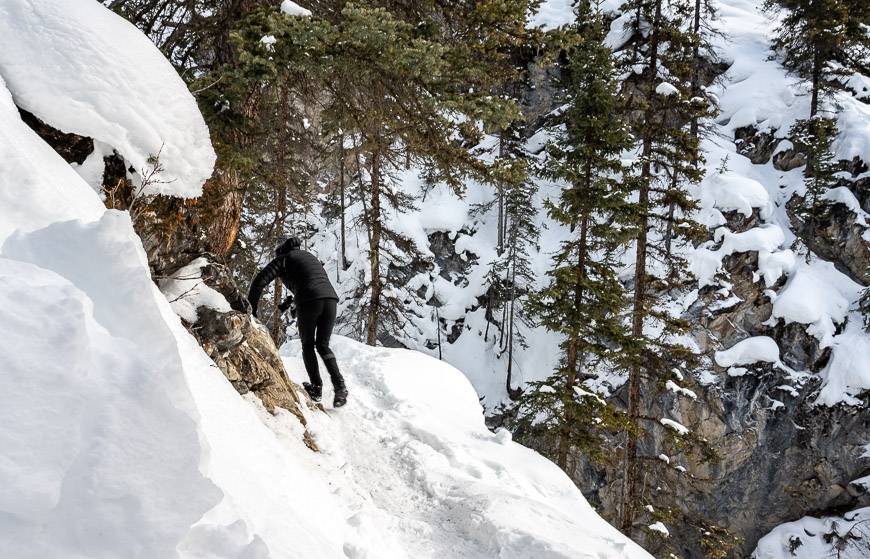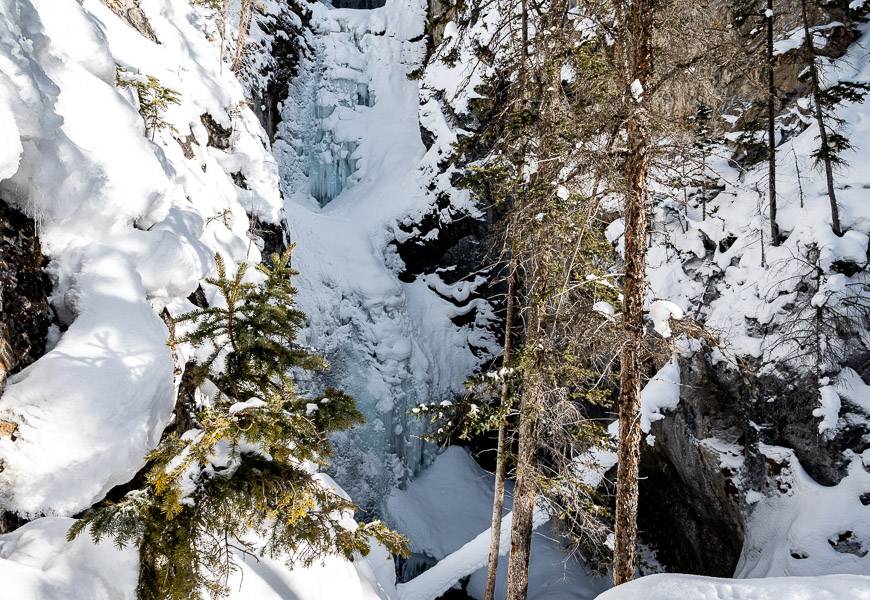 Cross-country ski on track-set trails parallel to the Bow Valley Parkway
My eyes were opened this year when I learned about track-set cross-country ski trails in the woods parallel to the Bow Valley Parkway. They run from Baker Creek Mountain Resort to the Castle Mountain Chalets so an up and back would have you skiing 30 kilometres. Fortunately, there isn't a lot of elevation gain.
Baker Creek Mountain Resort takes responsibility for the section from their resort to Castle Mountain Lookout. Castle Mountain Chalets looks after the section from Castle Mountain Lookout east to the junction with the Banff Windermere Highway. You can count on the trails being track-set after a snowstorm, and periodically in between, depending on staffing. I did see trails all the way to Johnston Canyon but they didn't look to be track-set.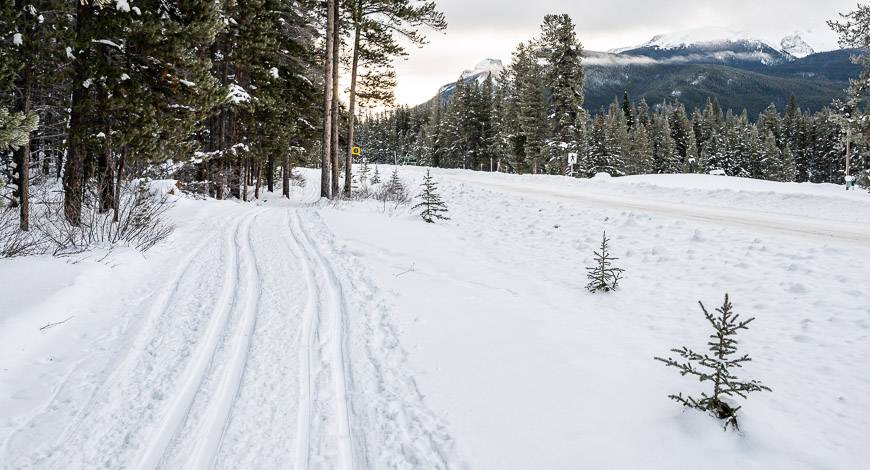 The Bow Valley Parkway experience
I've driven the Bow Valley Parkway on numerous occasions but I hadn't spent the time to explore it in-depth. What a wide variety of year-round activities there are with the added benefit of the unique Parkway cabin collection to provide an unforgettable Canadian Rockies experience. A big thank you to the Parkway Cabin Collection for hosting me, but you should know that all thoughts and opinions are mine alone. Enjoy!
Location map of things to do and places to stay on the Bow Valley Parkway
Click on the photo to bookmark to your Pinterest boards.