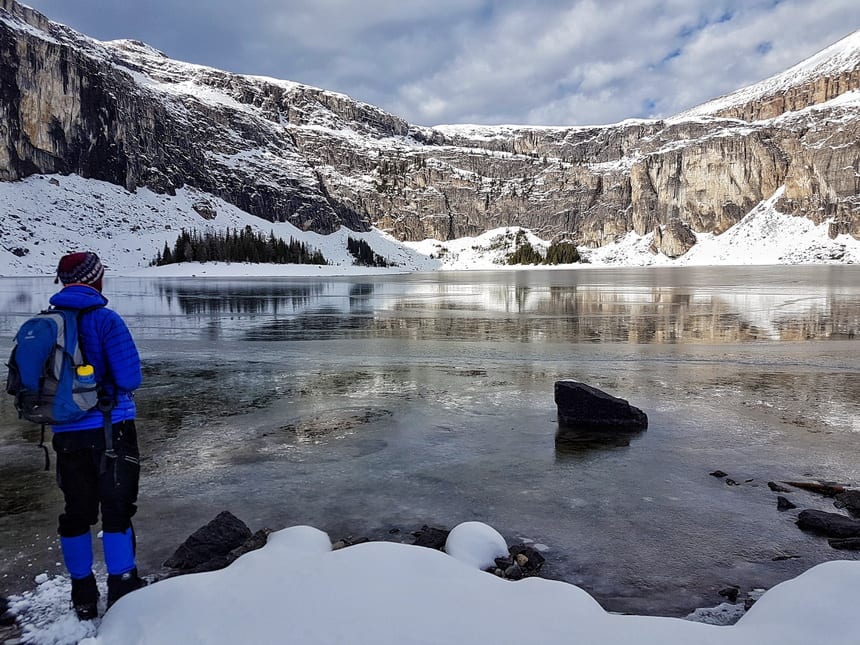 Rockbound Lake Hike, Banff National Park
I've wanted to hike to Rockbound Lake in Banff National Park for some time despite the fact it's one of the 'don't do' hikes in the book Don't Waste Your Time in the Canadian Rockies. The author actually suggests "it helps to wear colourful boot laces so you'll have something interesting to look at."
But when it's late October and you still have the itch to hike in the mountains where do you go from Calgary – especially if it's a windy day? Rockbound Lake turned out to be a great choice.
This post includes some affiliate links. If you make a qualifying purchase through one of these links, I will receive a small percentage of the sale at no extra cost to you. Thank you for your support.
Rockbound Lake – the first 5 km
I would agree that the first 5 km of hiking to Rockbound Lake isn't very interesting. It's steep (you gain 518 m) with occasional peek-a-boo views but not much else.
We did see a couple of ptarmigans – perhaps one of the stupidest birds out there as you almost step on them before they take off. However, they did provide a welcome distraction.
And then in short order we were into snow so everything seemed prettier.
The backside of Castle Mountain
When you finally reach the meadows, the landscape gets your attention as the backside of iconic Castle Mountain slowly comes into view. (Everyone who drives the highway between Banff and Lake Louise has admired Castle Mountain at some point but few have ever see its backside.)
Large boulders, scattered larch, a couple of streams and some lovely distant mountain views also show up. You certainly don't need colourful boot laces here.
Getting to Rockbound Lake
It's about 45 minutes of easy hiking from the time you break out of the woods to reach Tower Lake. It's already frozen but reportedly it's a pea-green colour.
From Tower Lake cross a footbridge over the outlet stream. This is the one place on the hike, except at the beginning of the trail, that you'll see any signage pointing to the lake.
Next there's about 10 minutes of steep hiking up the headwall to reach the high point of the hike at 2,210 m.
From there it's an easy walk through larch forest to reach Rockbound Lake. If there is snow on the trail, take gaiters. If we'd had to break trail we would have been up to our knees in snow. The same thing will happen to you if you step off the trail.
I think the lake makes a great destination for a fall hike especially on a windy day as you're largely protected. Another great time to do this hike would be in mid-September when the larch trees start to turn yellow.
Hike details
Total distance return: 16.8 km
Total elevation gain: 760 m or 2493 feet
Time needed: Approximately 6 – 6.4 hours
Dogs: Allowed on leash
Map: Gem Trek Banff and Mt. Assiniboine
Finding the trailhead
The trailhead for the lake is a snap to find. If you're coming from Calgary drive the Trans-Canada Highway west to the intersection with Highway 93. Turn right and drive over the Bow River to reach Castle Village. (You can purchase lunch supplies here.) Turn right again onto Highway 1A and 200 m later turn left into a large parking lot. There is signage on the highway.
For more information on Banff National Park visit their website.
Further reading on good late season hikes
Click on the photo to bookmark to your Pinterest boards.