The drive between from Calgary all the way through to Jasper, Alberta is a treat. Once you're about 20 minutes west of Calgary you get into big sky country and from there it just gets better and better. Highlights include the area around Canmore, Banff, Lake Louise, Bow Lake and the Columbia Icefields.
I personally think the drive between Banff and Jasper is the most scenic drive in Canada – though there is some close competition – the Cabot Trail in Nova Scotia for instance and the the Trans-Canada Highway between Revelstoke and Golden in British Columbia.
It's 289 gorgeous km (175 miles) of mountainous country between Banff and Jasper. There is so much jaw-dropping scenery packed in that distance and so many worthy stops that I'd suggest taking your time. As in take several days to drive it.
Plan on a minimum of four hours between Banff and Jasper if it's your first time driving the Icefields Parkway. There are lots of pull-offs along the way, usually at the most scenic points. In summer patience is an asset.
The drive doesn't require any route finding. You won't get lost. Just be sure to turn north, not west, onto the Icefields Parkway shortly after Lake Louise. In winter the road can be treacherous – and with almost no cell service so it's one you don't want to do in a storm.
Read: 5 Stunning Hikes You'll Want to do Along the Icefields Parkway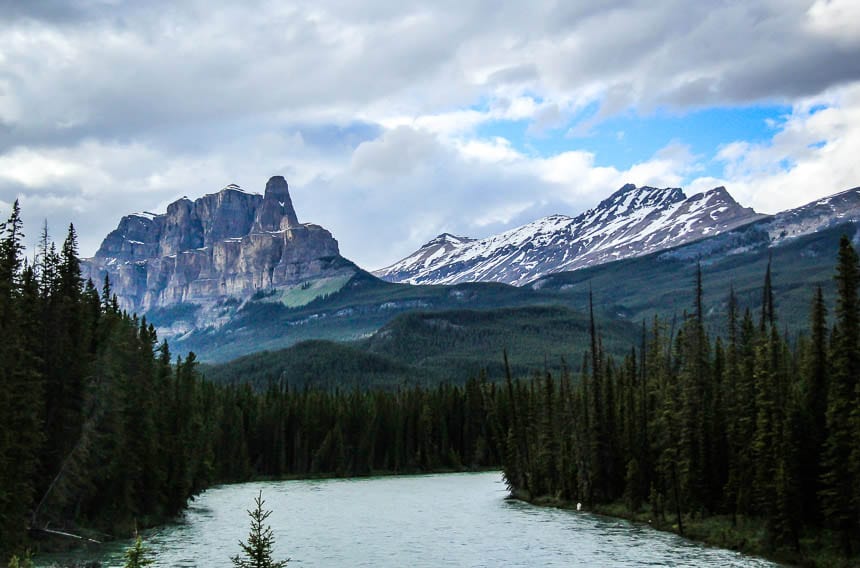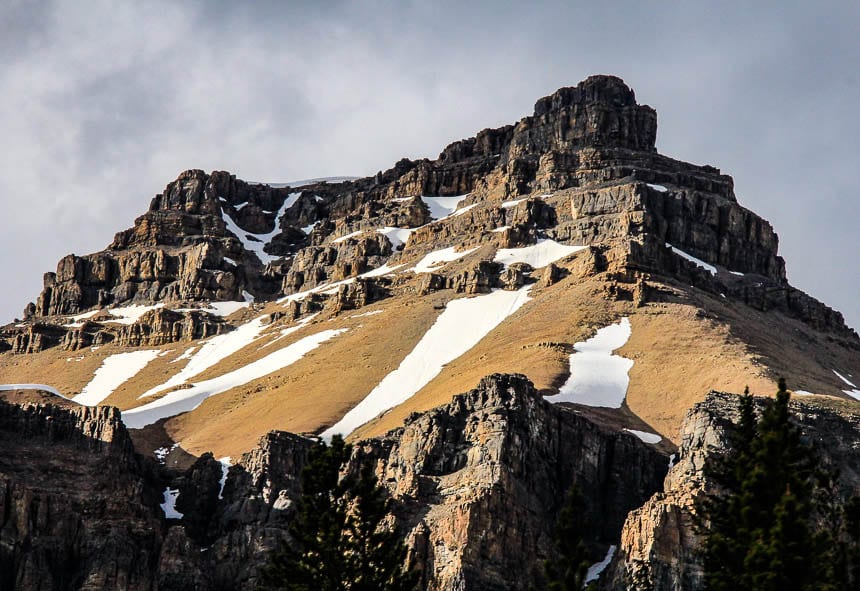 Banff to Jasper Drive –
11 Stops you Shouldn't Miss
1. Visit Lake Minnewanka – especially as you almost always see bighorn sheep on the loop drive. Stopping in at Two Jack Lake for a Parks Canada red chair moment is also worthwhile.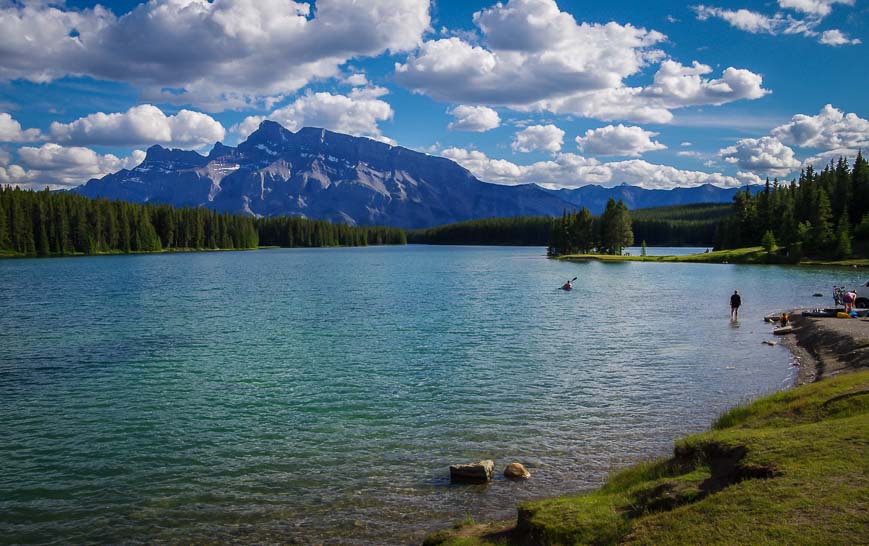 2. Take the gondola up in Banff, Jasper or both. You get stunning views at both locations.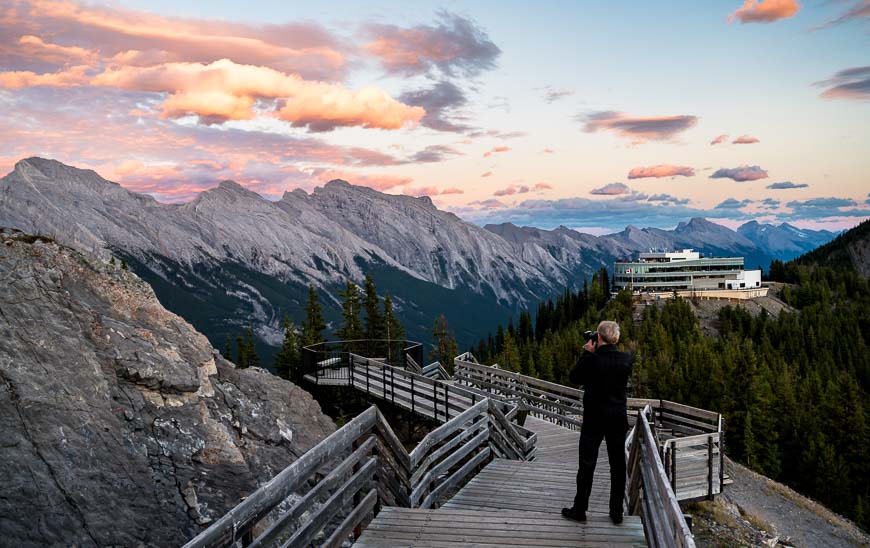 3. Check out Vermilion Lakes especially at sunrise or sunset. Access is via the Banff townsite.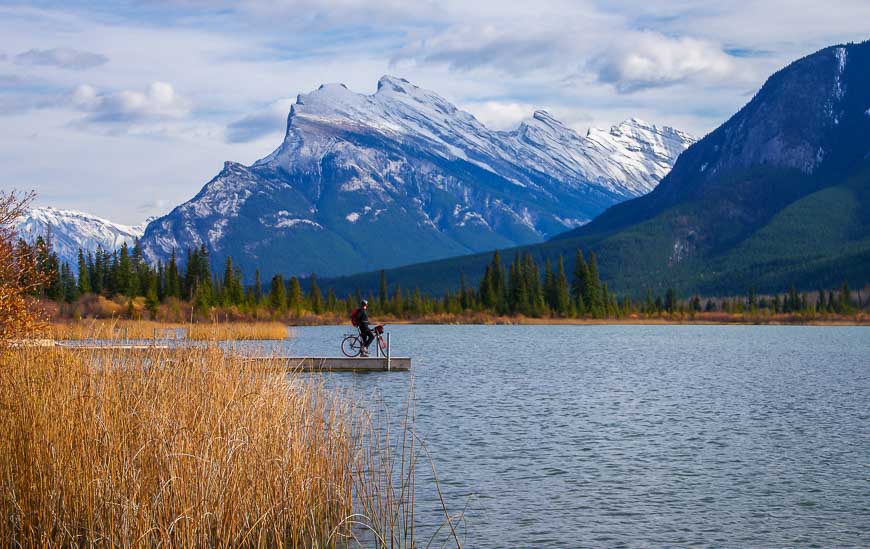 4. Take Highway 1A and plan to spend at least an hour visiting Johnston Canyon. Walk the cantilevered catwalk up to two sets of falls – no matter what time of the year it is.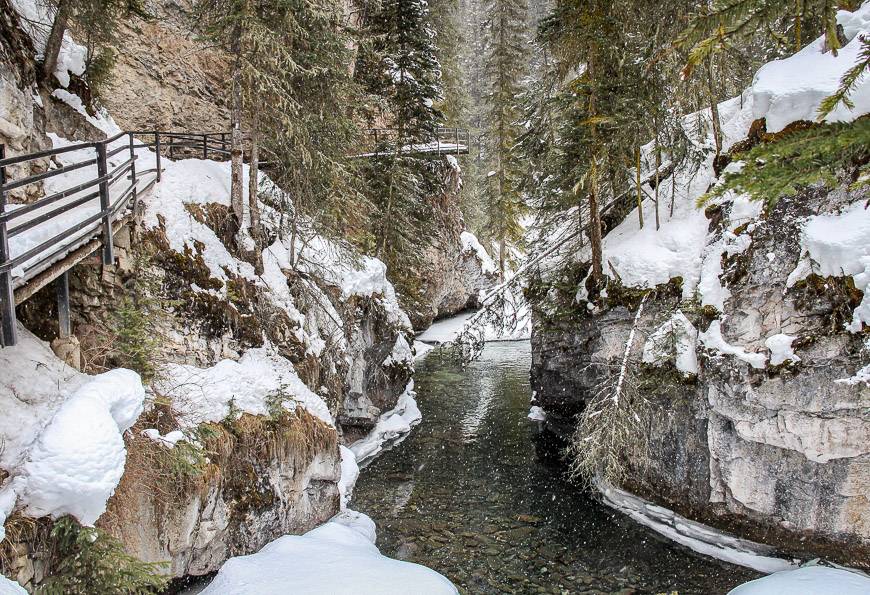 5. Hike the Lake Agnes Trail to the Teahouse in the summer.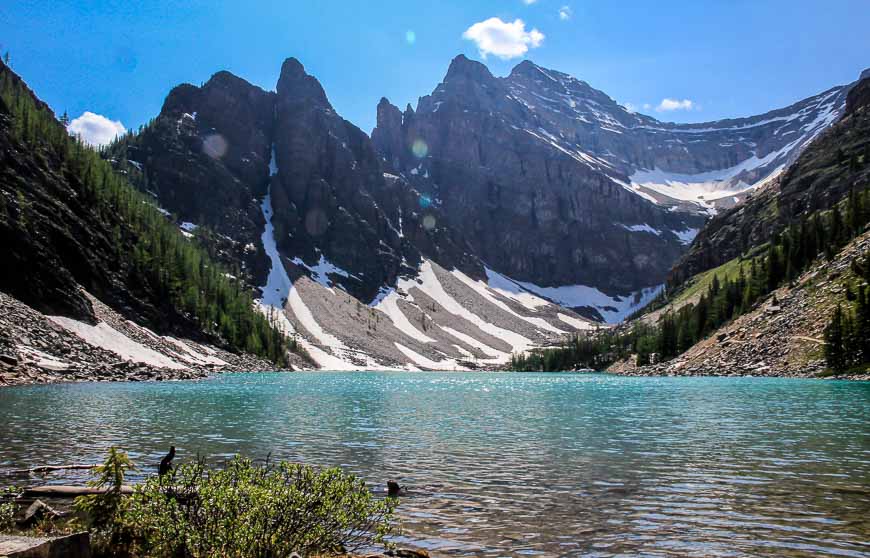 7. Stop at Bow Lake to enjoy the views and a picnic. Num Ti Jah Lodge is here so you can get a meal too.
8. Visit the Bow Summit and Peyto Lake north of Lake Louise. Note that for part of 2021 the access is closed for rehabilitation.
9. Hike the 1.0 km return trail to Mistaya Canyon.
10. Visit Sunwapta Falls. It's worth hiking the trail to the bottom where few people go.
11. Go for a walk at the Columbia Icefield.
Some places to eat between Banff and Jasper
There are places to eat in Banff, Castle Mountain (just off the highway), Lake Louise, Saskatchewan Crossing, the hotel at Columbia Icefields, Sunwapta Falls Resort and then of course in Jasper.
For great coffees and treats for the car, I recommend the Wild Flour Bakery Cafe in Banff, Laggan's Mountain Bakery and Deli in the Samson Mall in Lake Louise and the Bear's Paw Bakery in Jasper.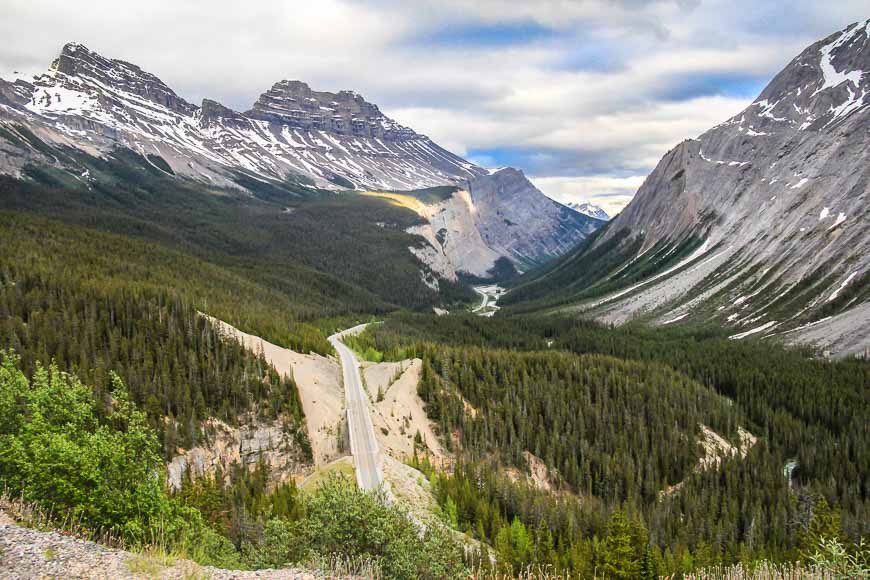 What to take on the drive between Lake Louise and Jasper
Bring some warm clothes for this drive. I've left Calgary when the temperature has been in the mid twenties Centigrade and three hours later it was just above freezing at the Columbia Icefields. If you plan to explore the Columbia Icefield then include a hat and mittens too. And don't forget the rain gear.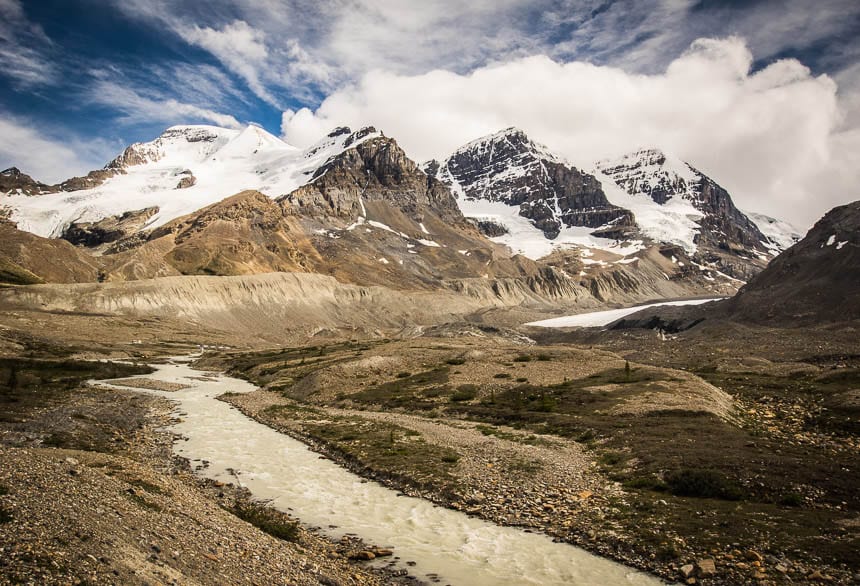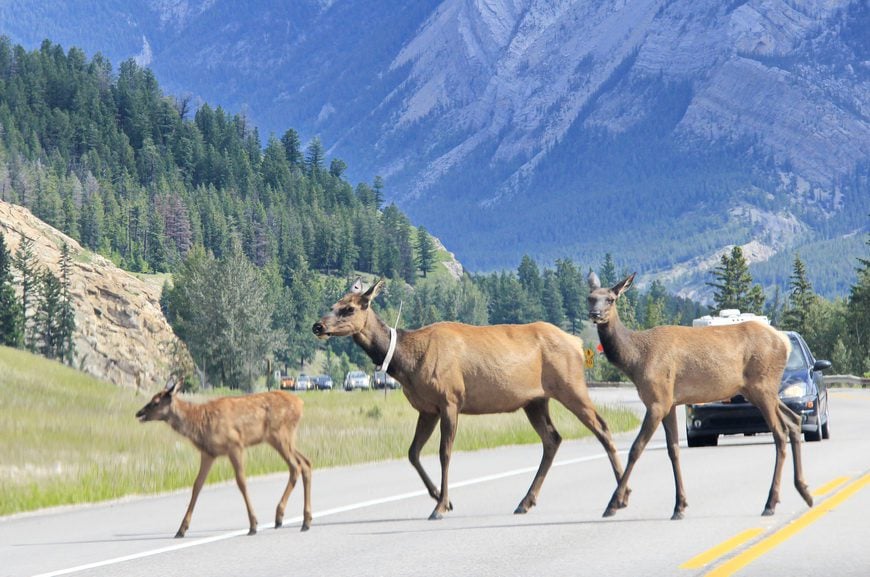 This post includes some affiliate links. If you make a qualifying purchase through one of these links, I may receive a small percentage of the sale at no extra cost to you.
Where to stay along the Icefields Parkway
There is plenty of camping you can do along the parkway but not everyone wants to rough it. Here are ideas of where to stay – many personally tested. Hotels and motels fill quickly in summer so reservations are recommended. I'm including Banff too since most visitors end up at least visiting the townsite.
Read: Everything You Need to Know About Camping on the Icefields Parkway
Banff
The Fairmont Banff Springs Hotel is a beautiful place to stay – though a pricey one.
If you don't want to be in the thick of the craziness in Banff in summer, but you still want to be close by I'd suggest The Juniper Hotel & Bistro. They also have an excellent restaurant.
I have enjoyed several stays in Buffalo Mountain Lodge. They have an awesome outdoor hot tub and a great restaurant too. Plus free bikes in summer.
On the hotel strip I like the Moose Hotel. If you're traveling in a group or as a family and you're cool with bunkbeds (not all rooms) then the cheerful Canalta Hotel is a great choice.
If you're after the hostel experience check out Samesun Banff.
Lake Louise
At the high end the Post Hotel and Spa is lovely but it's in the village and not on the lake. The food here is superb.
The Fairmont Chateau Lake Louise enjoys the best views of the lake though it comes with a price.
Deer Lodge is a short walk away from the lake. Their updated rooms are great.
Baker Creek Mountain Resort offers cozy log cabins.
And for an affordable hostel option check out the one in Lake Louise.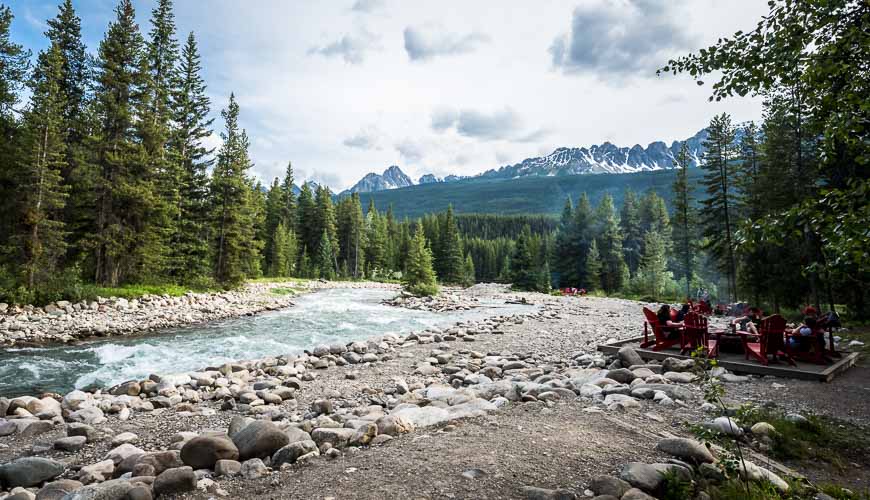 Bow Lake
Stay in historic Num-Ti-Jah Lodge.
Saskatchewan River Crossing Area
The Crossing Resort is a good place to base yourself, especially if you also want to explore the David Thompson Highway.
Before Saskatchewan River Crossing there is the option to stay at the Mosquito Creek hostel.
The Rampart Creek Wilderness Hostel is just north of Saskatchewan River Crossing.
The Hilda Creek Wilderness Hostel is another option. It's just 42 kilometres north of Saskatchewan River Crossing.
Sunwapta Falls
Book a night at the Sunwapta Falls Rocky Mountain Lodge about 100 kilometres north of Saskatchewan River Crossing.
For a less expensive alternative book the Athabasca Falls hostel, located 23 kilometres north of Sunwapta Falls.
Columbia Icefield
If you want to wake up looking at glaciers book The Glacier View Lodge at the Icefield Centre.
Drive 17 kilometres north of the Columbia Icefields to reach the Beauty Creek Hostel.
Jasper
The nicest and most expensive hotel in town is the Fairmont Jasper Park Lodge.
There's an affordable option in the Maligne Canyon Hostel.
I've checked out The Crimson Jasper and liked what I saw.
If you want to be out of town on a lake with lots of activities the Pyramid Lake Resort would be an excellent option.
Whistler's Inn offers a convenient location with nice rooms.
Further reading related to the drive between Banff and Jasper
Visit the Banff National Park and Jasper National Park website for more ideas of things to do.
Click on the photo to bookmark to your Pinterest boards.