Glamping in Alberta or comfort camping as it is sometimes called, is a great way to ease yourself into the wilderness – and for many it will be the best way to enjoy a close to nature experience. It's kind of like camping but without the hassle. Across the province there are loads of glamping in Alberta options – depending on what part of the province you're interested in exploring. But book early as glamping is becoming hugely popular.
As one gentleman I spoke with puts it: "Glamping is perfect for a guy like me. My back is too sore and I'm too old to sleep on the ground anymore but I still want to have the wilderness experience."
This post includes some affiliate links. If you make a qualifying purchase through one of these links, I may receive a small percentage of the sale at no extra cost to you. Thank you very much for your support.
Glamping in Alberta
Glamping has taken off in Alberta since I first wrote this post. Parks Canada has increased the number of oTENTiks and there are lots of smaller places that have got in on the glamping trend – all good news if you want to experience the outdoors without having to set up tents and bring all the cooking gear. Like traditional campsites, most of these glamping spots should be reserved well in advance.
Glamping in Alberta location map
Glamping in Dinosaur Provincial Park
Dinosaur Provincial Park offers seven canvas tents outfitted with many of the amenities from home including beds, linens, cooking utensils, a small fridge, lights and best of all a fan for hot summer nights. There are men's and ladies flush toilets and potable water at a washing sink.
With a "tent" in a private and premier location overlooking the Red Deer River, you'll be able to enjoy fresh breezes and birdsong. The main sites of interest in the park are just a short distance away. For example the Visitor Centre is just a three minute walk away. The cost is $100 – $115 per night. They are open from June 16 – October 2, 2023. You can book online.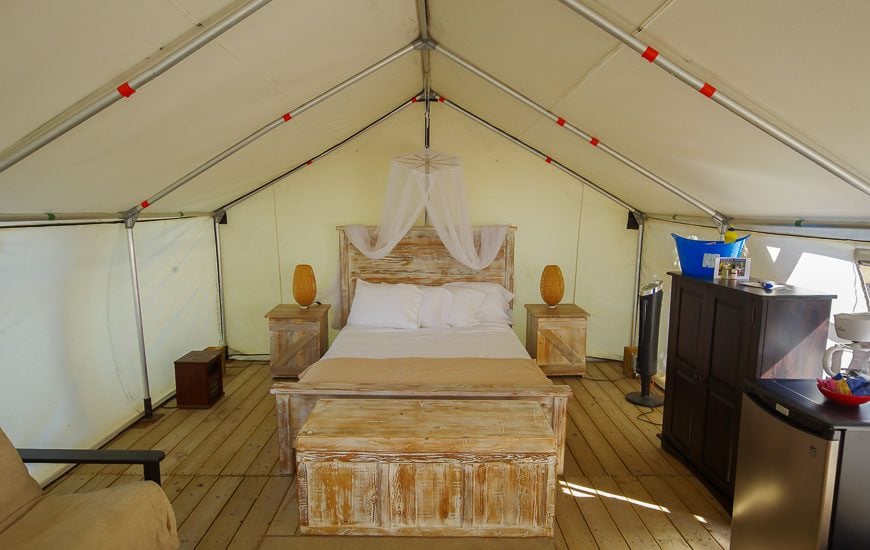 Writing-on-Stone Provincial Park – a top spot to go glamping in Alberta
Writing-on-Stone Provincial Park in southeast Alberta (now a UNESCO World Heritage Site) offers three – three person small insulated cabins under a stand of cottonwood trees in the Milk River Valley.
Along with your private deck you get a comfortable bed, bedding, an electric fan, a gas barbecue with a side burner, a fire-pit and an amazing experience in a park known for its beauty. Rates are $125 a night. The cabins are available from May 19 – September 24, 2023. Make online reservations.
Don't forget to bring your own pillows, bedding and towels along with pots, pans, cooking utensils etcc.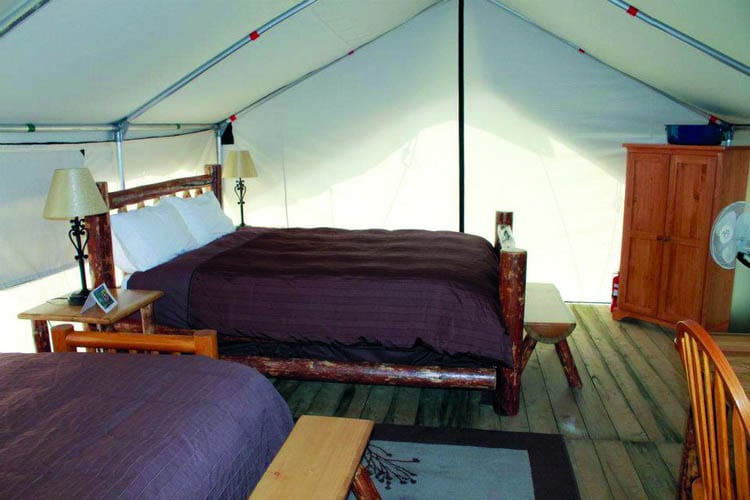 Glamping in Alberta in any national park that offers oTENTiks
Parks Canada has spearheaded oTENTiks – a canvas tent erected on a wooden platform with rustic furniture and a picnic table but no bedding or cooking gear.
You can rent oTENTiks in Elk Island National Park near Edmonton, Banff National Park and Jasper National Park. Reserve online according to the parks launch date and look for oTENTiks under Parks Canada reservations.
In Banff there is the Two Jack Lakeside oTENTik, open from May 18 – October 2, 2023.
In Jasper, look for 21 oTENTiks in the Whistlers Campground. They are available from June 7 – September 18, 2023.
In Elk Island National Park there are five oTENTiks in the Astotin Lake Campground.
There is also heritage camping in Métis trappers tents, tipis and trapline cabins in Rocky Mountain House National Historic Site. Prices start at about $110 per night. Reservations launch on March 30, 2023 at 8 AM MST.
Sundance by Basecamp, Kananaskis for a rustic glamping in Alberta experience
Sleep in one of 12 hand-painted Sioux canvas tipis, each on its own private site in the forest. Inside the tipi you'll find wooden floors, beds and a small heater and lantern. Outside there's a picnic table and a fire pit. There are also Trappers Tents for rent, all with a deck and a picnic table, backing onto the forest.
Check pricing and availability of Sundance by Basecamp.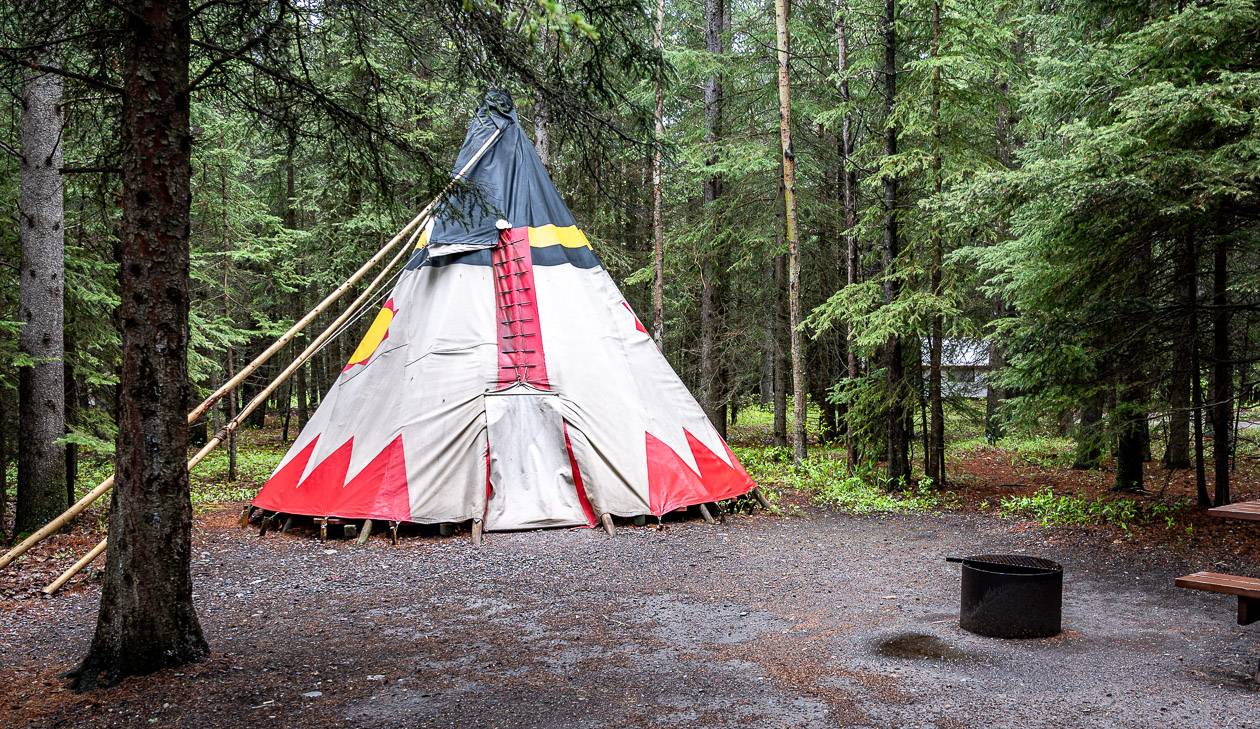 Glamping in Cypress Hills Provincial Park
I've included Cypress Hills Provincial Park as it's a great place to visit and with many widely dispersed backcountry huts and cabins so you feel like you're the only one in the park.
Famous for its black skies, the park is also a treat to visit for the birder, hiker or boater. The Cypress Hills huts and cabins are rustic – offering beds and cooking facilities but not much else.
My preference is the Spruce Coulee Hut (sleeps 6, $100/night) with its location overlooking the Spruce Coulee Reservoir.
Other options include the Graburn Hut (sleeps 4, $100/night), five Firerock Cabins (sleeps 4, $100/night), two Elkwater Cabins (available year round for $100/night and sleeps 3), Reesor Lake Hut (sleeps 4, $100/night), Tom Trott Cabin (sleeps 6, $100/night), six Aspen Ridge Cabins (sleeps 8, $100 night, open June 28 – September 24), and Medicine Lodge (sleeps 6, $100/night). Many of the cabins are open from November 1 – September 30th so you can enjoy winter in the park.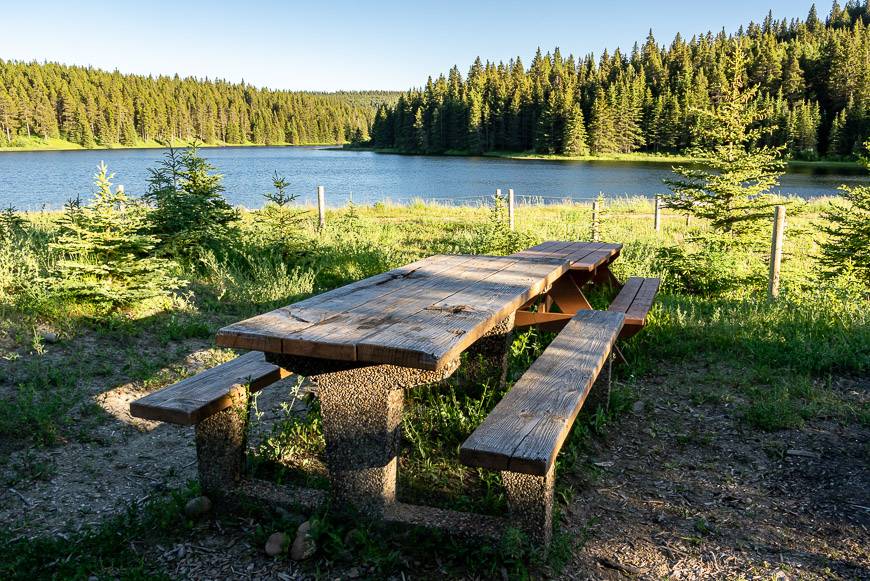 Glamping at The Nest in Lesser Slave Lake Provincial Park
If you love birds and beaches then grab a group of friends and head to Lesser Slave Lake Provincial Park and rent The Nest. It's a timber-framed building overlooking the lake with room for 12 people across four rooms with bunk beds and two rooms with queen beds.
It's quite luxurious and not the least bit like tenting. With two bathrooms, a common area, kitchen facilities and an outdoor deck, I doubt one night will be enough.
While you're here hike the lake shore trails but most of all enjoy the birding as that is what the area is famous for. The Nest rents for $250 per night. Note that in 2023, there are repairs taking place, but I'll update when I hear its reopened.
Pigeon Lake Provincial Park glamping
At Pigeon Lake Provincial Park southwest of Edmonton you can spend the night in a yurt. It sits on a raised platform with a deck. The yurt comes insulated. They also feature a small fridge, a gas barbecue with a side burner, a fire-pit and picnic tables, a private deck with deck furniture – and even electrical outlets.
For ventilation there are screened windows and a skylight that opens. There are three sizes to choose from – small (4 people maximum), medium (max 6 people) and large (8 people maximum). Cooking is all done outside. Prices range from $125 – $170 per night. Most are available from May 18 – September 4, 2023, but there are four medium sized yurts you can rent from May 18 – September 24, 2023.
Miquelon Lake Provincial Park glamping yurts
At Miquelon Lake Provincial Park southeast of Edmonton, you can stay in one of four six person yurts from May 18 – September 4, 2023.
Sitting on a wooden deck all yurts come fully equipped (except for bedding) with queen over queen bunk beds and a pullout futon. Outside there is a picnic table and BBQ with a side burner. There is also a fridge and deck furniture. In this park take advantage of the hiking trails. The cost per night is $145.
Glamping at Charmed Family Resorts, Crowsnest Pass Area
For something that will appeal to the younger set, head to Charmed Family Resorts in the Crowsnest Pass area. Three kitted out cottages can be rented at what has been called an imaginative family resort. Most of the cottages come with a wood-fired hot tub, a fire pit, picnic table, electric fireplace, bunkbeds and more.
Glamping in cabins in Sir Winston Churchill Provincial Park
Check out Sir Winston Churchill Provincial Park if you like the sound of camping on an island. Located north of the town of Lac la Biche, the park normally offers five lakefront cabins that can sleep up to eight people for $160 per night. In 2023, they are open from May 18 – October 2.
The cabins are well outfitted with a small fridge, coffee maker and microwave. There is a barbecue with a side burner, a fire-pit, and a picnic table. Bring your own linens. Outside enjoy the sunsets from your own private deck.
They also offer tipis with four single raised platform beds for $129 per night.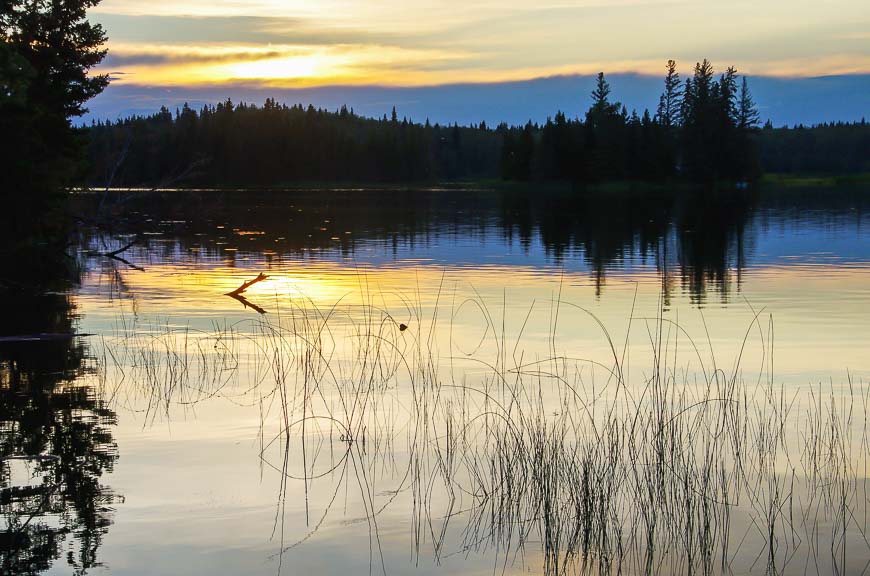 Glamping in Alberta in Wyndham-Carseland Provincial Park
Located on the Bow River just 30 minutes southeast of Calgary, Wyndham-Carseland Provincial Park offers four walled tents on a landscaped site in a cottonwood forest along the Bow River. Rates are $130 per night in 2023 – and for that you get a tent that will sleep four, a picnic table and BBQ.
Inside there is an electric heater, a small fridge and a coffee maker but no cookware or utensils. Outside enjoy nature from your private deck. The tents are close to riverside hiking trails as well as a canoe launch.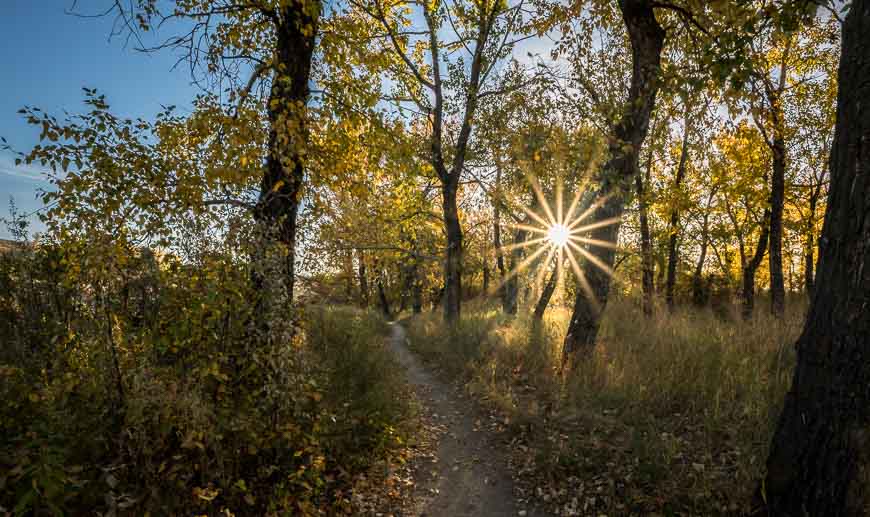 Mt. Engadine Lodge glamping experience – a year-round favourite
Not only does Mt Engadine Lodge have a yurt, but as of 2018 they have six beautiful glamping tents. The tents are luxurious, dog-friendly – and when you rent them or the yurt you get the full package of meals along with their famous afternoon charcuterie board.
This is moose country and a fabulous area for hiking in summer and winter sports like snowshoeing and cross-country skiing in winter. The yurts and tents have mountain views. You can rent them year round by the night.
Book a stay in a yurt or glamping tent at Mount Engadine Lodge right here.
Glamping in Alberta in a rail car at Aspen Crossing
For a different kind of glamping in Alberta experience, head south of Calgary to Aspen Crossing in Mossleigh and book one of the fully equipped cabooses. There are several to choose from. Kids especially would love sleeping at the top of the stairs looking out to the stars. Firewood and a picnic table come with the set up along with a fully equipped kitchen.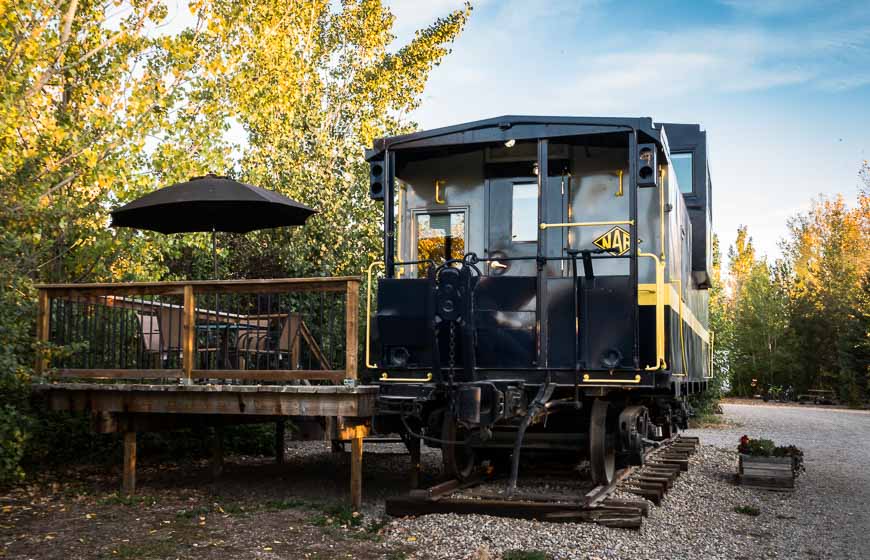 Glamping in Alberta at Meska Outdoors
Meska Outdoors is a newcomer to the glamping in Alberta scene. Their emphasis is on community collaboration and promoting Alberta. In addition to their luxury glamping experiences, Meska offers curated activity guides and family friendly things to do, through their network of partners.
Seeking to grow the demographic of people who enjoy Alberta's backyard, Meska Outdoors is pet friendly, and successfully completed their first season in 2021. More information about them can be found on their website, or by following them on Instagram @meskaoutdoors.
Note that they are taking a break in 2023, but expect them back for the following year.
Glamping near Alberta in BC's Columbia Valley
I had to add the Winderdome Resort to the Glamping in Alberta post after visiting the Columbia Valley in June 2023 – even though the property is in BC. It's only a 90-minute drive from Banff or a 3-hour drive from Calgary and the three luxury geodesic domes on the property are out of this world fantastic. They are open year-round which is a bonus too.
The geodesic domes are beautifully furnished and kitted out. The attention to detail is very high and not something I see very often. What I loved – being surrounded by nature, a roomy deck with a built in hammock, and a beautiful space with a king bed and two single beds upstairs. Meals aren't served but there is a barbecue with a burner, a large fridge, coffee maker and microwave.
Where you most like to go glamping in Alberta?
Further reading about more accommodation options in Alberta & BC
Click on the photo to bookmark to your Pinterest boards.