Over the years that I've lived in Alberta, I've been fortunate to explore a huge swath of the province. But there's still a lot to see – and I'm not just talking about bald-ass prairie where hardly a soul visits. I'm talking about the little know places that beg to be visited – the ones that aren't on the radar of very many people. Here are five off the beaten path Alberta places that should be amazing to visit.
Since writing this post I have been lucky to paddle the Peace River over four days. And I knocked off the Crowsnest Pass area with multiple visits so I now have a really good feel for the area. But there are still plenty of other off the beaten path Alberta places I'm keen to see with Wood Buffalo National Park now at the top of my wish list.
Off the beaten path Alberta – Wood Buffalo National Park
Not only is Wood Buffalo National Park the largest national park in Canada, it's one of the largest in the world. Established to protect the remaining herds of free roaming bison, it also protects the world's largest beaver dam and the last remaining wild flock of whooping cranes.
Access isn't easy. You need to drive in via Fort Smith in the Northwest Territories. From Calgary it would be about a 17 hour drive. Most people opt to fly to Fort Smith and rent a car from there.
But there are many rewards, especially in August when a Dark Sky Festival takes place with various celebrities in attendance from year to year.
When I eventually make it up here, I'd swim in a sinkhole – a giant water-filled lake that looks like a crater. Rising early one morning, I'd want to do a flightseeing tour from Fort Smith to see the park from the air – and with luck catch sight of the "whoopers".
Hiking of course would be on my itinerary – including some of the easy front country hikes that show you the karst topography – and the salt plains.
If I had the time, I'd do the challenging 12 kilometre backpacking trip to the Sweetgrass Station – with hopes of seeing wolves and bison. And if there was a way to do a canoe trip for a few days, I'd definitely want to include that. I don't think my camera would ever be far from my hand.
Wilmore Wilderness Park
If you want wild in your next adventure this is the park to visit. Located adjacent to the northern border of Jasper National Park – and accessed via just three entry points, 4,597 square kilometres are just waiting to be explored.
Although it's not the park for the novice backcountry hiker, it does offer the experienced hiker 750 kilometres of trails and one heck of a lot of wildlife.
Dani, a woman I spoke with who has visited many times suggests hiking in via the Rock Lake Trailhead to Eagle's Nest Pass, a distance of around 19 kilometres one way. From there she says you can do some spectacular ridgewalks. You may see horses on the trails but hikers by all accounts are a rarity.
Go very prepared and download this map beforehand.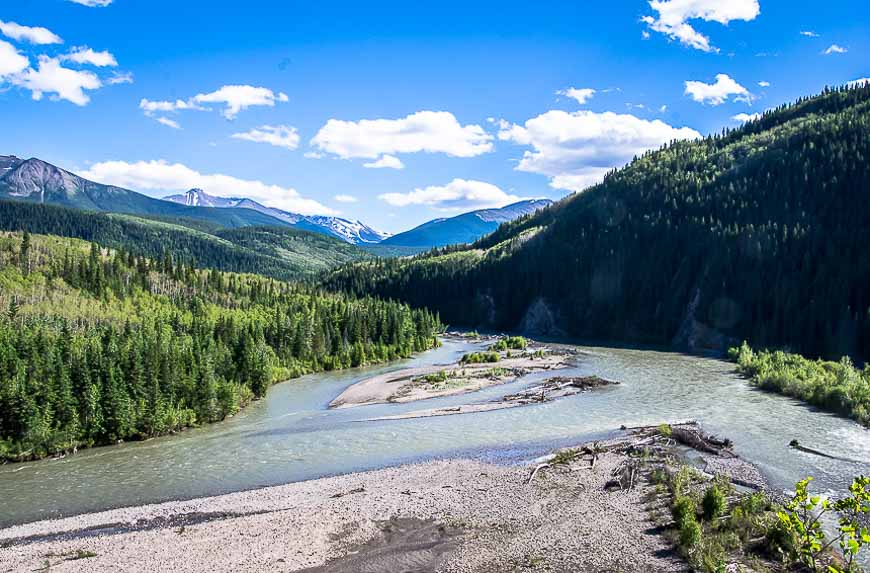 Canoeing the Peace River
I was able to knock this part of Alberta off my wish list in 2016. The town of Peace River lies about seven hours northwest of Calgary so you don't just head here for a weekend. From the town of Peace River you can take a shuttle with Peace River Cabins and Outdoors and easily spend a week on the Alberta portion of the historic Peace River. Paddling distances are between 30 – 45 km a day – and there aren't any rapids or portages to worry about.
The upstream portion of the historic Peace River is supposed to be the most scenic section – and according to Anne, the owner of Peace River Cabins, the bugs aren't as fierce upstream as they are if you go north on the river. That's reason enough for me to pull out in the town of Peace River.
Read: Canoeing the Peace River in Northern Alberta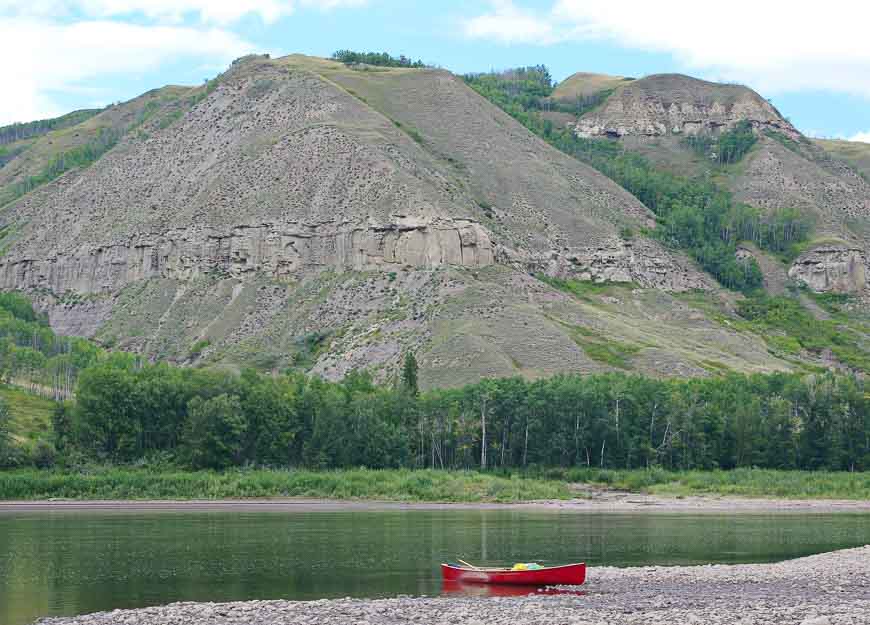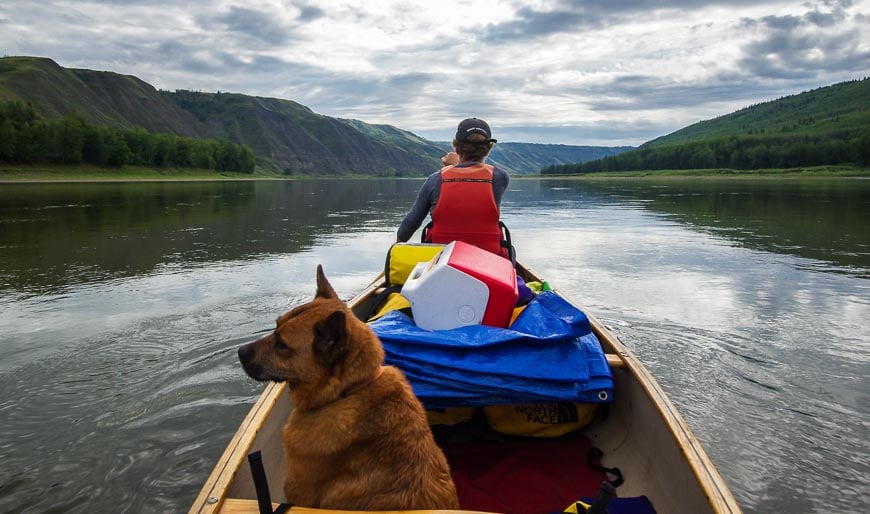 Fidler Grey-Willow Wildland Provincial Park
I bet there is hardly a native-born Albertan who knows of this park. I learned of it from someone who works for Fort McMurray Tourism. Situated on Lake Athabasca near the Saskatchewan border, the park description sounds positively beautiful.
Fidler Grey-Willow Wildland Provincial Park includes part of the north shore of Lake Athabasca in addition to several islands. Sandstone outcrops, sandy beaches and stranded beach ridges are on the north shore along with Jack pine, active sand dunes and Athabasca sandstone.
The largest sand island in Alberta (who knew we had any?) is Bustard Island – and reportedly its home to scenic storm beaches and driftwood. I doubt I'd see a soul as access is via floatplane from Fort McMurray.
I think the place sounds positively idyllic. Exploring, camping and R&R would be on my agenda if I ever make it here. But now that Alberta Parks has cut funding (2020) I'm waiting to hear about whether the park is still accessible.
Off the Beaten Path Alberta – the Crowsnest Pass area
I've only had a small taste of the Crowsnest Pass area – a little known pocket tucked away in the southwest corner of Alberta but I think it deserves more time.
Probably best known for the Frank Slide, it's also got some great hiking – everything from short walks to mountain scrambles. I'd definitely recommend the hike to the top of Turtle Mountain (now that I've done it) – the one that unleashed the destructive landslide back in 1903.
And the Promised Land sounds fascinating. On a 17.5 km return hike you are treated to a moonscape, sinkholes and for spelunkers, some of the best caves in Canada. And that's just the start of what you can do.
This region is only a few hours away from Calgary – so it's very accessible for weekend outings.
Read: 9 Great Things to do in the Crowsnest Pass Area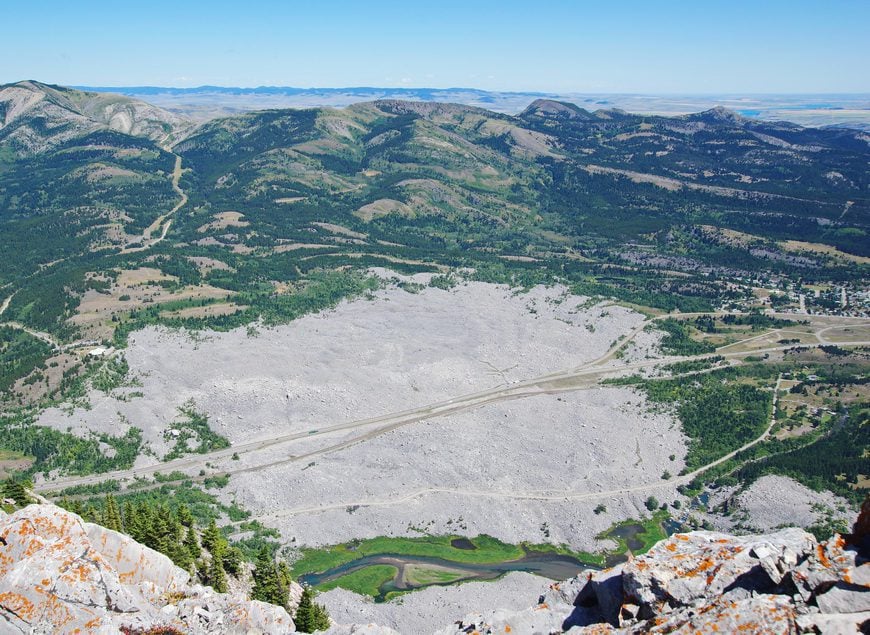 Further reading on things to do in Alberta
Click on the photo to bookmark to your Pinterest boards.