Just 150 kilometres northeast of Reykjavik lies the Snaefellsnes Peninsula. It's home to a fantastic landscape of dramatic sea cliffs, desolate lava flows, rugged volcanic peaks and Snaefellsjökull National Park, made famous by Jules Verne as the location for the movie Journey to the Centre of the Earth.
The Snaefellsnes Peninsula is often overlooked by visitors who just stick with the Ring Road. But its worth a few days of your time. If you don't have that and you're a little on the crazy side, do it as a long day trip from Reykjavik (a 2 hour drive each way).
It's full of amazing things to do – weather permitting of course – and it's a gateway via ferry to the stunning but desolate Westfjords region.
This post includes some affiliate links. If you make a qualifying purchase through one of these links, I may receive a small percentage of the sale at no extra cost to you. Thank you for your support.
Include these stops on the Snaefellsnes Peninsula
My favourite spot on the peninsula were the cliffs at the western most edge near Öndveroarnes. Take Route 579, a combination dirt and paved road and follow it as it swings past Skarosvik. (You can stop here to admire one of the few golden beaches that I saw in Iceland.) From here the road deteriorates but is still passable.
Drive to a T- intersection, about 15 minutes away and turn left to check out the orange lighthouse beside the Svortuloft bird cliffs. Go in the evening when the light is good and the birds have come back to roost. After a look around return to the T-intersection and go right a short distance to a parking lot.
From there you can walk past a low, squat orange lighthouse to the very tip of the peninsula. Keep your eyes peeled for whales. Also, check out an ancient stone well called Falki where it's reported there are three types of water – regular, holy and ale.
Hike to the top of Helgafell just south of Stykkishólmur
It will only take you about 15 minutes to get to the top and if you follow all directions – do not look back once you've started hiking, do not speak on the way up and face east when you're making your wishes – then you will be granted three wishes if they are of good intent. You can't tell anyone what your wishes are if you want them to come true.
On the day we did it, a group of school kids had started off ahead of us. They were dead quiet going up but at the top they did everything in their power to make us speak. But we persevered and now I'm hoping all my wishes come true.
Visit the Bjarnarhöfn Shark Museum on the Snaefellsnes Peninsula
You'll learn everything related to making fermented shark, a traditional Icelandic dish, safe to eat. The fermented shark is made from Greenland Shark.
It's poisonous when fresh because of high amounts of urea and trimethylamine oxide. Modern methods of making the shark fit for human consumption involve pressing the meat to remove fluids. After it's cured it's hung in strips to dry for several months. A brown crust forms (it just sounds more delicious by the minute doesn't it) which is removed before cutting into pieces and serving.
Hike from Hellnar to Arnarstapi on the Snaefellsnes Peninsula
There's a café in Hellnar at the start of the trail so I think this is a better place to start. The hike will take a couple of hours with stops for photos and bird-watching.
Stop and admire the drama of the coast whenever an opportunity presents itself
If the sun had been shining the trails along the coast in the national park would have been even more beautiful. Any nature lover or birder will be in heaven along the southwestern section of the peninsula.
Ride an Icelandic horse
If riding an Icelandic horse is high on your wish list then the Snaefellsnes Peninsula would be a good place for it. It had been in our plans until the rain started. One of the best areas is around Lysuholl, about halfway along the peninsula in the south. You'll probably be able to ride on a beach out of here.
Spend some time wandering around the colourful town of Stykkishólmur
There are a few good hotel and restaurant options including Hotel Egilsen where we stayed – and loved. For a reasonably priced, delicious meal order the fish and chips on the dock.
Be sure to hike the trails on Súgandisey
It's a beautiful, small island attached to a causeway that protects the Stykkishólmur harbour. The tall, basalt columns on a couple of sides of the island are a stunning sight.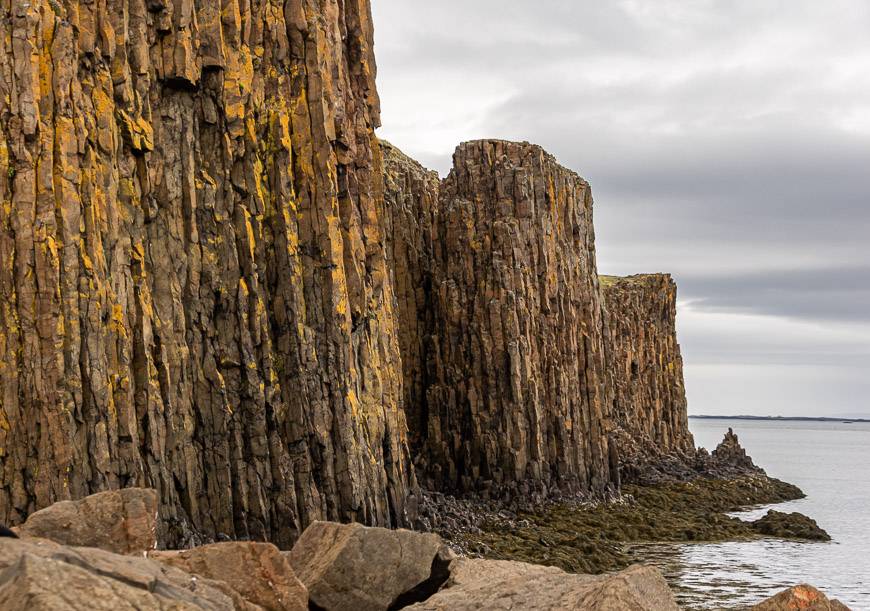 Do the Vatnshellir Cave Tour
Walk inside an 8,000 year old lava tube formed by a volcanic eruption. It's the most accessible cave (and probably the most visited) in Iceland. Tours run year round and once summer arrives, tours occur hourly from 10 AM to 6 PM.
Drive the backroads and let the wind blow you where it will
The peninsula isn't big, it's hard to get lost and there is great beauty to be seen. Photographers will be in heaven in this part of Iceland.
Location map of things to do on the Snaefellsnes Peninsula
Further reading related to Iceland
Click on the photo to bookmark to your Pinterest boards.