If you're visiting Iceland and planning to go to Myvatn in the northern part of the country then you are in for a treat. It's a great destination for cool and unusual things to do, even by Icelandic standards. I think you'll enjoy theses 10 things to do in Myvatn and outside of it – though nothing is more than 50 km from Lake Myvatn. Our group of four spent three nights in the area and despite some wildly windy days and snow at higher elevations in May, we had a great time. The only disappointment was that it was so windy that the Myvatn Nature Baths were closed.
To get to Myvatn it's a comfortable 2.5 hour drive on lightly trafficked roads from the charming town of Seydisfjordur in the East Fjords region. Often overlooked, this town will wow you with its artsy charm and the hiking in the area is also sublime. I highly recommend including it in your Iceland itinerary.
Summary of things to do in Myvatn, Iceland & what you should be aware of
Before you head to Iceland, read 10 Things to Know About Iceland Before You Go.
The Myvatn region in northern Iceland is part of the Diamond Circle – and all the sights are easy to get to from the town itself with a car.
Allow six hours if you want to drive all the way around Lake Myvatn. It's an interesting thing to do in Myvatn because of the ever changing landscape and the number of sights along the way.
Watch out for midges in Myvatn. The upside of all the wind is that it keeps them at bay – but this area in particular has a reputation for these nasty, ferocious insects. They are worse near the lake itself. Consider a bug net if you have a low tolerance for biting insects.
Iceland is also known for its wind – and this area had the worst we encountered. You can't do anything about it but it's good to keep your expectations in check.
Climb Haverfall (Hverfjall) – an easy hike to a crater.
Admire the unusual lava formations at Dimmuborgir.
Visit Hverir – a hot springs area near Myvatn.
Visit two of the most impressive waterfalls in northern Iceland – Dettifoss and Selfoss.
Walk among the pseudocraters in Stakholstjorn – a very unique place.
Bathe in the Myvatn Nature Baths.
Visit the very cool Sigurgeir's Bird Museum – even if you're not that into birds. It's a good place for a meal too.
Hike the Stora Viti Crater by Mt. Krafla and marvel at the lake colours. The lake is deep but it's too cold to go swimming.
Visit Höfdi – an unusual headland with excellent birding.
Eat with the cows at Vogafjós Restaurant – one of the more unusual things to do in the area.
Location map of things to do in Myvatn, Iceland
Climb Haverfell even on a windy day
If you're looking for an easy hike, climb up to the high point on the crater of Haverfell (it also goes by the name Hverfjall), formed via a massive explosion 2,700 years ago.
Today the crater is roughly 140 metres deep and a kilometre across. We did it on a windy day. Windy – as in open your mouth and your saliva flies out. Anything loose is gone and you're lucky if you don't get knocked down. Still, it was an exhilarating hike and we were happy we did it. Allow a couple of hours for an out and back hike.
Walk through the spectacular lava formations of Dimmuborgir
Dimmuborgir is the site of a large lava field formed 2,000 years ago – and is like nowhere else on the planet, so it definitely makes the list of top things to do near Myvatn.
After a lava tube collapsed, the superheated lava flowed over a small lake causing the water to boil. Steam is a byproduct of boiling and that steam formed lava pillars. Threading through the lava flows today are a number of hiking trails of varying difficulty. Depending which one you pick, you'll see lots of solidified lava, hollowed tubes, chimneys, and more otherworldly rock formations.
We did one hike that was about eight kilometres round-trip and ended up beside the highway. Though it was beautiful, it wasn't until just before we hit the highway that we realized it was an out and back hike. Signage is scarce.
Other trails are easier and more mainstream – like the 2.3 kilometre Church Circle loop. And there's a good café by the parking lot.
Visit Hverir – a hot springs area
Hverir is a fascinating area more akin to the moon than the earth. From the parking lot, hike a myriad of trails – but don't step off them.
Especially avoid light-coloured soil and keep well back from the roped off areas. What you'll see are burping mud pools, smoking fumaroles, hot vents and all the while you'll be treated to the overpowering smell of sulfur.
Don't miss a stop here! It's definitely one of the top things to do in the Myvatn area.
Be awestruck at Dettifoss and Selfoss – two incredible waterfalls
It's easy to visit Dettifoss and Selfoss on the same trip. From one parking lot you can visit both waterfalls. They are about a 50 kilometre drive northeast of Myvatn. Even in late May we were walking through deep snow to reach the waterfalls. And considering it was the off-season, there were a lot of people. Once the snow is gone more hiking is possible in the area.
Dettifoss is one impressive waterfall. For starters it's 100 metres or 330 feet wide and boasts a drop of 44 metres or 144 feet . It ranks as the waterfall with the greatest volume in Europe with the water flowing from the Vatnajökull glacier.
Selfoss is a 30-minute hike from Dettifoss. The hike to get up close to the waterfall is only about a kilometre long each way.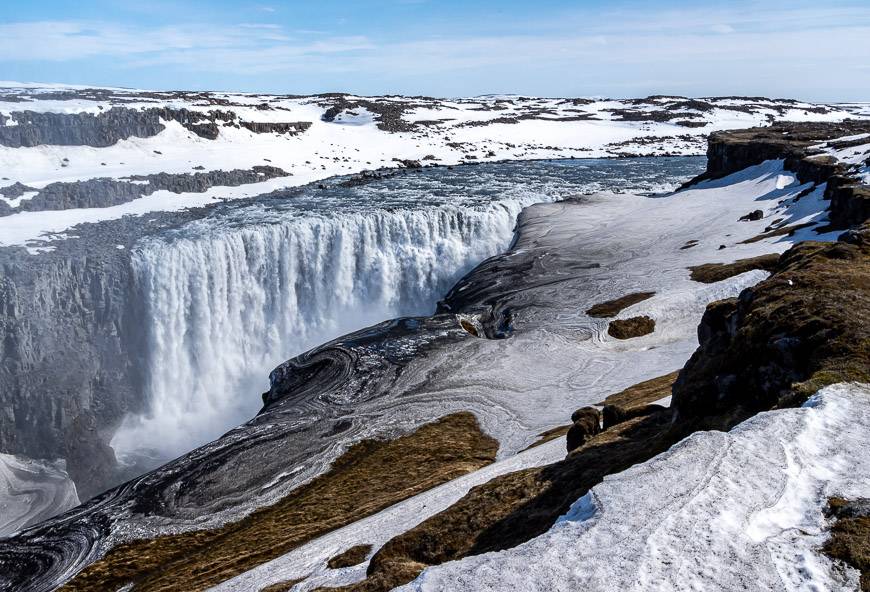 Bathe in the Myvatn Nature Baths – a soothing treat
We did not have Mother Nature on side on the day that we booked a soak in the Myvatn Nature Bath. It was an incredibly windy day and without a cover over the baths the temperature fell below a point that they would let us in.
We left very disappointed as the setting itself is beautiful. They are considered to be northern Iceland's equivalent of the Blue Lagoon.
Do go prepared for an assault on the nose. The minute we opened our car door we were blasted with the rotten egg smell. But we would have happily endured it for several hours in return for a soothing soak. Next time. It is recommended that you allow two to three hours here.
Check out the bird museum
Sigurgeir's Bird Museum is an interesting stop on your drive around Lake Myvatn – far more so than I would ever have thought. From the outside the building is unassuming but inside it's light, airy and modern. Located beside a lake filled with ducks, it's also home to a great little café that's perfect for lunch.
Purchase a ticket to enter the museum and be prepared to be wowed. Named after Sigurheir, a bird collector who drowned in the lake at the age of 37, the museum's display of birds – including all that live in Iceland is nothing short of stunning.
Inside the museum it's very dark except for the cases of birds which are illuminated. Specimens of more than 180 species of birds from around the world can be seen in here.
Outside the museum look for Barrow's Goldeneye, gadwalls, Slavonian grebes, golden plovers and the Greylag goose.
Visit Höfdi
Allow at least 90 minutes to visit Höfði – a beautiful headland on the eastern shores of Lake Myvatn filled with trees, wildflowers, and trails offering fantastic views. Look for lava pillars called klasar that rise out of the water on the southern shore of the peninsula. Birding is fantastic here.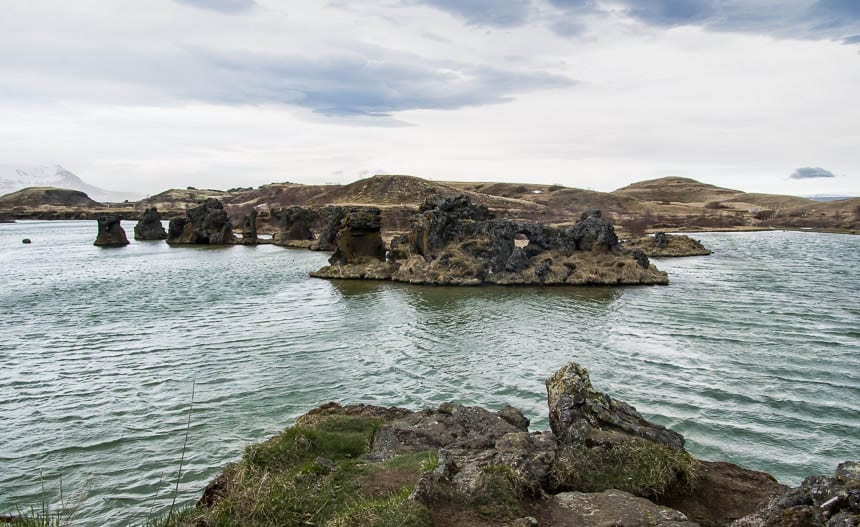 Dine with the cows
At the Vogafjós Restaurant you can dine in a cowshed though granted you are separated from the cows by a pane of glass. Either before or after your meal you can visit the cows or catch them being milked. Milking is done at 7:30 AM and 6 PM.
Even without the cows, it's worth the trip to this restaurant for the food alone. Cheese is made onsite from the cow's milk and a peaty tasting homemade Geysir rye bread is also cooked onsite in the ground via geothermal heat.
Local specialties are on the menu – like smoked trout and every one of their desserts is delicious. I'd also recommend a stay at their guest house, located down the road from the restaurant.
Hike the Stora Viti Crater by Mount Krafla
For another otherworldly experience head to the Krafla area – an active volcanic region with a geothermal power station and several hiking trails, some of which are the best in the area and up to three to four hours long – though they aren't open until summer.
We are only able to do a partial hike (in summer you can hike around the entire crater) of the Viti Crater in late May, but we were able to get as far as the surreal looking, green floodwater-filled lake. Although desolate, this is one beautiful area. There are also steaming vents to marvel and one smaller lake on the far side of the Viti Crater.
Walk among the pseudocraters in Stakholstjorn
Pseudocraters are formed via gas explosions – once molten lava flows into the lake. There's quite a cache of pseudocraters at the southern end of Lake Myvtan with trails winding among them. The birding near the lake is excellent.
I found the hiking to be quite extraordinary – not hard just like nothing else I'd ever done. Allow a few hours so that your experience isn't rushed.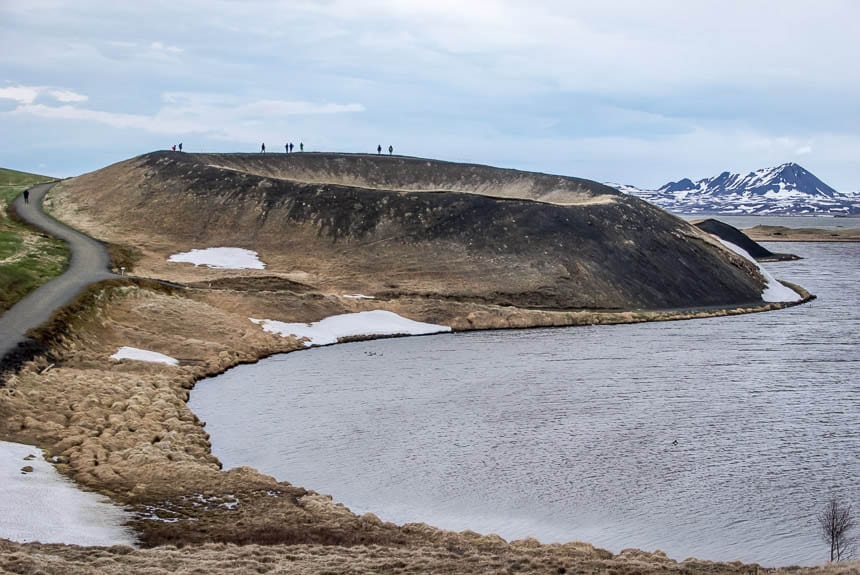 More activities near Myvatn
Of course there is plenty more to do in the Myvatn area than what I've shown.
Some activities like horseback riding are weather dependent. And there's a lot more hiking possible, especially in the summer. But be warned. The word Myvatn means Midge Lake and once the summer hits the area is know for its swarms of tiny black flies. Without the wind a visit here could be tough, especially for campers.
Should you only have time for southern Iceland then check out this 4 to 5 day southern Iceland itinerary with tips for your visit.
This post includes some affiliate links. If you make a qualifying purchase through one of these links, I may receive a small percentage of the sale at no extra cost to you. Thank you for your support.
Where to stay in Myvatn, Iceland
We spent three nights at the Vogafjós Farm Resort. All four of us loved it, particularly for the food. The rooms were very comfortable and the location is great.
Icelandair Hotel Myvatn on Lake Myvatn – and just 3.3 kilometres from the nature baths, gets superb reviews.
Hótel Laxá is your best bet when it comes to price. And the hotel has great views, a nice bar and only 30 minutes from Godafoss Waterfall.
Further reading on Iceland
Click on the photo to bookmark to your Pinterest board.