Sundre, Alberta is not a place a lot of people know about – at least judging by the people I spoke with who have lived in Calgary their entire lives. Sundre might for some register as a small town somewhere in the province. If that. On a spring weekend I was invited to explore Sundre, Alberta and experience what the area had to offer. The bottom line – people in Alberta don't know how many things there are to do in Sundre and what they've been missing.
This post includes some affiliate links. If you make a qualifying purchase through one of these links, I will receive a small percentage of the sale at no extra cost to you. Thank you very much for your support.
Background info on Sundre, Alberta
The town of Sundre itself is home to about 2,700 people – the same size as some high schools in Calgary. It's got that friendly small-town feel where everyone actually knows their neighbours.
Sitting in a pretty location on the Red Deer River in farm country, just off the Cowboy Trail, it's only a 75 minute drive northwest of Calgary. But, what sets Sundre apart from other farm towns is its proximity to the mountains. At most, they are an hour away.
And the section of the Red Deer River that runs from the mountains into town is beautiful – crystal clear and turquoise-coloured if it hasn't rained higher up. So not only does the river beckon rafters, but anyone who loves to fish and camp.
Note: If you're spending any time in Sundre itself, be sure to include a walk on the paved paths alongside the creek, especially at sunset.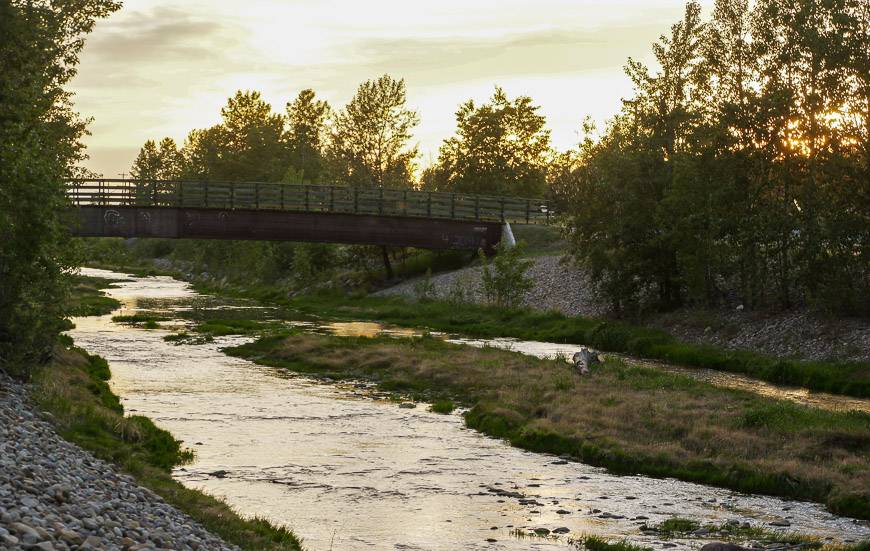 What can you do in Sundre ,Alberta before you head for the hills?
Get some BBQ in Sundre
Start the day with a trip to Kodiak BBQ. They open at 7 AM for breakfast and stay open until 3 PM. Try something off their Texas imported smokers if its lunch time. I loved their pulled pork sandwich (just $7) with homemade coleslaw ($3.50).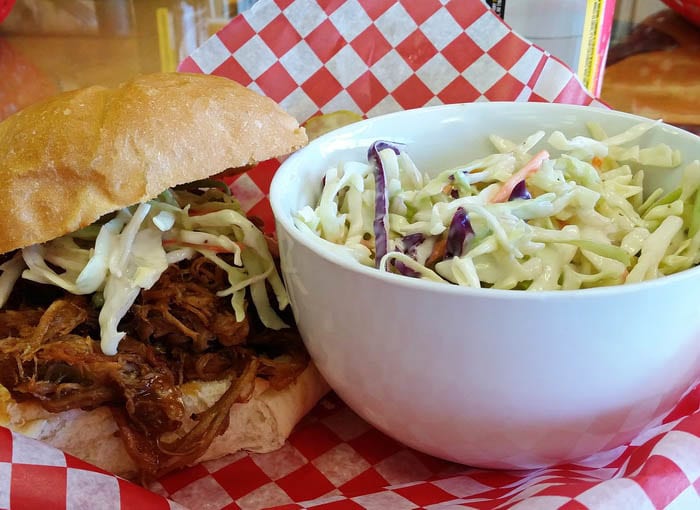 Check out the Snake Hill Recreation Area
In town check out the trails in the Snake Hill Recreation Area. Located just a few minutes north of Sundre's Main Avenue, you'll find a variety of loops to walk. Most are short and easy. On a Friday night they were a treat to explore with only the white-throated sparrow seemingly in attendance.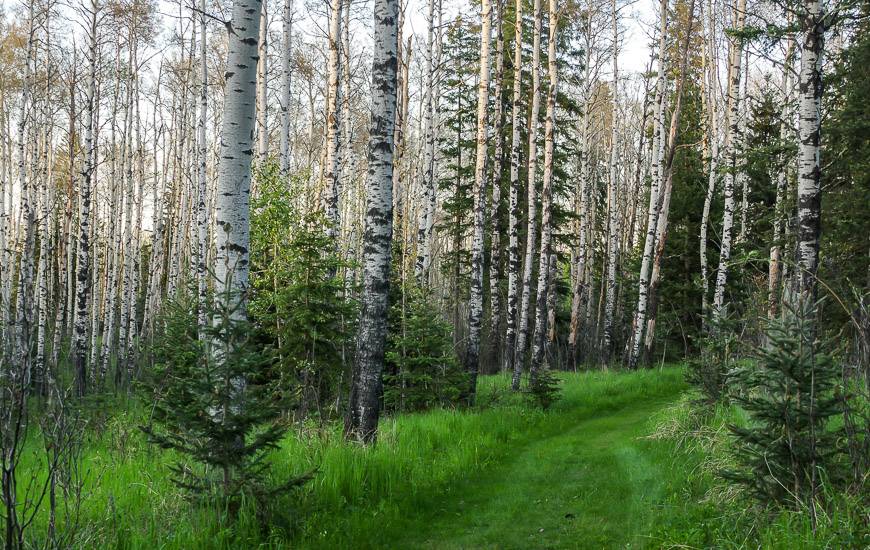 Visit the Sundre Museum
Visit the Sundre Museum housing the World of Wildlife exhibit with its 150 stuffed animals from around the world. Outside stop in at Pioneer Village, immediately adjacent to the museum.
Sitting on a four acre tract of parkland, it's an ideal place to enjoy a summer picnic. But it's also fun to see some of the original buildings, including the Bergen Schoolhouse that dates back to 1908.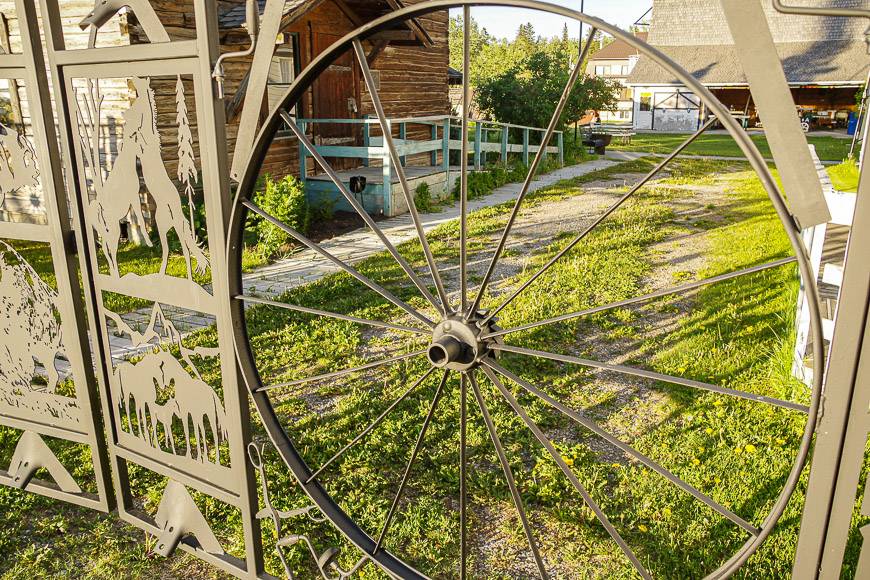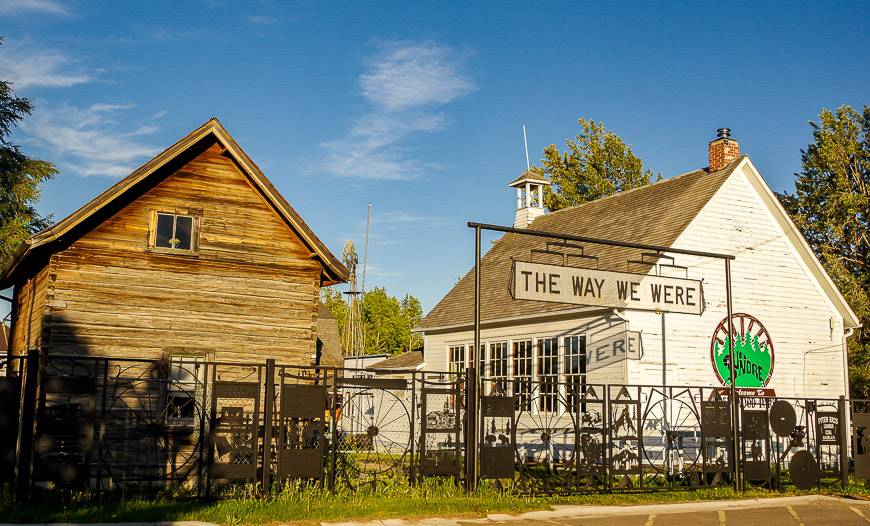 Go rafting on the Red Deer River near Sundre
With names like Double Ledge, Staircase and Wave Train, adventure lovers will want to try either a half day or full day of rafting on the Red Deer River with Mukwah Rafting Tours.
For the first weekend in June, we lucked out with a hot, sunny day, though with wetsuits on you could raft in the snow – which is what happened the previous week. (Glad I wasn't there then!) No matter what the temperature is, be prepared to get wet.
On the full day trip we covered a stunning 28 km section of the river. From the rafting perspective it's an interesting river as the drops are primarily off of ledges – which look scary from above – but aren't so bad once you're in the swirl of the white water. I can however, promise there will be some screaming involved – and then a whole lot of high fiving!
I have no idea how many rapids we ran in total but I do know that after lunch, it seemed like there were long stretches of rapids – alternating between no problem and better brace for this one. William Naisby our guide should have been hoarse after five hours of calling out instructions – "Two strokes, and another two; don't stop. Okay backpaddle. Forward one. Relax."
Rafting the Red Deer River exceeded any expectations I'd had – primarily because it was far prettier than expected. I hadn't appreciated the landscape we'd be seeing – a mix of forest and rock with the mountains as a backdrop. For a great way to spend a fun day on the water in the summer, you can't beat it. Do the full day trip if you have the option as you get a lot more action later in the day.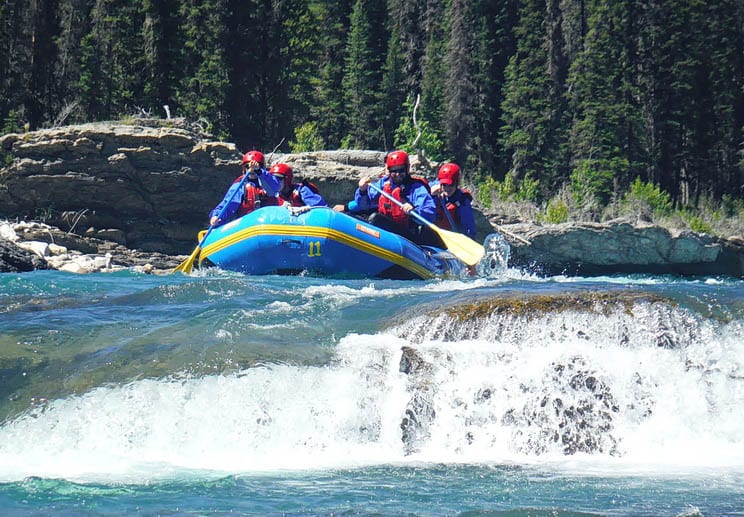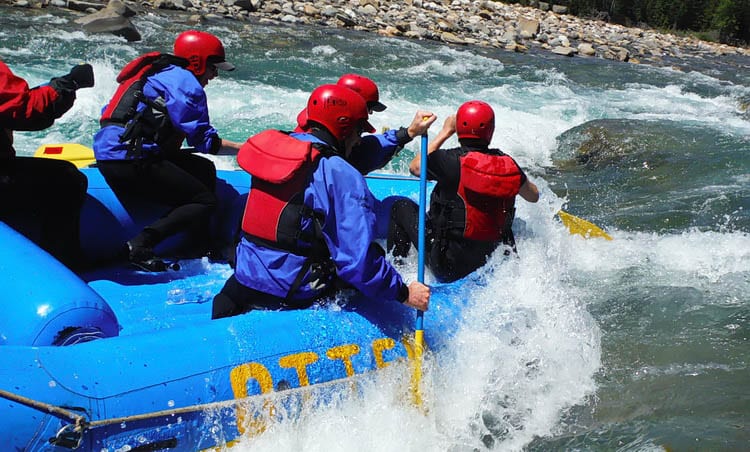 Go for a horseback ride near Sundre
About an hour's drive west of Sundre, via dusty, dirt roads – where you just might see wild horses you'll find Sunset Guiding and Outfitters. They offer overnight accommodation in rustic cabins and tents near the Panther River, along with meals and guiding services.
We elected to do a two hour guided horseback tour with Merle, a real cowboy with an easy smile and a calm manner around the horses. He kindly put me on Tucker – the gentlest horse I've ever ridden.
Over the course of the morning we meandered along the Panther River, through meadows and then up to a high point with superb views over Klein Lake and into the eastern reaches of Banff National Park.
From there it was a short ride back to the barn. If we rode for more than four hours a year, we might have considered an all day ride into Ya Ha Tinda Ranch. But for me, two plus hours was plenty, no matter how lovely the scenery.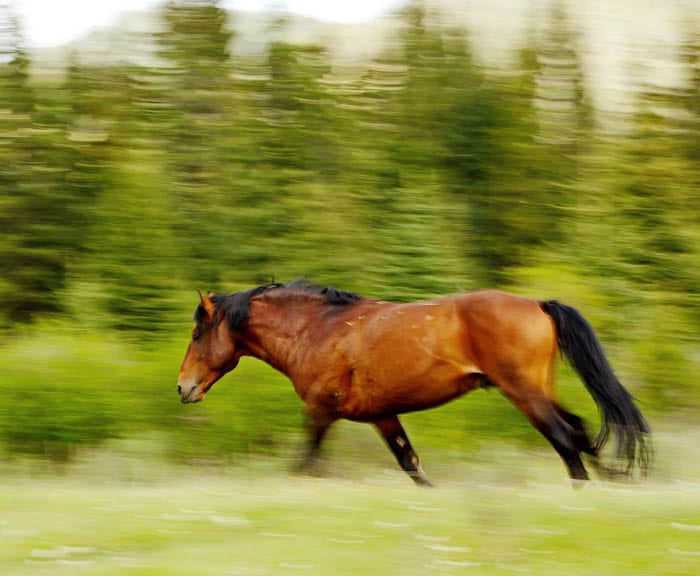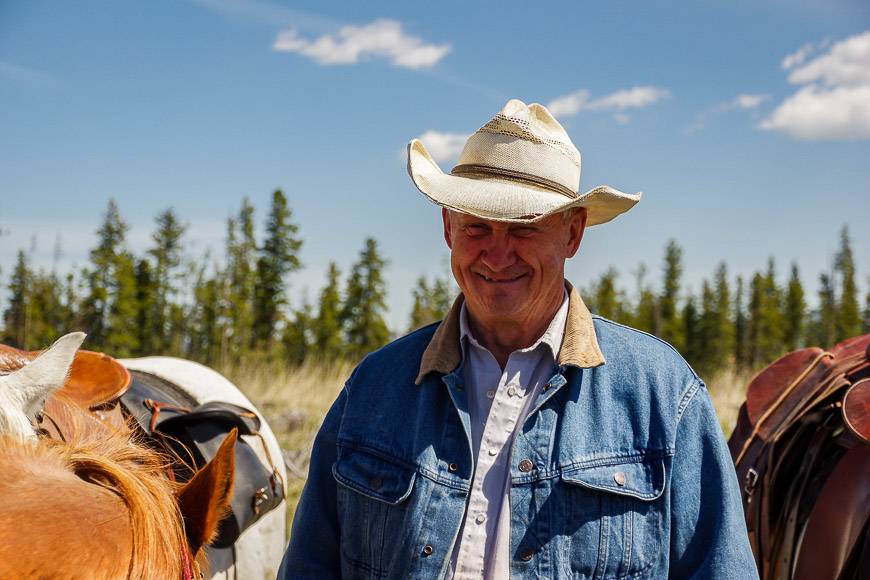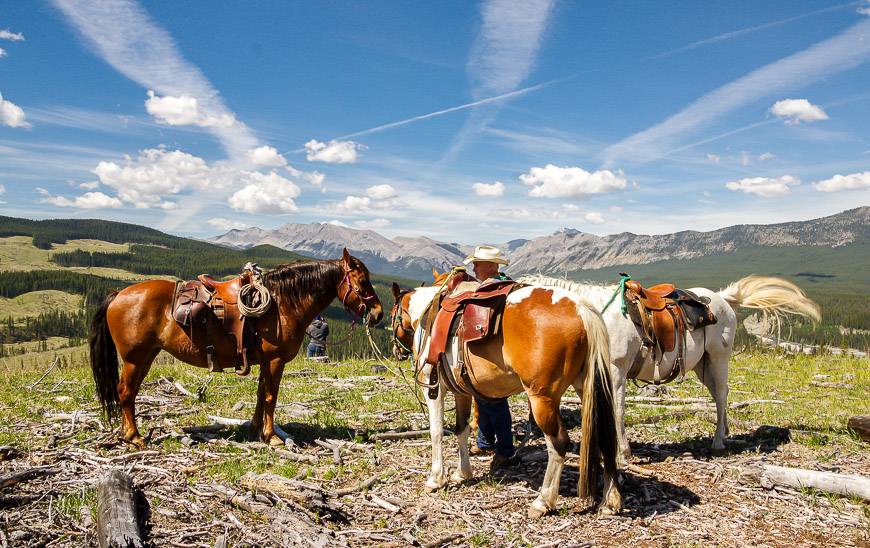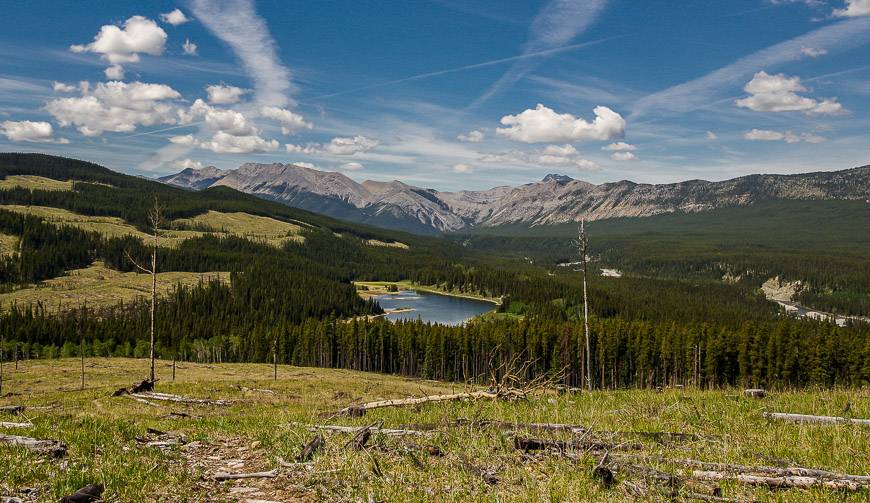 Where to stay in the Sundre, Alberta area
There are lots of options depending on your budget and what type of traveler you are. John and I stayed at Rustlers Lodge B&B. Run by Kelly and her husband, it's a sprawling house just outside of town with a big pool. She offers loads of local advice, cooks up a mean breakfast complete with pancakes or waffles and fresh berries and does everything she can to make your stay comfortable.
Other options include the higher end Mountain View Inn and Suites where my friend Tamara stayed. She made the comment that her suite was fantastic and the breakfast excellent. RVers and campers might like the well-treed Tall Timber Leisure Park just minutes outside of town.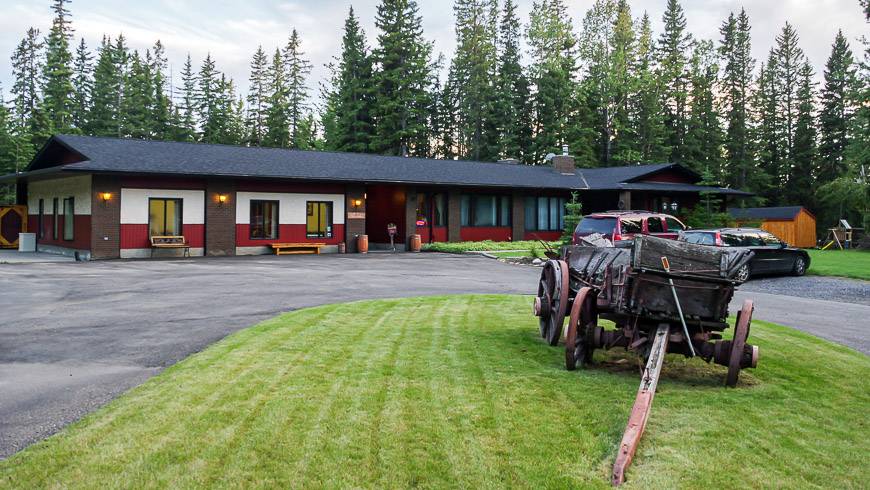 Camping near Sundre
About 20 minutes outside of Sundre, campers can also find stunning but informal campsites off of Coal Camp Road. It may take some poking to find the right one but the reward is a piece of real estate along a pristine section of the Red Deer River. The price is right too. Because the campsites are on crown land, they're almost free.
As of 2021 you need to have a permit to camp on the eastern slopes of the Rockies. Campsites are first come, first served so you'll need some luck to nab the prime ones on a weekend.
Additional things to do in Sundre
Most of you who read my blog with any regularity know that I'm not a golfer. But John is and he would have enjoyed a round at the Sundre Golf Club. Throughout the year the Sundre Arts Centre offers music and theatre but nothing was on while we visited.
In late June the Sundre Pro Rodeo offers three days of rodeo events along with pancake breakfasts. And the Snake Hill Slam, a 5 kilometre Obstacle Run which sounds and looks like a lot of fun, takes place in August.
Visit Big Horn Falls in Ya Ha Tinda Ranch
With locals telling us that we must visit since we were so close, we headed for Big Horn Falls after horseback riding, 30 dusty minutes away. The falls are in Ya Ha Tinda Ranch – a place the horsey crowd seems fond of.
The falls themselves can be reached from one of two trails – an upper or a lower. Both hikes take only about 15 minutes one way but there are distractions so allow about an hour to visit and take in the view. I now understand why horseback riders visit.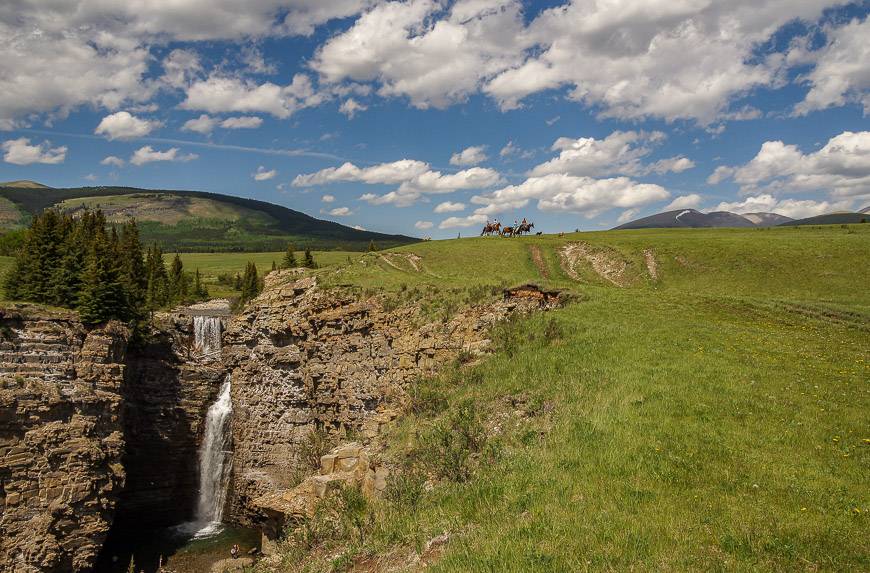 More reading on places to visit in Alberta
Click on the photo to bookmark to your Pinterest boards.