Let's face it. Winters are long in Canada. To survive them – and actually enjoy a winter I think you need lots of things to look forward to – like mini vacation breaks to the mountains and/or to cities you perhaps don't know much about.
Over a January winter weekend John and I immersed ourselves in activities in and around Edmonton. You'd be amazed at the diversity of things to do in Edmonton and how much fun you can have in this city, even when it's cold.
Updated April 2021. This post includes some affiliate links. If you make a purchase via one of these links, I may receive a small commission at no extra cost to you.
Where to stay in Edmonton
Check in at Chateau Lacombe Hotel – the only round hotel I have ever stayed in. Rooms are big and comfortable and many sport gorgeous river valley views. The hotel has a fantastic location for all the activities we enjoyed over the weekend. They have a concierge floor where you can grab a glass of wine and appies starting at 5 PM or a continental breakfast beginning at 5:30 AM.
I also love the nearby Fairmont Hotel Macdonald and the Matrix Hotel.
Looking for things to do in Edmonton in winter? These suggestions take you inside and outside.
Friday night dinner in Edmonton
Edmonton has a thriving restaurant scene – and in my humble opinion hits the mark far more often than my experiences in Calgary. Try Biera in the Ritchie Market (best overall restaurant 2019). Choose plates to share (I recommend ACME chicken with Taiwanese cabbage in a sour cream sauce despite how weird it sounds) washed down by a beer brewed onsite by Blind Enthusiasm.
The restaurant is in a set up similar to what you find at the historic Simmons building in Calgary (Sidewalk Citizen Cafe, Charbar and Phil & Sebastian), except that's its smack dab in the middle of a neighbourhood. Lucky people. It shares space with ACME Meat Market, Transcend Coffee and Velocity Cycle.
Other good choices for dinner in Edmonton include Rge Rd, Bündok, Meat and Bistro Praha.
Go for a Saturday morning walk
Go for a walk on the extensive paths in the Edmonton River Valley. (You can download winter specific trail maps here). Check out the funicular that takes you from the area around the Low Level Bridge up to 100 Street by the Hotel Macdonald. It's all automated and even better, it's free. Just press a button and it comes – at least between the hours of 7 AM and 9 PM.
Coffee pick me up or lunch at Little Brick Café
Located in the Riverdale neighbourhood, the Little Brick Café and General Store, is housed in the historic J.B. Little home, in what was once the centre of the Edmonton brickworks industry.
It's the perfect place to go for breakfast, lunch or a coffee pick-me-up. Parking is easy and getting there was quick – five minutes tops – from the hotel.
I love the fact it's almost hidden within a real neighbourhood. In winter seating inside can be at a premium over the lunch hour but you can also grab and go. Put it on the must visit list.
Go cross-country skiing at Strathcona Wilderness Centre
Head out of town to the Strathcona Wilderness Centre, located just 40 km east of downtown Edmonton. It's a real gem for cross-country skiers and snowshoers.
While the short snowshoe trail is free, there is a small charge to ski. Spend a very pleasant half day skiing loops – most in the easy and intermediate category. The area was far more beautiful than expected and the snow better than any of the trails in Edmonton itself.
Continue to Elk Island National Park
It's easy to combine a ski trip to Strathcona Wilderness Park with a visit to Elk Island National Park ("home to more bison than there was in all of North America in 1890″ according to their map) as they're only a 12 minute drive apart.
Elk Island has an awesome number of snowshoe trails to explore – so you can spend from an hour to a full day on the trails. Snowshoe rentals are available at the Visitor Centre between 9:30 AM and 4:30 PM for $14/pair.
John and I chose to snowshoe on the trails just south of Oster Lake because we were told bison might be in the area. We came up short on the bison front but lucked out with a mouse seen running in tunnels just beneath the snow. It was actually a very cool sight.
From there we drove to Astotin Lake and contemplated skating but the wind was howling and with the sun starting to set, the temperature plummeted. We opted for a few photographs instead and a little warm-up by the fire.
Plan a trip to Elk Island to coincide with an evening of snowshoeing and stargazing
In short order a Zamboni will be out on Astotin Lake creating a skating trail around the closest island. That will be in addition to the rink used for pickup hockey. (Follow them on Twitter to find out when.)
The other thing you can do is sign up for one of their dark sky programs that combine stargazing, a guided hike and a campfire complete with bison sausage and smores. Book WELL in advance. Call 780-922-5790 to register. And now you know for next year.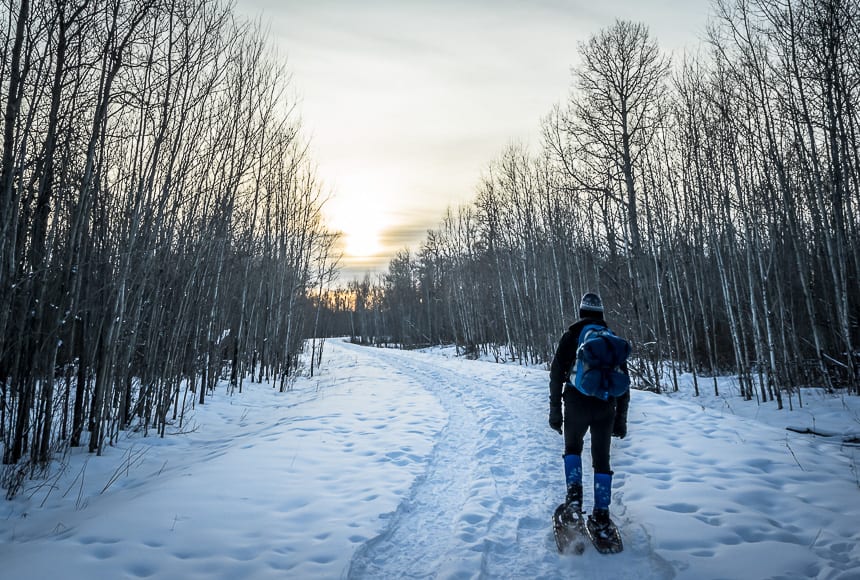 Go Mexican and eat at Tres Carnales Taqueria
For the days you want an easy, tasty meal that doesn't take a lot of time (we were short on time as we had a date with the Ice Castles) or break the bank, head to Tres Carnales Taqueria, a laid back Mexican restaurant just a five minute walk from our hotel in the downtown area.
Everything we ordered was excellent – from the guacamole y totopos to the tacos with carne asada. Not only was the food beautifully presented, but it was full of the best type of taste explosions.
I also liked their imported Mexican mango non-alcoholic drink – the perfect thirst quencher and rehydrator after a day outside. Line-up to place your order, then wait for a table. You won't wait long, despite appearances.
Finish the day with a romantic walk through Edmonton's Ice Castles
Started in Utah by Brent Christensen – who built an ice castle for his daughter and took the concept many steps further, the Ice Castles are found in cold cities including Edmonton.
Dozens of sculptors get to work in early December, freezing over one million litres of water (at the end of the season the ice melts, is de-chlorinated and drains back to the North Saskatchewan River) to construct the 250,000,000 pound ice castle.
Approximately 10,000 icicles are grown every day. Visit during the day so you can appreciate the fine details of the icicles. Go at night to catch the castle glowing thanks to multi-coloured LED lights frozen right into the ice.
Definitely dress for cold weather. Buy your tickets ahead of time as you must line up according to the time slot you bought for. Have fun. Kids especially will love the ice slides.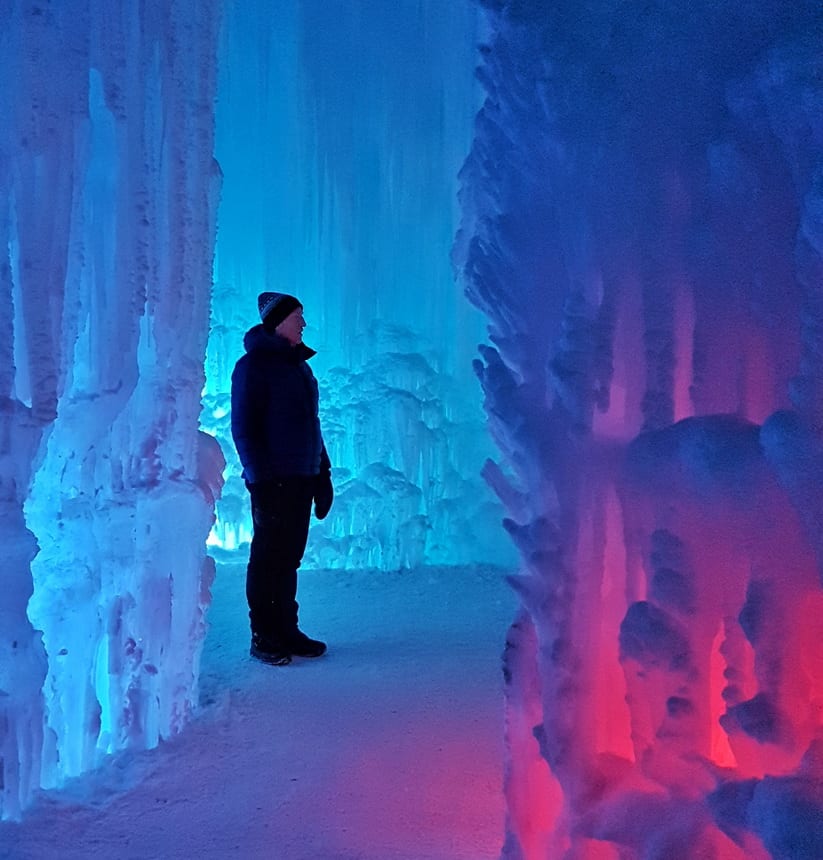 Go skating
Edmontonians are spoiled for choice when it comes to outdoor skating options. While we only had time to skate at the Victoria Park Oval, the rink at William Hawrelak Park, where the Ice Castles are located looks awesome.
Another excellent choice would be the rink on the grounds of the Alberta Legislature, especially in the evening when the 150,000 outdoor lights are glowing. Rundle Park also boasts an iceway through the trees.
At Victoria Park the oval is a 400 metre Olympic sized track, used by the Edmonton Speed Skating Association. So not only can you get your exercise – which we both did doing at least 20 laps, there is the romantic option of skating hand in hand through the trees on the iceway. Both parking and skating are free.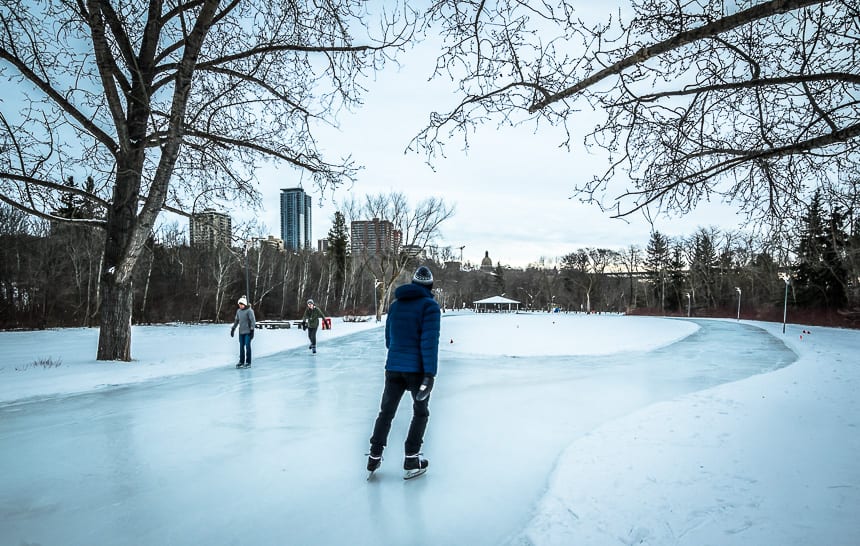 Check out the Deep Freeze Festival – depending on which weekend you visit
While the Deep Freeze Festival has come and gone, John and I were able to spend some time at it last weekend. It seems every weekend there's a festival in Edmonton – so before you visit check this website for a list of what's happening.
"Embrace the cold northern climate by enjoying artistic panache and authentic cultural and heritage winter games and fun." With that as a brand statement you can look forward to street hockey games, music, curling and skating, bonfires, food and at least when we were there an appearance by Rick Mercer.
With one liners like "Don't lick a Viking or your tongue will stick" (referring to the chainmail worn by one of the wannabe Vikings) it's easy to see why Rick Mercer garners an audience.
When I visited he joined the "hail to the pig" festivities which involved a lot of guttural sounds, walking the pig down the streets followed soon after by community eating of said pig.
On display too was community spirit, with people of all ages out talking, playing, huddling around bonfires and trying out maple taffy. Stilt walkers posed for selfies, musicians took over coffee shops – all in all a far more interesting experience than expected.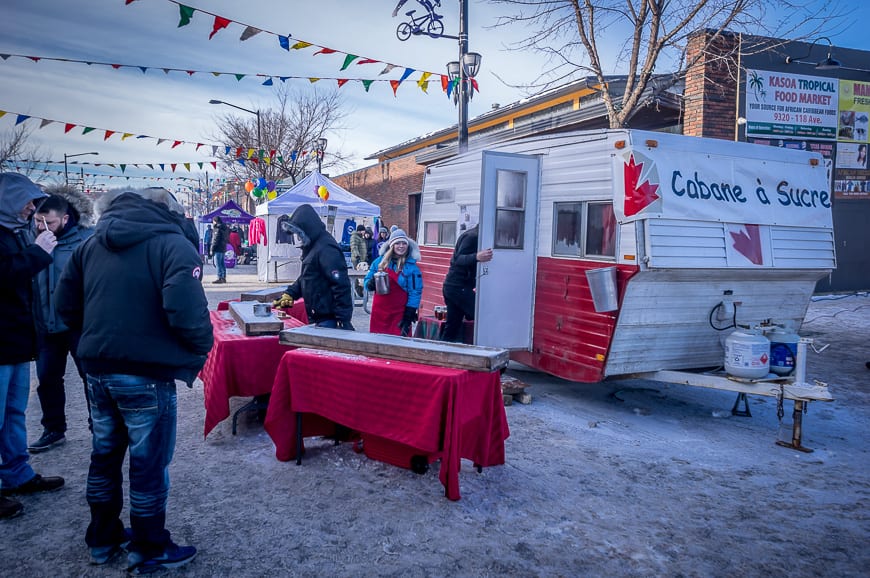 Take a Segway tour of the Edmonton River Valley
It was with some trepidation that I signed up for a winter Segway tour with River Valley Adventure Co. I'd heard of people falling ass over teakettle and I didn't want to be that person.
Fortunately Zoe DuCoeur, our instructor and guide for the tour, took the time to make sure we were all comfortable turning, stopping and getting off before we hit the trails in the Edmonton River Valley.
While you start off slow (no faster than 10 km/hour), that speed gets bumped up to 20 km/hour once Zoe feels you've got the necessary skills.
In summer you can even go faster. Over the course of an hour we not only explored some of the trails in the river valley, but we made our way through neighbourhoods, past busy intersections (lots of staring from people in cars) to reach a pedestrian only bridge over the North Saskatchewan River.
That was our turnaround point – which was a good thing as we were all started to get cold by then.
Though initially fearful, the Segway tour ended up being a whole lot of fun. Do it but if you go in winter, dress really warmly and wear a low profile toque or a buff so your helmet fits and doesn't look weird (cue my husband).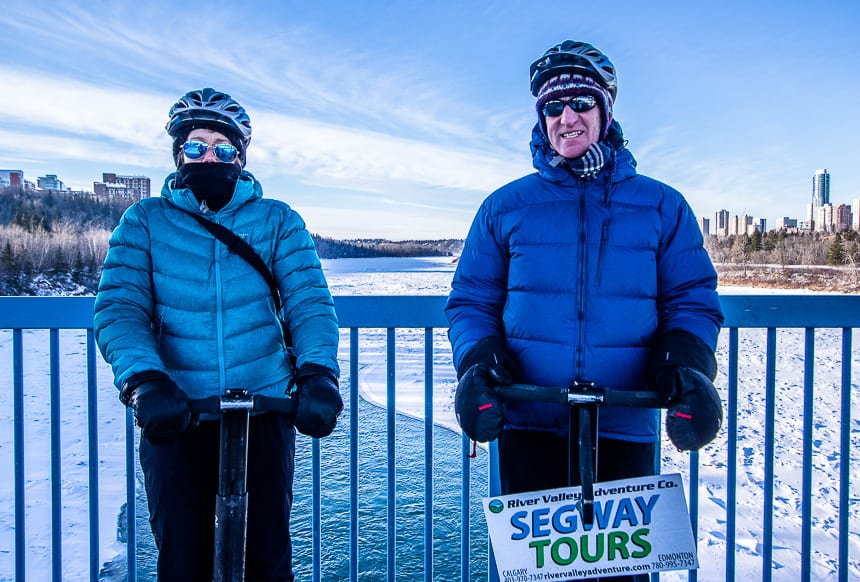 And so ended our wonderful winter weekend in Edmonton. I was amazed at the diversity of experiences we enjoyed over just two days. For all you Calgarians, remember Edmonton is only a three hour drive away.
Further reading about things to do in Alberta in winter
Click on the photo to share to your Pinterest boards.
Thank you to Travel Alberta and Explore Edmonton for all the great ideas and for making this trip possible.