I don't know of anyone who's been to Quebec City who hasn't loved the place. It's got a 400-year history set against the backdrop of a walled city filled with narrow, winding cobbled streets. The place oozes history and charm in a manner reminiscent of old European cities. The last time I spent any time in the city was back in university days when the Chateau Frontenac was actually the hotel we used for a week long ski trip. Unfortunately those prices are long.
If you're heading to the Quebec region, you might enjoy reading these 34 interesting and fun facts about Quebec City. Its a vibrant city with a terrific joie de vivre and one of the top cities to visit in Canada.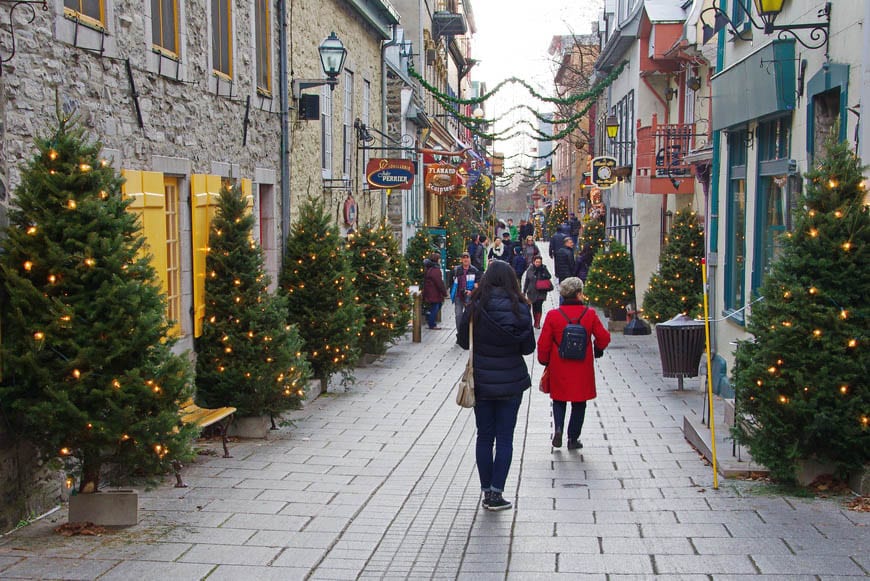 Quebec City – not Montreal – is the capital of the province of Quebec. It was named the capital in 1867 when Canada was created.
Quebec City sometimes just goes by the name Quebec. In French the city is called the Ville de Québec.
The word "Kebec" is an Algonquin word meaning where the river narrows.
Quebec City's location is at the intersection of the St. Lawrence and the St. Charles River.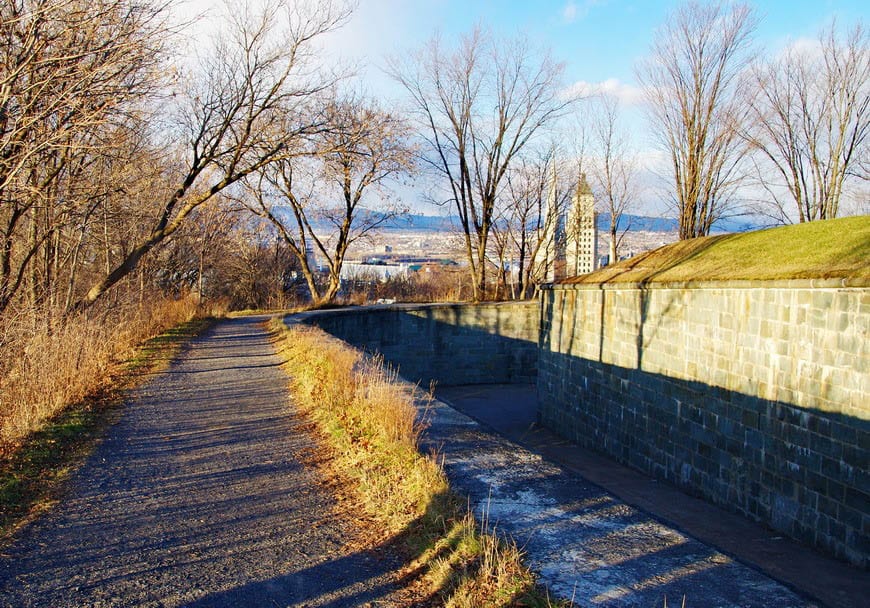 Interesting and fun facts about Quebec City history
Jacques Cartier, a French explorer landed here in 1535. It wasn't until 1608 when Samuel de Champlain arrived that a permanent wooden fort and fur trading post were set up.
Quebec City's 400th anniversary was celebrated in 2008. It's the oldest French speaking community in North America.
Quebec City is the only walled city north of Mexico. It has 4.6 kilometres of walls. They were primarily built for defensive purposes by the French in the 17th and 18th centuries. In present day Quebec City there are three towers, four gates, and the citadel.
The oldest part of Quebec City was declared a UNESCO World Heritage Site in 1985. It received UNESCO status as it is the only North American city to have preserved not only its ramparts but bastions, gates and defensive works that you can still see around Quebec City.
Fun facts about the population of Quebec City
The population in 2020 of Quebec City is approximately 826,109. In 1950 the population was 268,268.
Only about 1.5% of the population speaks English. French is the official language of the province and in Quebec City over 95% of the population is French speaking. But more than a third of the population can speak both English and French.
There is a surprisingly large Irish population in Quebec City. It's been estimated that almost 40% of the Quebec population has some Irish blood – largely because Irish inhabitants of France were sent here in the 17th century.
Quebec City's median age in 2021 is 43.3 – the oldest median age of any major city in Canada.
The city's main event is the Quebec Winter Carnival which takes place every year in February. It is the oldest winter festival held on a yearly basis in Canada. Enjoy a host of activities including skating, shows, snow sculptured, sledding, night parades and even a canoe race across the St. Lawrence River. Every year thousands of people brave the cold to attend and enjoy the excitement.
The Fairmont Chateau Frontenac is the world's most photographed hotel – as noted by the Guinness Book of World Records – and is one of the coolest fun facts about Quebec City. The building is 80 m tall, with 18 floors and 610 guestrooms. It is considered to be a luxury hotel and is truly a wonderful place to spend a few nights. The hotel was built by CP Railways starting in 1892 – to try and get people onto trains. They certainly succeeded.
Another fun fact about Quebec City is that you can sleep in La Monastère de Augustines, formerly part of Hotel-Dieu – a religious and hospital complex, started by the Augustine nuns in the 1600's. While I didn't stay here I did take a tour and marveled at the simplicity but beauty of the rooms. The onsite restaurant is also outstanding.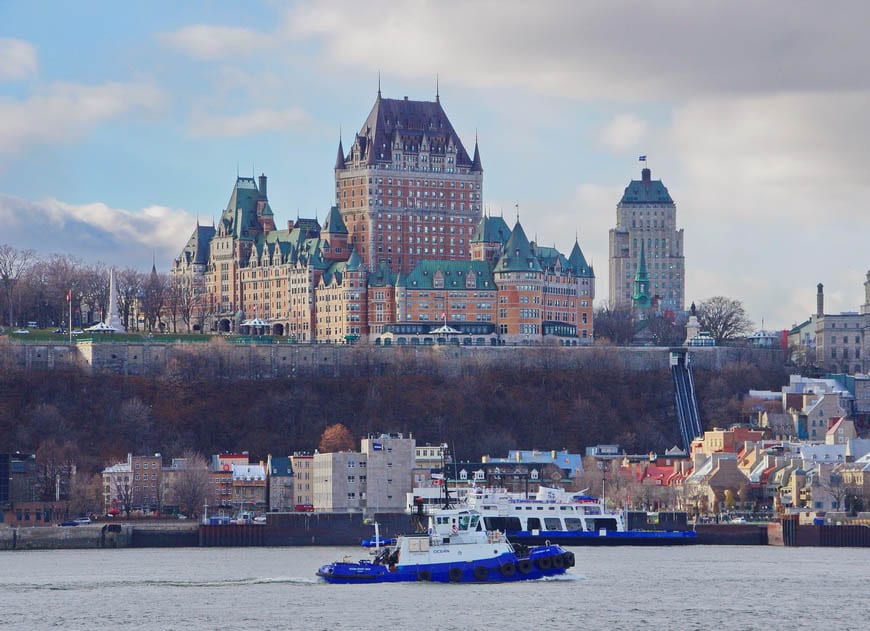 The Plains of Abraham is the site of the 1759 battle between General Wolfe and Montcalm. This is where Quebec's biggest holiday – St. Jean Baptiste Day gets celebrated every year. It's also a 103 hectare park used by tourists and locals alike on a year round basis. It's got a great skating rink in winter.
J.A. Moisan Epicier dating back to 1871 is the oldest grocery store in North America.
Eating is one of the many pleasures in Quebec City. The city is known for its poutine, crepes, maple syrup, maple taffy, French onion soup, pea soup, and tourtière. Quebec City is the first place I ever tried poutine – which is a high calorie concoction of French fries, squeaky cheese curds and gravy – along with all sorts of embellishments like foie gras depending on where you purchase them.
Maple syrup is a big deal in Quebec – and in Quebec City too. Almost 73% of the world's maple syrup comes from Quebec -and that number was 12 million gallons in 2019 – up significantly from the year before.
In Quebec, there is a maple syrup reserve system to help prevent shortages of this wonderful syrup – which I personally can't get enough of. There is a strategic reserve which is being tapped in late 2021 according to CBC.
Read – The Educational and Delicious Quebec City Food Tour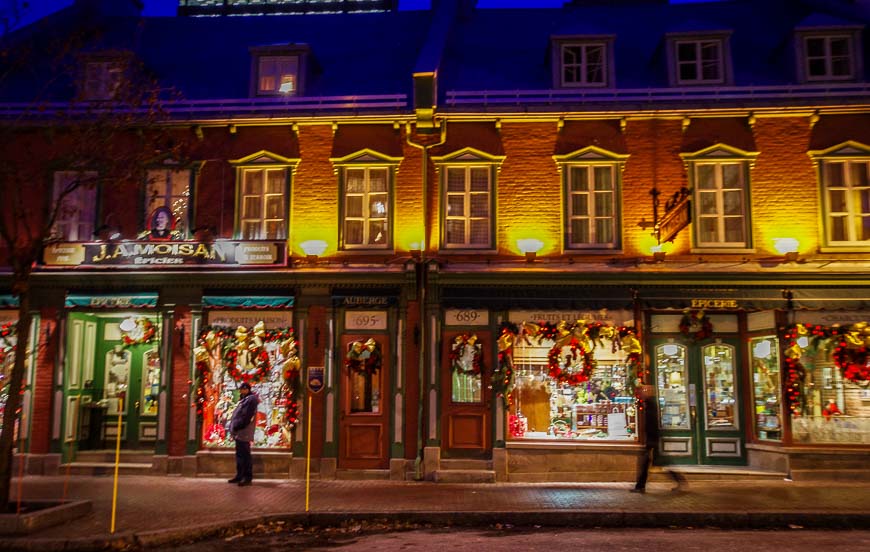 Fun facts about Quebec City related to weather
On the winter solstice, the sun rises at 7:27 AM and sets at 3:59 PM.
On the summer solstice, the sun rises at 4:51 AM and sets at 8:43 PM.
Quebec City has 149 days on average per year when the snow is at least one inch deep.
The average annual snowfall is 342 cm (135 inches) and the average annual rainfall is 86 cm (34 inches).
The average July temperature is 25°C (77°F) and the average January temperature is -7.8°C (18°F).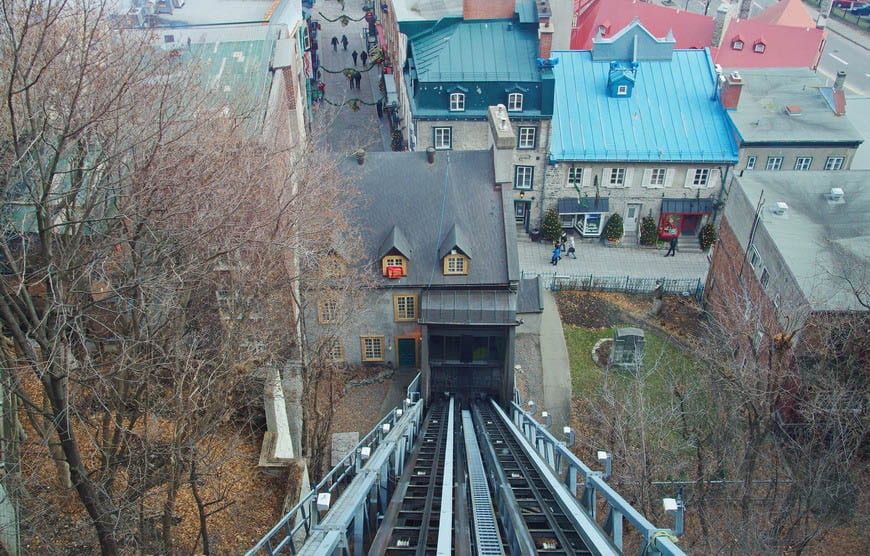 Museums in Quebec City
Quebec City is home to a Chocolate Museum. Other museums worth visiting include Musée National des Beaux-Arts du Québec – an art museum, Musée de la Civilisation, La Citadelle de Québec – North America's largest British fortress and Musée de l'Amérique Francaise – Canada's oldest museum.
There are 85 Roman Catholic parishes in the Quebec City area. The Notre-Dame de Québec Basilica-Cathedral near the Chateau Frontenac is the mother church of the Roman Catholic Archdiocese of Quebec. It ranks as the oldest Catholic parish in North America – and in fact remains on the same site where it was first built in 1647. Other churches you'll find in Quebec City are one for each of these religions – Anglican, Baptist, Presbyterian, Reformed, United, Greek Orthodox, Jewish, Muslim, Jehovah's Witness and Buddhist.
One of the fun facts about Quebec City is that the legal drinking age in Quebec City – and all of Quebec for that matter is 18.
La Brasseries du Roi translated as the king's brewery was founded in 1668 by Jean Talon. It was the first commercial brewery in Canada.
The provincial government is the largest employer in the city.
Skiing near Quebec City
There are three ski resorts close to Quebec City – Mont. Ste. Anne, Stoneham and Le Massif. Mont Ste. Anne offers great views of the St. Lawrence River and a vertical drop of 625 m. Le Massif boasts the highest vertical east of the Rockies at 770 m. Stoneham comes in with a 345 m vertical. New in late 2021 in a Club Med – their first mountain resort in North America. You'll now find a whole lot more to do than just skiing.
There are 37 National Historic Sites of Canada in and around Quebec City.
Quebec City is home to Laval University, with 64% of the campus covered in green space and trees. It also has over five kilometres of underground tunnels and a library that contains over six million documents.
Montmorency Falls
Not far from downtown Quebec City sit the beautiful Montmorency Falls. At 83 metres tall, they are a whopping 30 metres higher than Niagara Falls. You'll find lots to do around the falls including ziplining and a walk along a boardwalk that provides some airy views.
Have you ever been to Quebec City? What made your visit memorable?
Other posts in my fun facts series you might enjoy.
Click on the photo to bookmark to your Pinterest board.