When the chance of a tour of the Ice Hotel in Quebec City (called the Hôtel du Glace in French) presented itself, I jumped at the opportunity. I'd heard about the hotel for years and I was curious about what it would actually look like. And I wanted to know just how cold it felt inside. As I found out, the Ice Hotel in Quebec City is far more beautiful than I ever imagined it would be – and far chillier too – though that might be because on the day we visited it was really cold outside.
Dressing warmly is crucial to enjoying a tour. The Ice Hotel in Quebec City is a popular place. Over a million visitors have been through the doors since it opened in 2001 and approximately 43,000 people have had the pleasure of sleeping in the hotel.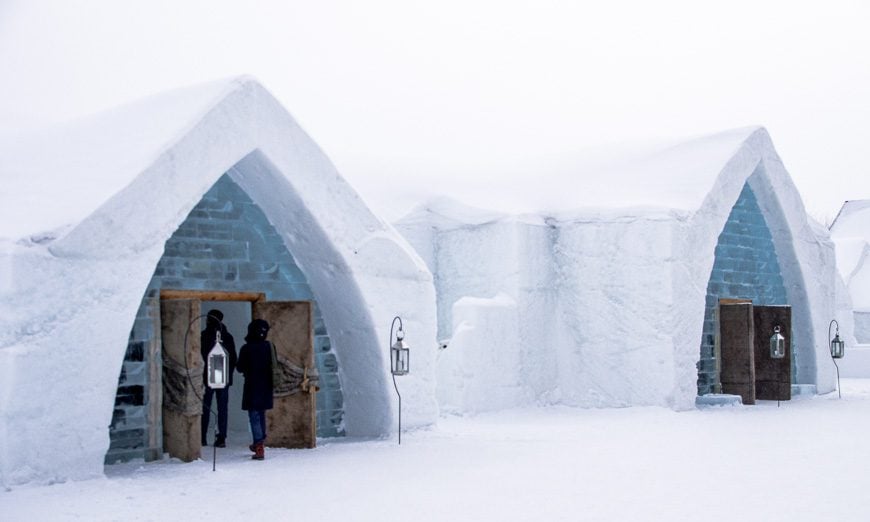 Construction of the Ice Hotel in Quebec City begins in December
Construction of the hotel begins in early December. Temperatures need to stay below 0°C for at least a week before the building starts. Over the course of six weeks, approximately 50 people get involved in the construction, including 15 sculptors.
It is the only ice hotel in North America that is entirely made of ice and snow. In total, some 500 tons of ice and 30,000 tons of snow are used to construct 30,000 square feet of buildings.
The snow is made onsite with the assistance of snow blowers. The end result is 44 rooms – many with a theme to them (myths and legends from around the world the year I visited), an ice bar and an ice chapel plus a Nordik area with a sauna and hot tubs.
What the bedrooms are like
Most of the bedrooms I saw at the Ice Hotel in Quebec City were themed and really if you're going to spend the night I think it's worth coughing up the extra money to stay in one of these rooms. If money is no object choose the room with its own private hot tub.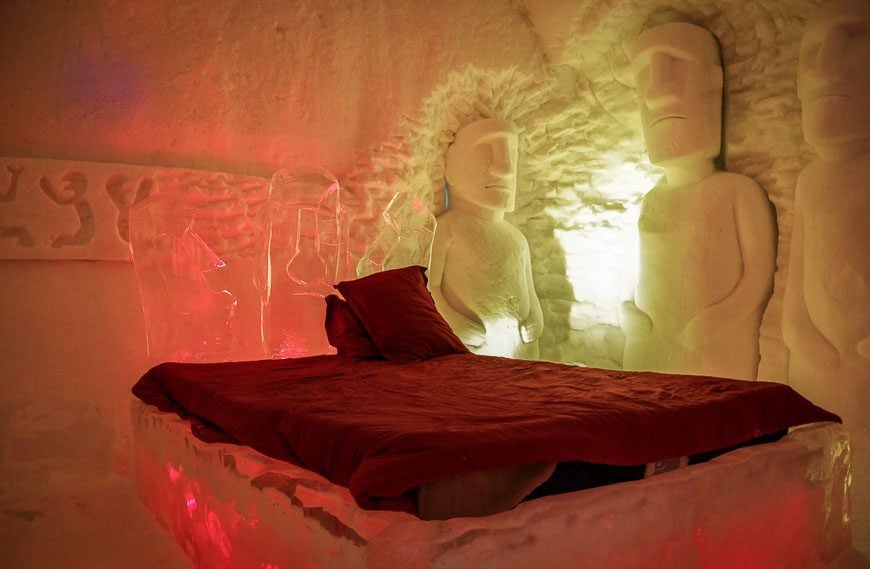 How about a cocktail out of a glass made of ice?
I don't usually drink anything but tea in the middle of the afternoon but sometimes you have to make an exception. This was one of those exceptions.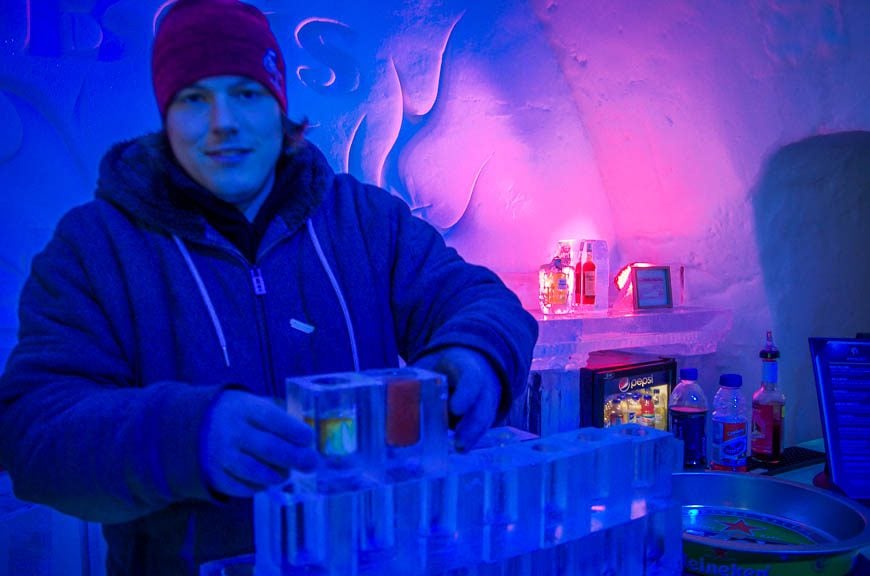 The sliding is faster on your knees. Rest assured that adults have just as much fun as the kids.
Do you want to get married in the Hotel de Glace?
Apparently about 28 couples a year tie the knot in this chapel.
Additional information about the Ice Hotel in Quebec City
Overnight stays start at $399 (plus taxes) per couple in 2022 and includes a cocktail, access to the spas and sauna as well as breakfast.
The hotel is open every day from 10 AM until midnight. You have until March 23rd this year to visit.
If you're in Quebec City in the winter, its well worth including a tour of the Ice Hotel. It's not only an interesting experience but a fun one as well. The hotel is only about a 15-minute drive from downtown Quebec City.
If you want to stay in the Ice Hotel in Quebec City
A night in the Ice Hotel is not for everyone but for those that think it would be a great once off experience you can book a night right here. A night isn't inexpensive but this is not something you're likely going to do again.
Further reading on things to do in Quebec in winter
Click on the photo to bookmark to your Pinterest boards.