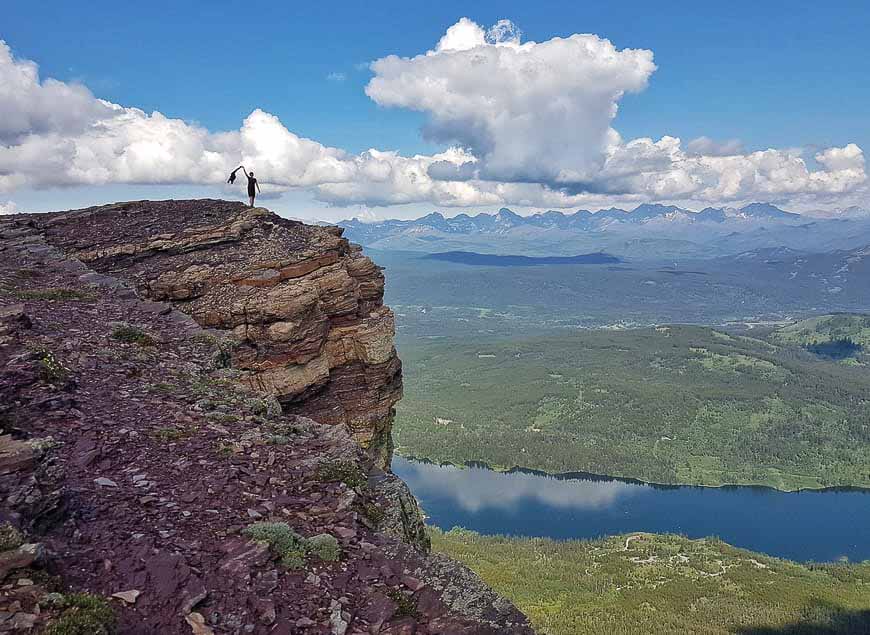 Table Mountain Hike Alberta – Tops for Views
You're in for a treat if you do the fabulous Table Mountain hike in southern Alberta's Castle Provincial Park. Locals have known about the hike for years but it's only starting to come into its own now that the area has received provincial park status, more infrastructure is in place and images are starting to show up on Instagram – capturing people's imagination.
Table Mountain hike Alberta – what's so special about it
It's the views and the photo ops on the top of the mountain that speak to everyone who hikes it. Scroll down and you'll see what I mean. I also love the fact that once you're at the top there's lots of exploring to do.
Table Mountain Trailhead
Finding the Table Mountain trailhead turned out to be easier than expected. From the hamlet of Beaver Mines take Highway 774 south for 20 km following the signs to Beaver Mines Lake Campground.
Enter the campground continuing straight for about half a kilometre. You'll notice trail signage and a trailhead as the road begins to bend left. Parking here is free.
Visit Google maps for an exact location here.
This post includes some affiliate links. If you make a purchase via one of these links, I may receive a small commission at no extra cost to you.
The route up Table Mountain
You're not going to find much in the way of signage once you leave the parking lot. Fortunately now that the Table Mountain hike is becoming popular, the trail is much easier to follow than it was a few years ago.
You start off in thick vegetation as you can see in the photo below. On the day we did it the ground was slick and muddy so a set of poles would have come in handy for the descent.
Continue until you reach a clearing overlooking a large stream bed. It first appears that you should head down to the stream. But don't.
Look left and you'll notice a trail heading up through the vegetation. Stay on this, making noise as you're in bear country, until you clear the trees. At some point along the way you'll pass into Castle Wildland Provincial Park.
Read: Tips for Staying Safe in Bear Country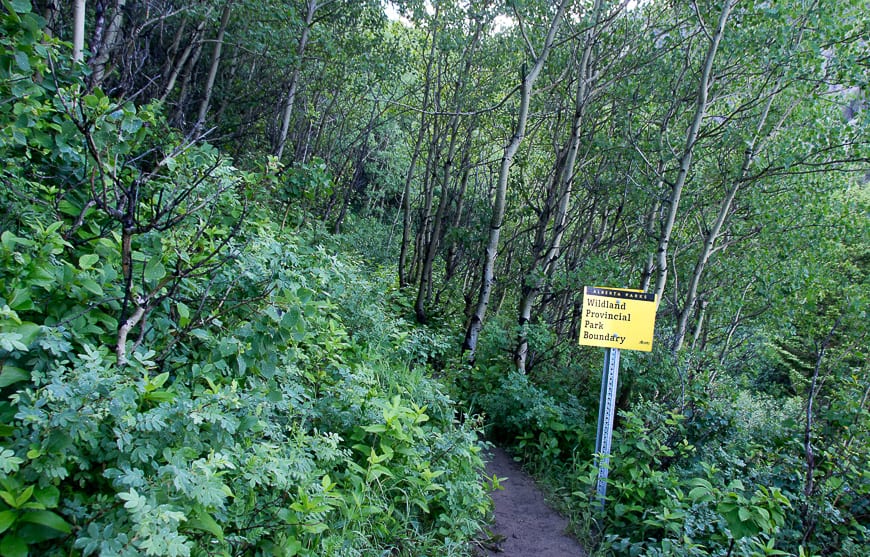 When you clear the trees, after a solid 30 minutes, the hiking gets easier, at least for a short time. And the views kick in. Follow the well-worn trail keeping left of the stream as it moves into scree and rock.
There are a couple of places that could be called a scramble as using your hands to pull yourself makes it easier, but don't sweat this section. Just take your time, watching your foot placement so you don't dislodge rocks. And every so often look up high on the mountain ridges as you may see bighorn sheep.
As you get into the scree you'll notice red markers, either painted on the rocks or on short poles – like those you see marking a driveway. Just keep looking for them and you'll stay on the trail.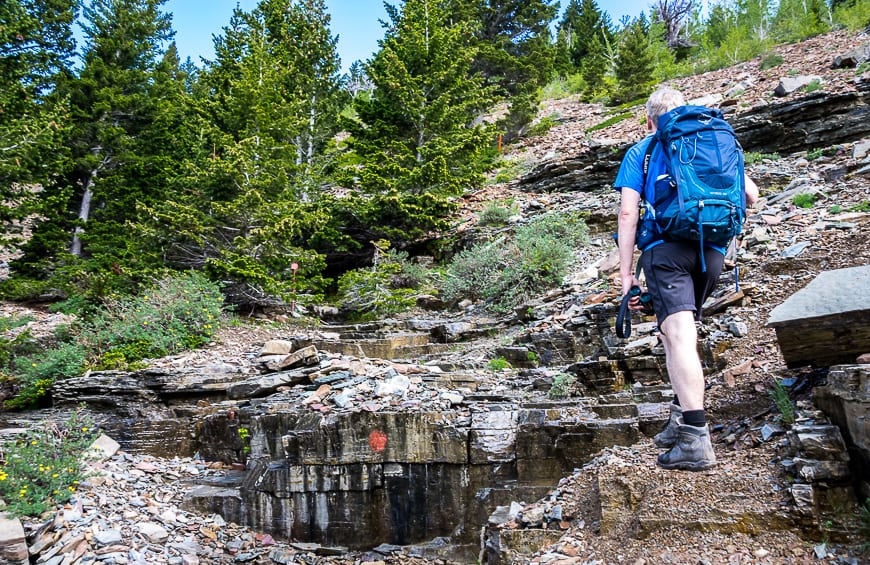 The last section of trail is very steep but you can taste the summit – and at most I'd say it's half an hour away.
The summit of Table Mountain is exactly that – table-top like
And then quite suddenly you're over the edge and on the mostly flat-topped summit. The views are spectacular but getting anywhere near the edge will challenge those with vertigo. Play it safe and don't so anything stupid for the sake of a photo.
Many people end their hike here in the summit but if you've got another 90 minutes in you, continue to the peak in the distance via grassy, mostly gentle slopes.
It's a wonderful section of easy hiking and the short stretch through the trees is full of wildflowers. When you reach the top, look over to Table Mountain and savour the views.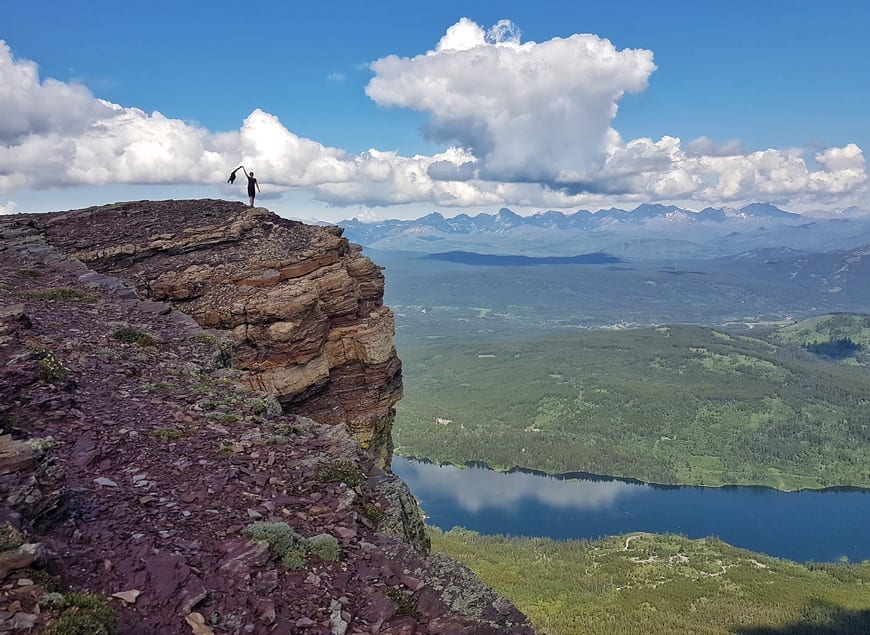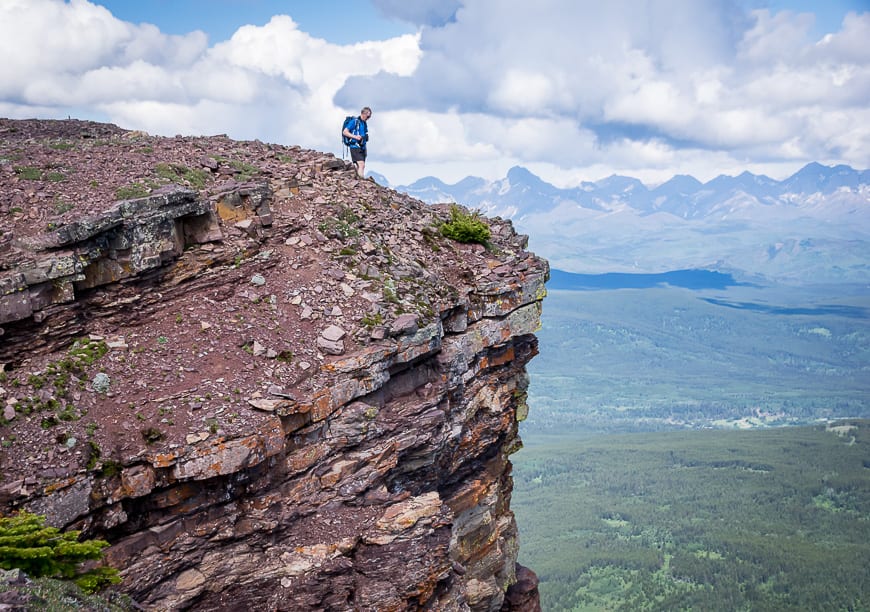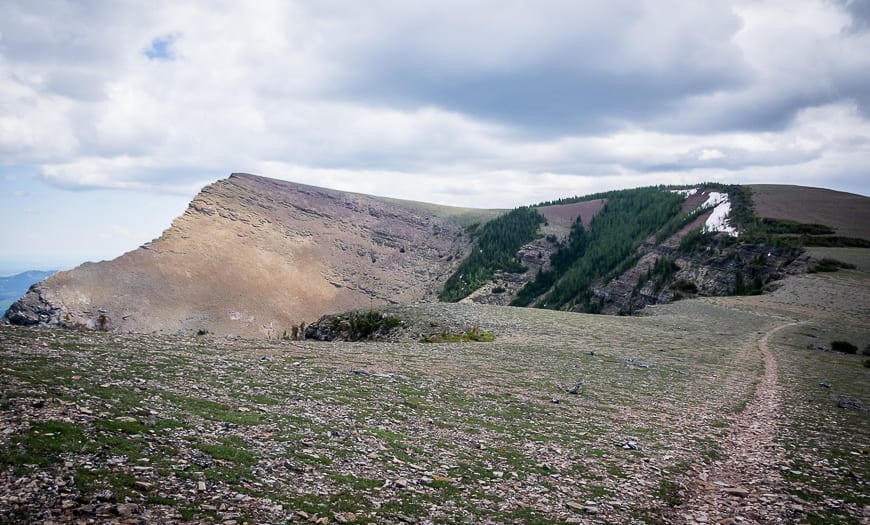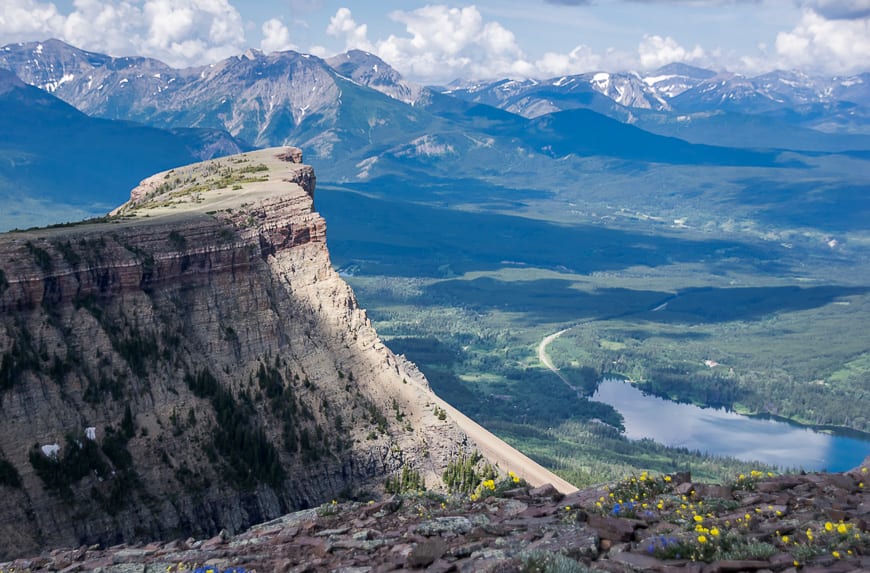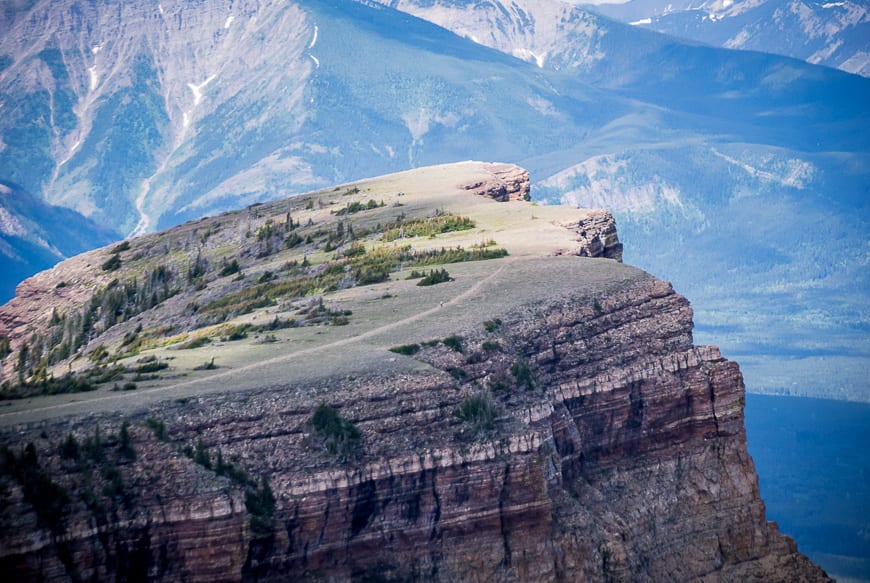 The descent though steep didn't seem to be nearly as tough as I'd expected. It was easy to avoid the ball-bearing sized stones (the worst for going over on an ankle) and sidestep down the mountain. Even the muddy sections weren't quite so bad – but I did find a stick that I used for balance.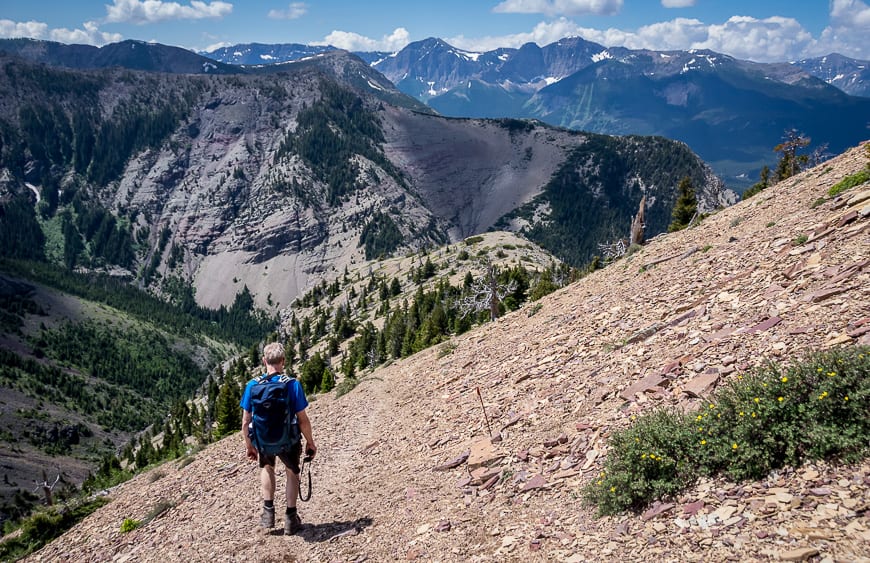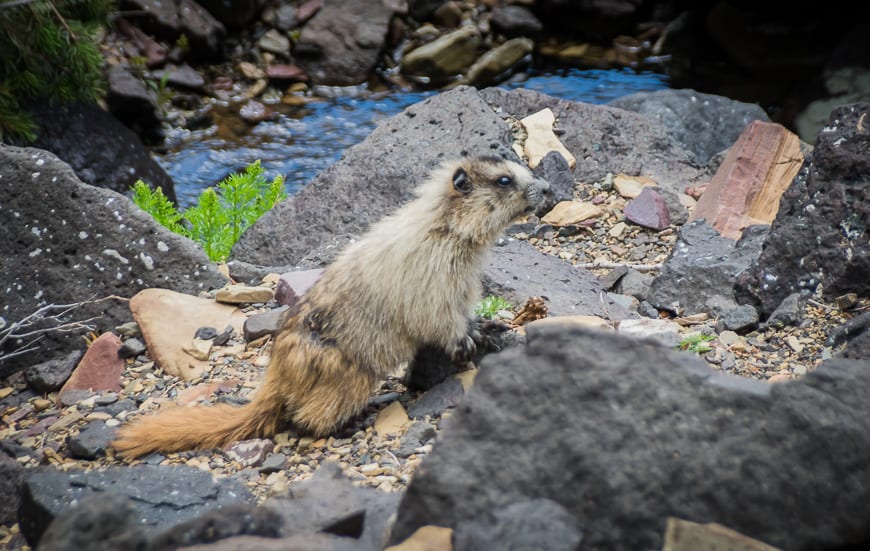 Time and distance for the hike
The Table Mountain hike is reportedly 10 km return with 700 m of elevation gain. We were up on the summit in 90 minutes though I think the average hiking time is about two hours.
Allow at least another 90 minutes to do a side trip to the peak beyond Table Mountain. Dogs are allowed (keep them on a leash) and there is a stream with drinking water at around the halfway point of the hike.
Southern Alberta is famous for its winds. Cue the wind turbines you see from the summit of Table Mountain. So even if it's a hot sunny day, take something warm for the top and if the wind is gusting stay well back from the edge.
The hike is best done when the snow has melted so plan a trip between late May and mid-October. For information on all the campgrounds in Castle Provincial Park read A Visit to Southern Alberta's Castle Provincial Park.
If you're planning to spend anytime in southern Alberta I'd recommend picking up a copy of Southern Alberta – Backroads Mapbook.
For more ideas on hikes the Castle and Crowsnest area pick up a copy of Andrew Nugara's latest book (spring 2021) – Popular Day Hikes – The Castle and Crowsnest. I got a whole lot of new ideas from it including a couple of fall larch hikes.
A few other things to take on this hike beside the 10 essentials include a buff for the top if its windy, lightweight but strong hiking poles and an inflatable seat cushion so you can comfortably enjoy your lunch at the top.
Further reading related to southern Alberta
Click on the photo to bookmark to Pinterest.