If you want to get close to nature, but not so close that you're sleeping on the ground, give glamping a shot. For those of you new to glamping it's basically camping but with amenities like comfortable beds, heated blankets or fans and indoor toilets – luxurious additions by traditional camping standards. Glamping in Ontario is growing in popularity and one place in particular – Long Point Eco Adventures in St. Williams, offers a luxury glamping experience combined with adventure and wine. That's not a combination you find often.
Not only that, but the Long Point Eco Adventures glamping site sits high on the escarpment overlooking the UNESCO-designated Long Point Bay World Biosphere Reserve. And it's only a two hour drive from Toronto.
Long Point Eco Adventures offers different levels of the glamping experience
At Long Point Eco Adventures you can choose from three levels of glamping; camping pods, wilderness pods and wilderness suites. The camping pod offers a rustic cabin with beds – but there's no indoor plumbing. Move up to the wilderness pod to get a comfortable bed, a flush toilet and electricity.
Want to be spoiled?
Choose a wilderness suite that offers a supremely comfortable, well-appointed bed, with an electric blanket for cold nights, electricity (so you can charge your phones), an indoor toilet and best of all an outdoor shower under the stars. That's where I stayed and did I ever sleep well!
With suites looking out to the woods you're bound to hear the sweet song of a variety of birds. Pull up your Adirondack chairs, pour yourself a glass of wine (purchased across the street at Burning Kiln Winery) and unwind.
What can you do at Long Point Eco Adventures?
You'll find a long list of activities and adventures you can do either on the property or nearby assuming of course you want to do something other than relax – either in your pod or around one of the campfires with a view out to the marshes and Lake Erie.
Some of the activities you can try onsite at Long Point Eco Adventures
Axe-throwing (now that's what I call a stress reliever)
Both a day and night time ziplining tour (it's a 2.5 hour adventure that includes eight ziplines, two suspension sky bridges and a 40 foot rappel)
Onsite stargazing tour at the observatory.
Birdwatching on the property is also excellent.
Offsite you can sign up for mountain biking, road biking, kayaking, fishing and zodiac boat tours. They also offer an apiary tour where you put on a bee suit, a mushroom foray with wine pairing and because you're in wine country there are local wine tours though it's also easy to visit the wineries on your own. Nearby there are also a couple of cute towns to explore – Port Dover and Port Rowan.
If you're bored here, your life needs a reboot.
Unfortunately I just had 24 hours but still I managed to do a surprising number of activities.
I highly recommend the four hour guided kayaking tour on Big Creek – no matter what your experience level. Wind through Carolinean forests finishing near Long Point's Inner Bay, stopping many times to add another bird to your life list.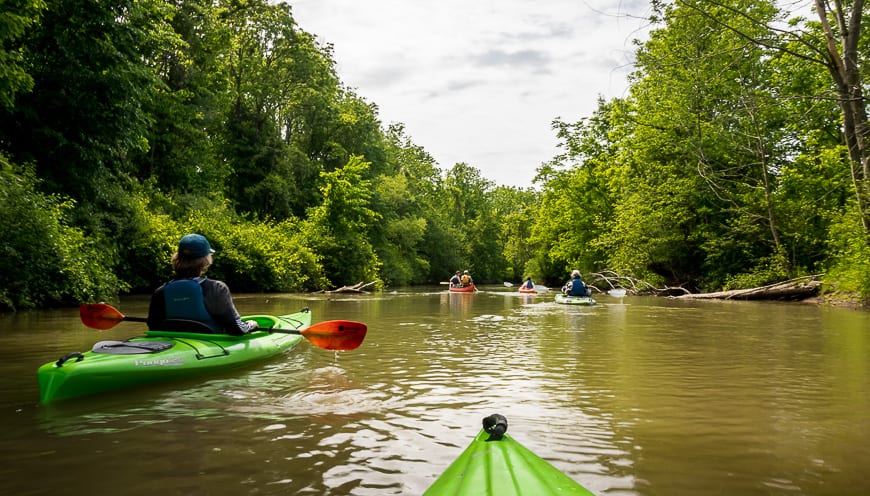 Hop on a bike and pedal through wine country. Though I didn't stop for wine tasting, knowing dinner was going to be at the Burning Kiln Winery, I did enjoy the rolling hills and the scenery with peek-a-boo views out over Lake Erie.
I also suggest the quick and easy cycle over to Sandbar on the Beach with its scenic patio in Turkey Point – just minutes from Turkey Point Provincial Park. Score a table with a Lake Erie view for either lunch or dinner.
Where can you eat at Long Point Eco-Adventures?
A serve yourself breakfast is included in your stay at Long Point Eco-Adventures. They offer everything from cereal, yogurt and fresh fruit to eggs, pancakes and toast. It's buffet style and very relaxed.
The dining room is housed in a building with massive windows to let nature in so you may find yourself drinking copious cups of coffee like I did, just so I could enjoy the setting.
At lunch time there's an onsite food truck with a limited menu but it means you don't have to leave the property. Of course you'll find restaurant meals in the nearby towns if that's what you're after.
Dinner when you're glamping
For dinner at Long Point Eco Adventures, I'd recommend the five minute walk across the street to the Burning Kiln Winery so no one has to be the designated driver. Sit on the outdoor patio and enjoy a flight of wines with an excellent meal. I recommend picking up a bottle of their magnificent Cab Franc wine when you leave.
NOTE: If you're thinking of a trip to Southwest Ontario read 30 of the Best Things to do in Southwest Ontario before you go.
While I was a guest of both Southwest Ontario and Norfolk County Tourism I can assure you that I truly loved the place. There's something about glamping and getting close to nature that I always find appealing. For more information on the types of programs they run (corporate retreats, girlfriend getaways) visit their website here. And start planning your weekend getaway.
Further reading on things to do in southern Ontario
Click on the photo to bookmark to your Pinterest board.