I hadn't planned to hike Sagamook Peak in Mount Carleton Provincial Park in northern New Brunswick. But sometimes you have to be flexible in your thinking. I'm a peak bagger at heart. And I had come to bag Mount Carleton – the highest peak in New Brunswick – at 820 metres and the highest peak in the Maritimes.
But after a lot of humming and hawing and chatting with the Mount Carleton Provincial Park person, I elected to do hike to the top of Sagamook Peak at 777 metres instead – for one reason – better views.
Now you'd think you get the best views at the top of the highest peak but as it turns out you get views of trees – about ten million of them, but many of those trees are being logged and there are no lake views whatsoever. I wanted ten million trees and a gorgeous lake view. And that's just what I got on Sagamook Peak.
This post includes some affiliate links. If you make a qualifying purchase through one of these links, I will receive a small percentage of the sale at no extra cost to you. Thank you for your support.
The loop hike to Mount Sagamook Peak
The trail to Mount Sagamook Peak is very steep at times – a bit like a stair master except that it's in the woods. Fortunately the trail to the top is only 2.3 kilometres long if you hike the loop in a counter-clockwise direction, 3.5 kilometres hiking it the other way.
No matter how you do it, pay attention to your footing as numerous roots and rocks, especially if it's wet, will conspire to trip you. (It's best to descend on the longer, east route.) Don't expect much in the way of views until you reach the signed lookouts or the summit.
The hiking is very pleasant though through open woods much of the time. On the descent I passed through a section thick with wild blueberries and near the base of the trail mushrooms were sprouting up too.
An option to hike to Mount Carleton
There is the option of hiking to Mount Carleton from Sagamook Peak – which would be great if you pre-arranged a car shuttle. The 5.1 kilometre trail to Mount Carleton heads off along a ridge just below the Sagamook summit.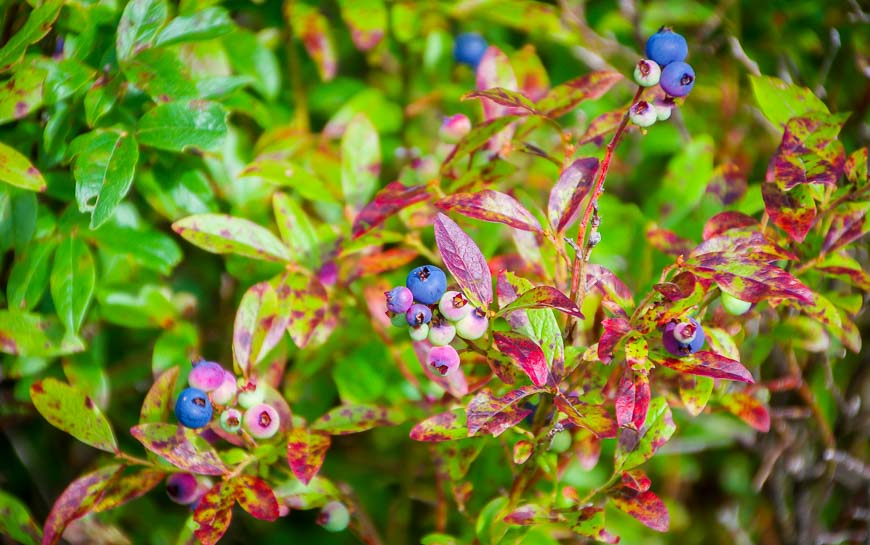 Where to stay near the park
If you like to stay in bed and breakfasts, check out Bed and Breakfast du Repos in Saint Quentin. It offers onsite hiking trails and access to a small lake.
What to take on the Sagamook Peak hike
Always pack the 10 hiking essentials.
For a comfortable rest stop on top, especially in damp weather pack an inflatable cushion.
Collapsible hiking poles are useful because of the terrain.
Getting to Mount Carleton Provincial Park
Mount Carleton Provincial Park is located in northern New Brunswick with Saint Quentin being the closest town. It's accessible via either Highway 385 – a scenic highway dotted with giant pot holes or a combination of Highway 17 and Highway 180.
All of the roads in can be dangerous at dawn or dusk because this is moose country and they can appear suddenly out of nowhere.
Logging trucks moving at high speeds on Highway 385 make it an even more exciting road to drive. The park charges an entrance fee of $8 per vehicle. Unfortunately it's only open between May 15th and September 29th – a real shame in my opinion – since many of those 10 million trees are covered in red, orange and yellow – after September 29th – and that's what out of town visitors are coming to see – but can't.
Mount Carleton Provincial Park doesn't see a lot of visitors – fewer than 30,000 people a year right now. As a result you're likely to have the trail to Sagamook Peak to yourself – as I did. The park would also be a great place to camp and canoe without the crowds and if you're up early you'd likely see a moose. It's a beautiful park and one well worth exploring.
Visit the Mount Carleton Provincial Park website for more information.
Further reading on things to do in New Brunswick
Click on the photo to bookmark to your Pinterest board.