Our second week of Baffin Island backpacking in Auyuittuq National Park involved retracing our steps from Summit Lake back to the fjord, an hour away by boat from Pangnirtung.
Although we could have done the return trip in about four days, we took a week – with a rest day in the Rock Garden and a slower pace compared to our hike in. In hindsight I would have chosen to do a Baffin Island backpacking trip called the Auyuittuq Traverse. It starts at Broughton Island, crosses Akshayuk Pass and then you hike back to the start of the trail where the boat drops you off from Pangnirtung so you never have to retrace your steps.
A layover day at Summit Lake before the return hike
Everyone in the group except me – because of an exceptionally sore ankle – hiked under sunny skies for about 24 kilometres to catch the view of Mount Asgard – a flat-top cylindrical rock tower that can be seen in the opening shot of the James Bond movie – The Spy Who Loved Me.
I'm sorry to have missed this view but figured it was better to look after myself than not.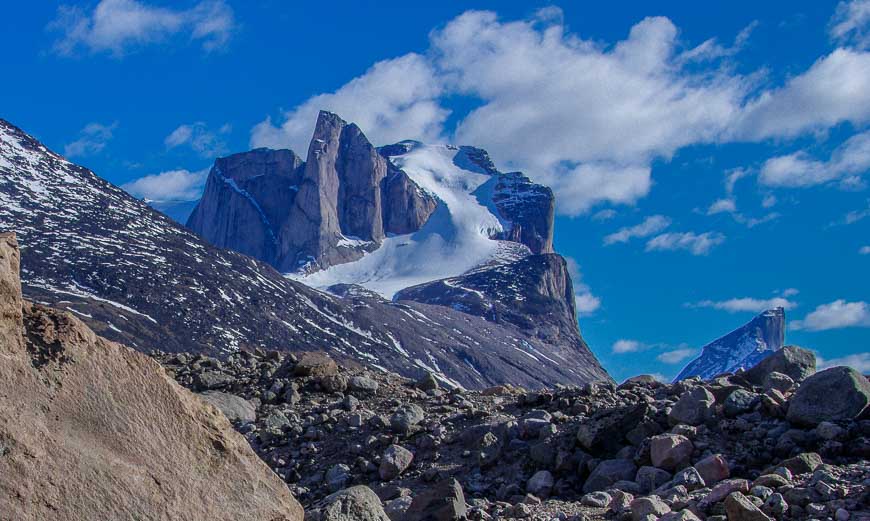 I spent a long day in camp by myself – catching up on laundry, reading and exploring. I did meet two American mountain climbers who hiked in that day with plans to climb a few of the surrounding peaks over the month of July.
They'd shipped all their gear and food up from California ahead of time – by plane and snowmobile – so it was waiting for them at Summit Lake. I'm curious as to what mountains they successfully summited.
On my day in camp I also hiked back on some of the moraines leading to Mount Asgard and wandered around with camera in hand looking for subject material.
Early in the morning on the day we left Summit Lake the sun was out for a short time. Then the weather changed and ended up being one of the more miserable days.
We had rivers to cross again on the return. I couldn't help marveling at a group of male hikers we ran into – all of whom looked like they had more outside their packs than inside.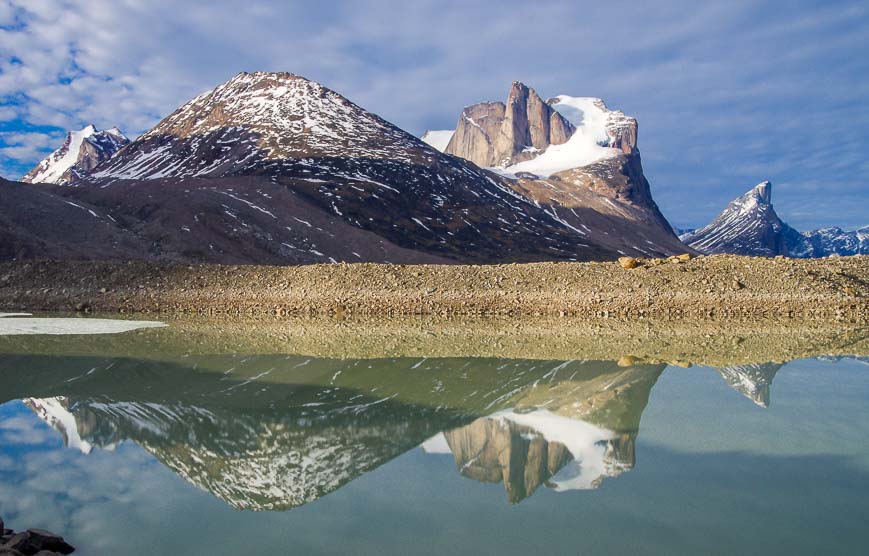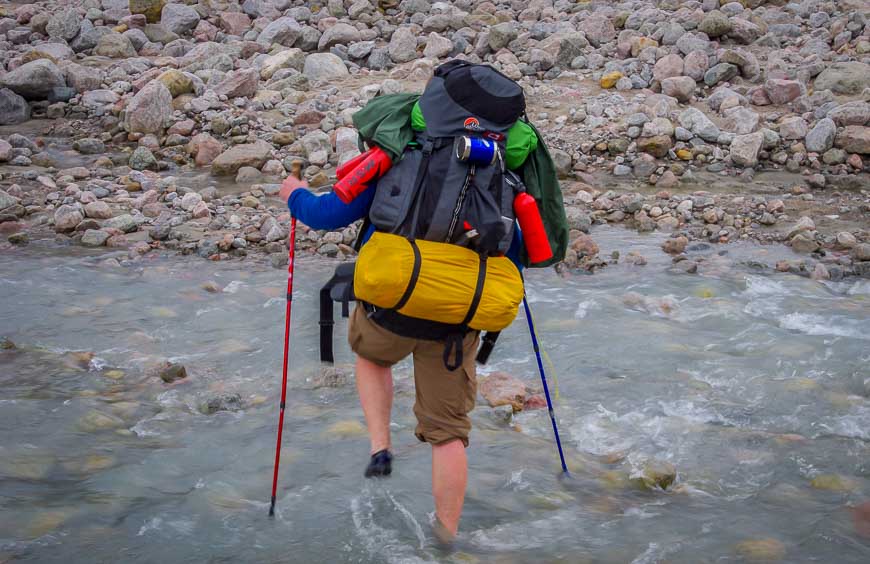 The Honeymoon Suite
We spent a few nights in what has been called "The Honeymoon Suite" – in effect a giant rock garden with boulders that were quite literally the size of Mack trucks. It was easy to spend a day exploring the area.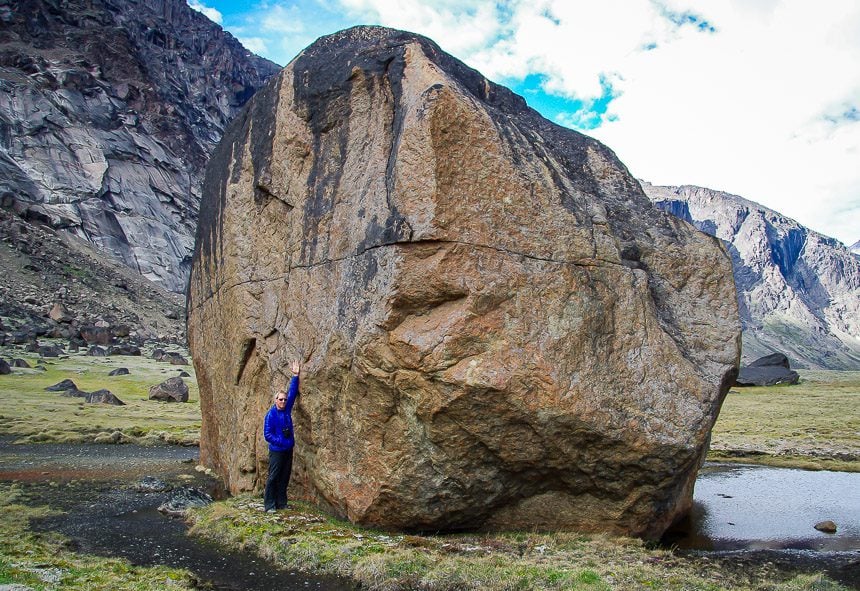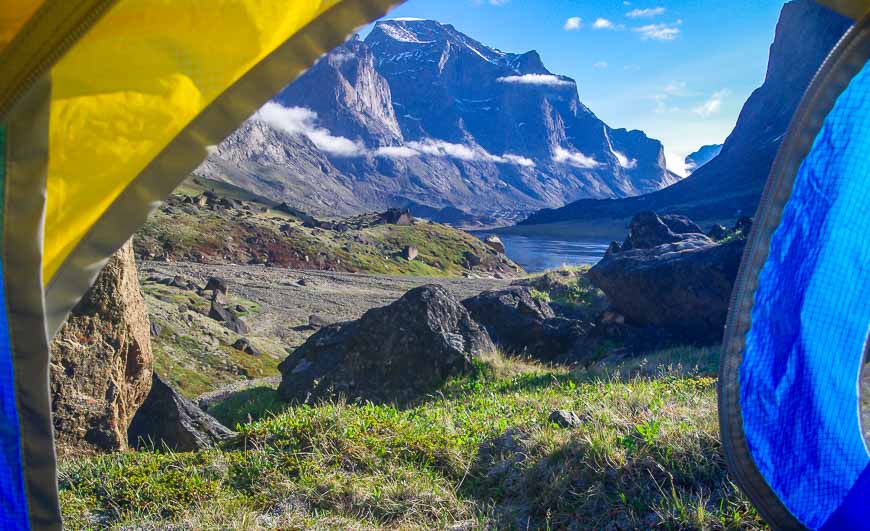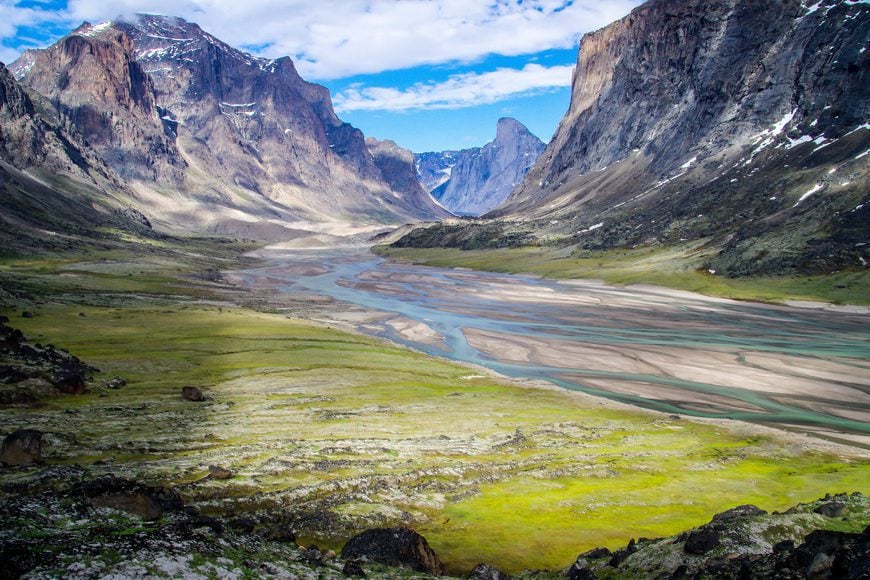 On our second to last day of hiking we climbed the sandy moraine around Crater Lake and stopped for a break at the top. By now the ice had left the lake so four of the gang decided a swim was in order. I think they just wanted to check out their gasp reflex.
After the swimming interlude we continued on – past what looked like sand castles but was ice covered by sand.
The hiking was easy for the last few days and our packs felt like they weighed nothing at all.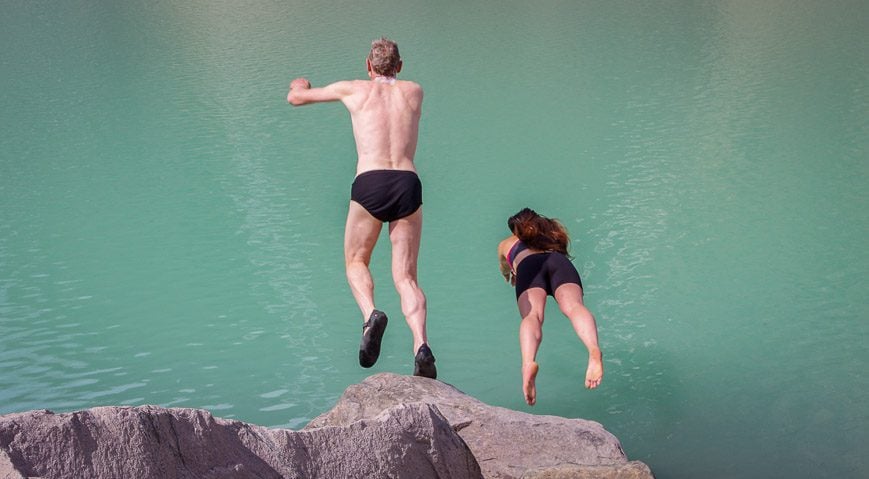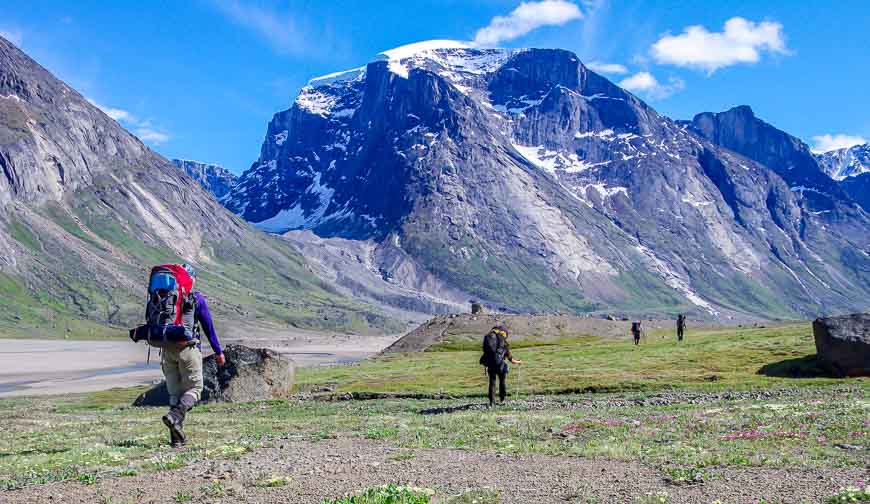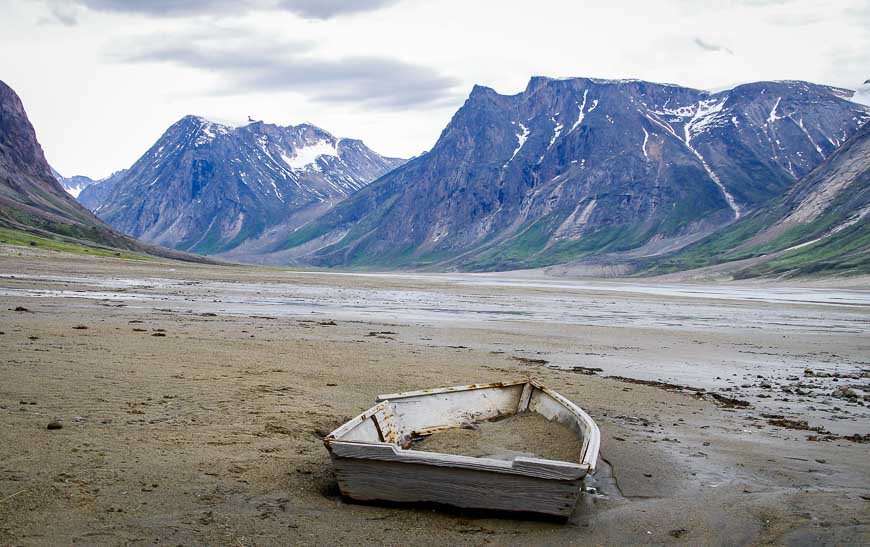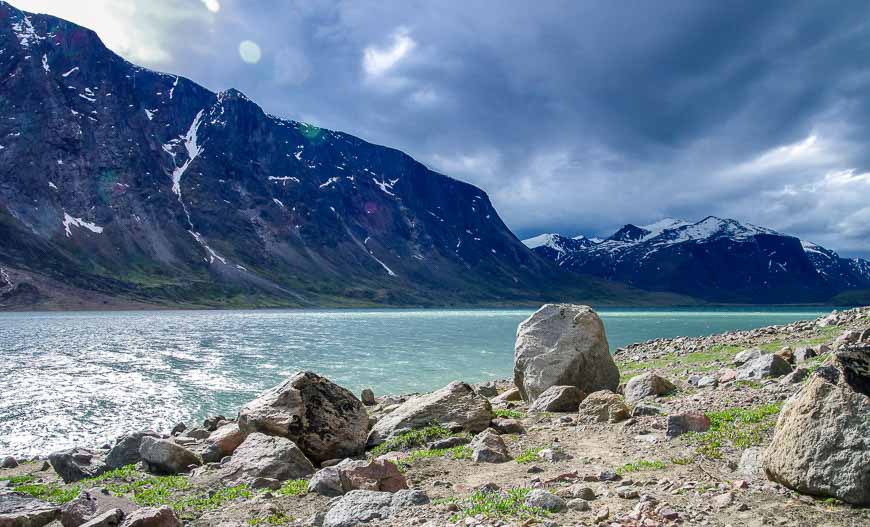 Our last night was an interesting one. We know that the winds clocked 110 kilometre an hour in Pangnirtung – so I'm sure we had the odd gust that was close to that. One tent had a set of poles snapped and there were times we could barely stand.
By the end our thoughts were all about hot showers, soft beds and clean clothes. I'm glad I did the two week Baffin Island backpacking trip in Auyuittuq National Park and now after a few years out from it, I'd be ready to do something similar.
For more information on Auyuittuq National Park visit their website.
Further reading related to Baffin Island backpacking in Nunavut
Click on the photo to bookmark to your Pinterest boards.