Every year about 175,000 people visit Hopewell Rocks in New Brunswick. It's one of the most popular attractions in the province appealing to people of all ages. Only a fraction of visitors actually try kayaking Hopewell Rocks, which also goes by the name – The Flowerpots. The cool looking rock formations are located on the Bay of Fundy, home to the world's largest tides.
Every day more than 100 billion tons of water reportedly flows in and out of the Bay of Fundy – as much as all the water contained in every freshwater lake and river in the world – though I can't imagine who did that calculation.
All visitors to Hopewell Rocks Provincial Park get a chance to see the wonderfully eroded rock formations though I think you have to have a good imagination to consider the shape to be a Flowerpot. Note that there's a shuttle if the kilometre long walk to the beach from the Visitor Center is a problem.
This post includes some affiliate links. If you make a purchase via one of these links, I will receive a small commission at no extra cost to you. Thank you very much for your support.
Kayaking Hopewell Rocks – where timing is everything
If you arrive at Hopewell Rocks within three hours on either side of low tide you can walk the ocean floor among the flowerpot rock formations. I did that and could have spent hours taking photos.
But I also booked a two hour kayaking trip with Baymount Adventures so I had the chance to see The Flowerpots from several different vantage points. I'd recommend the experience.
Kayaking Hopewell Rocks – what's it's like
Kayaking Hopewell Rocks on a tour around the flowerpots is very popular. It's easy and even better – its kid and family-friendly. Book well in advance in the summer.
Approximately 30 people were on our tour – though each group of 6 or 8 ended up with their own guide. After getting geared up with a life jacket, a spray skirt, a paddle and a dry bag we walked down to the beach.
For many it was there first time ever kayaking so the lesson on how to hold a paddle and the safety talk was useful. For me – not so much.
Let the tide float you off the beach
What was different for me compared to other kayaking trips was the way we launched. We all got in our kayaks, adjusted rudder pedals, did up our spray skirt and then waited for the Bay of Fundy tide to float us away – granted with a quick push to move things along from the guide.
The tide rises – and falls – so quickly – just under 6 feet an hour for 6 hours (it was a 39 foot tide the day I went) so it wouldn't have been long before we floated off naturally.
Over the next 1.5 hours kayaking Hopewell Rocks we explore the coast between the flowerpots, checked out some caves and paddled onto Shepody Bay. It's great fun maneuvering the kayak in tight places.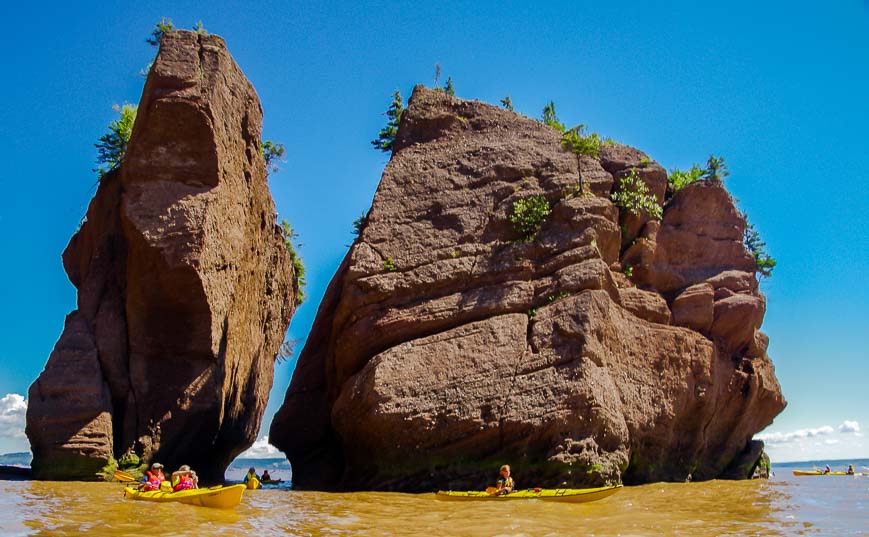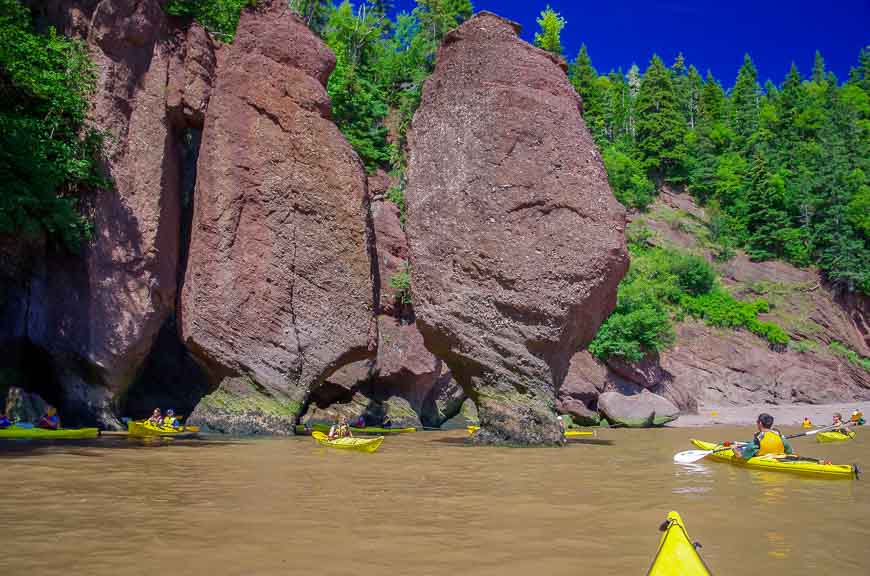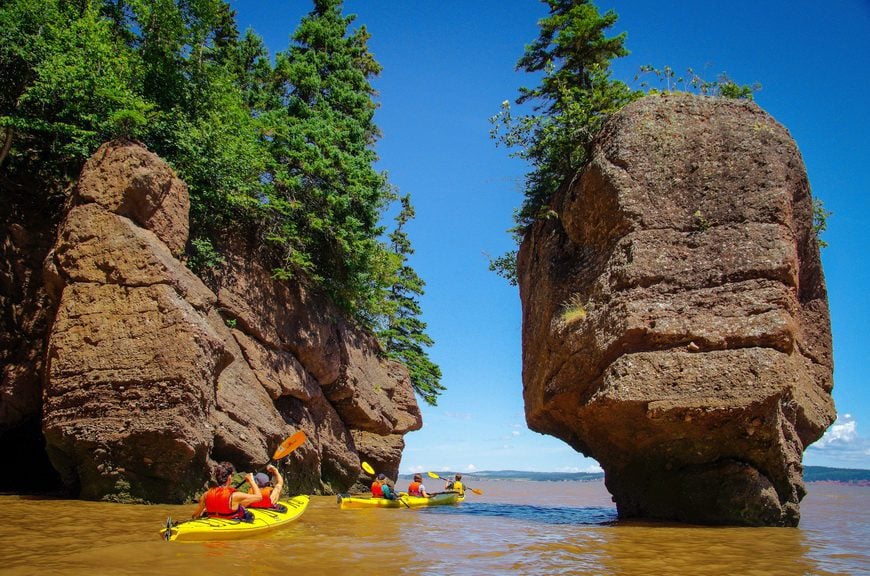 The semipalmated sandpipers at Hopewell Rocks
On our return to the launch site we were treated to the sight of thousands of semipalmated sandpipers – or at least I think that's what they were as they make up the bulk of the two million shorebirds that visit the Bay of Fundy every summer.
Other shorebirds that stop on their migration include the least sandpiper, the semipalmated plover and sanderlings. They come to the Bay of Fundy to fuel up on the nutrient rich mudflats for their trip to South America. It was a treat to see them – even from a distance.
Useful Hopewell Rocks information
In the summer the park is open from 8 AM until 8 PM. By late August the opening hours become shorter.
Adult admission is $15 per person – good for entrance on two consecutive days. Kids are $8.00 each. Seniors and youth get reduced rates.
The park is open from mid-May until mid-October. Visit their website to get up to date pricing and times.
The park is less than an hour's drive from Moncton.
Where to stay near Hopewell Rocks

The Shepody Bay Inn in Hopewell Cape, 8.6 km away is rated as excellent.

The Artisan Suites are even closer, at just 2 km from Hopewell Rocks. Suites offer king suites, a fully equipped kitchen, and a double jacuzzi tub. They are rated as excellent.

Mountainview Solitude Retreat, a sustainable bed and breakfast retreat, 17.7 km from kayaking Hopewell Rocks would also be a fine choice. It's rated as wonderful.
Further reading on things to do in New Brunswick
Click on the photo below to bookmark to your Pinterest boards.