It was a treat to visit Grand Manan Island in New Brunswick after I'd heard so much about the island for years. It's especially well-known for its untamed beauty, superlative bird and whale watching and cliff-side hiking.
In fact, Grand Manan Island is one of the top places for birders in all of Atlantic Canada. Located in a globally significant important bird area, the spectacular Grand Manan Migratory Bird Sanctuary Nature Reserve on the Bay of Fundy is one of the must see sights. Up to 300 species of birds have been observed here.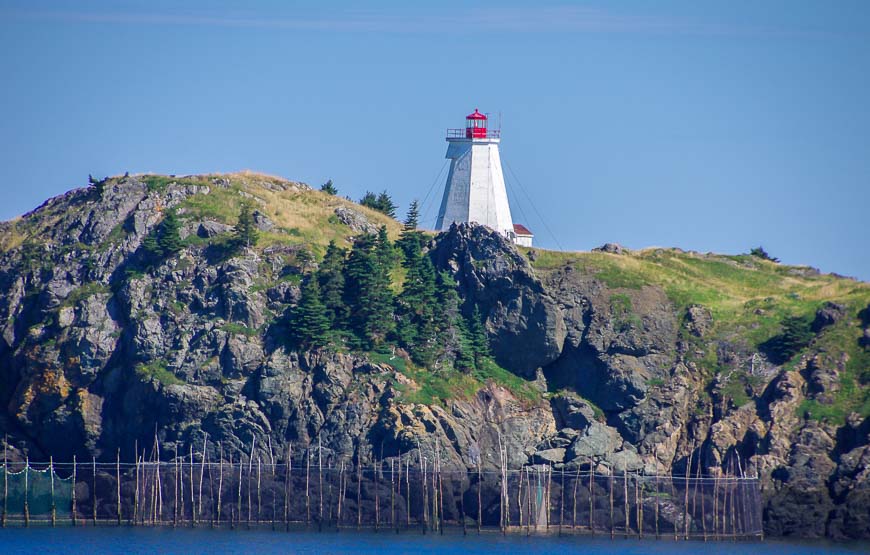 This post includes some affiliate links. If you make a qualifying purchase through one of these links, I will receive a small percentage of the sale at no extra cost to you. Thank you very much for your support.
Grand Manan Island is one of the Fundy Isles
Grand Manan is the largest of the Fundy Isles though it's only 34 km long by 18 km wide. Its home to about 2,500 people – many tied to the fishing industry as you'll see in no time if you drive around.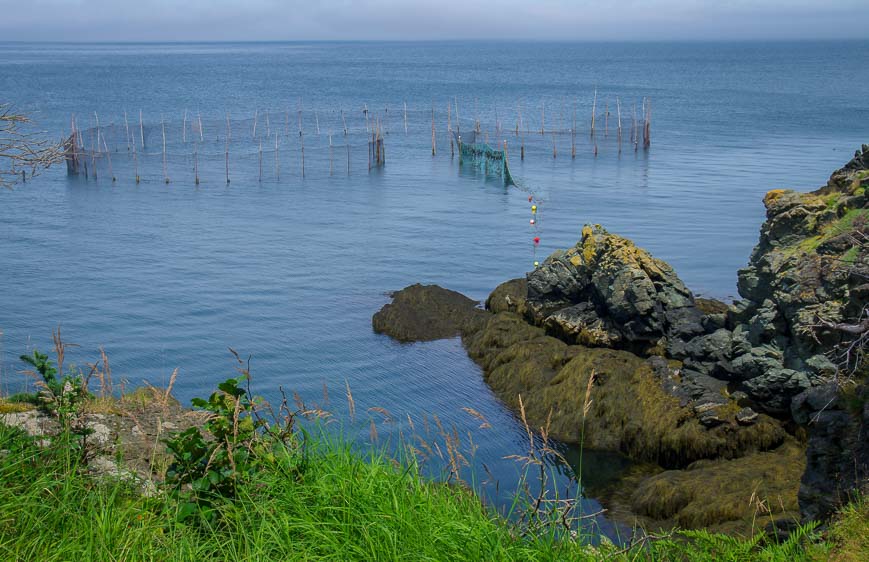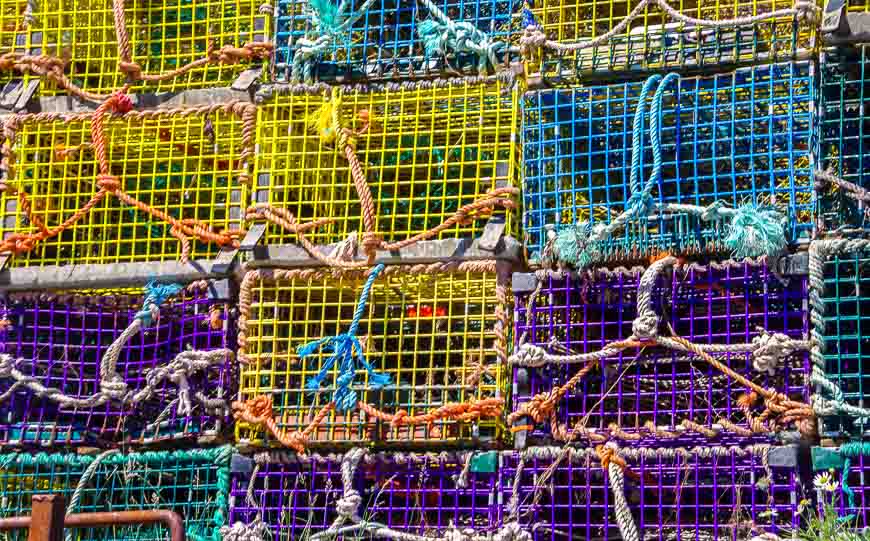 Getting to Grand Manan Island
Most people get to the island via a 90-minute ferry ride from Blacks Harbour, located 90 km west of Saint John.
The approach to the island gives you a sense of its ruggedness with rocky cliffs and lighthouses being the first things you'll see. If you're lucky you might see whales too.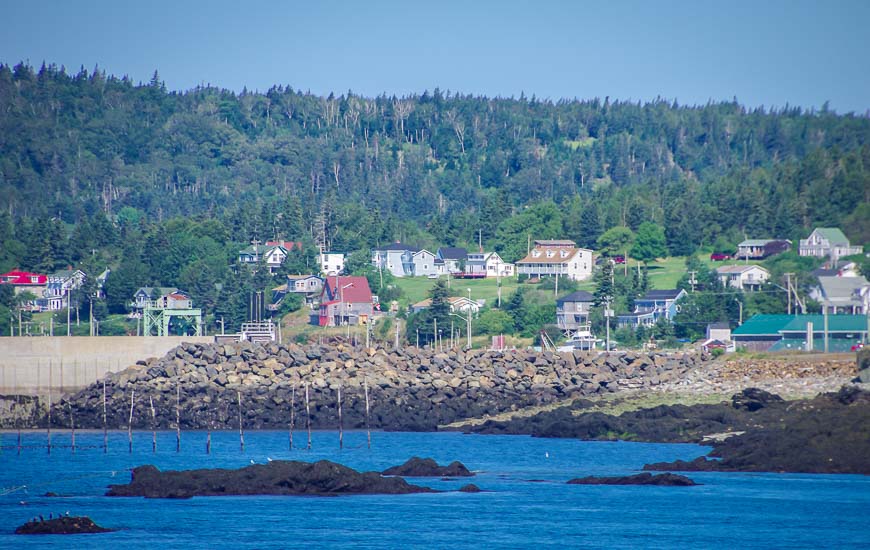 What can you do on Grand Manan Island?
I stayed for two nights which wasn't much time but it was enough to give me a sense of the place. A kayak trip out of Seal Cove was high on the wish list. Other activities I had in mind included a hike to the Hole in the Wall, cycling the backroads of the island and a hike on the trails around the Southwest Head Lighthouse.
But Grand Manan's notorious pea soup fog thwarted some of my plans.
Fortunately I arrived on a day that was sunny and clear. I stayed in a cabin rented out by Adventure High in Seal Cove. It was nothing fancy but what a view it had out the back door!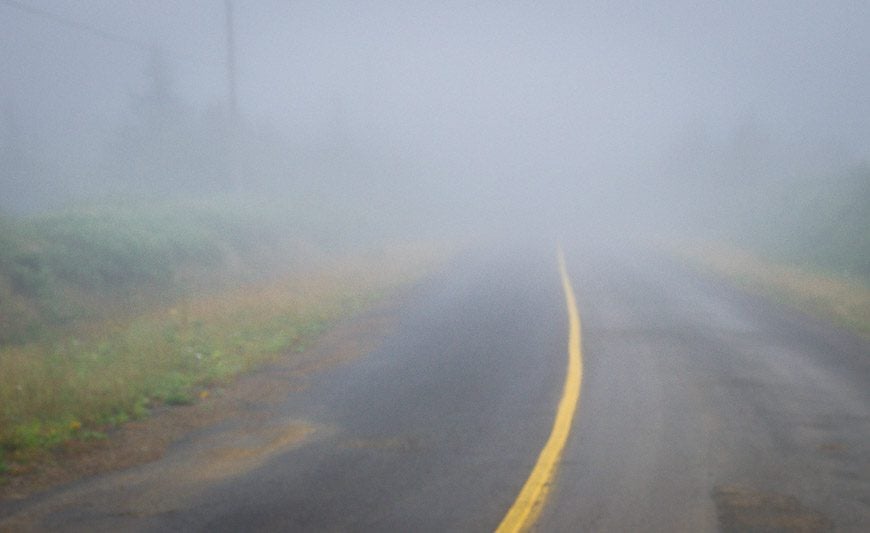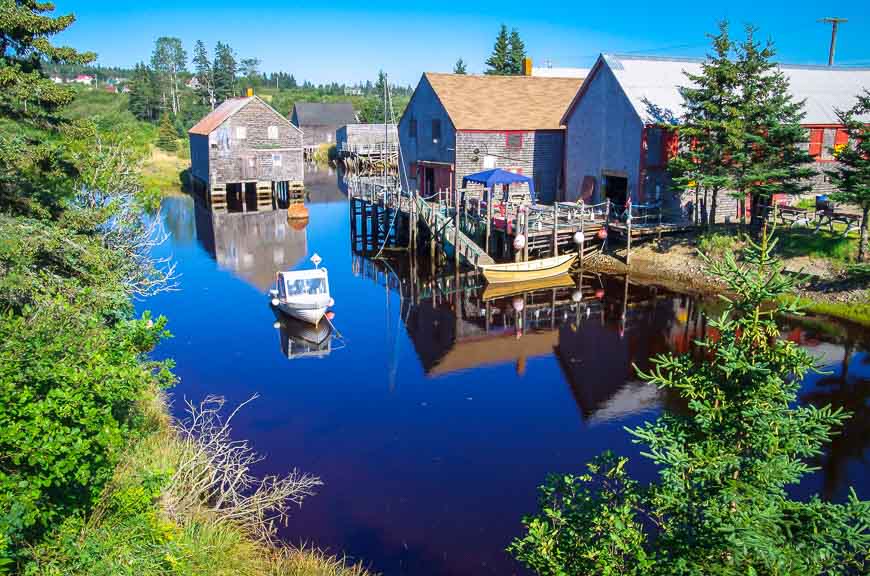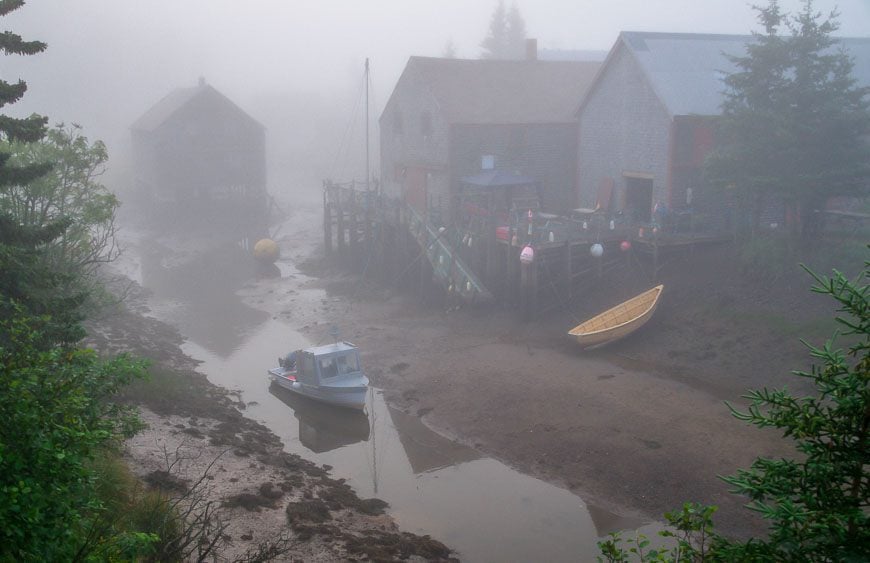 Go kayaking out of Seal Cove
After I unloaded my things I spent the rest of the afternoon kayaking from Seal Cove down to Anchorage Provincial Park with an Adventure High guide and a couple from Ottawa.
It was great fun to poke around the quiet harbour that is Seal Cove – and watch the comings and goings of the fisherman.
There are a number of kayaking trips you can do on Grand Manan Island, but it's the weather and wind that ultimately decides where you can go. If it is calm, it's possible to paddle alongside the cliffs and around the Swallowtail Lighthouse at the north end of the island.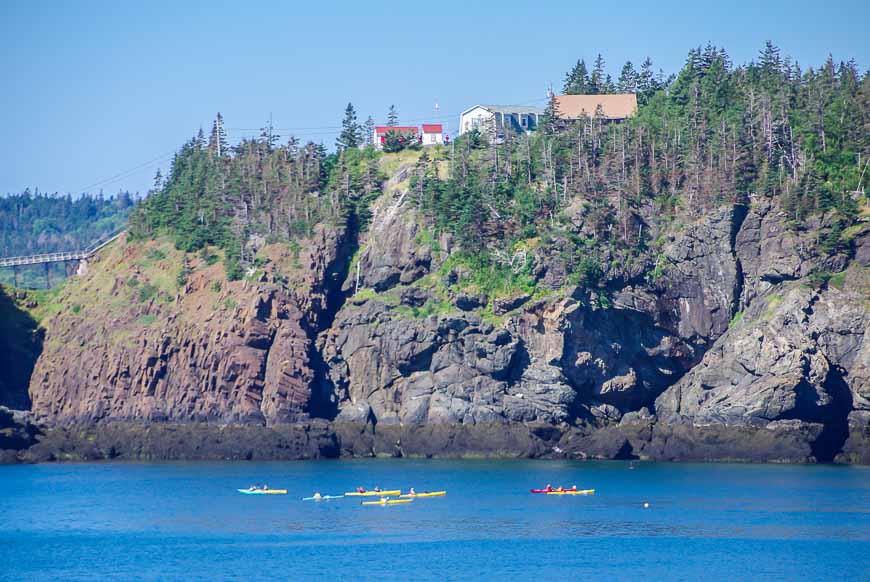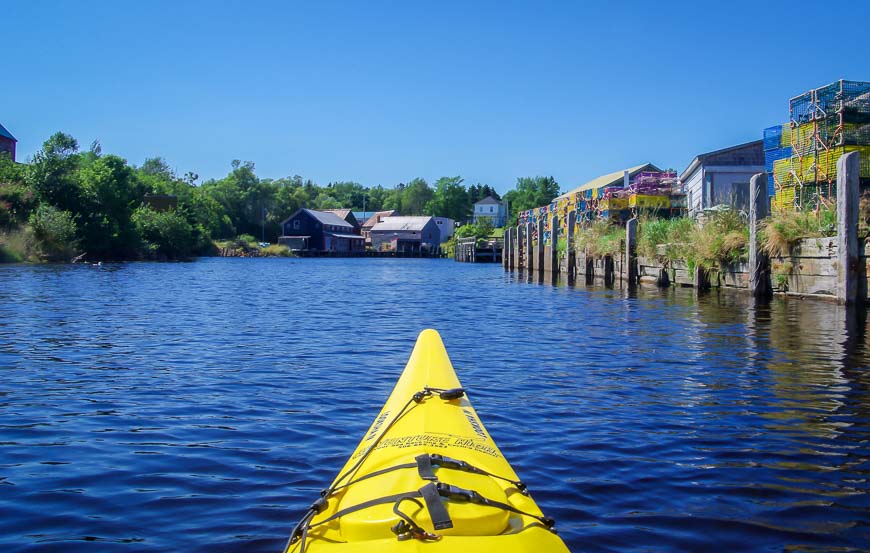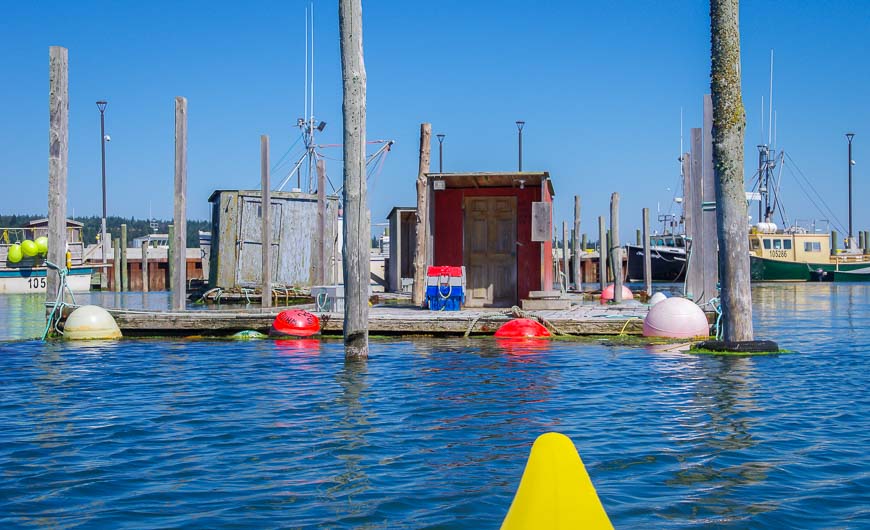 Visit Castalia Marsh
On the first evening – after a delicious dinner at The Inn at Whale Cove, I took the time to wander Castalia Marsh on Grand Manan Island, a pretty salt water marsh with beaches and a picnic area.
Spring is the very best time to visit Grand Manan Island if you're into birding and this is one of the many spots that is frequented by birders.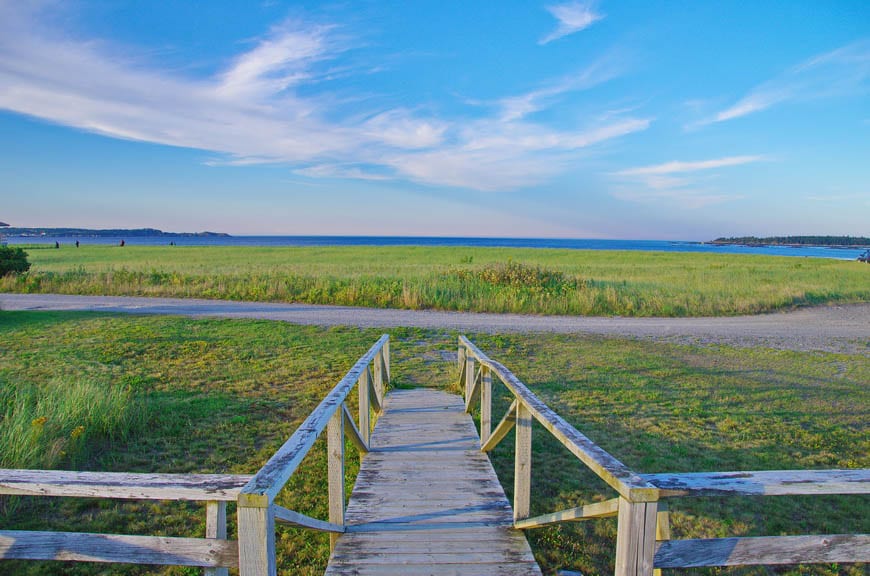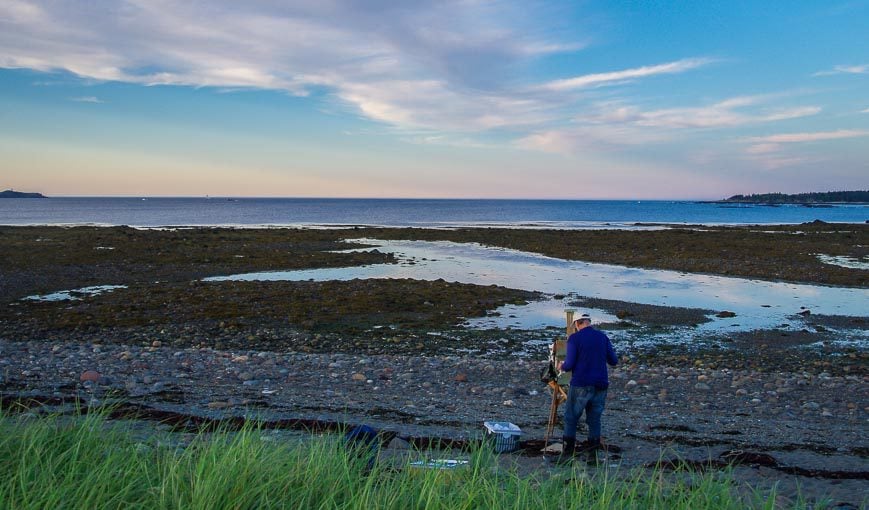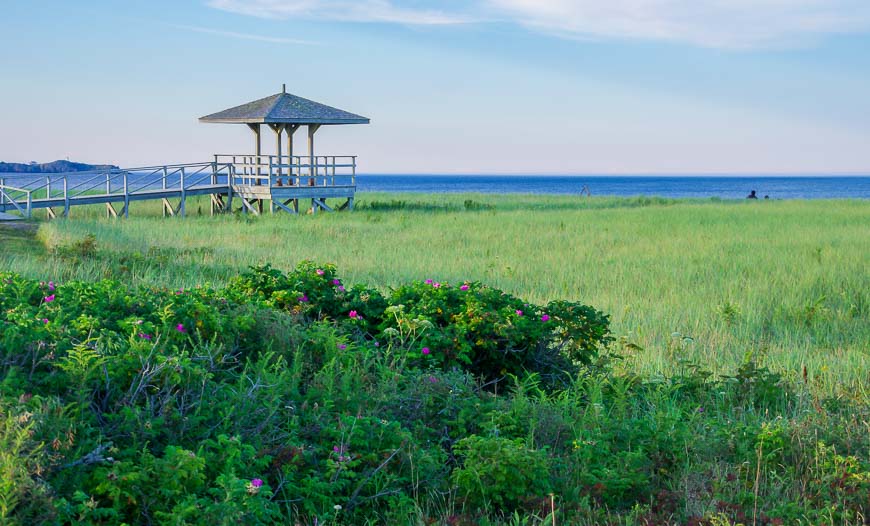 On my second day I had great plans to hike the 10 km trail at the southern end of the island. It's here where you can see the Flock of Sheep – a rock formation hidden by fog on the day I visited.
On a clear day the views from here would be spectacular but after just 30 minutes of walking my feet were sloshing around in my shoes and my pants were soaked. I gave up – but not before getting a few moody photographs.
I decided it was time to dry off so I headed to what had become my go to place in just 24 hours – The Island Arts Café and Gift Shop, just a few hundred metres away from the ferry terminal. Over a latte and homemade muffin I reformulated the day's plan.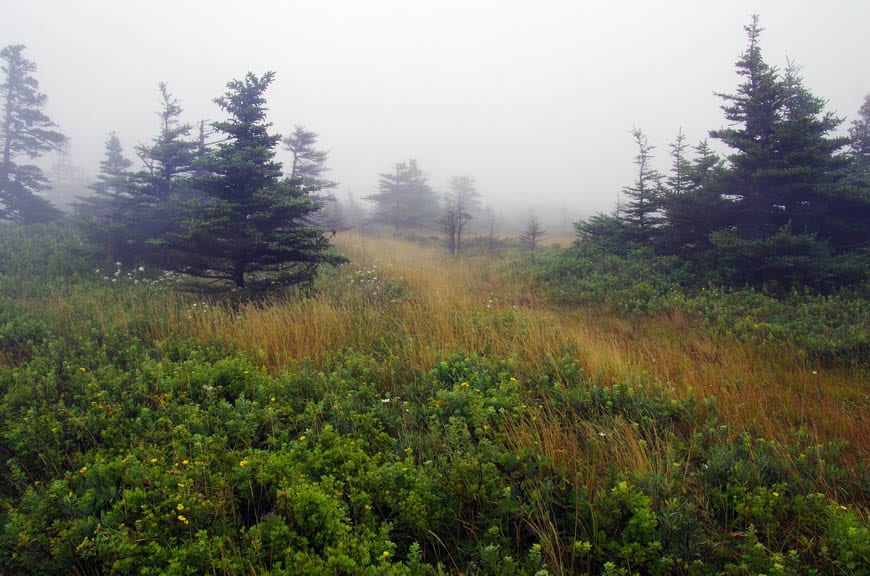 The Hole in the Wall hike
The fog had started to lift so I took advantage of the window and hightailed it to the Hole in the Wall Park. It is here you'll find hiking trails skirting the coast and the famous Hole in the Wall rock formation.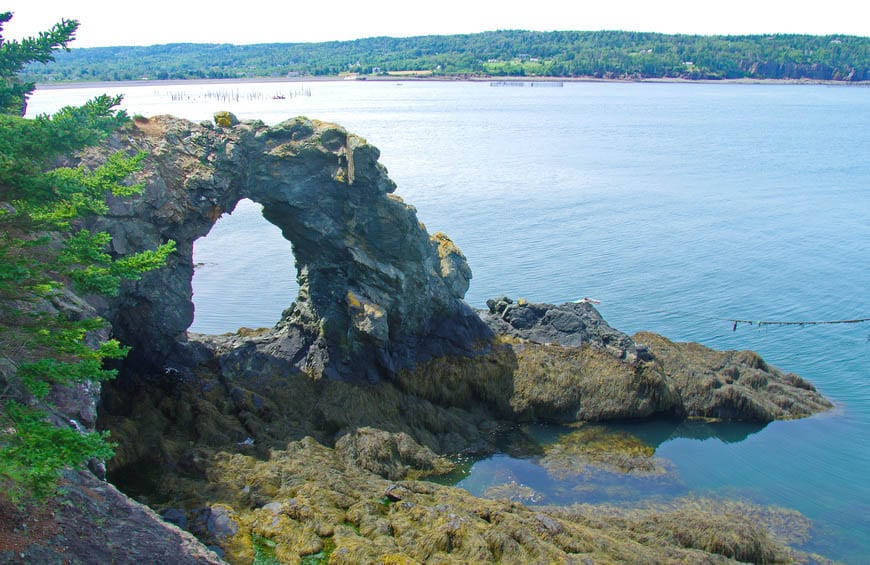 Dark Harbour on Grand Manan Island
Next was a drive rather than a bike ride to Dark Harbour on the west side of the island. It's a place that owes its existence to fisherman. Fishing boats – with names like Days Pay, Seakelp and Unhook the Stars – are lined up on the beach. Across the river sit fishing shacks and I suspect no end of fishing stories.
The rock faces into and out of Dark Harbour sport colourful autographs – though I'm unsure of whether the locals approve of the writing.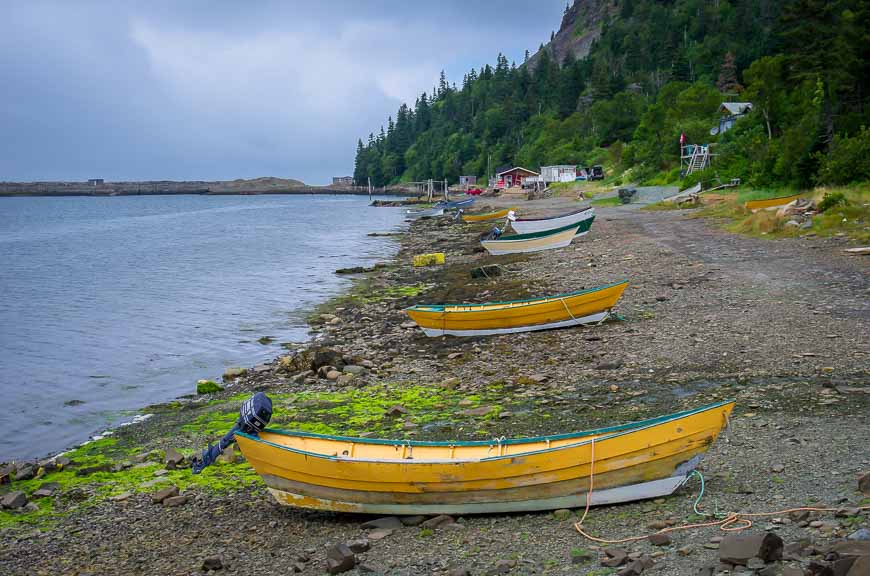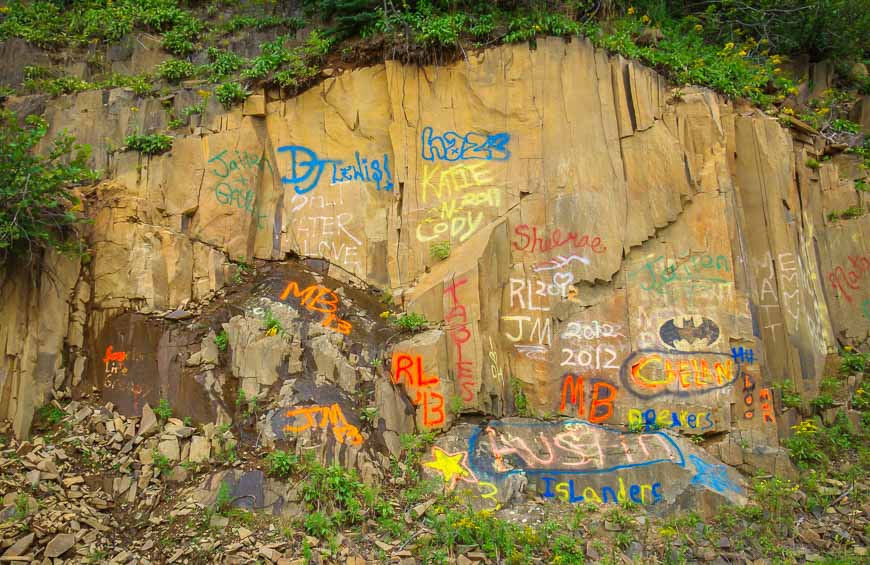 I just got a taste of what the island offers
My visit to Grand Manan was way too short. It would be easy to spend a week here. I'd go whale watching. A short ferry ride on a clear day over to Whitehead Island to explore it on foot would be a priority.
I'd certainly walk what beaches I could find and get up at dawn to look for birds. And one day I'd do nothing but read. Grand Manan Island invites you to relax.
Where to stay on Grand Manan
I stayed in a simple cabin in Seal Cove but if you're looking for something closer to the ferry terminal check out the highly rated Compass Rose Heritage Inn.
Location map of sights to see on Grand Manan Island
Further reading on New Brunswick
Click on the photo to bookmark to your Pinterest boards.