New Brunswick is the largest of Canada's three maritime provinces. Its home to 5,500 km of coastal shoreline and part of the Appalachian Mountain chain. For you the traveler, that means there's a wonderful variety of landscapes to explore and loads of worthwhile places to visit in New Brunswick.
You can count on beautiful beaches, coastal scenery, fabulous hiking, whale watching, superb kayaking, delicious seafood and a host of other interesting things to do. Described are nine places to visit in New Brunswick that I've had the pleasure of checking out. Have a look at the map below to get a sense of where they are in the province.
Map of places to visit inn New Brunswick
This post includes some affiliate links. If you make a qualifying purchase through one of these links, I may receive a small percentage of the sale at no extra cost to you. Thank you very much.
Visit Hopewell Rocks at low and high tide
Visit Hopewell Rocks Park, just an hour's drive south of Moncton. It is here that you can see some of the world's highest tides in action. During each tide cycle over a billion tons of water moves in and out of the Bay of Fundy, the equivalent of the flow in all the world's rivers combined.
It's possible to walk the ocean floor at low tide among beautiful, eroded rock formations called the flowerpots – and then a few hours later to kayak in exactly the same spot. Over those couple of hours you can watch how fast the water rises – on average between 1.2 – 1.8 m (4-6 feet) per hour.
Read: Kayaking Hopewell Rocks in New Brunswick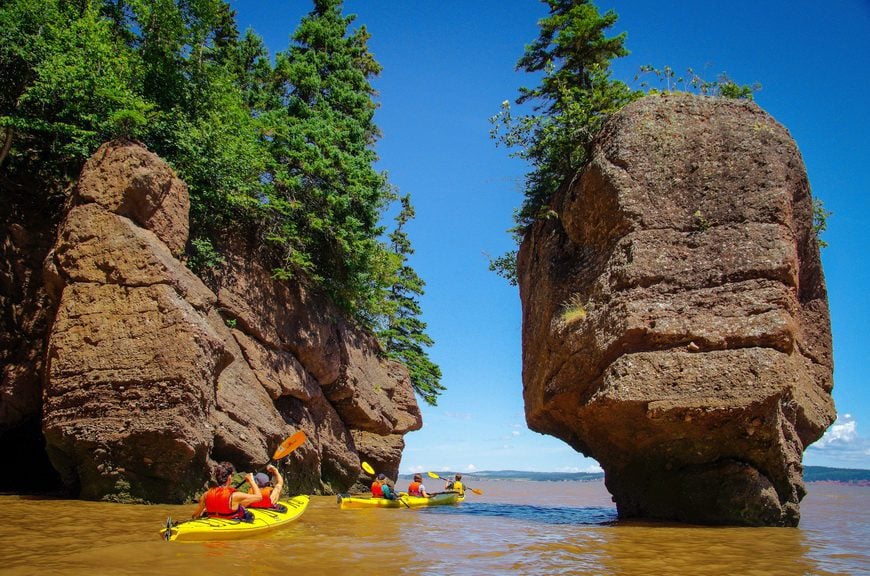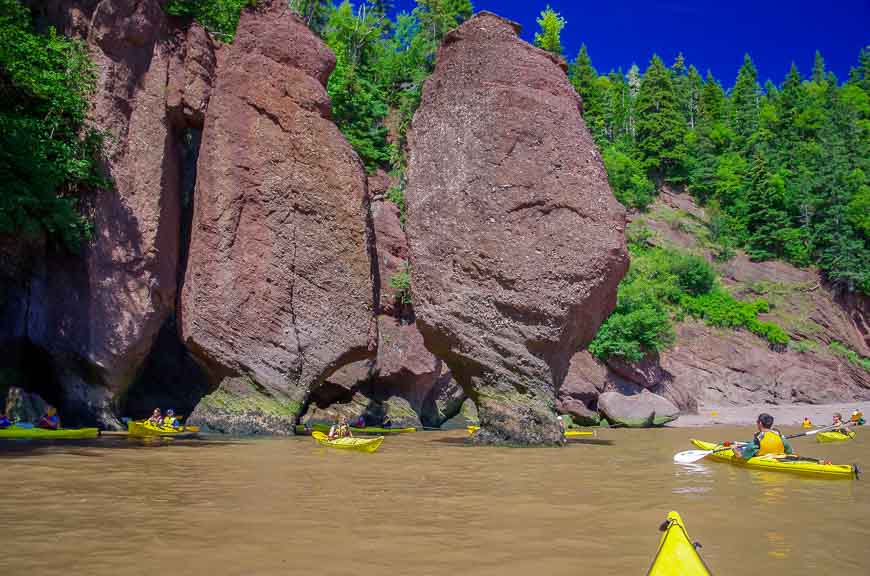 Visit the Fundy Isles – Deer, Campobello & Grand Manan Islands
In the southwest corner of New Brunswick there are three major islands – collectively referred to as the Fundy Isles. Part of the fun of exploring these islands is that you need to take a ferry to get there. It's best to do Deer Island and Campobello Island together. Grand Manan Island is off on its own as is its' ferry terminal.
The best thing to do is pick up a map, decide which island(s) to visit and then book accommodation as the islands can get busy in summer.
All the islands are fun to explore via a bike or a kayak.
Deer Island and Campobello Island can be cycled in a day if you are so inclined. If you make it to Campobello Island, be sure to visit the sprawling summer home of former US President Franklin D. Roosevelt.
Allow a couple of days for cycling, hiking, kayaking, birding (it's famous) and whale watching on Grand Manan Island. Adventure High offers 6 day trips that will satisfy all levels of kayakers.
Where to stay on Grand Manan Island
All islands have some accommodation, mostly as B&B's. On Grand Manan Island check out the Compass Rose Heritage Inn – rated superb.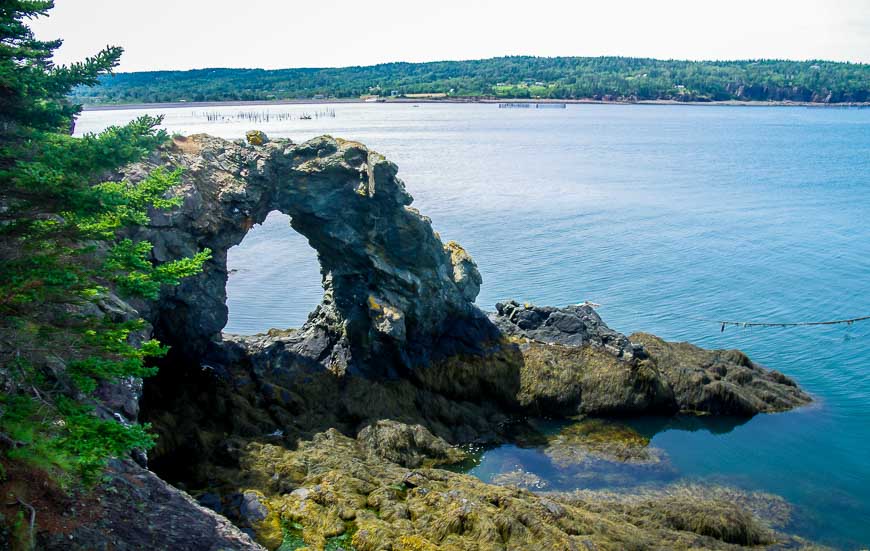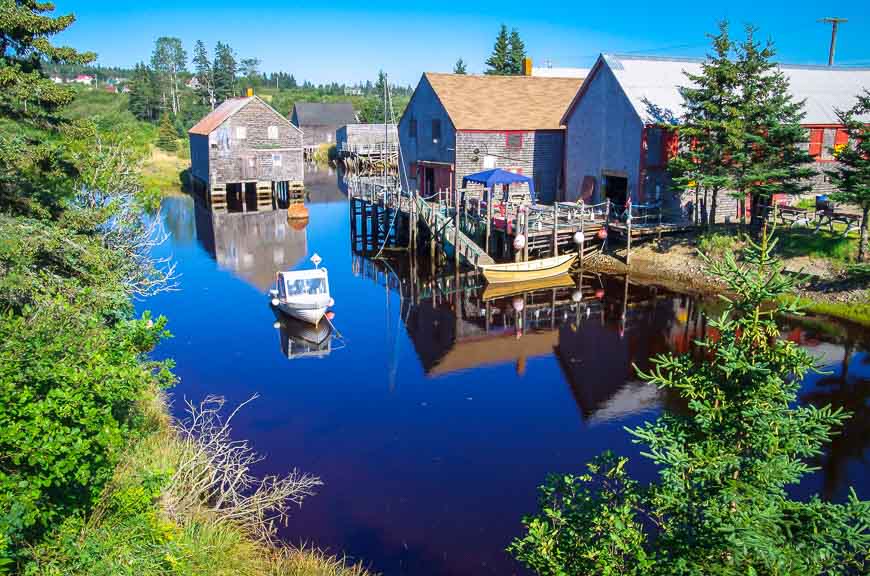 Hike the Coastal Trail in Fundy National Park
Fundy National Park is home to over 25 waterfalls and 100 kilometres of hiking trails. This is a great park to explore on foot though much of it will be in the woods.
The Coastal Trail is one of the standout trails. It parallels the Bay of Fundy and merits the five to six hours it will take you to hike it. The trailhead is easy to find, located within five minutes of the town of Alma. Although the hike starts off steeply through a mixed forest of birch, spruce and maple there are some lovely open woods. And there are plenty of big views, with the best of the lot to Squaw's Cap Look-off,
There are also several beaches in the park that might beckon, including one within sight of Alma.
Another fantastic multi-day hike to do that starts or ends in Fundy National Park is the Fundy Footpath hike. You can do sections and don't have to commit to the entire trail.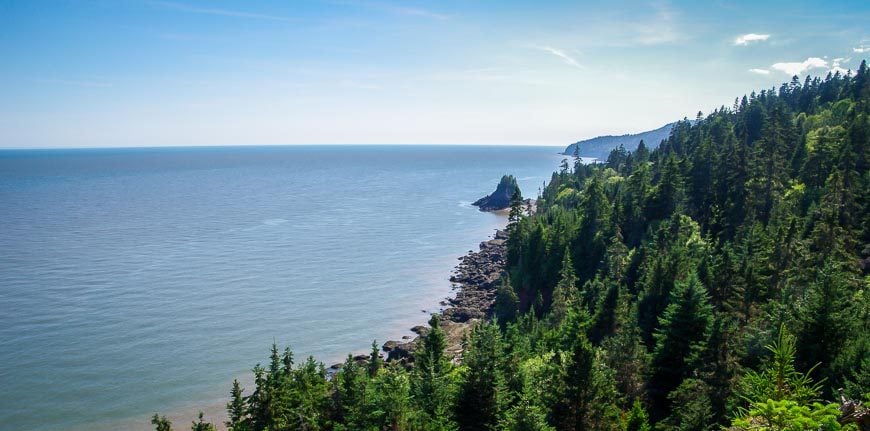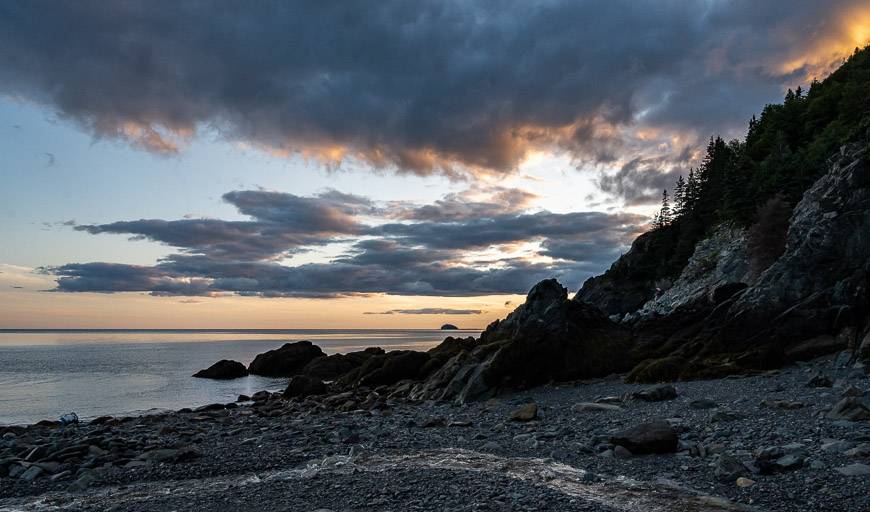 Where to stay near Fundy National Park
Alma and Sussex are the two nearest towns to Fundy National Park. If you're not a camper check out the Alpine Motor Inn in Alma where I stayed. It's not fancy but there is Bay of Fundy beach access from behind the inn.
Read: 7 Things to do in Fundy National Park, New Brunswick
Hike the Mt Sagamook Trail in Mount Carleton Provincial Park
Northern New Brunswick is home to Mount Carleton Provincial Park, the largest park in the province. Within it are a number of mountain peaks that are part of the northern extension of the Appalachian Mountains. Some of the peaks can be hiked including Mount Carleton, the highest peak not only in the province but in the Maritimes and Mount Sagamook, its prettier neighbour.
Mount Sagamook unfortunately doesn't give you the satisfaction of bagging the province's highest peak but it beats Mount Carleton on other points.
The views are superb and expansive. In the fall when the colours hit their prime, it's a riot of orange, red and yellow as far as the eye can see.
Chances are there won't be a lot of people. But the trail is well signed and can be done as a 5.8 km loop. There's camping in the park and the canoeing looks like it too would be superb.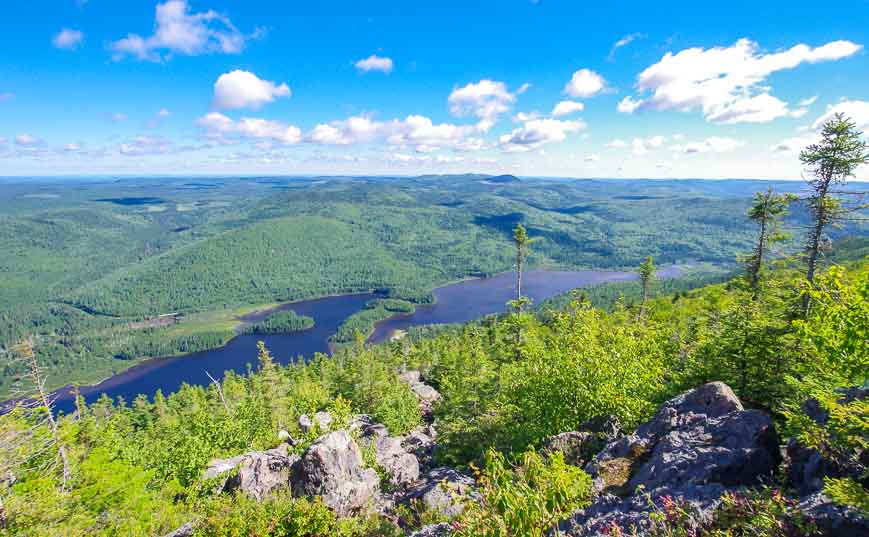 Visit Kouchibouguac National Park
There's lots to do in this park whose name is unpronounceable by most but means River of Long Tides in Mi'kmaq. If you visit the park in summer plan to hike, bike, canoe, swim, go birding and camp. For me a real highlight of the park is the beautiful Kelly's Beach accessed via a pretty 1.2 km boardwalk. The water here is warm enough for swimming and it's the sort of place you could hang out all day.
There are 10 nature trails to explore ranging from 0.9 km to 11.3 km in length.
Canoeing is another excellent option. Rent canoes at Ryans, book one of two backcountry spots and then head out to explore.
And cycling is some of the best in the Maritimes. There are 60 km of well-signed biking trails. And you can rent a bike in the park.
There's all sorts of camping available including frontcountry, equipped camping, oTENTiks and the very cool looking Ôasis (sign me up!) There are also three backcountry campsites, two of which are accessed via canoe. For more information visit the Parks Canada website.
If you want to stay in a B&B just minute's away from the park entrance check out the exceptionally rated L'Ancrage Bed & Breakfast.
Bike, hike or drive the Fundy Trail
The Fundy Trail offers great views and coastal wilderness on the New Brunswick side of the Bay of Fundy. It's a 30 km paved coastal road located 10 km east of the village of St. Martins. The Fundy Trail now connects Sussex to Alma.
Along the route you can stop at 21 lookouts, admire three waterfalls, check out beaches at four different points and stop at numerous points of interest.
There are all sorts of hiking trails of various lengths – and its possible to bike the Fundy Trail. But be warned. There are grades approaching 17% !
Enjoy terrific views, a suspension bridge, Flowerpot Rock and a sea captain's burial ground.
For more information visit the Fundy Trail Parkway website.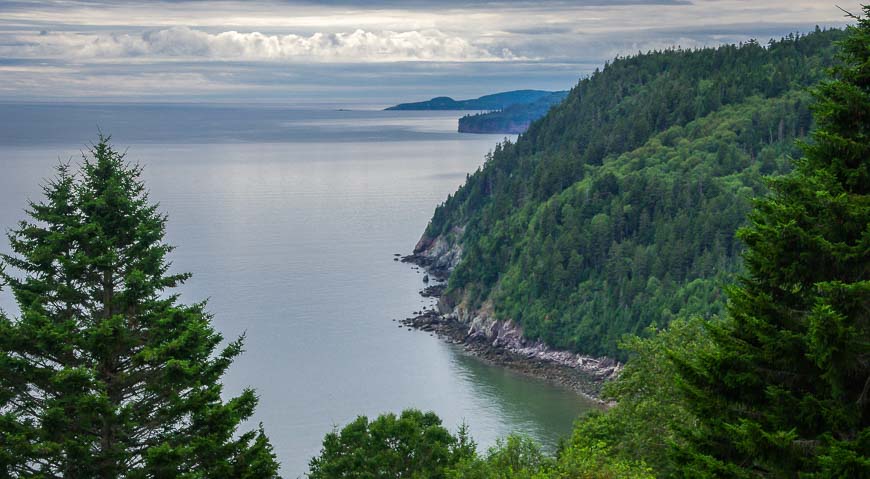 Check out the Grand Falls Gorge
For a look at the largest waterfall in New Brunswick check out the Grand Falls Gorge located 64 kilometres southeast of Edmunston. In the spring it's volume is 90% of Niagara Falls. As much as six million litres of water flows over the falls every few seconds!
Then just a few months later all the water gets diverted to a power plant so try and visit in spring for maximum impact.
The gorge is 70 m high and 1.5 km long. There's a walking trail along its length with several lookouts. Ziplining and kayaking are a couple of other ways to explore the gorge. If you don't mind stairs, descend 401 of them to see the wells in the rocks. It's a spectacular place to see.
Visit Miscou Island
Miscou Island, located at the northeast tip of New Brunswick is famous for its bogs ablaze in red in the fall. But come summer clean its white, sandy beaches beckon. There are trails to hike and a lighthouse to visit as well.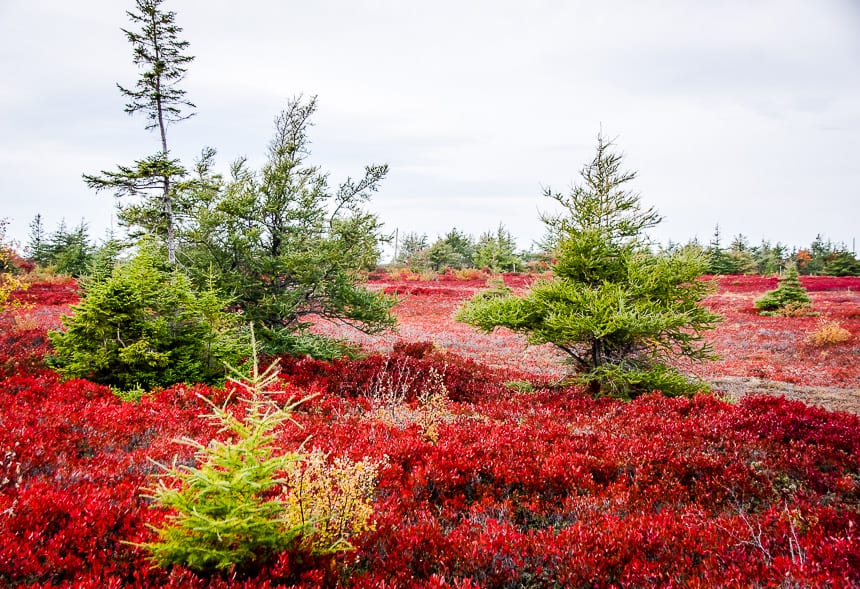 Explore Acadian New Brunswick between Shediac and Miramichi
There are lots of worthwhile stops on the 125 km drive between Shediac, the lobster capital of the world and Miramichi, the largest city in northern New Brunswick.
Be sure to spend a few hours at Le Pays de la Sanguine, a reconstructed fishing village that depicts the life of La Sagouine, an uneducated washerwoman who speaks the truth. Enjoy plays, dance and music as you move from building to building.
For a look at one of the "most authentic historical sites in North America", visit the Acadian Historic Village. It does a superb job of showing the public what the lives of Acadians looked like between 1770 and 1949. Plan on several hours to do the place justice.
You can even stay at the lovely, historical Hôtel Château Albert on the property.
Read: 12 Stops on a Road Trip in Acadian New Brunswick
Click on the photo to bookmark to your Pinterest boards.