Campobello Island in New Brunswick is one of the Fundy Isles and an interesting place to visit for a day especially on a bike – though it would also be a great destination for a week of summer R&R. Campobello Island lies in between Deer Island and Grand Manan Island. It's also just 7 kilometres from Lubec, Maine. I spent a day cycling Campobello Island from one end of the island to the other.
I'd picked up a bike on Deer Island from Seascape Kayak Tours, peddled like a crazy person for 30 minutes to get to the ferry dock and timed it so that I waited just two minutes before loading.
Getting to Campobello Island
The ferry ride over to Campobello Island from Deer Island only takes about 30 minutes but ferries are roughly two hours apart – and hence the reason for my all-out push to make the ferry.
It only costs $5 per person or $6 if you're traveling with a bike. Cars and a driver are $18 plus a $4 fuel surcharge each way. (Take cash with you in case the debit or credit machines aren't working.)
It was an interesting ride – not just for the bird life – but for the chance to see the town of Eastport, Maine from the water. It wasn't what I expected at all – and in fact looks to be quite a size. There is a ferry from Eastport to Campobello Island as well.
Alternatively you can drive from Maine. Take I-95 to Bangor and 1A to Ellsworth. Make your way to Lubec via Route 189. Cross on the FDR Memorial Bridge to Campobello, toll free.
What can you do on Campobello Island?
Once I arrived on Campobello Island I decided to head south towards the summer home of President Franklin Roosevelt.
But first I had to refuel and ended up in conversation with a mix of locals and visitors at Jocie's Porch Tea & Coffee House – now permanently close. The coffee was the best cup I had over my three week trip – but I was disappointed that there weren't any homemade baked goodies to go with it. Still swinging on a porch put me in a relaxed mood.
Visit Roosevelt Campobello International Park
It wasn't much of a bike ride from the ferry to get to Roosevelt Campobello International Park – and the summer home of President Franklin Roosevelt and his wife Eleanor.
You could tour the place at your own pace for free – and ask questions of the guides positioned outside all the major rooms. I loved the house – and could well imagine myself spending summers in such a place.
Couldn't we all? What I found so interesting was the simplicity of the home compared to what one would see today – and the fact that the servants bedrooms were just a few doors down from the master bedroom.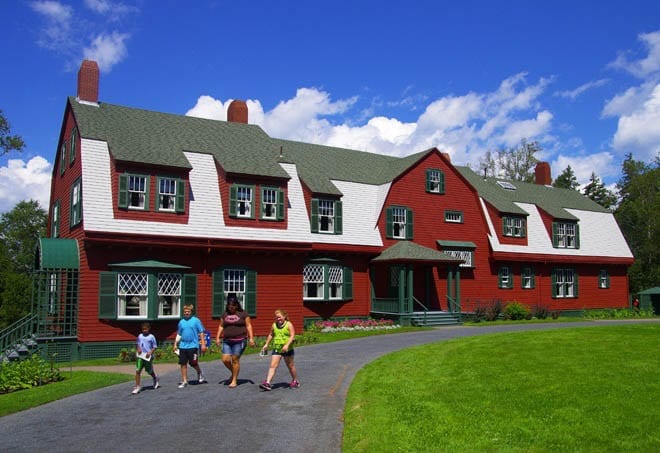 Check out FDR International Bridge
From the Roosevelt cottage I made my way toward the FDR International Bridge – a short bridge linking Campobello Island with Lubec, Maine.
There's a pretty lighthouse to see and if you have the time there are load of trails to hike and cycle through Roosevelt Campobello International Park. In fact it's really a cyclist's paradise.
Hike to Head Harbour Lightstation on Campobello Island – if it's low tide
Then from one end of the island I cycled to the far end to check out the Head Harbour Lightstation. Unfortunately my visit coincided with high tide so I had to admire it from a distance. Notice all the sets of stairs down to the ocean so that you can walk to it when the tide is low.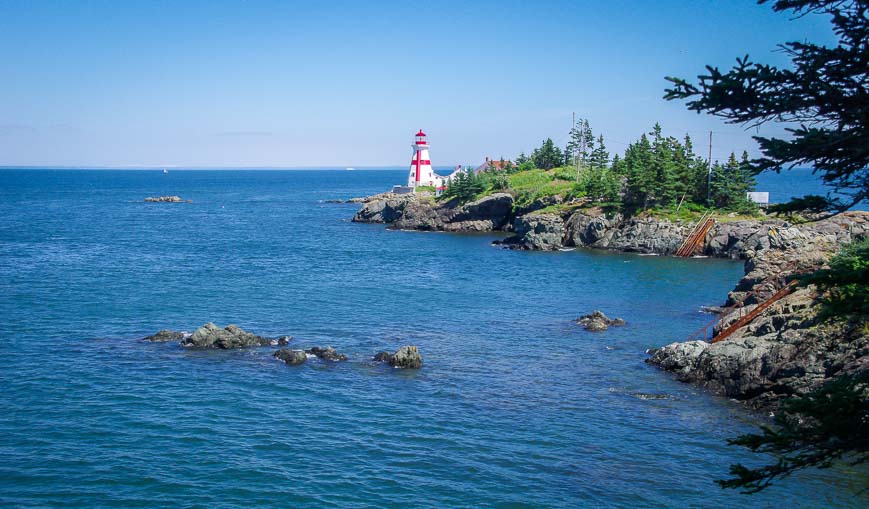 Explore the backroads of Campobello Island
On the way back to the ferry dock I meandered down some side roads and stopped wherever a photo opportunity presented itself.
Of course I was hungry and thirsty again (I always am on a bike ride) and decided to check out the Family Fisheries Restaurant. Cold lemonade and a piece of delicious two crust – as they call it there – raspberry pie – was the payoff for all the hills I'd climbed.
One thing I learned on this trip is that people who drive cars and offer advice about the hills you might encounter on a bike in fact know nothing.
I was told by several people on the ferry that Campobello Island was much flatter than Deer Island – and maybe that's true to a degree down at the south end but there are hills – you just don't tend to notice them if you're driving.
I had a fabulous day on Campobello Island. I found it particularly friendly and wish I'd had more time to explore both Herring Cove Provincial Park and Roosevelt Campobello International Park.
The day ended with a return ferry ride to Deer Island and another 45 minute bike ride to drop off my bike – really a perfect day on a summer weekend in my books.
Further reading on things to do in New Brunswick
Click on the photo to bookmark to your Pinterest boards.