New Brunswick's Fundy National Park is located on the Bay of Fundy, home to the world's highest tides. Easy access is via the pretty town of Alma, literally just minutes from the park gates at the east entrance.
There are lots of things to do in Fundy National Park in summer when beaches beckon and over 100 kilometres of hiking trails wait for the clomp of your boots. In winter, snow related activities abound. And it's easy to stay overnight in the park if you don't mind rustic accommodation. Fundy National Park is located an hour southwest of Moncton – one of the cities serviced by air.
Read: Glamping New Brunswick at Broadleaf Ranch – a short drive away.
Things to do in Fundy National Park – Visit the beaches
There are sandy beaches along the Coastal Trail in the park. The one at Herring Cove is a great place for a picnic. It can be accessed by car if you're not into hiking. You can also head to Bennett Lake or Wolfe Lake for freshwater swimming and more sandy beaches.
Choose from over 100 kilometres of hiking trails
Some hiking trails like the Caribou Plain Boardwalk are super short – just an easy half kilometre while others are exceptionally strenuous. The 48 km Fundy Circuit links seven hiking trails together and takes three to five days to hike.
I always prefer a trail with a view and the 13.8 km Coastal Trail delivers that as you can see in the photo below.
You can also start the multi-day Fundy Footpath hike in Fundy National Park.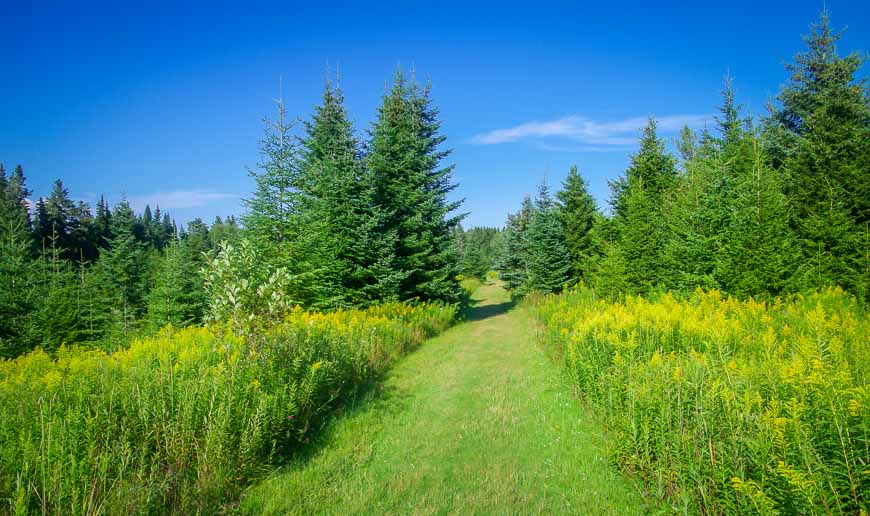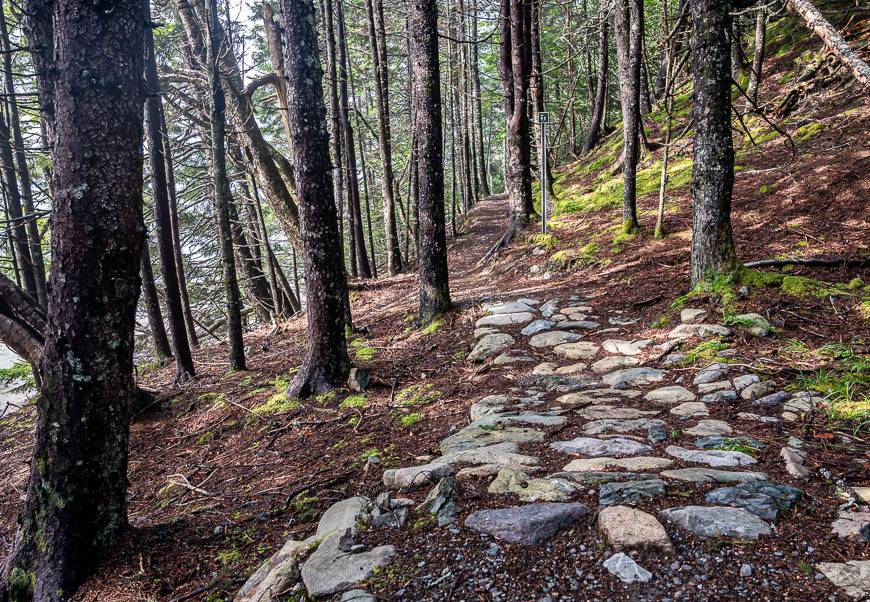 Birdwatching is excellent
According to Kirby Adams of National Parks Traveler, warblers are drawn by the Old Man's Beard, lichen found in spruce forests.
Twenty six warbler species have been sighted in Fundy National Park. In the boreal forest you can expect to find boreal chickadees and spruce grouse. And along the shoreline you will be rewarded with gulls, terns, sandpipers, plovers and even common eider ducks.
Go kayaking with Fresh Air Adventure based in Alma
Fresh Air Adventure tours offer a great way to experience the inaccessible park shoreline and to see the tides of the Bay of Fundy in action. With a little luck you might be able to see bald eagles or peregrine falcons. Canoes, rowboats and kayaks are also available for rent on Bennett Lake.
Check out the waterfalls
There are more than 25 waterfalls in Fundy National Park. Many of the falls can be seen from the hiking trails. The most photographed set of falls, the Dickson Falls, are accessed via a 1.5 km loop trail.
Go camping – one of the top things to do in Fundy National Park
There are lots of camping options. In Fundy National Park there are four front-country campgrounds and 8 backcountry options at Goose River, Marven Lake, Tracey Lake or Chambers Lake.
There are also three rustic cabins, all fully insulated. You do have to walk into them – with distances varying by cabin and season. You also have to bring your own sleeping bag and mat, cooking gear and all your water. (If there was snow, I'm sure you could melt at least some of what you need.)
Other options include yurts, the Parks Canada oTENTik – a combo tent and rustic cabin equipped with beds, the Ôasis pictured below or the more traditional front-country camping which includes tents and RV's. Don't forget the s'mores.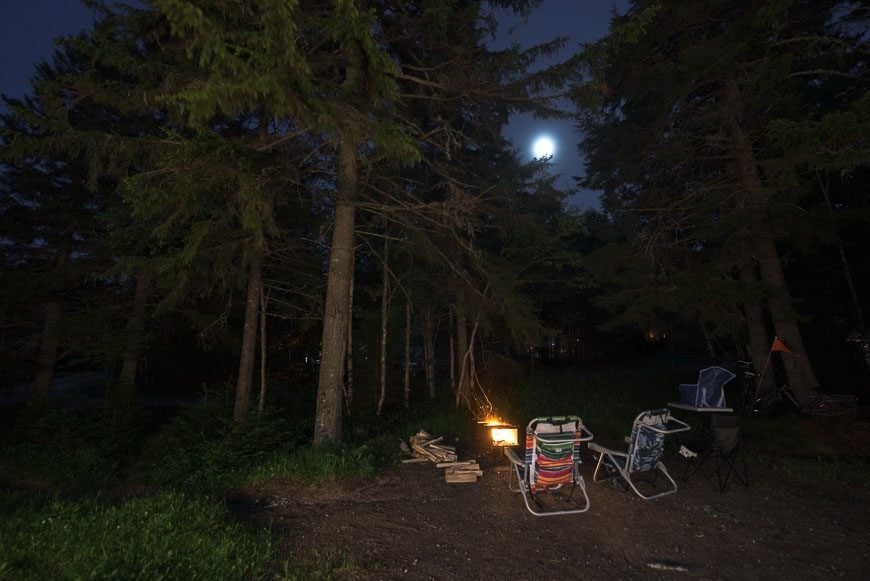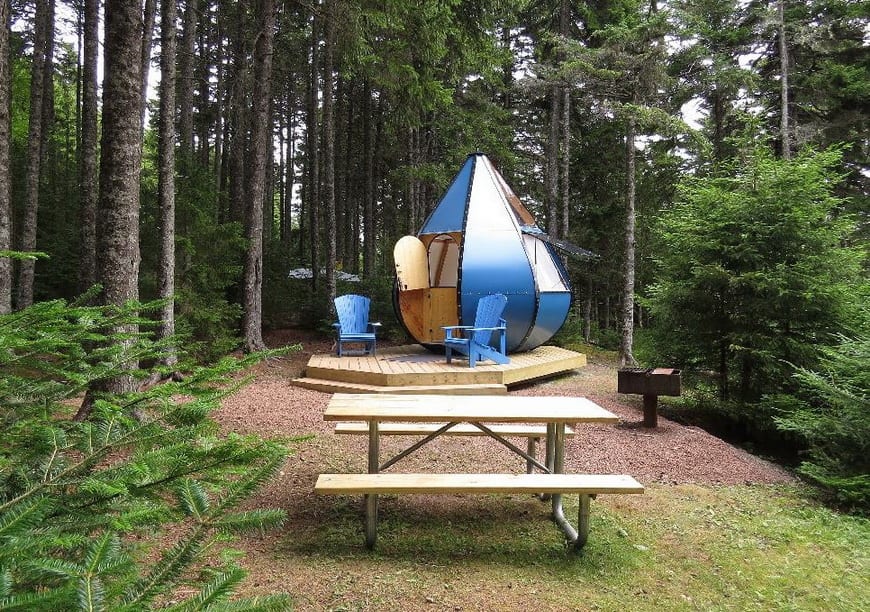 This post includes some affiliate links. If you make a qualifying purchase through one of these links, I may receive a small percentage of the sale at no extra cost to you. Thank you for your support.
In winter choose from cross-country skiing, snowshoeing, winter walks or tobogganing
There's plenty to keep you busy in winter in Fundy National Park. In fact it's a prime destination especially because there are oTENTiks and rustic cabins to rent so you can enjoy winter right outside your front door.
There are lots of places to go snowshoeing, 18 kilometres of cross-country ski trails, fat-biking, ice-skating and tobogganing. If you do spend the night you can also look forward to some magnificent night skies. Don't forget the binoculars.
The park is open from sunrise to sunset and best of all it's all FREE.
Where to stay near Fundy National Park
Alma, literally a few minute's drive from the park entrance has lots of overnight accommodation options.
The Parkland Village Inn where I stayed was on the basic side but it offered great views.
Alma Shore Lane Suites & Cottages would be another excellent choice.
For more information on Fundy National Park visit the park website.
Further reading on things to do in New Brunswick
Click on the photo to bookmark to your Pinterest boards.