As I was flying back to Calgary from a trip to New Brunswick over the weekend, a woman on the plane beside me, Carol, who grew up in Miramichi, peered over my shoulder and asked if she could look at some of my photos I was working on. "Where's that one from she asks" pointing to a mass of red and green. I reply – "Miscou Island." She'd never heard of the place, though it's less than a two hour drive away from Miramichi.
This post includes some affiliate links. If you make a qualifying purchase through one of these links, I will receive a small percentage of the sale at no extra cost to you. Thank you very much for your support.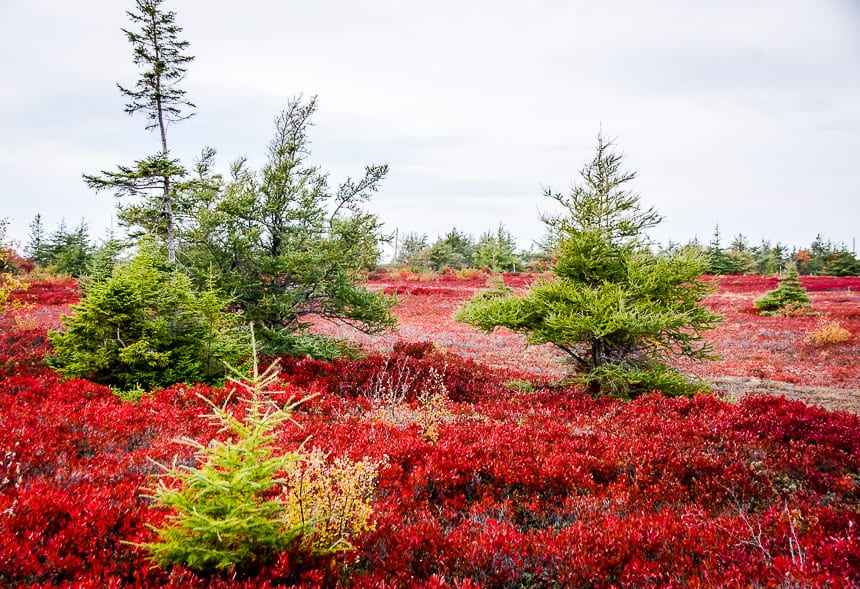 Miscou Island location in New Brunswick
Miscou Island is the dividing point between the Bay of Chaleur and the Gulf of St. Lawrence. It's a small island – just 24 km long by 16 km wide. You have to make an effort to visit as it's located at the northeastern tip of New Brunswick. But it's definitely worth the effort especially in fall when the bogs are ablaze in red.
You can see the exact location in the map below.
Peat bogs on Miscou Island
Eight peat bogs cover 45% of Miscou Island. The biggest ones are near the Miscou Lighthouse and in the central part of Miscou Island where the Interpretive Peat Bog Boardwalk is located.
The bogs on Miscou Island are protected though on the drive over to the island you can see where peat has been harvested as there's an ugly black scar. However as a gardener I certainly appreciate peat moss and its water retentive properties.
The peat industry has been a major contributor the economy of northeastern New Brunswick.
What is a bog?
According to interpretive signs along the boardwalk "a bog is a wetland in which the water is very close to the surface year-round. The substrate is continuously water-logged and very oxygen poor, thus eliminating most microorganisms that are responsible for the decomposition of organic matter such as plant material. Accumulation of plant debris occurs at a faster rate than decomposition which results in the formation of peat deposits."
There aren't many plants that can grow in the acidic environment found in a peat bog but as you can see in the photos, many that do well are related to the blueberry family. Some of the plants you'll see include Labrador tea, black huckleberry, cloudberry, bog cranberry, sheep-laurel, and leather-leaf.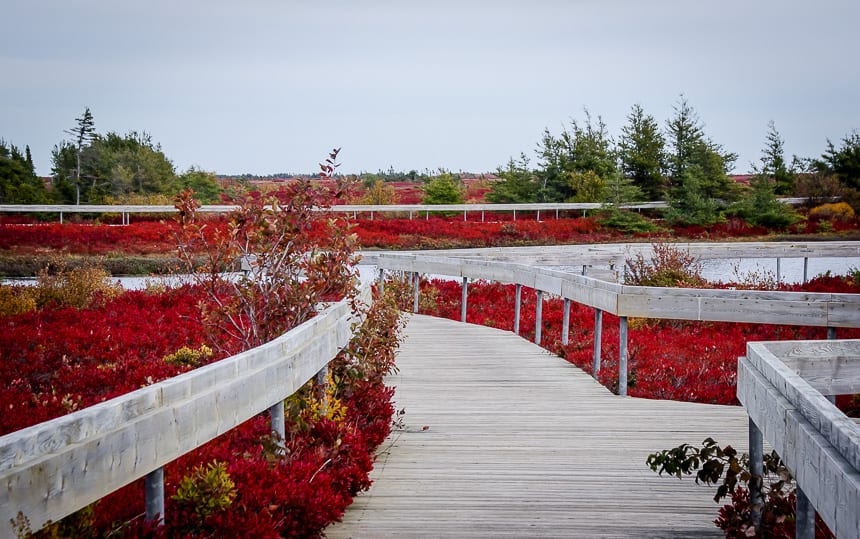 Visit the historic lighthouse on Miscou Island
The Miscou Island Lighthouse, built in 1856 and located at the northeastern tip of the island, is worth a visit. It was designated a National Historic Site of Canada in 1974.
As you climb to the top you can catch your breath by stopping to read the signs and admire an array of interesting artifacts like the colourful buoys. The paint colour and design on each buoy is unique to each fisherman.
Although you get great views of both the beaches Miscou Island is famous for in summer and the bog, the ultimate photo of the bogs dressed in fall colours would be best achieved by a drone.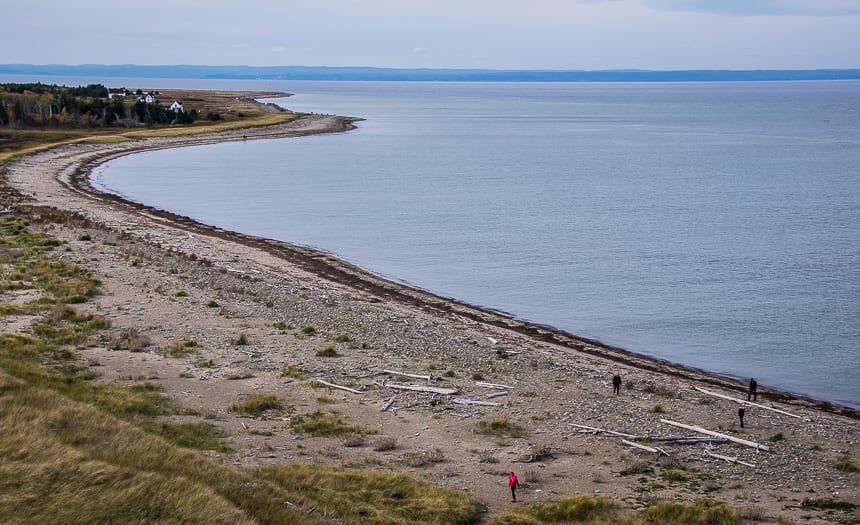 Did you know that Miscou Island is also a bird lover's paradise?
I was sorry my husband wasn't with me when I visited Miscou Island since he's crazy about birds and he's the one that always has the binoculars. On the drive to the lighthouse I spotted a bird observation tower and several other signs related to bird watching.
Reportedly 265 species of birds have been sighted, largely because of its wetland areas and unique geographical location. During the fall migration, Miscou Island is often the first stop with birds flying down from the north. In spring many birds stop here before crossing the Gulf of St. Lawrence.
Accommodation in Miscou Island area
Miscou Island doesn't have any accommodation in the fall, though you can camp on it in the summer. Nearby check out some of the overnight options.
Caraquet
Auberge de la Baie, rated very good, offers onsite dining from June to October.
A Super 8 by Wyndham Caraquet is rated as good. A stay comes with breakfast.
Shippagan
Auberge Janine du Havre is a beachfront property rated very good,
Where to eat near Miscou Island
If it's summer when you're visiting don't miss a stop at Terasse à Steve located at the end of the bridge just as you drive onto Miscou Island.
Make plans to visit this wonderful part of New Brunswick sometime in the near future – ideally when the bog is at its most colourful.
More New Brunswick reading
Click on the photo to bookmark to your Pinterest boards.