If you're looking for an unusual hotel experience in countries where winter is king – Canada, Sweden, Norway, Finland and even Romania – then perhaps an ice hotel might be something you'd like to stay in. Here are seven ice hotels in the colder regions of the world that will still keep you warm at night.
Ice hotels in Canada
Canada is home to one ice hotel – The Hotel de Glace, located just 10 minutes from Quebec City. Over one million people have found reason to visit – though most don't spend the night. Rather they take a guided tour on weekends and learn the secrets of construction. Try and time a visit to coincide with the Quebec Winter Carnival.
Read: A Tour of the Famous Ice Hotel in Quebec City
Ice hotels in Norway
The Sorrisniva Hotel, the world's northernmost ice hotel, is located near Alta is on the banks of the Alta River in northern Norway. Their season begins in early January and usually runs until mid-April. Reindeer hides, mattresses and sleeping bags, rated to -30°C, ensure that you will be comfortable. Rooms are generally in the -4 to -7 °C range.
Good news though; there is a sauna that opens by 7 AM and a couple of hot tubs. In addition bathrooms and showers are in warm rooms. It's very dark out for most of the day but the Northern Lights are magnificent here.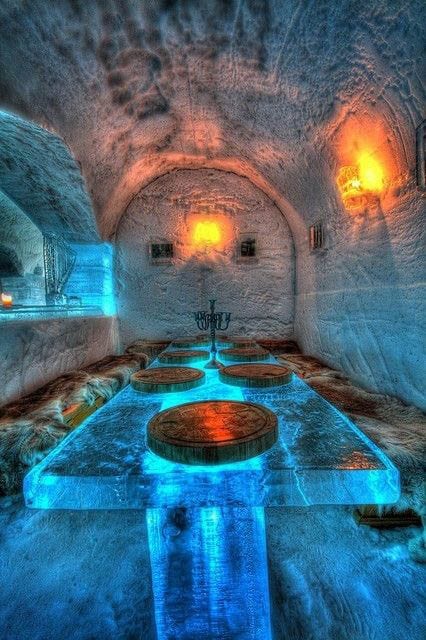 The Kirkenes Snow Hotel is located in Bjornevatn, a town that is 650 kilometres north of the Arctic Circle, close to the border with Finland.
They are open from December 20th until April 20th but be prepared to fork out at least $400+ per night per person. They offer some interesting excursions to go along with your stay. There's dog-sledding and Northern Lights viewing but also ice fishing and an excursion to get king crabs.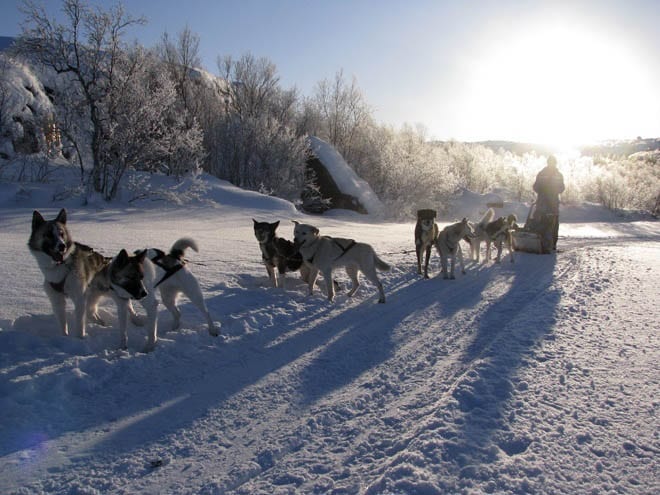 Ice hotels in Finland
Lainio Snow Village is located almost a thousand kilometres north of Helsinki, and 200 kilometres north of the Arctic Circle. Every year, 1000 truckloads of snow and 300,000 kilograms of ice are used to create the hotel.
The hotel opens around mid-December and lasts until early April. Not only can you spend the night, but you can drop in for a drink at the ice bar, get married in the ice chapel, and you can learn about the lives of traditional reindeer herders. A standard room here is quite reasonable priced compared to other ice hotels.
Included is a tour of the Snow Village, a very warm sleeping bag, a room wake-up with hot berry juice and a buffet breakfast in a warm restaurant.
The Snow Castle Resort, located on the Gulf of Bothnia is made of packed snow rather than ice and is considered to be the largest snow fort in the world.
Prices include the usual ultra-warm sleeping bag and breakfast buffet. The restaurant is open to all but dress warmly for it's a cool -5°C. This place has lots of kid's activities and in fact is the site of many a birthday party. There's snow sliding, ice tubing and dog sledding.
Ice hotels in Sweden
The Ice Hotel in Jukkasjarvi bills themselves as the world's largest hotel made of ice. It is located 1200 kilometres north of Stockholm and 200 kilometres above the Arctic Circle.
The hotel is open to the public between 10 AM and 6 PM. After 6 PM its guests only. The hotel began as an art project 23 years ago. Today they are known for rooms that have been sculpted by some of the world's most talented ice carvers.
Ice hotels in Romania
The Carpathian Mountains are home to the Hotel of Ice, sitting at 2,000 metres above sea level and accessible only by cable car, smack in the middle of the Faragas Mountains. The hotel is located 300 kilometres northwest of Bucharest.
The hotel is built from chunks of ice hulled up from Lake Balea. Twelve double rooms are available beginning on December 25th. Nearby you can enjoy skiing and sledding. Rooms are reasonably priced but don't include breakfast.
Further reading on winter activities
Click on the photo to bookmark to your Pinterest boards.