In some cities like Ottawa, Quebec City and Calgary it has been estimated that up to 5% of the population puts on a pair of Nordic skis at least once a year. But it's nothing compared to the Norwegians. My friend, Sophie Redisch, a Norwegian blogger at Sophie's World tells me that she doesn't know of one person in Norway who doesn't own a pair of skis. She also says that the ability to put on skis right outside the front door can be an important criterion when buying a house. It's a rare Canadian that can throw on a pair of cross-country skis and head out their front door. But there are loads of places across Canada that offer cross-country skiing on as much as 200 kilometres of trail.
Here are the top places in Canada for cross-country skiing – though I appreciate it's an incomplete list. Feel free to leave a comment if I've missed your favourite place for cross-country skiing in Canada.
This post includes some affiliate links. If you make a purchase via one of these links, I will receive a small commission at no extra cost to you. Thank you very much for your support.
Location map of places for cross-country skiing in Canada
Top places for cross-country skiing in British Columbia – Canada
1. The Okanagan – one of the great places for cross-country skiing in Canada
Silver Star and Sovereign Lake are a winning duo. Between the two resorts are 105 km of interconnected trails. Renowned for their early season snow, this is the place to ski if you want to be seen with Olympic athletes. Carefully groomed trails are used by the Canadian and American National Cross Country teams as well as the Biathalon teams for early season training.
2. Callaghan Country near Whistler
Callaghan Country near Whistler was the site of the Nordic events in the 2010 Winter Olympic and Paralympic Games. It's in a snow belt and claims to have some of the deepest snow anywhere in Canada.
Look for over 90 km of trails – with lots of easy and moderate trails making loops in the vicinity of the day lodge. Another option is to ski to Callaghan Country Lodge – and on weekends enjoy a lunch – if you can't stay for the night. Bring your pet too. There are several kilometres of pet friendly trails but you must purchase a pet pass first.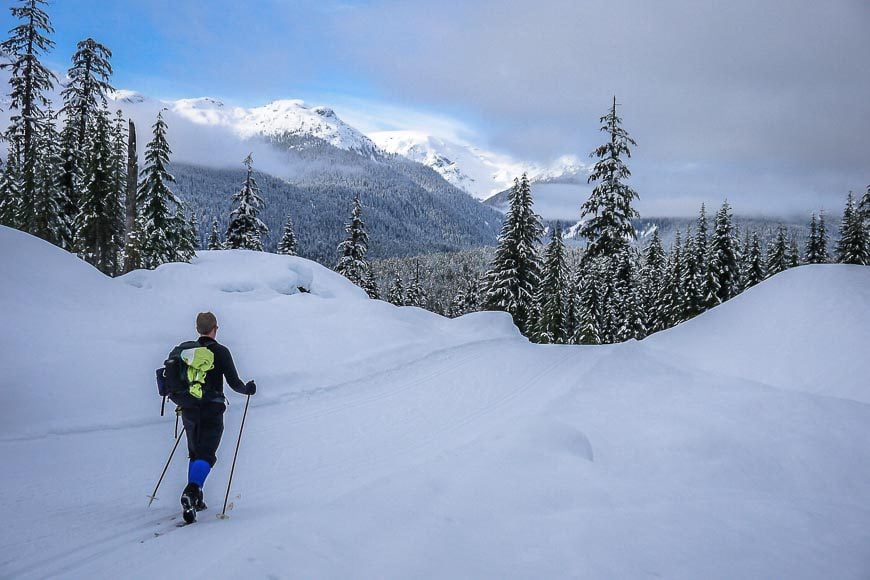 3. 100 Mile House
Head to 100 Mile House in BC's Chilcotin region, specifically 100 Mile Nordics to enjoy 45 km of well-marked ski trails groomed for both classic and skate skiing. If you love night skiing, you can enjoy 3.5 km of trails lit till 10 PM. There is also a lodge that's open from 9 AM – 3 PM.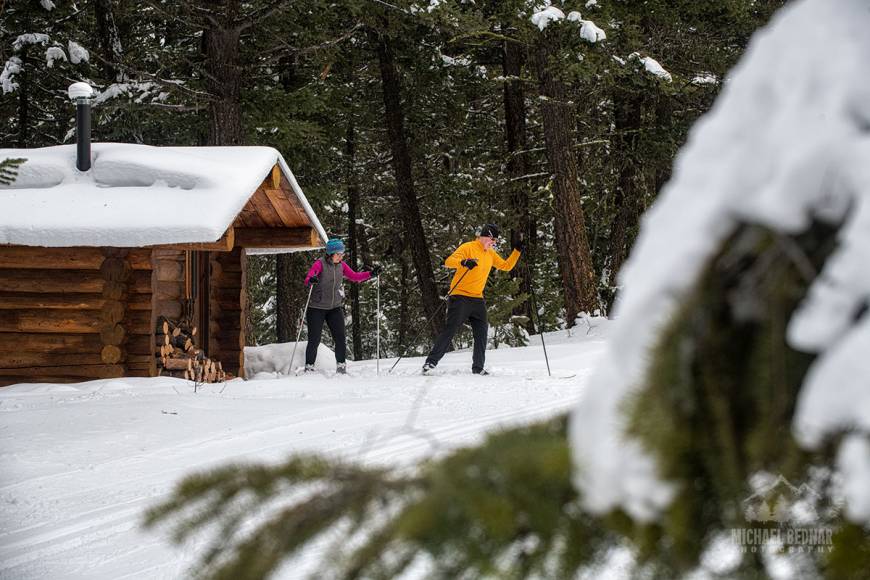 4. Vancouver Island
Mount Washington on Vancouver Island offers 55 km of machine-groomed Nordic ski trails. Sitting adjacent to Strathcona Provincial Park, the trails offer mountain and parkland views. In really good snow years, snowfall amounts reach epic proportions. The resort offers night skiing on Fridays and Saturdays.
5. The Whiteway in Invermere, BC
The Whiteway is a 6-metre wide path of ice around the circumference of Lake Windermere. It started off several years ago as a 15-km loop but has grown to include the whole lake and is now officially 29.8-km (18.5 mi) long and a Guinness World Record holder.
Snow cleared from the ice is piled up on one side to allow for cross-country skiing. So not only can you skate but you can ski for almost 30 km.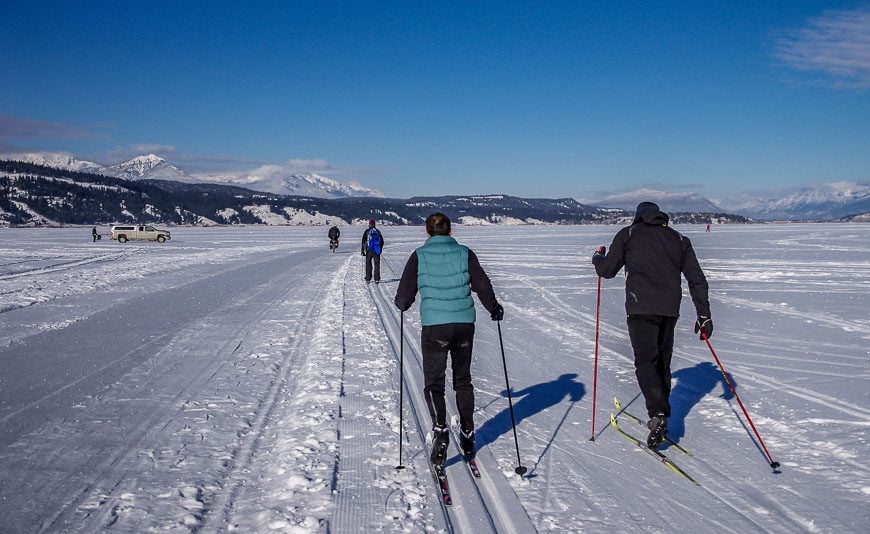 6. Lake O'Hara area in Yoho National Park
One of the prettiest places for cross-country skiing in Canada is on the trails around Lake O'Hara. It's 11 km on a fire road to reach Lake O'Hara – and from there the scenery is mind-blowing. Some of it gets you into avalanche country quickly – so stick to the easier trails or try and book a stay at Lake O'Hara Lodge – because a guide will take you places you might not go on your own.
7. Nipika Mountain Resort (just outside of Kootenay National Park)
One of my all time favourite places for cross-country skiing in Canada is Nipika Mountain Resort. We've been three times now and are trying to make an annual three-day pilgrimage to the resort – located about 2.5 hours from Calgary. Fortunately, anyone can cross-country ski here with the purchase of a day pass – and best of all your dog is allowed to run off leash.
There are 50 km of beautifully groomed trails along with warming huts. You'll enjoy scenic vistas especially along the Kootenay River. If you want to spend a few nights here, think about booking a year ahead or get on their cancellation list. I LOVE this place.
Top places for cross-country skiing in Alberta, Canada
1. Kananaskis Country cross-country skiing
Peter Lougheed Provincial Park in Kananaskis Country is home to 90 km of trails with the majority falling in the easy and moderately difficult category. It's a popular area for people from Calgary because it's relatively close – especially the north set of trails.
Open from November until April, you'll find loads of snow and plenty of spectacular mountain views. It's $10/vehicle but you must bring your own equipment.
There is lots more cross-country skiing in Kananaskis – which is a larger area. For more ideas read Best Places to Cross-Country Ski near Calgary.
2. Canmore Nordic Centre
The Canmore Nordic Centre is another one of Canada's Olympic legacies – developed for the 1988 Winter Olympics. Located just minutes from downtown Canmore and less than 15 minutes from Banff National Park, it's the place to go if you want a great workout.
The 65 km of terrain, geared for advanced and intermediate level skiers, is groomed for both classic and skate skiing. Night skiing is also possible on a 6.5 km trail. Don't be surprised if that person smoking you on the hill is a septuagenarian.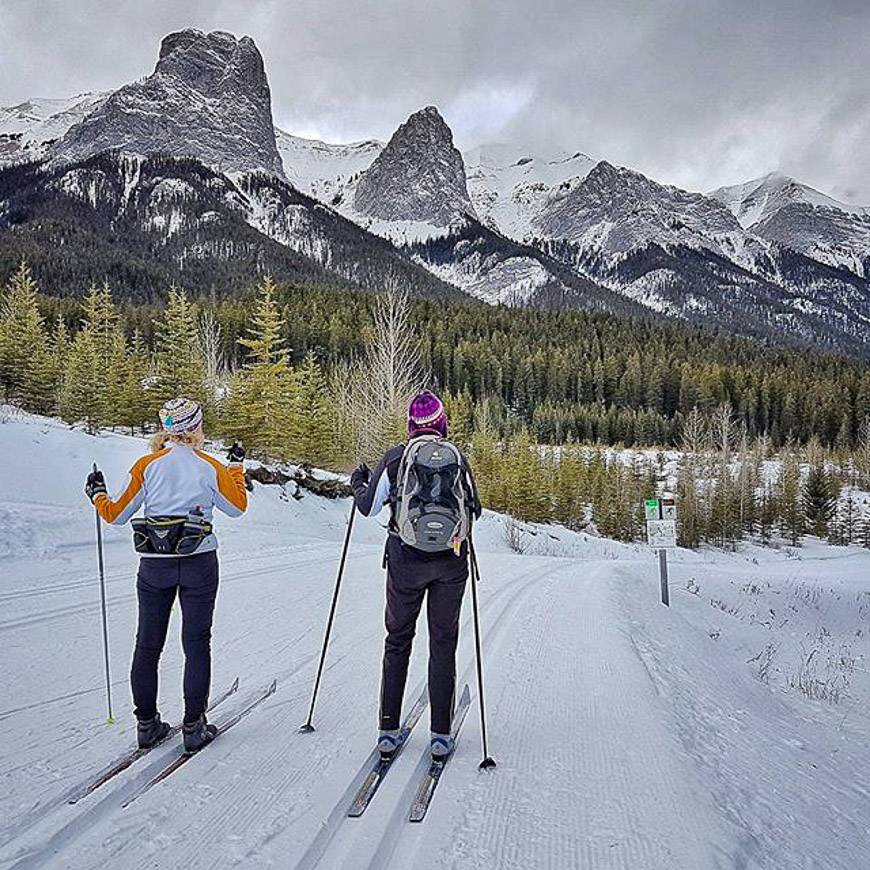 3. Banff National Park
Banff National Park is one of my favourite places to go cross-country skiing in Canada. Between Banff and Lake Louise there are a minimum of 12 fantastic cross-country ski trails. Many are in the backcountry – but they are track set.
The backdrop is incredible – snowy mountain peaks, quiet forest trails and silent rivers. At the end of the day, I highly recommend immersing yourself in the hot steamy waters of the Banff Hot Springs.
Cross-country skiing the Cascade Fire Road in Banff National Park
Top places for cross-country skiing in Saskatchewan, Canada
1. Little Red River Park, Saskatchewan
Prince Albert Ski Club has maintained the cross-country ski trails for over 30 years in Prince Albert's Little Red River Park and Nesbit Forest.
When I was in the area one summer, a number of locals spoke of their love of the skiing here and the variety in the trails. According to their website, the club maintains one of the best and most extensive urban single – track ski trail networks in North America. Prince Albert is located a few hours north of Saskatoon.
2. Prince Albert National Park
Prince Albert National Park, north of the town of Prince Albert in northern Saskatchewan offers approximately 150 kilometres of trails with plenty that are graded easy to moderate.
Most are found near the town of Waskesiu Lake. Six warming huts are available but because the trails are so remote, it pays to carry the 10 essentials and lots of extra food and hot drinks. Buy a national park pass to access the trails.
3. Eb's Trails near Saskatoon
Eb's Trails, located an hour from Saskatoon in Nesbit Provincial Forest, offers 55 kilometres of groomed, classic ski trails. Cliff Speer of Canoe Ski tells me the trails traverse rolling forested terrain ranging from deep dark spruce woods to open ridges of jack pine and aspen bluffs and says there is plenty of inspiring scenery to soothe the urban weary soul. There's a cross-section of trails to cater to all abilities.
A top place in Manitoba for cross-country skiing
1. Whiteshell Provincial Park
Whiteshell Provincial Park delivers some of the best cross country skiing in Manitoba. Seventy kilometres of groomed trails are offered throughout the park in eight different locations. The Elf Hole – Goose Sanctuary and Pine Point Rapids Trail are two of the most scenic trails.
Bring your own equipment or rent from MEC in Winnipeg, 2 hours away to the west. Go fully prepared for any emergency as you may be the only ones on the trail.
Top places for cross-country skiing in Ontario, Canada
1. Algonquin Provincial Park
Algonquin Provincial Park in Ontario is lucky to have three trail networks. Four loops ranging up to 13 kilometres in length make up the Fen Lake section. The Leaf Lake Trail system offers trails ranging from in length from one to 30 kilometres through some of the prettiest parts of Algonquin Park.
For the full backcountry experience, check out the Minnesing Wilderness Ski Trail.
2. Stokely Creek Lodge
Head to Stokely Creek Lodge, near Sault Ste. Marie if you're after superb cross-country skiing on a mix of groomed and back-country trails. Snow is consistently excellent because of the lake effect, the terrain is varied and you can expect to ski more vertical here than at any downhill ski resort in Ontario. (For some that may not be such a great thing.)
Enjoy stunning views of Lake Superior from some of the 135 km of trails. Keep your eyes open for wildlife. While you can book a room at the lodge, you can also visit as a day skier.
3. The Kawarthas
I'd recommend skiing in the Kawarthas. Located just 35 minutes north of Peterborough, you'll discover trails that run through beautiful Canadian Shield country. Read about my experience here.
4. Quetico Provincial Park
If you're looking for a wilderness type experience – where you can rent your own cozy cabin, I would highly recommend the drive to Quetico Provincial Park to take advantage of their cross-country ski trails. They're quiet – because no one is here – and they are positively gorgeous. Plan on a few days in the park so you can also take advantage of the snowshoe trails.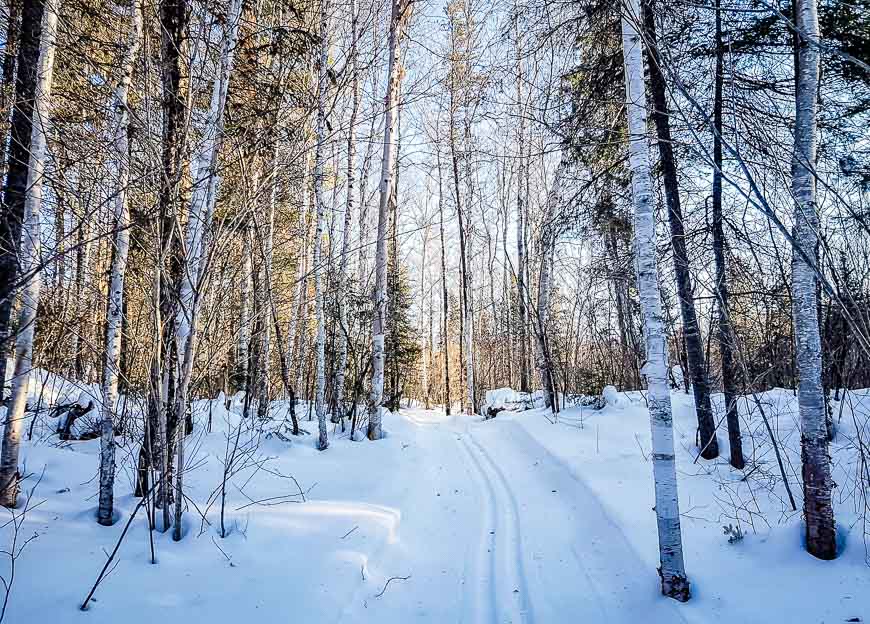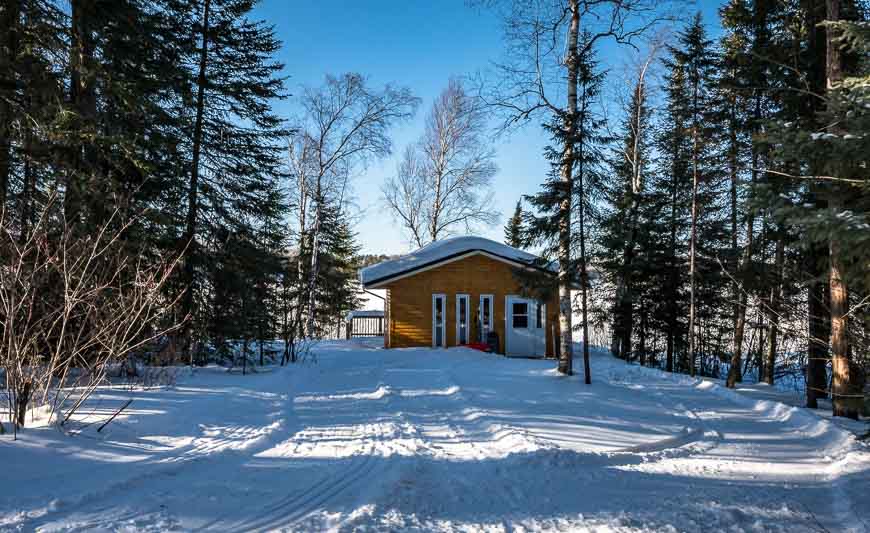 5. Thunder Bay Area
From Thunder Bay, drive to nearby Sleeping Giant Provincial Park so you can take advantage of over 50 km of trails. Closer to Thunder Bay is the Lappe Nordic Ski Centre with over 14 kilometres of trails. There is a large Scandinavian population who live here, so though I have never skied here, I bet the trails are in tip top shape.
Places for cross-country skiing in Quebec, Canada
1. Mont Ste. Anne
The Mont Saint Anne cross-country centre is the largest in Canada. The area boasts 208 kilometres of classic trails, 125 kilometres of which can be skate-skied.
The area receives 400 cm of snow a year and enjoys a long season lasting from late November through until early April. It's located just seven kilometres from the downhill area so you can expect the same wonderful Laurentian forest scenery – and plenty of ups and downs. Keep your eyes open for moose too. Tracks are everywhere.
2. Gatineau Park
I grew up cross-country skiing in Gatineau Park, just outside of Ottawa. The park offers an outstanding array of Nordic trails – 185 km in total of which 100 km are groomed. There are 10 warming huts, some of which are absolutely beautiful, and a destination in themselves.
The ski season is long and the après-skiing in nearby Wakefield and Chelsea is excellent.
3. Laurentians
The Laurentians, an area located north of Montreal, are famous for their network of cross-country ski trails. Choose from over 1,000 km of trails in 30 locations.
A few of the more popular trails include the ones at Mont Tremblant, Parc d'Oka, the trails around Val-David and P'tit Train du Nord. There are options to put a multi-day trip together too. These trails offer something for all abilities.
It's also possible to back-country ski into huts for the night in Mont-Tremblant National Park.
Places to cross-country ski in New Brunswick, Canada
1. Fundy National Park
Fundy National Park, located in the southeast of the province, offers 40 km of trails, across a range of difficulty, but in two separate areas – Chignecto South and North. Look for incredible scenery on these cross-country ski trails through the hilly Acadian highlands.
Places for cross-country skiing in Newfoundland, Canada
1. Corner Brook
The Blow Me Down Ski Club, started in 1973 near Corner Brook, Newfoundland deserves a mention. The club looks after 42 km of trails, crossing through some of Newfoundland's most beautiful country. Trails for all levels are kept groomed and track set. Rentals are available onsite and day passes are 25.00 for adults in 2023.
2. Gros Morne National Park
For the adventurous back-country skier there is superlative skiing to be found in Gros Morne National Park.
Places to cross-country ski in the Yukon
1. Whitehorse
Even though the nights are long, and the winters are cold, it doesn't mean that people in the Yukon don't get out cross-country skiing a lot.
The Whitehorse Nordic Centre is home to 85 km of groomed trails and 20 km of back-country trails. There are lit trails – with two loops that can be combined to offer 10 kilometres if they are skied in both directions. The trail lights are turned off when it's -30°C and colder. What a place to ski and experience the Northern Lights!
A few useful items for any cross-country skiing outing
Some of the cross-country ski trails in this round-up take you well into the backcountry. It pays to go prepared.
Always take the 10 essentials – no matter how short the outing or what the weather forecast is.
You'll want to layer your clothing and peel off clothes as you heat up so you stay dry. I highly recommend merino wool base layers on top (they never smell)and bottoms as base layers.
Add a mid-layer like a fleece. I prefer them with hoods. Wind-proof ones, depending on where you ski can be a real bonus. I love this one by Arc'teryx with a hood.
Some people cross-country ski in very light weight bottoms which is fine if you're not going into the backcountry. I personally like insulated pants.
A neck warmer or a buff is a great idea.
I'd also recommend a thermos with something hot to drink and hand warmers.
Interested in more winter adventures in Canada?
Click on the photo to bookmark to your Pinterest boards.