It took 20 years of dreaming to make my kayaking trip to Gwaii Haanas National Park Preserve, located at the tip of Haida Gwaii (formerly the Queen Charlottes), a reality. My husband and I along with two very good friends joined a tour organized by Green Coast Kayaking.
The trip to Rose Harbour started in Sandspit with a bouncy shuttle on a rough forest road to a boat launch. From there it was a four hour chilly boat ride to where the actual kayaking tour started.
We were a congenial group of nine – two guides plus seven guests. The whole trip was eight days in length – which included the better part of a day just to get to our launch site.
Sandspit is a place that lives up to its name. It's just a narrow strip of sandy land with an airport at one end. Most people fly into Sandspit from Vancouver, an especially pretty flight if the day is clear.
From the logistics perspective, you must spend the night in Sandspit before heading out on a boat shuttle from Moresby Camp to Rose Harbour. Some time in Sandspit allows you to pick up any last minute groceries you might have forgotten – and to walk the pretty beach.
A week long kayaking trip in Haida Gwaii
The plan for our trip was to boat down to our starting point with Moresby Explorers and then spend a week paddling back to Burnaby Narrows. We would get a pick-up from Moresby Explorers seven days later, organized via a SAT phone.
The boat ride is notoriously chilly. We were warned ahead of time to pull out all of our warm clothes. Once you get moving, it's virtually impossible to put any clothing on as you're speeding along at such a fast clip. I had six layers on!
Rose Harbour boat ride
The boat ride to the harbour sure lived up to its reputation. It was very cold and so windy that we all tucked our faces into jackets for most of the journey. On the rare occasion, when we did look around, the landscape was very beautiful – and in one area we were lucky enough to see a humpback whale.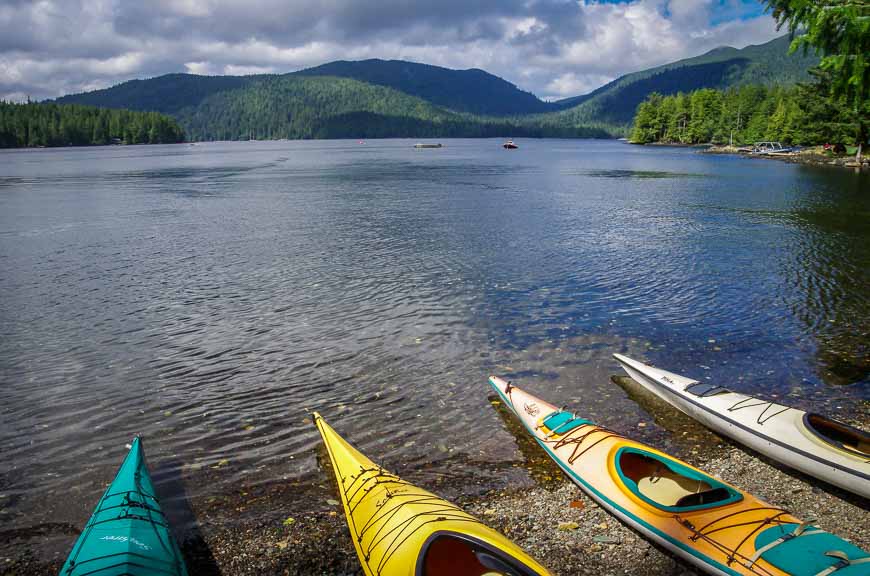 Rose Harbour is an abandoned whaling station
Rose Harbour gets its name for the blood-coloured waters that once filled the bay. Now, it's a peaceful spot with only traces of rusted whaling equipment around.
We ended up camping nearby as this part of the rainforest offers a blanket of soft, thick moss that makes for very comfortable sleeping.
Of note was the number of skinny deer around. As they can't be hunted, their numbers are growing but their food supply is dwindling. We saw loads of them eating the seaweed along the shore.
The first day gave us a small taste of the landscape we'd see and the beauty of the area. I don't think anything beats the west coast for a kayaking trip.
Where to stay in Rose Harbour
There is actually a beautiful though rustic guest house called the Rose Harbour Guest House. Since we were on a week long kayaking trip and camping we didn't need any accommodation. But we did have dinner here at the end of our trip and it was beautifully presented – think gourmet dining in the rainforest – see below.
There are also some interesting tours and things to do in and out of Rose Harbour. Try their giant swing if you dare. Do a forest walk and discover the remains of a partially carved Haida canoe. Admire the beautiful flower and vegetable garden. Then arrange for specialized side-trips to complement your stay.
Eating in the rainforest
Susan, along with her one helper, offers up gorgeous meals from organic produce grown in her garden supplemented with food her son (who owns Moresby Explorers) brings from Sandspit.
She's been doing this for years and as a kayaker, it's a real treat to be having fresh vegetables after you've been out for a week. We'd only been out for three days, but the meal was still a sensory delight. No wonder she gets so booked up. We were lucky she could accommodate our big group.
Further reading on kayaking in Gwaii Haanas
Check out the Haida Gwaii website for ideas on what to do on a visit.
Click on the photo to bookmark to your Pinterest boards.