It took me the better part of 20 years to finally knock off a kayaking trip in Gwaii Haanas National Park Reserve. It's a phenomenal place to explore, especially between May and September when there's actually a high probability of sunshine for days, if not weeks at a time. Visit to experience nature and wilderness in a spiritual setting that the Haida people have lived in for over 14,000 years.
Gwaii Haanas kayaking trip over a week
Our one week kayaking trip took us from Rose Harbour to Burnaby Narrows, in the southern part of Gwaii Haanas National Park Preserve. It was a stand-out from start to finish. For starters, the weather was sunny and hot except for the four hour boat ride down to Rose Harbour and an hour of rain on the last day. Considering this is where you find temperate rainforest, I think we all felt very lucky.
Also the wind was almost always light, so the ocean was calm which is an amazing occurrence for this part of the world. Granted there were swells on a couple of the days, but they were entirely manageable. Food was delicious and the company – a mixed bag primarily from British Columbia, Alberta and Ontario, was great.
Campsites were beautiful and the pace was such that on most days there was time for an afternoon siesta. Sounds fantastic doesn't it?
This post includes some affiliate links. If you make a qualifying purchase through one of these links, I may receive a small percentage of the sale at no extra cost to you. Thank you for your support.
Where is Gwaii Haanas National Park Reserve?
Gwaii Haanas National Park Reserve is located at the southern end of Haida Gwaii – formerly called the Queen Charlotte Islands.
If you look at a map, you'll find the islands off the coast of northern British Columbia near the southern edge of Alaska. They are a difficult place to visit so I think you need to go for at least a week.
How do you get to Gwaii Haanas National Park Reserve?
First you must fly to Sandspit, a small town serviced by Air Canada or take a seven hour ferry ride from Prince Rupert to Skidegate. Then you must get to the boat launch, usually via a shuttle with Moresby Explorers. That's via a well-traveled dirt logging road.
Then there's a three to five hour boat ride down to Rose Harbour, depending on the logistics of the day for Moresby Explorers. The boat ride is exposed, cold and sometimes wet. It requires that you wear every piece of clothing you've brought. I wore seven layers. But it's all worth it.
Here's a look at the highlights of kayaking in the National Park Reserve.
Note that if you want to do the trip self-guided, there is a mandatory 90 minute orientation. You can find more information on the Parks Canada website here.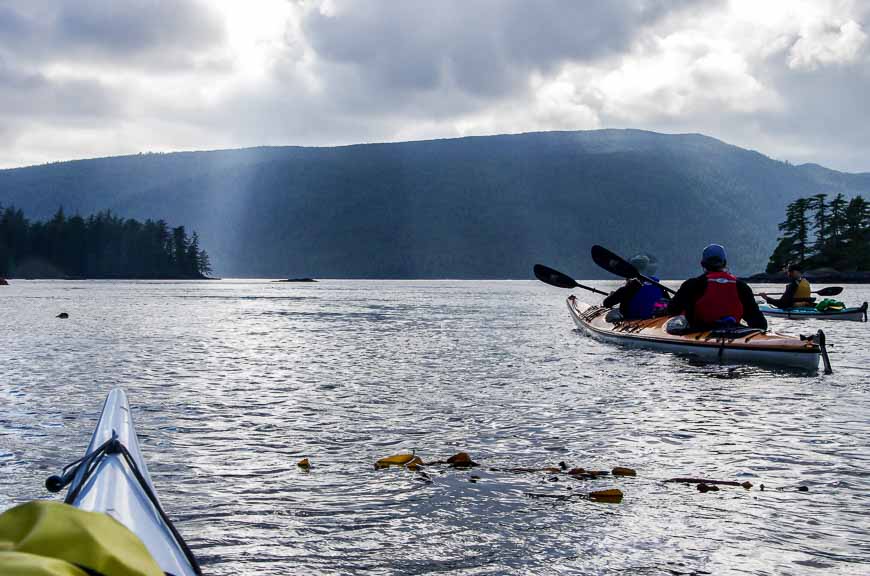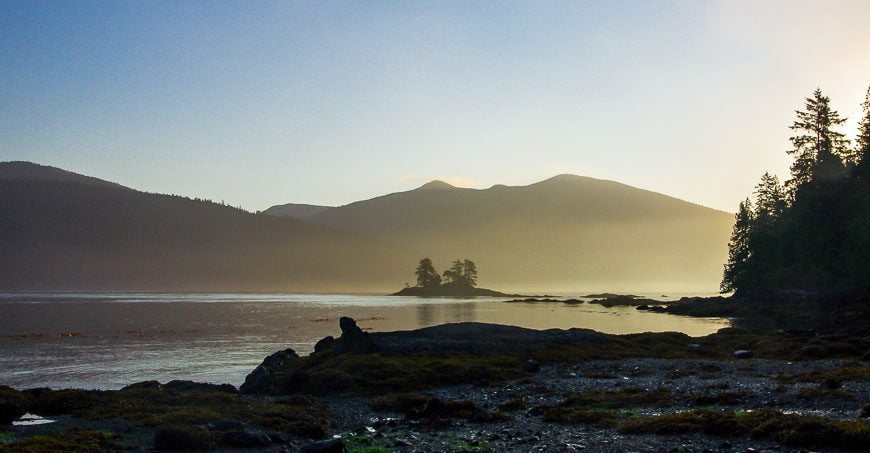 Paddle to SGang Gwaay
The village of SGang Gwaay or Ninstints in English is a UNESCO site and a must visit island if you're kayaking in Gwaii Haanas National Park Preserve. Look for the remains of large, cedar longhouses, and carved mortuary and memorial poles, on a tour with Haida Gwaii Watchman.
The Haida Gwaii Watchman showcase Haida culture by telling the stories and sharing their knowledge of songs, dances, stories and traditional foods. The Watchman, who do this as a seasonal job in summer, can be male or female and range in age from as young as 16 to over 75. Our group learned a lot from Natasha, our Watchman guide on the island.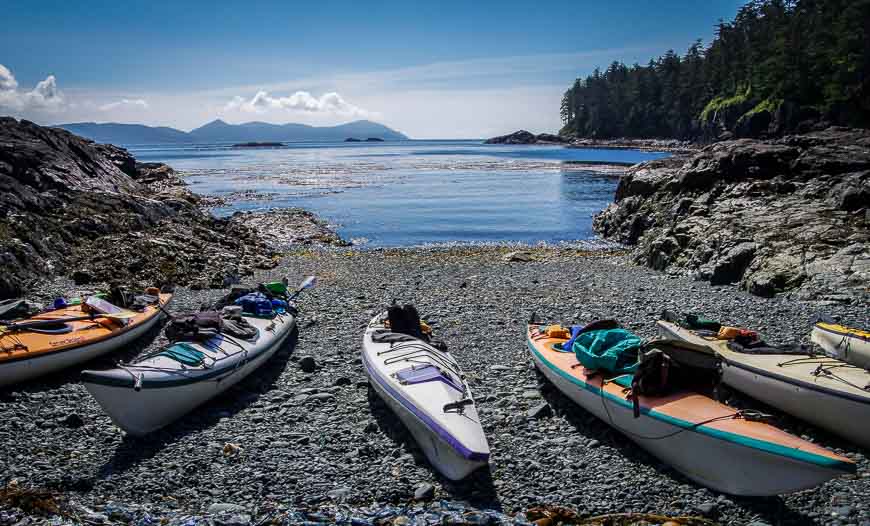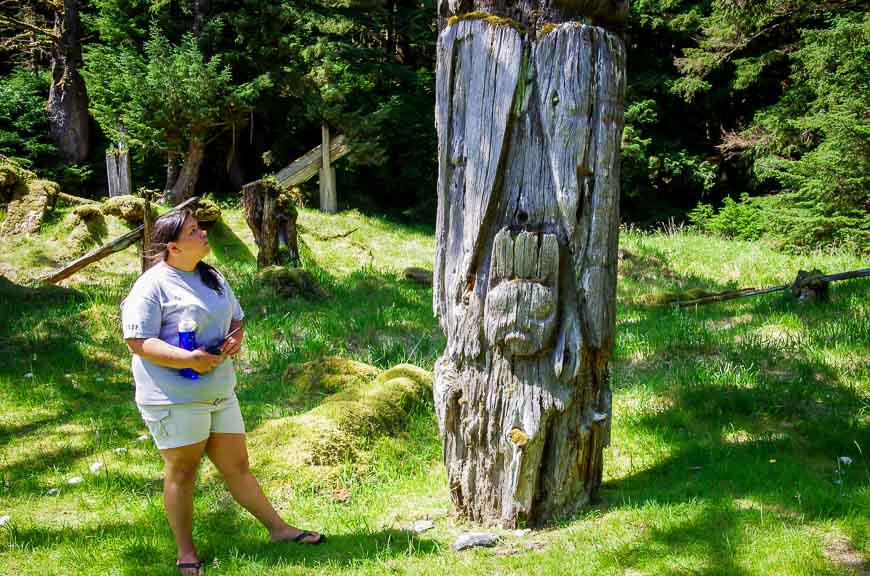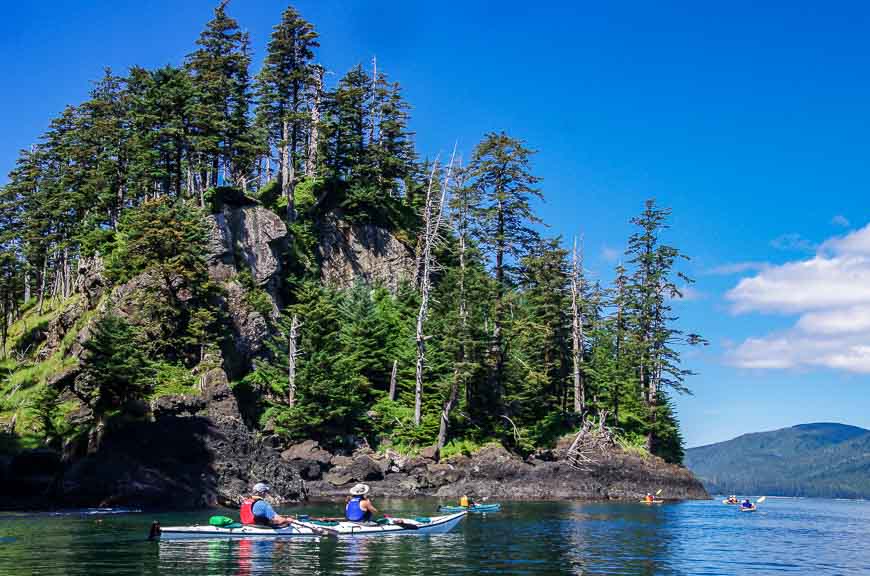 Catch Burnaby Narrows at low tide
Burnaby Narrows has been called the Galapagos of the north. Time your paddle through the narrows to coincide with low tide so you can ooh and aah at colourful starfish, snails, giant plumose anemones, mussels, limpets, red turban snails – along with numerous other varieties whose names I don't know.
Reportedly "there is more protein per square centimetre than anywhere else on earth!"
If you're planning a trip to the area take a reference book with you so you can make sense of all that you're seeing. Revised and expanded in 2019, The Beachcomber's Guide to Seashore Life in the Pacific Northwest is the one you'll want.
Hopefully you'll still get a sense of the wonderful scenery that's in store for you should you decide to visit. You don't have to kayak either.
There are "motherships" where you sleep on board and explore by day and there are single day and multi-day trips to visit the area arranged via Moresby Explorers as well.
Our trip was with Green Coast Kayaking, a great outfit though you do have to provide and cook a breakfast, lunch and dinner.
Further reading on kayaking in Haida Gwaii
Visit the Gwaii Haanas National Park Reserve website for more information.
Click on the photo to bookmark to your Pinterest boards.