I was lucky to spend three fabulous days skiing at Silver Star Mountain Resort. I'd heard about the ski resort for years. I'd seen all the colourful photos of the quaint "village" but it wasn't until friends rented a condo for a month on the ski hill that John and I finally made it here.
It's really easy, especially when you get big dumps of snow, to have a memorable time at Silver Star. And skiing at Silver Star – whether it be downhill or cross-country is some of the best you'll find in Canada. I was blown away with the snow pack in early January and the sheer variety of trails.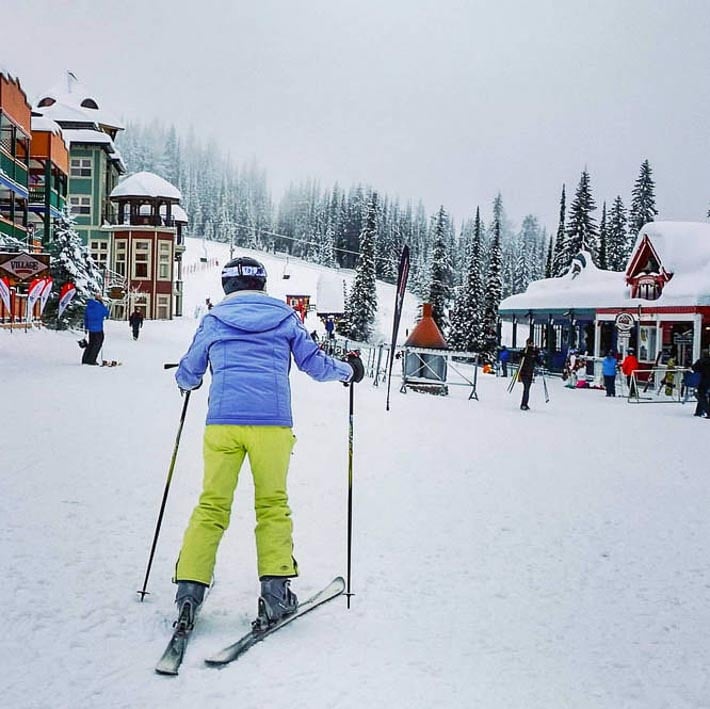 Where is Silver Star?
Silver Star is just 22 km from Vernon, a town of about 40,000 in the Okanagan region of British Columbia. It's understandably very popular with the locals but it's also a destination ski resort. I can see why.
It's got a lot to offer when it comes to downhill skiing and snowboarding, especially since it's the third largest ski resort in British Columbia.
It wasn't until I was on a run that went on and on and on… heading for the Powder Gulch Express that I clued into its size. The resort offers a real mix of terrain – with 75% of the runs labeled intermediate to difficult. This year at least, the snow is amazing and there is lots of it. John and I were still finding fresh powder several days after a snowstorm.
The fabulous cross-country skiing at Silver Star
Silver Star along with neighbouring Sovereign Lake offers 105 kilometres of daily groomed cross-country ski trails. We skied one memorable day at each place.
The trails are some of the best I've skied – partially as a function of the incredible snow and partially because of the expert grooming. Silver Star is the only Canadian resort in the running to make it onto the top 10 list of the USA Today Reader's Choice Award for best cross-country ski resort in North America.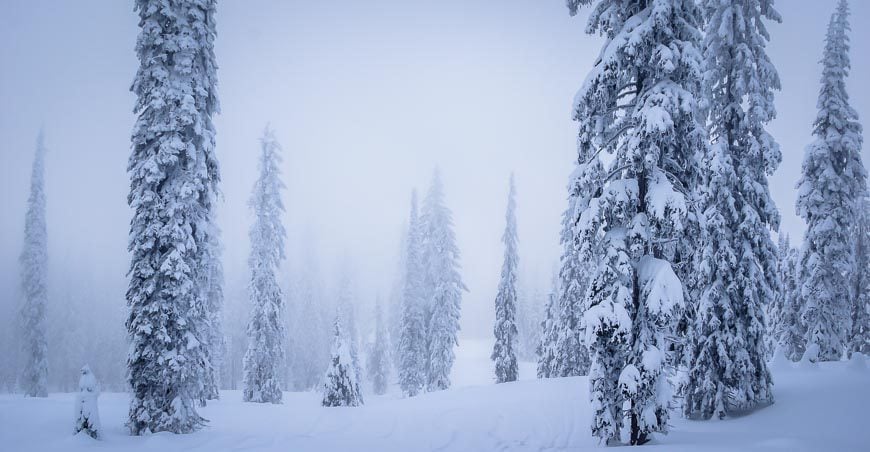 Snowshoeing at Silver Star Resort
We ran out of time to go snowshoeing but you will find 30 kilometres of dedicated trails between Silver Star and Sovereign Lake. At Silver Star you can take your dog with you providing you keep it on a leash.
If you still have any juice left in your legs after skiing you get check out Brewer's Pond – an ice-skating area. John played shinny for an hour with some Aussies and had a great time.
More things to do at Silver Star
I'm sorry I missed "Tube Town" – a tubing park that would be fun at any age (it's to the right of the skating rink in the above photo and the cost is included with your downhill lift ticket.)
Other activities you'll find include fat tire biking, Pinheads Bowling – offering the world's only ski-in, ski-out bowling lanes and snowmobiling for both adults and kids – who are offered a mini version in a special park.
Eating at the ski resort
In the village there is lots of choices for meals. Bugaboos Bakery Cafe was busy when we were there but it is the name that is on the tip of everyone's tongue. On Instagram one woman calls it a "yummy bakery" while another recommends the croissantwich. Sounds like we should have stood in line.
Getting to Silver Star
To get to Silver Star you can fly to Kelowna and shuttle in from there. We met an Australian couple in the hot tub who had made it door to door – Newcastle, Australia to Silver Star in just over twice the time it took John and me to drive from Calgary.
The only downside to driving to Silver Star are the conditions, especially if you have to deal with Roger's Pass. Yesterday on the drive home we had a snowy Roger's Pass to contend with and according to DriveBC, the Coquihalla Highway was no better. If you can, choose your day.
Once at Silver Star you don't have to leave. It's a terrific spot with lots to do – and a great place for all ages. I'd go again in a heartbeat – preferably by air!
Further reading on skiing in British Columbia
Click on the photo to bookmark to your Pinterest boards.